Q4 is drawing near and that can only mean one thing: the holiday season is almost here! 
Ecommerce brands are steadily preparing for the busiest, most important season for sales. But with the COVID-19 pandemic still looming, the high sales season will look different this year than most.
Retail stores will likely remain closed or operate at limited capacity, driving online sales even higher during the 2020 holiday season.
As more and more shoppers are turning to ecommerce to fulfil their holiday shopping needs, it's critical for online shops to acknowledge and prepare for the demand for online gifts. 
Ecommerce brands can help customers turn any purchase into a gift purchase with things like gift wrapping options and gift messages. But some sites go above and beyond with shareable wishlists and dedicated gifting hubs to help improve the experience for those who are buying for others. 
Here are five ways ecommerce sites hosted on Shopify can meet the demand for online gift shoppers, and examples of shops that already do. 
Make Everything a Gift
One of the easiest ways to increase gift purchases during the holiday season is to add a gift message option to your cart or checkout process. 
Adding a gift message essentially turns every product into a giftable one! 
Paleo vegan chocolate brand Hu does this seamlessly in its cart.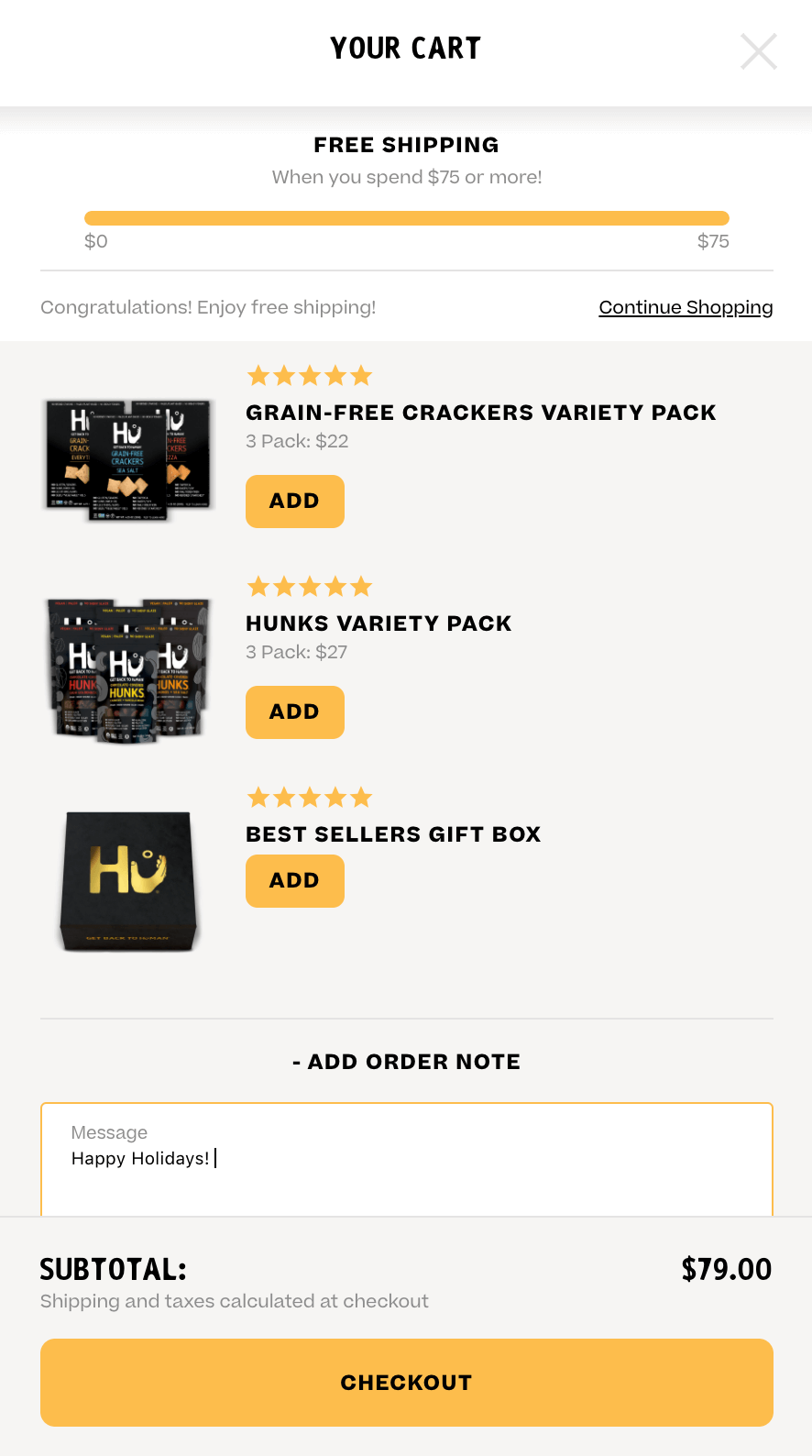 The field opens unpopulated, letting customers customize their message however they want. 
Hu's is stylized as an order note, whereas women's athleisure brand Outdoor Voices specifically calls out adding a gift message for whom you might be sending to.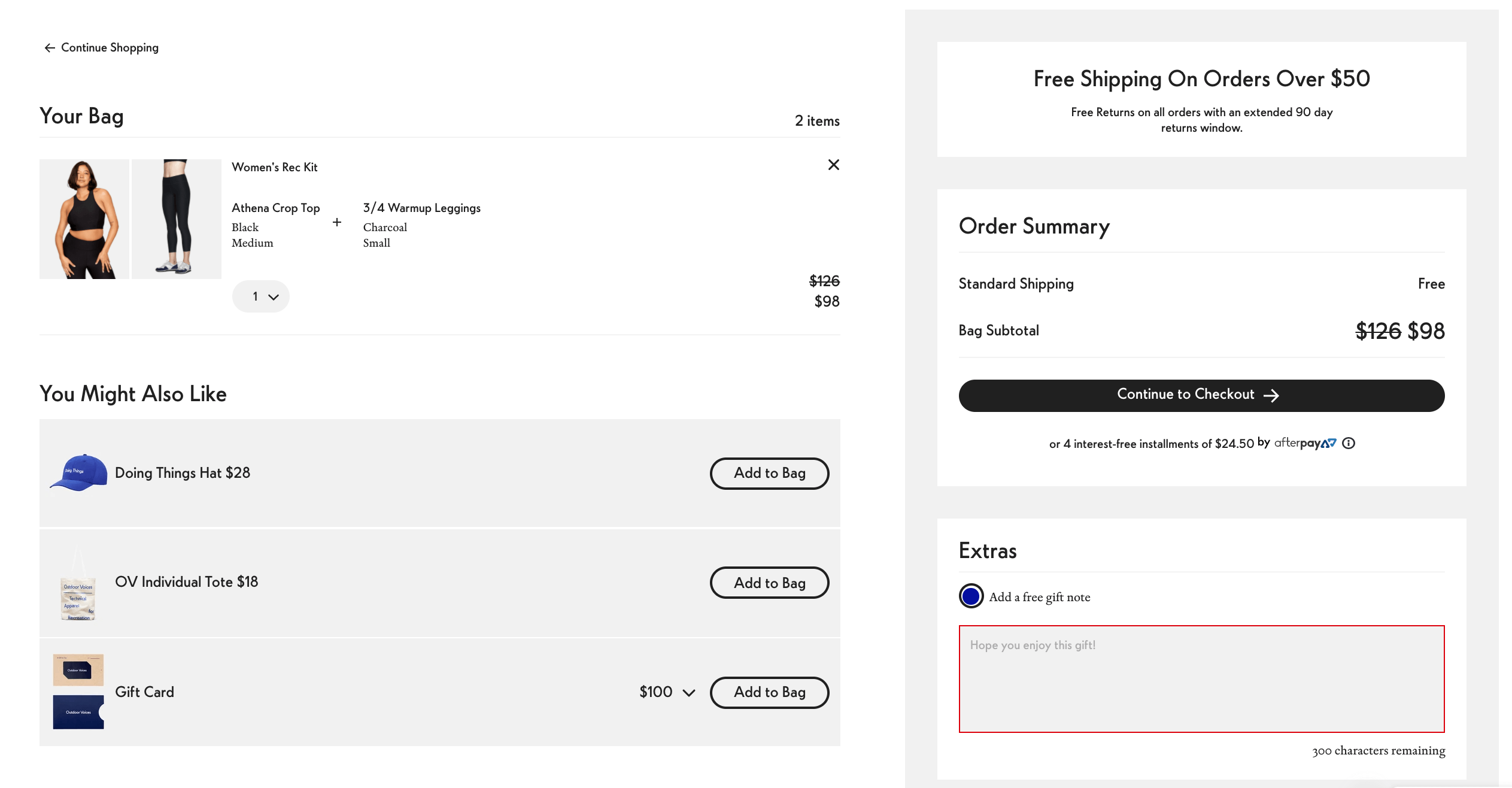 It's a simple but effective way to give all customers the option to make their purchase a gift. 
Up-Sell with a Gift Box or Gift Wrapping
Beyond a gift message, offer your customers gift wrapping or a gift box for a small additional fee. 
Gift wrapping is perfect for those who want to send a gift directly to the recipient from your ecommerce store but still want that special touch that a wrapped gift adds. 
Women's clothing brand Of/Mercer offers a gift wrap option for those who want to send its clothing and accessories directly to a friend or family member.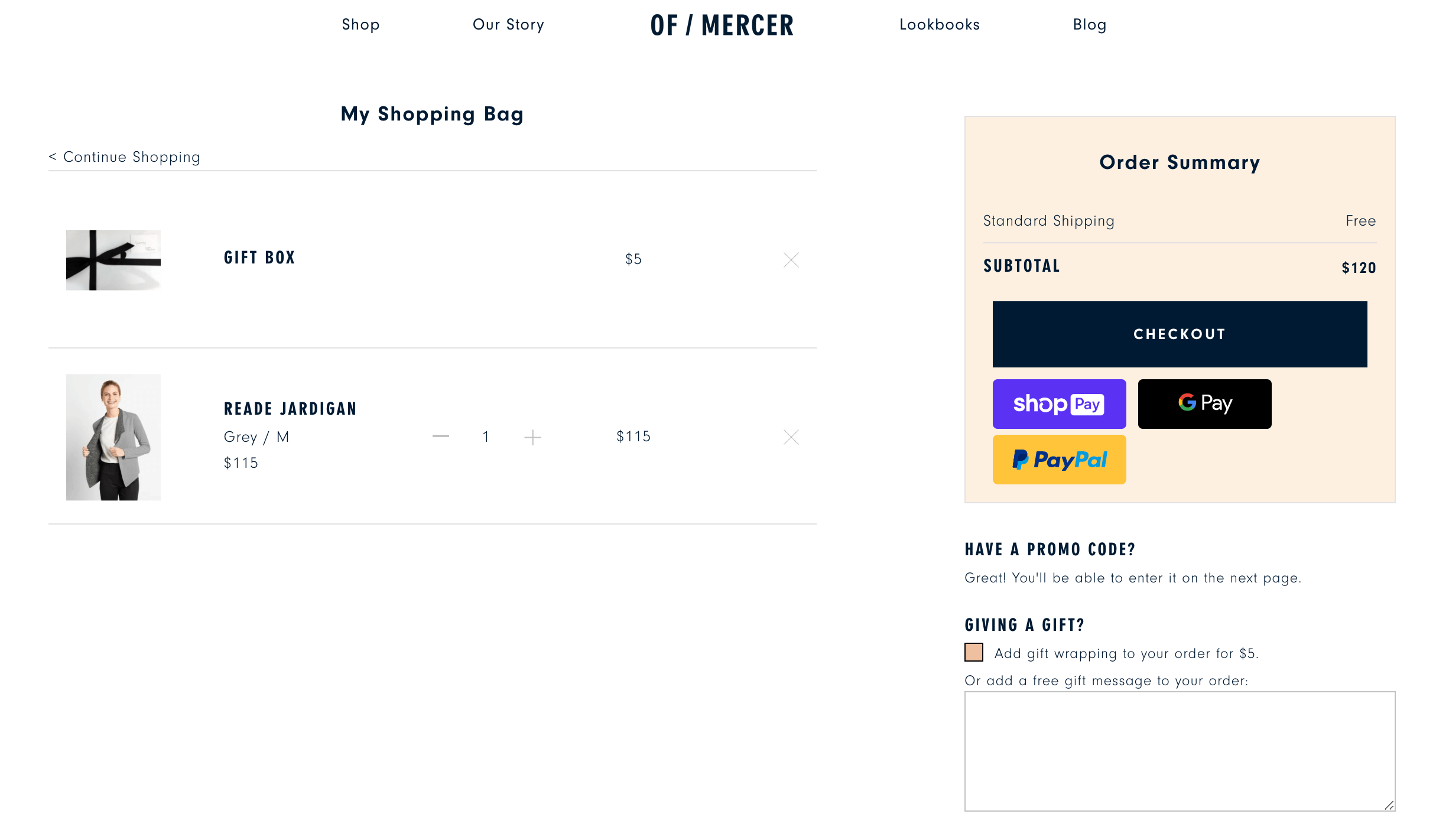 Gift boxes, on the other hand, help your customer complete the in-person gifting process without having to find an additional way to wrap the present. 
Jewelry is frequently gifted, but a gift box is often required to protect and present it in an appealing way. 
On top of letting customers leave a gift message, jewelry brand Melanie Casey up-sells potential gift shoppers with different gift boxes directly in the cart.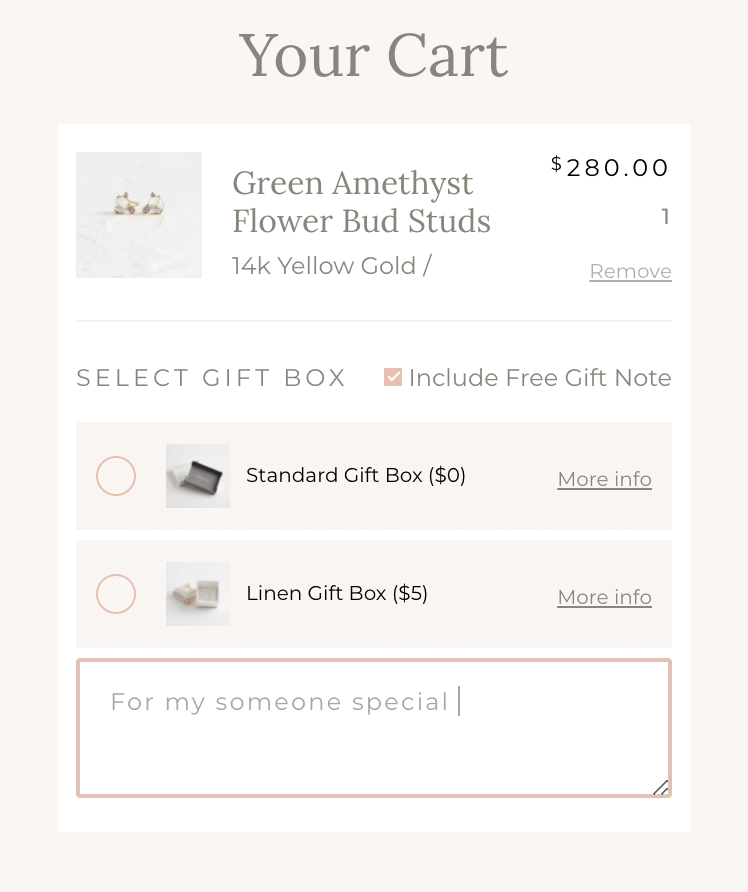 Ana Luisa, another ecommerce jewelry business, also includes a gift box up-sell in checkout.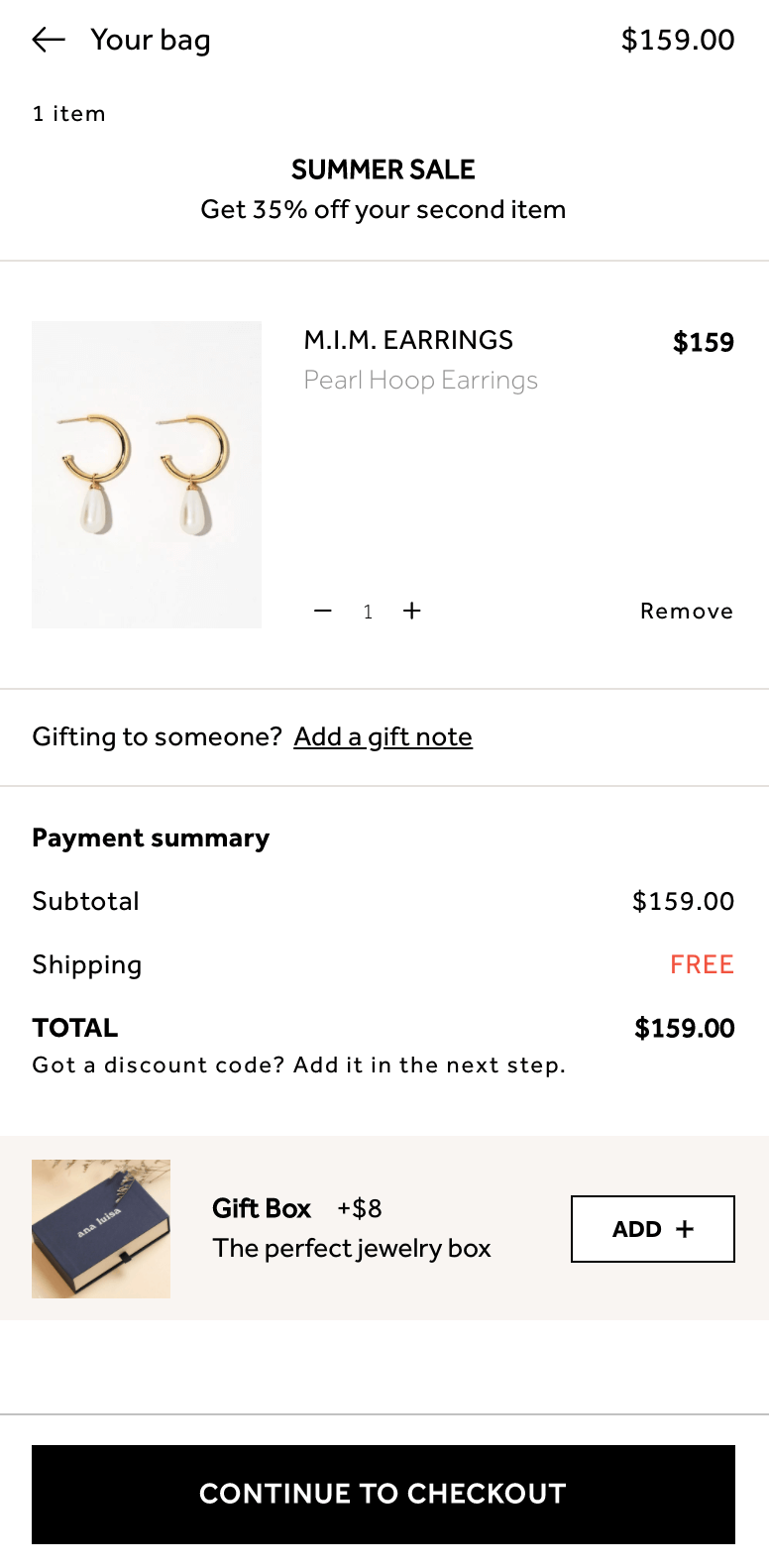 The box is branded, which further increases the exposure the business gets with new customers. Even those who are gifted products from others know their gifts came from Ana Luisa.
Give More Details About Your Gifting Options
Gift wrapping is an important part of the gift-giving process. A well-wrapped present shows the recipient that the giver put time, effort, and money into presenting them with a thoughtful gift. 
Gift wrapping online can cause some shoppers anxiety, however, as they may not be able to guarantee the level of quality they want without wrapping it themselves. 
Put your shoppers' minds at ease by explaining your gift wrapping options. 
Mahabis, an ecommerce slipper company hosted on Shopify, has a gift wrap and gift message option, and has an entire page dedicated to explaining how its gift wrapping works.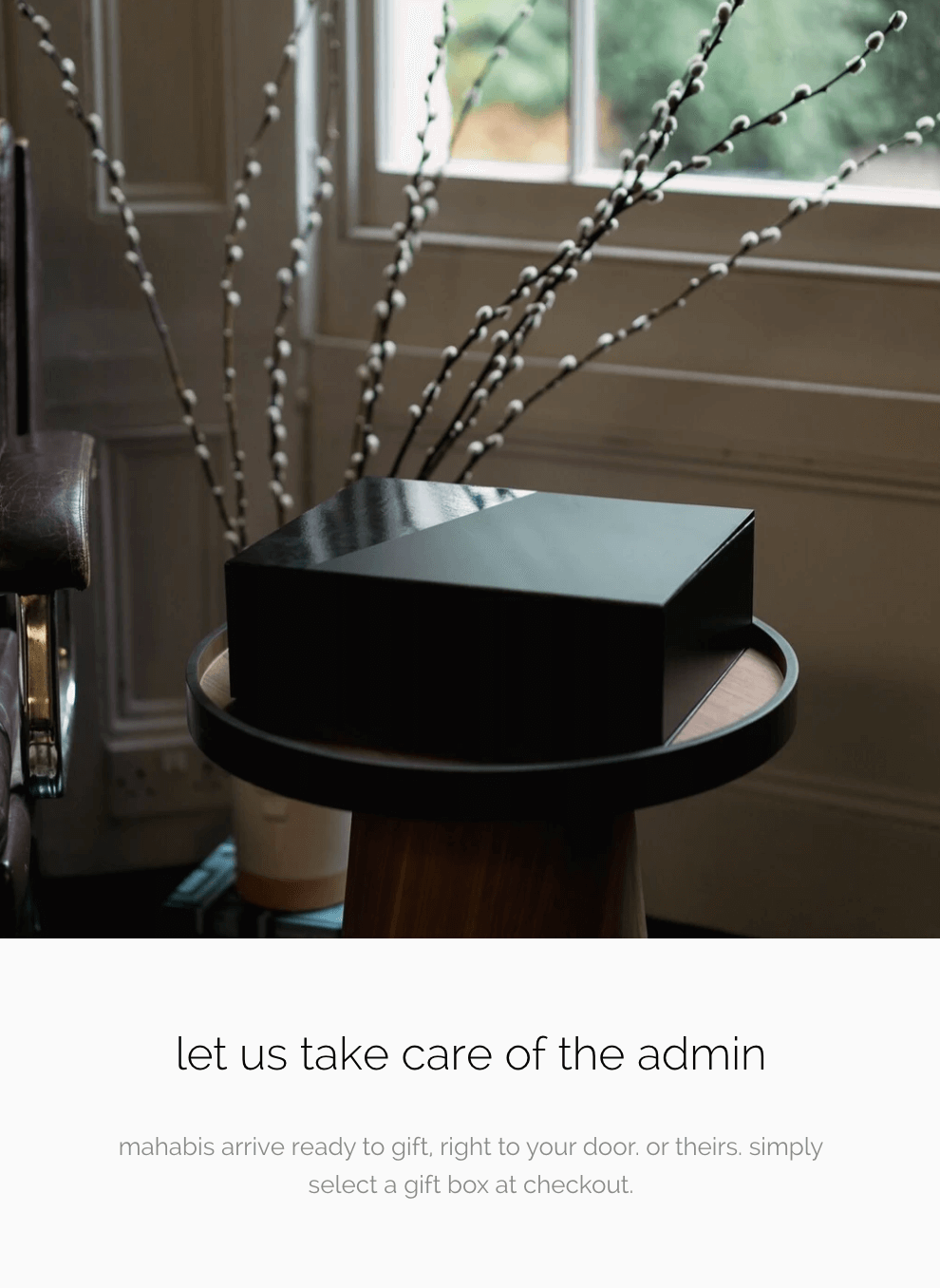 Candy brand Sugarfina also has a page describing its gift wrapping option. Sugarfina demonstrates how to select gift wrapping at checkout, as well as highlights that every gift note is handwritten before being sent to a customer.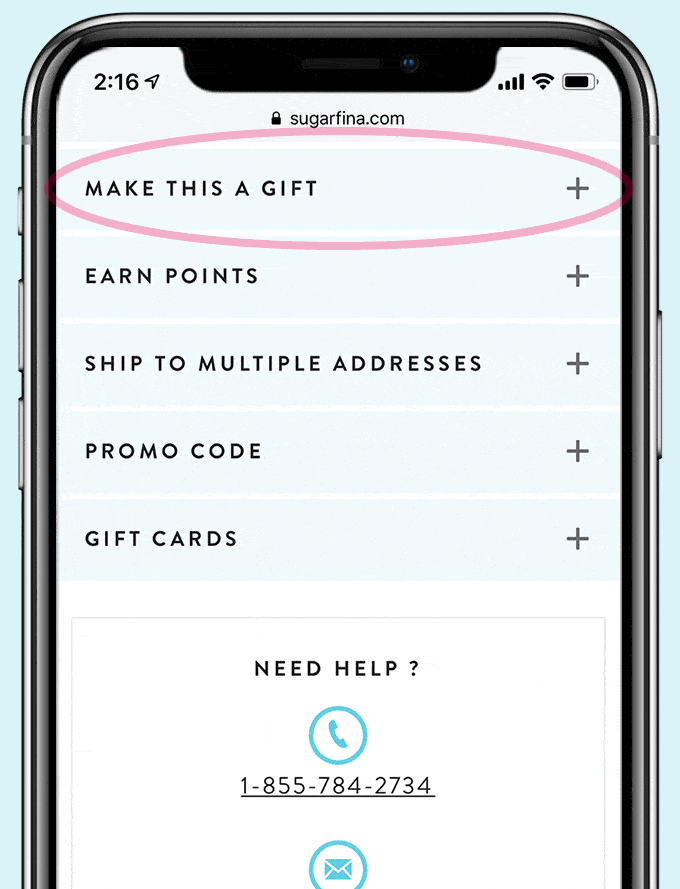 This shows your customers what they can expect when selecting the gift wrapping option, and illustrates how easy online gifting can be.
Encourage Others to Do the Gifting 
During the holiday season, website visitors are often looking for ideas or products they can send to friends and family as gifts they want. 
Sending a link to a specific product is easy enough. But as a brand, you lose insights about what items people would rather receive as gifts than buy for themselves, and which products are popular during the gifting season.
Add a wishlist to your site, and make sending gift recommendations a branded process. 
Of/Mercer enables browsers to email products they're interested in to friends and family.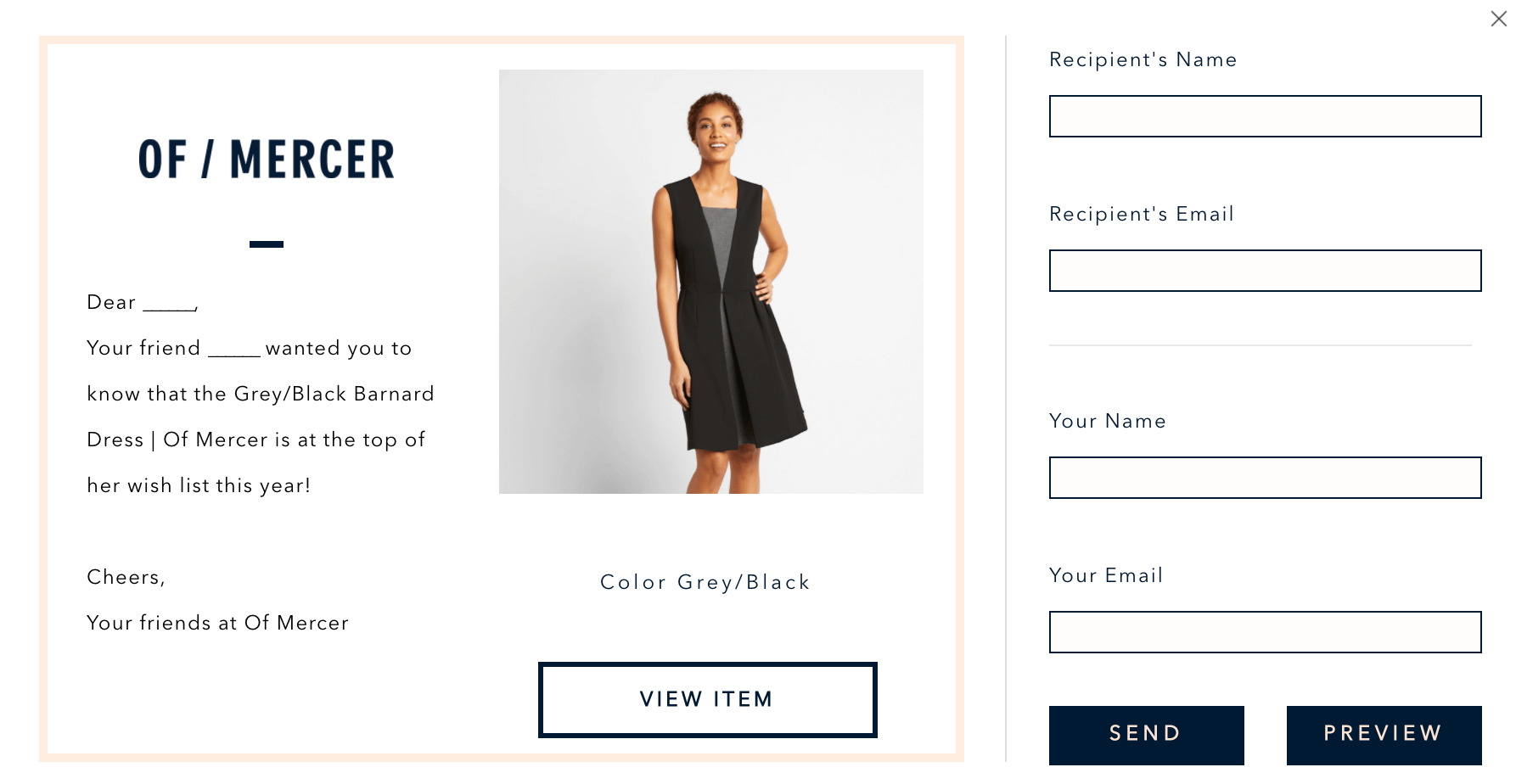 This is a simple yet effective way of encouraging additional purchases during the holiday season. You'll also glean insights about who wants what products as gifts, which allows you to send more targeted email messaging throughout that customer's relationship with your brand.
Satisfy All Their Gifting Needs
Don't just wait around for a customer who's already looking for gifts. Show all of your website visitors that your products are easily giftable with a gifting hub or landing page. 
Anticipate their browsing behavior by offering pre-defined, sorted categories like "gifts for her/him," "gifts under $10/$50/$100," or "gift sets." 
Sugarfina makes it simple for visitors to find the gifts they're looking for with multiple menu and filtering options. 

Sugarfina essentially creates an online gift shop dedicated to those who want to purchase its candy as a gift.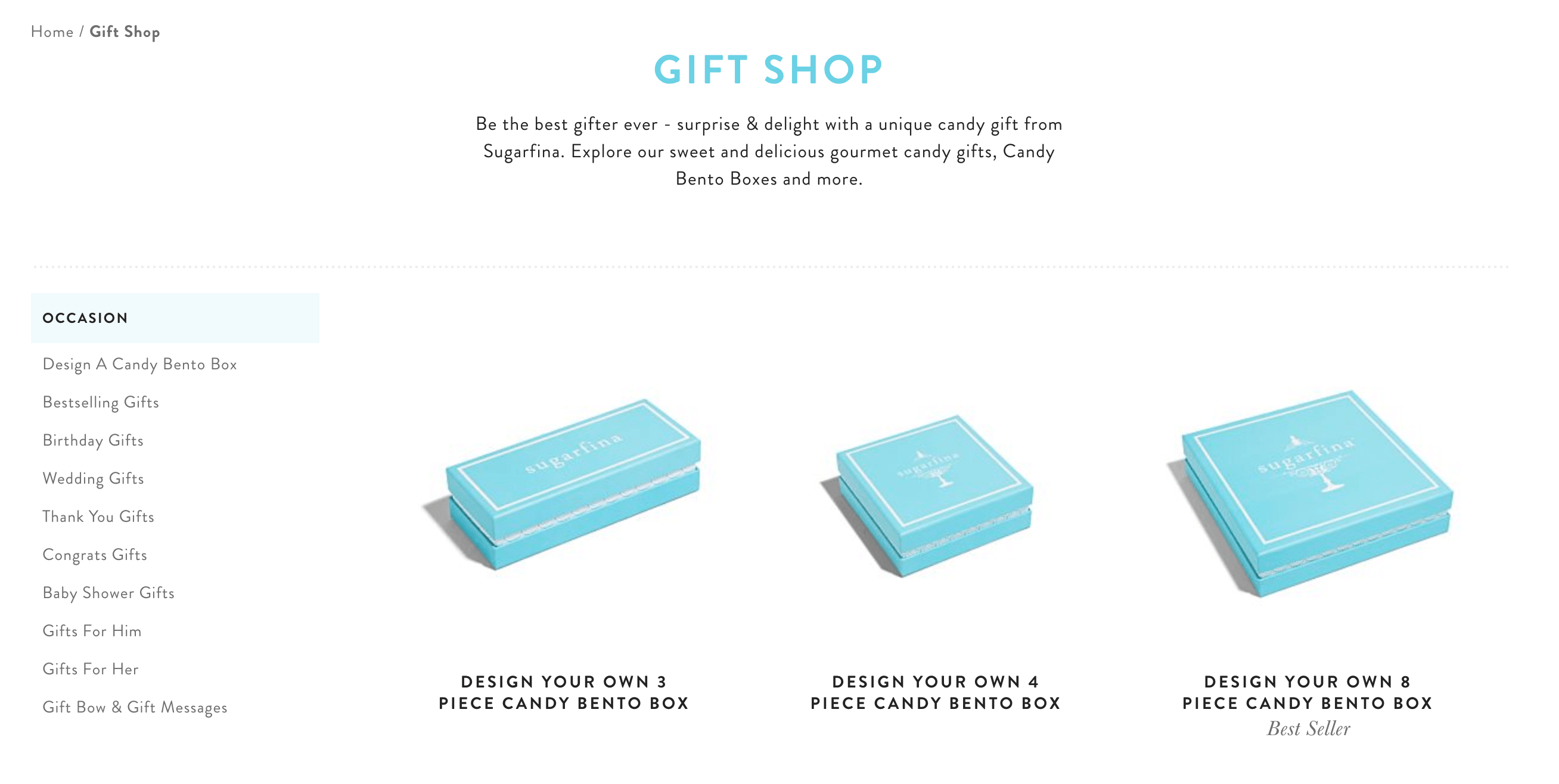 A page like this helps visitors narrow down their options, and gives you as a brand better insights about how and why people are purchasing your products as gifts.
Sock brand Bombas includes gift pages under its "Women," "Men," and "Kids" sections that feature giftable sets and gift-wrapped product options.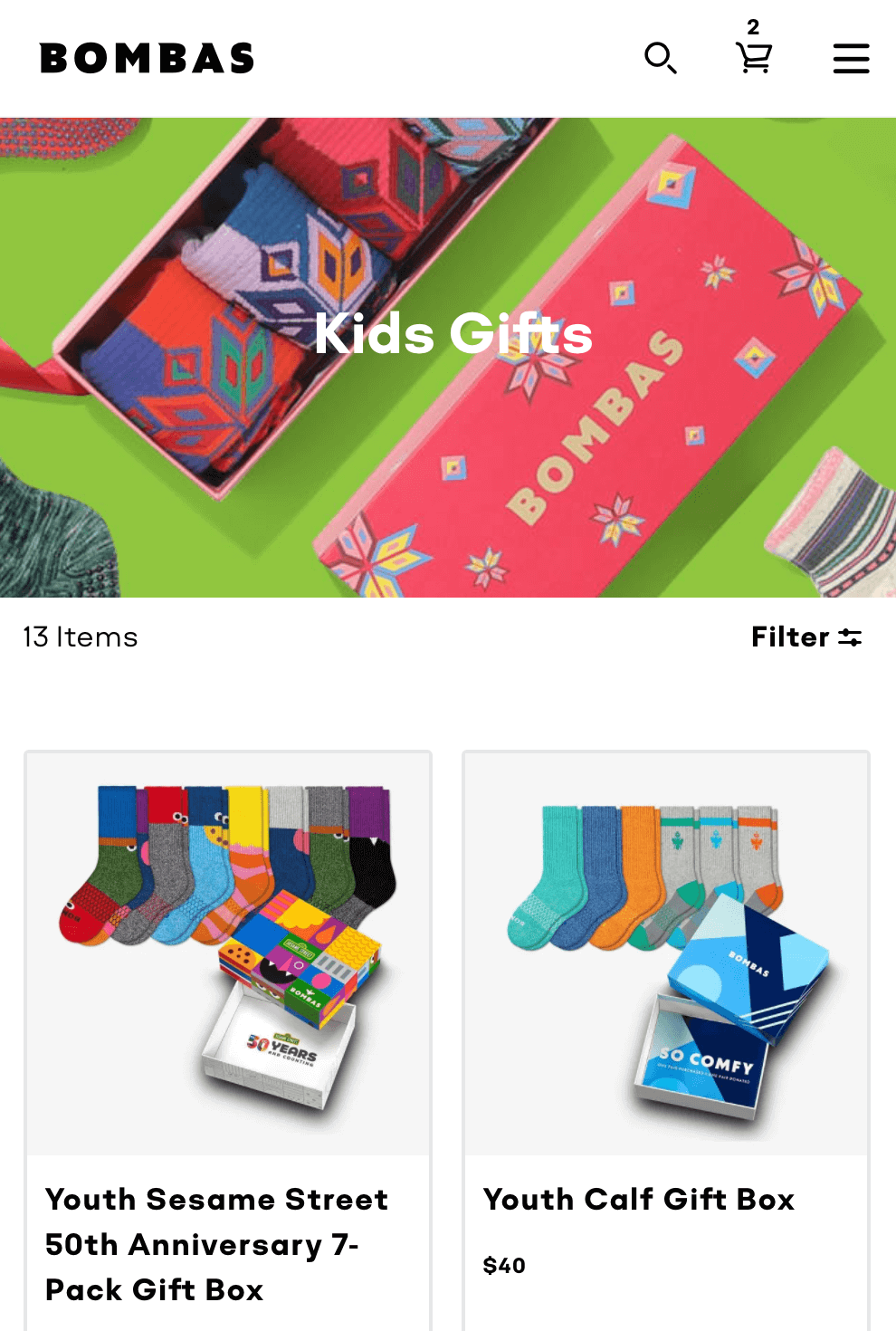 Don't Overlook Online Gifting
Easy gift options may be the difference for a customer between your brand and another. Improving the gifting experience and offering a gift message or gift wrapping removes an extra step for those who want to send an online gift directly to a loved one.
Online gifting is an important and often undiscussed component of an ecommerce business. Most direct-to-consumer brands don't focus on the customer experience for online gifters as they tend to fall out of their target audience.
But you should be encouraging gift giving from your site. 
It's a huge sign of brand loyalty when previous customers or site visitors want to share your brand with others. It also gets your business more exposure in front of new potential customers. 
Whichever option you choose, whether it be one of them or all of them, it's important to respond to customers who want to send your products as gifts.