No industry is more suited to subscriptions than the ecommerce beauty industry.
Beauty and skin care products are used on a daily basis by millions of people. And product loyalty is high. 
Think about your own beauty or skin care routine. You may have products from 3-5 different brands. But you probably buy the same face wash from one brand, the same toner from another, and the same foundation from yet a different brand. 
The repetition and high use of beauty and skin care products make them the perfect purchases to automate with subscriptions. 
Adding a subscription option to your beauty or skin care brand isn't a matter of if — it's a matter of when. 
While there are multiple ways beauty brands can add subscriptions to their business, the beauty industry has welcomed the subscription model with open arms. 
So how can beauty brands successfully build and grow subscription revenue? 
It comes down to these four things:
Attract
Attracting customers to purchase your beauty subscription starts with understanding and communicating the values of your subscription.
Communicating the Value of a Subscription
Beauty subscriptions tend to fall into two categories: replenishment subscriptions or curated subscription boxes. The benefits you communicate will depend on which category you fall into. 
Replenishment Subscriptions
The main benefits of replenishment subscriptions are convenience and price. 
Convenience
The replenishment subscription model is especially useful for beauty and skin care brands. Beauty and skin care products are used frequently, and customers tend to find their favorites and stick with them.
Adding an automated replenishment option to your ecommerce beauty store makes it easy for customers to get their specific products delivered to them at their desired frequency. They get value out of automating the process and knowing that they don't have to worry about running out of their favorite products.
Natural, refillable deodorant brand Myro makes it clear in its sign-up flow why subscribing is the better option:

Not only do customers get refills every three, four, or six months and free shipping by subscribing, they also get perks like access to Myro's "swag shop" and loyalty points.
Price
An additional value of replenishment beauty subscriptions is often a discounted unit price.
Take Kopari Beauty for example: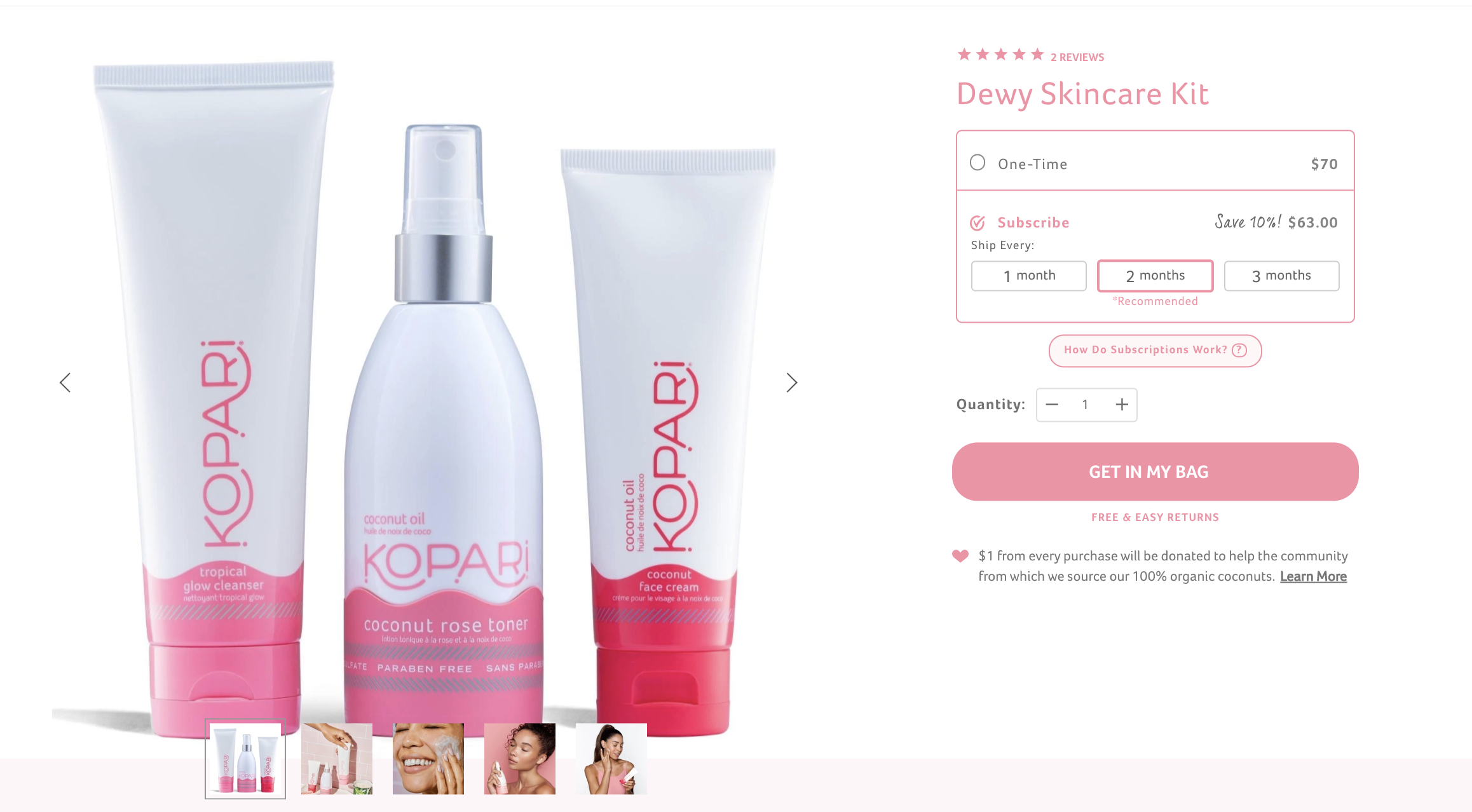 By subscribing and signing up for an auto-shipment every 1, 2 or 3 months, customers save 10% on their product. 
This may seem like a minor amount of savings, but for beauty products that are used and purchased frequently, being able to subscribe for a lower price can be a real driver during the consideration process for new customers.
Custom Formulas/Product Combinations
While personalized skin care and beauty products aren't always subscription-based, they usually fall into the replenishment category when they are. In addition to the convenience of getting products delivered on a schedule, customers also get a customized product designed to be delivered exactly when they need it. 
Y'OUR is a skin care brand that develops a personalized skin care routine with customized products for customers using a subscription-only model. That's to say, you can only subscribe to receive products — there are no one-time purchases.
For Y'OUR, in order to convert new customers, it's essential to communicate why they only offer subscriptions. Y'OUR's products are developed as routines designed to tackle a person's specific skin concerns.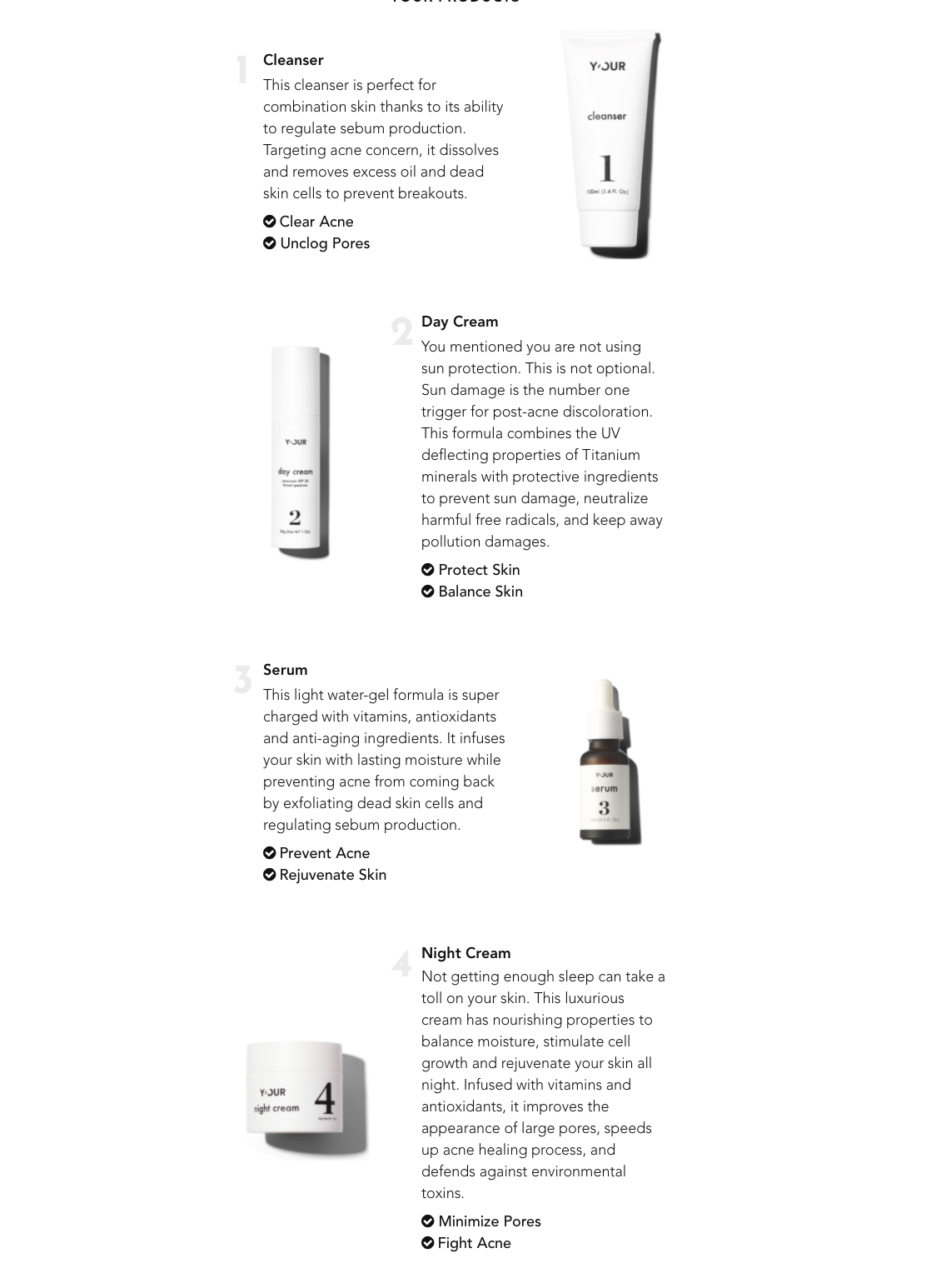 With its subscription and customization of products, those who purchase Y'OUR's skin systems are getting a combination of products designed to work together to tackle their skin concerns. 
Y'OUR is saying, "we know this exact combination of products treats the skin conditions you identified, and consistency is key, so we'll send you replenishments when we know you're likely to run out."
Proven Skincare works with the same model. Proven Skincare ushers new customers through its skin care customization flow in order to receive three custom skincare products designed to work together to treat their unique skin concerns.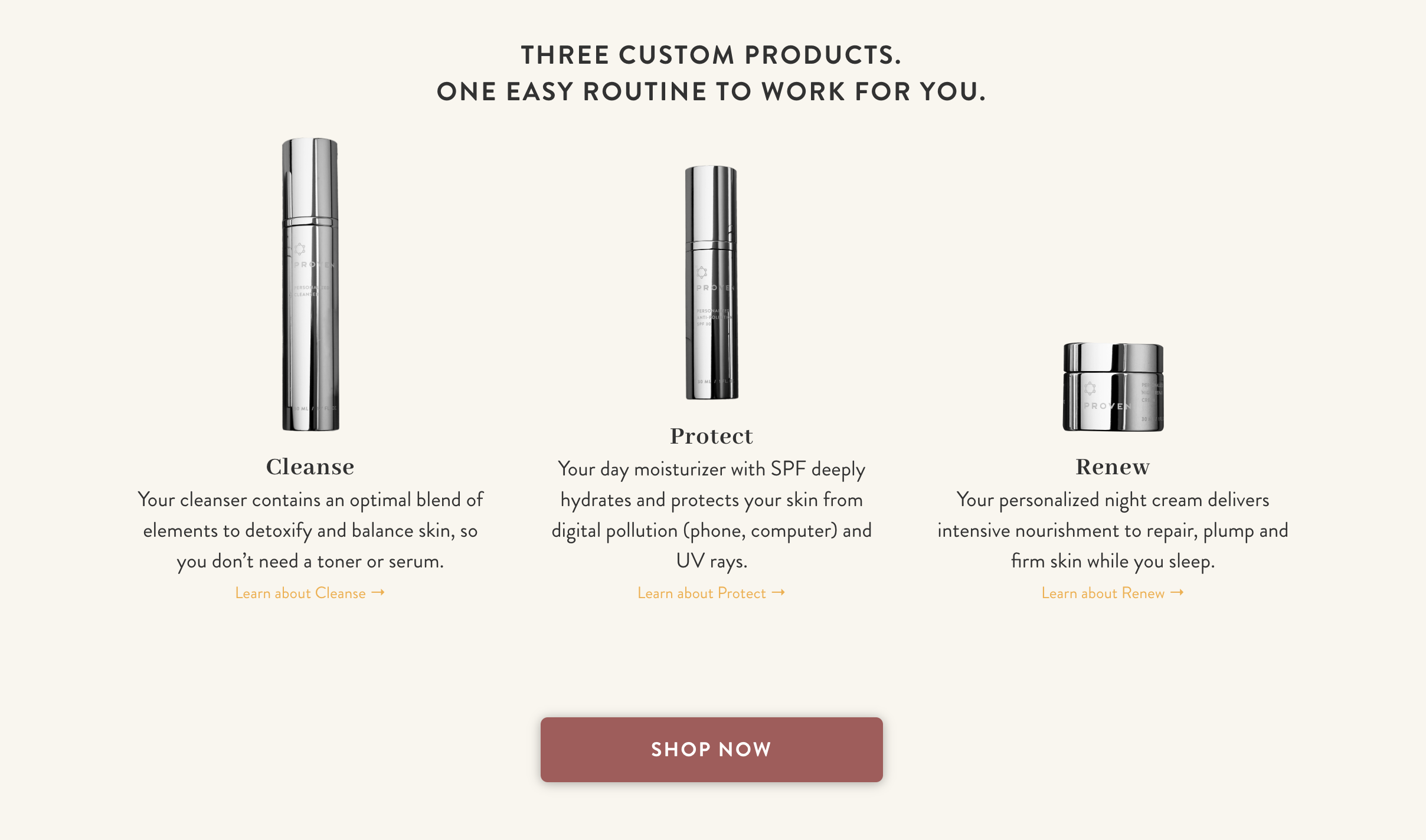 Subscribing for auto-replenishment with Proven Skincare ensures a customer will never run out of their personalized products that were designed to solve their individual problems. 
Curated Subscription Boxes
The value of subscription boxes differs slightly from brands that just offer replenishment subscriptions. Ipsy and Birchbox both employ the curated subscription model. Ipsy and Birchbox send out boxes with sample sizes of new products, beauty tools, and skin care remedies. 
Product Curation
For brands like Ipsy, Dermstore, or Birchbox, subscribers look forward to being able to try new products before purchasing larger versions of their favorites. On top of that, beauty box subscribers get to experiment with colors, textures, and styles of products that they may not have otherwise tried. 
The value customers get out of a subscription to a curated box is decreased effort and commitment to try new products, and tailored recommendations from a large array of products they'd usually have to choose from.
Price
The monetary value subscribers get from curated beauty boxes is a little different from the price value of a replenishment subscription. The value here is more for less. 
Ipsy and Birchbox offer flat rates for a guaranteed price level of product samples every month or quarter, so subscribers are getting tons of beauty products at a reduced price.
Dermstore is another example of a curated beauty box that offers subscribers $100 worth of beauty samples at a discounted price. In the image below, you can see Dermstore subscribers get a combination of full and travel-sized products from premium brands.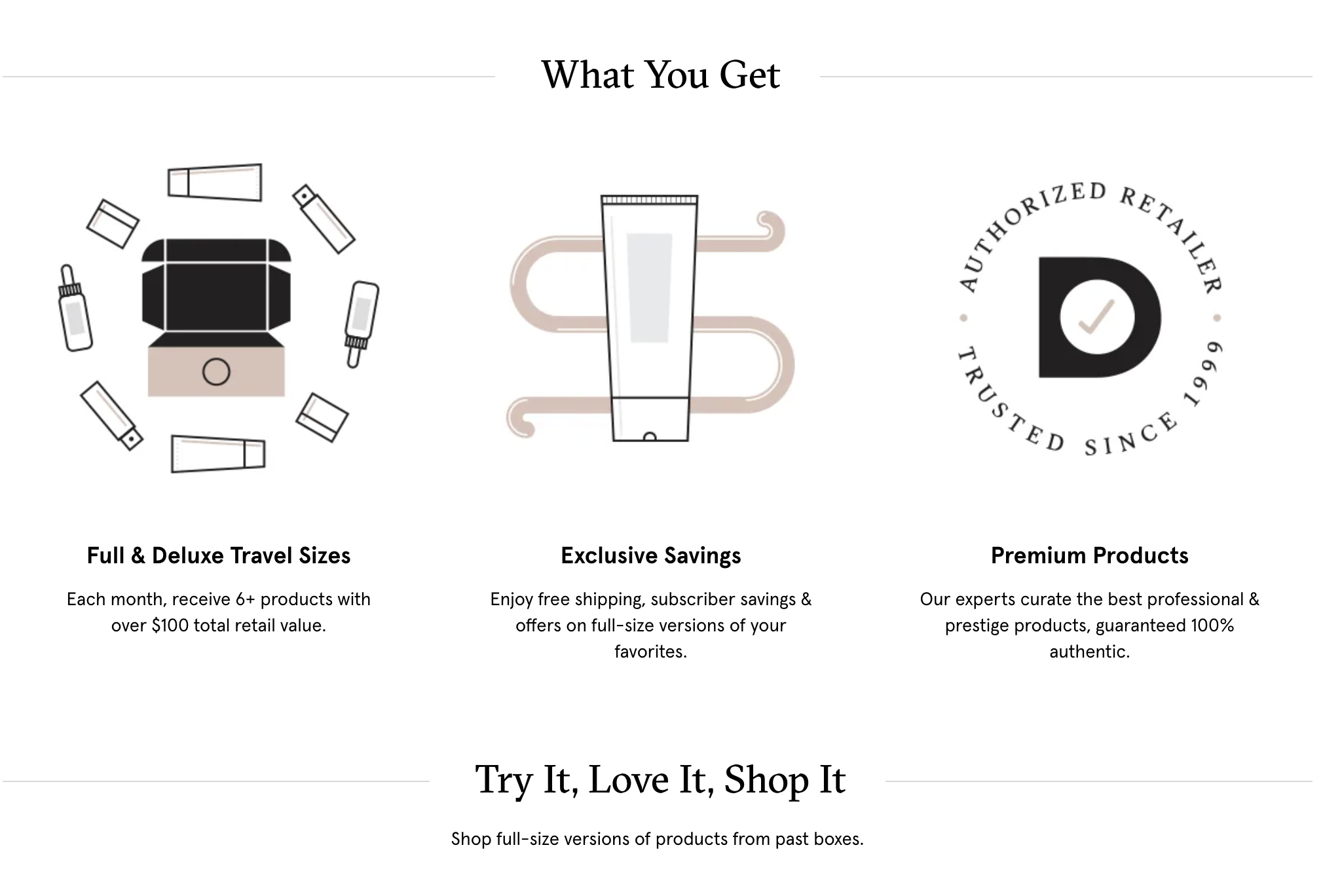 Adding extra value, Ipsy, Birchbox, and Dermstore offer exclusive discounts on featured products after delivery. Subscribers can shop full-size options of their favorite samples from a given delivery at a reduced rate. 
Acquiring Customers on the Beauty Industry's Top Channels
Once you understand the value you're offering with your beauty or skin care subscription, the next step is communicating that across channels to reach potential new customers. 
There are a few channels that are essential for beauty and skin care brands to have a presence on. 
First and foremost, your website needs to be optimized to quickly convey the value of your products and subscription options. This includes not only your homepage and product page content, but your blog or educational content as well.
You then need to think about how your customers are finding your website. 
The beauty and skin care industry is a visual one — social media platforms that have been monetized by influencers like Instagram and YouTube are especially important for high awareness-level audiences to find you. Add in paid social campaigns and you've got a winning social media strategy. 
On top of that, a good press piece can drastically increase your reach. 
Optimizing the Content on Your Website
Your customers are going to look to your website as a guide to your products and subscription options. 
Your homepage is the first opportunity you have to make a good impression by communicating the value of your subscription, displaying customer testimonials, and highlighting glowing press mentions.
Proven Skincare uses its homepage to do all of the above: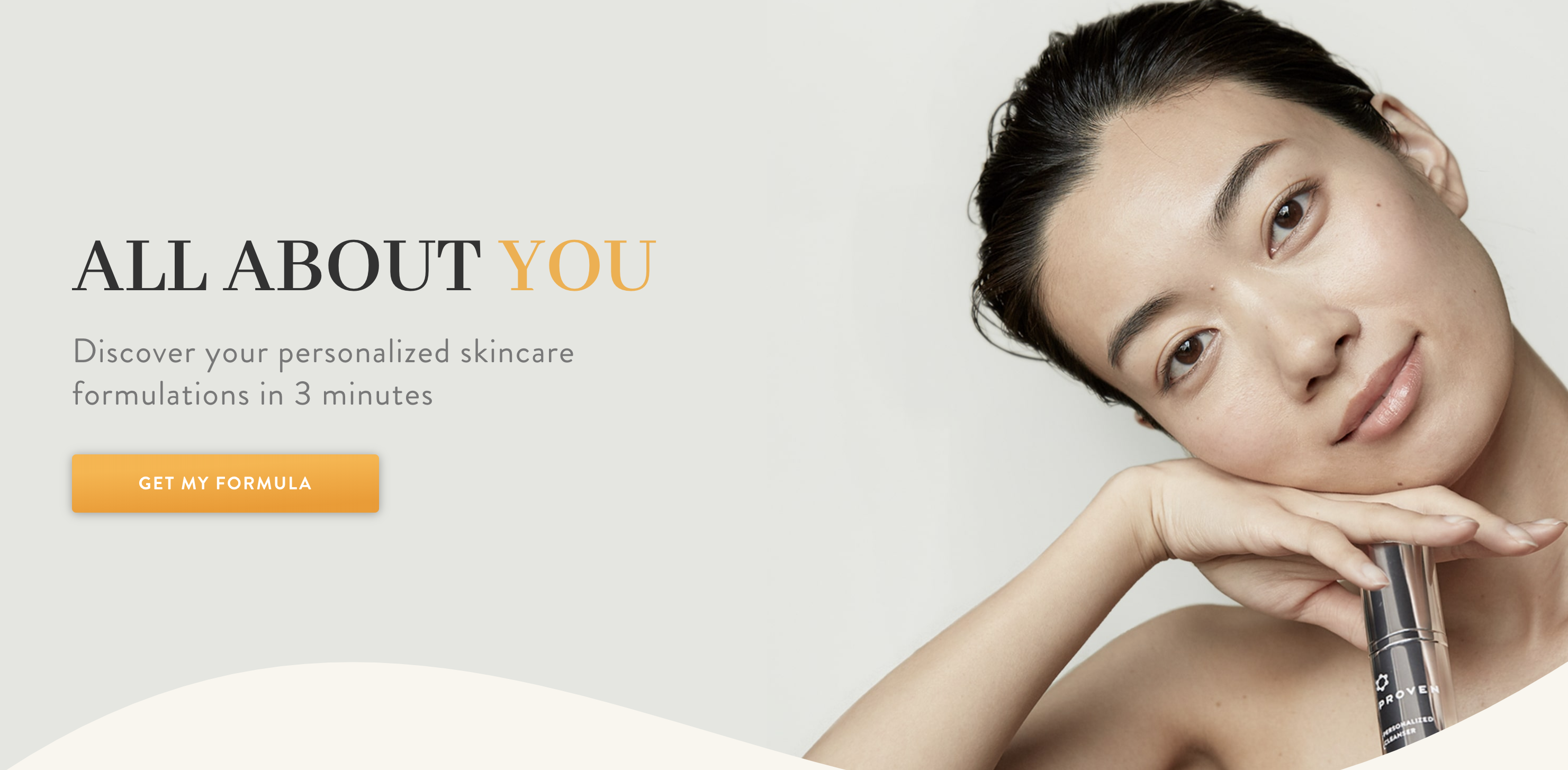 To start out, the hero is optimized for conversions. The description of its products and the call to action is clear.
Next, it gives more information about what's included in the quiz and how they formulate customized products.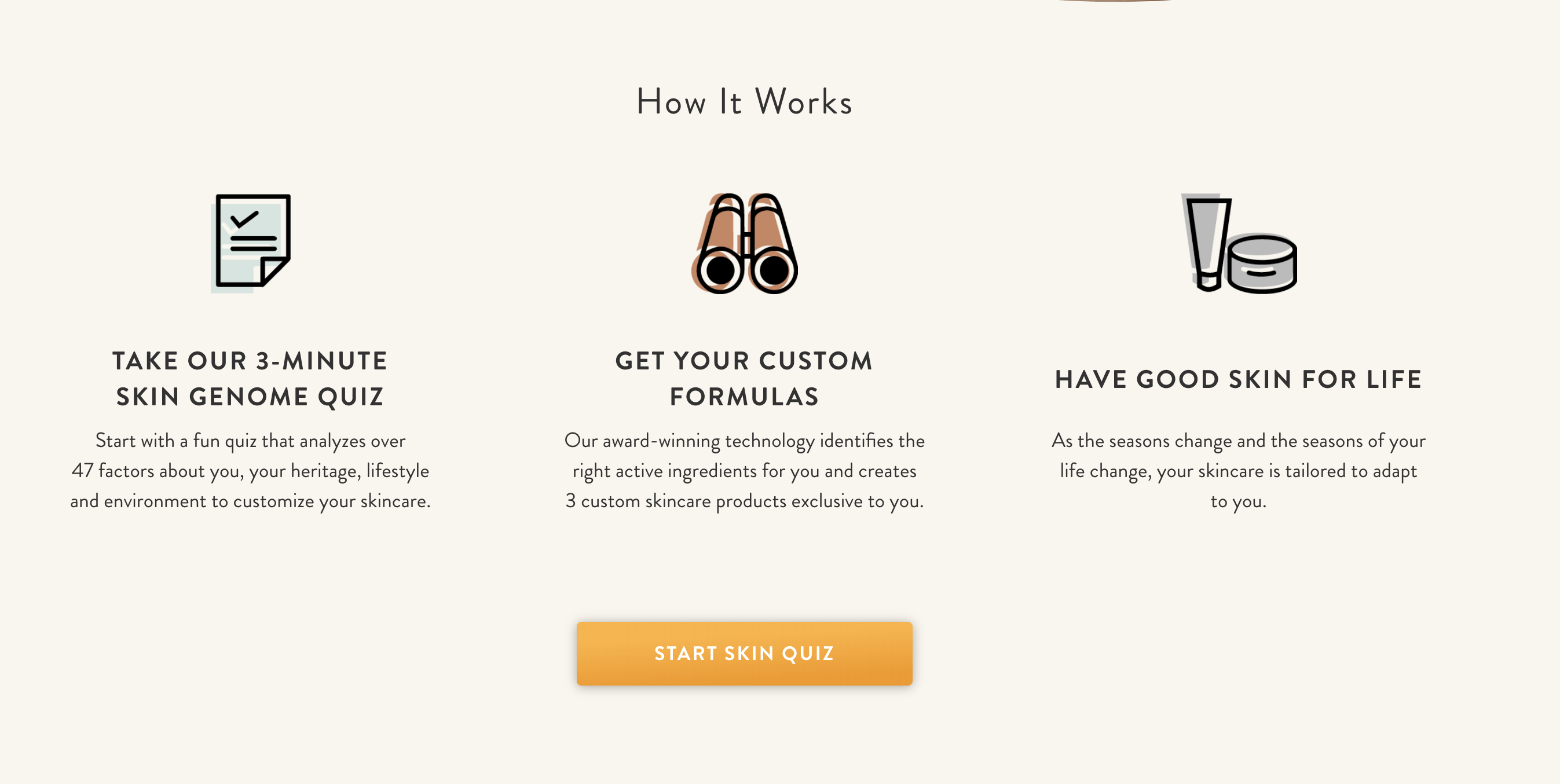 Proven Skincare is fully transparent about what kind of products you'll get after you complete the quiz: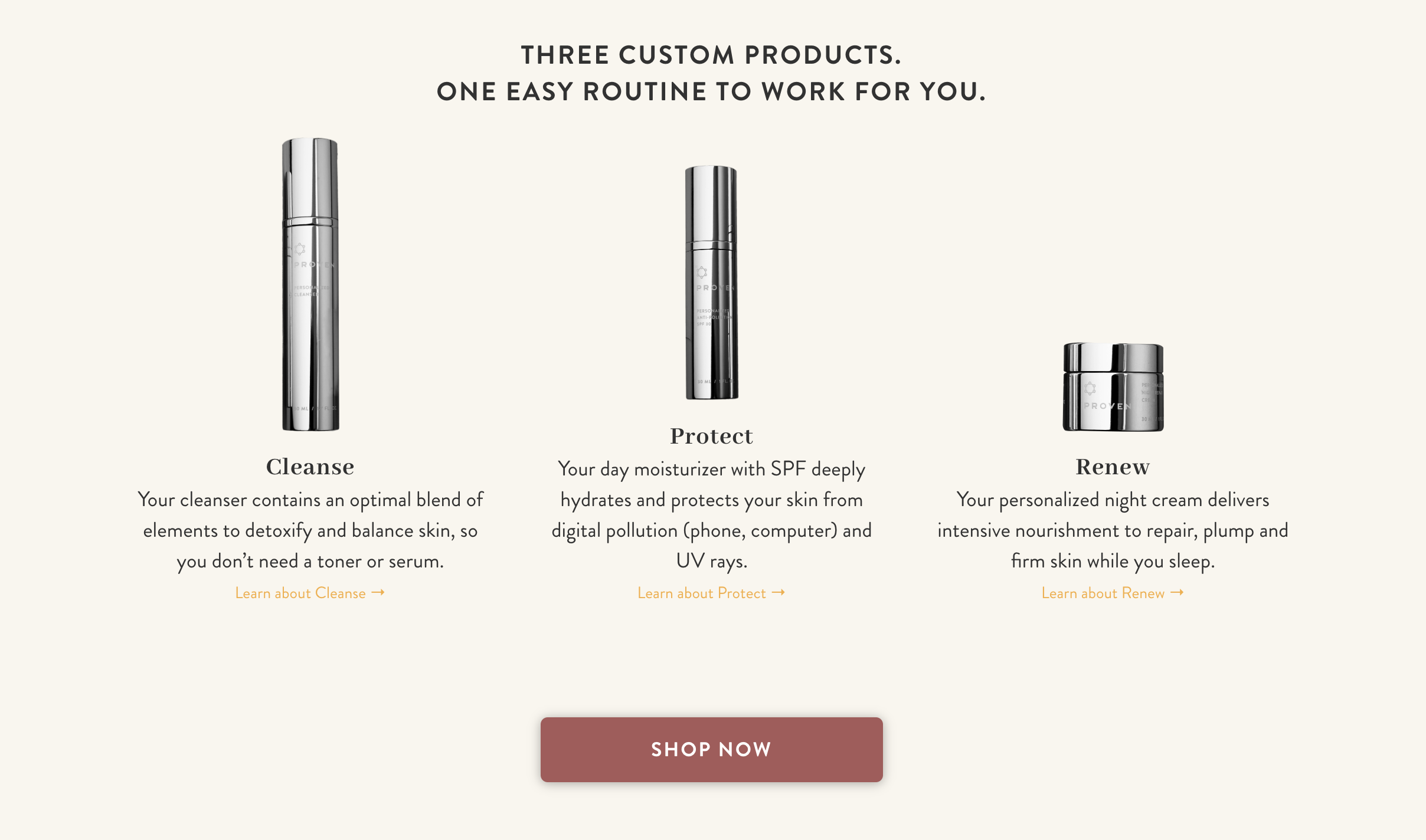 To drive home the value proposition, Proven Skincare highlights that its products are uniquely designed for each individual customer.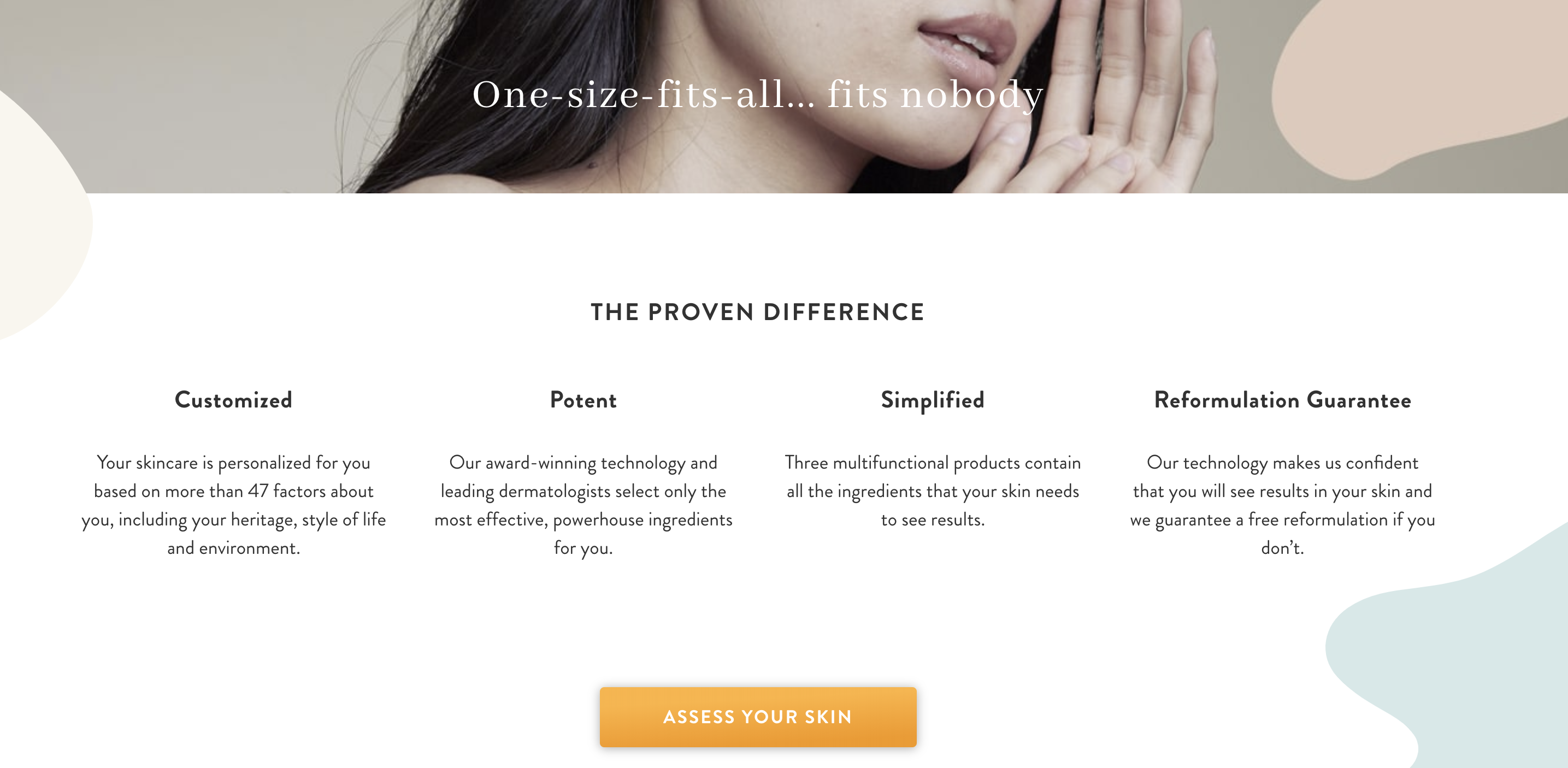 It uses social proof and media mentions to establish the brand as an authority in customized skin care.

Finally, the website displays customer reviews as a last ditch effort to encourage visitors to start the quiz.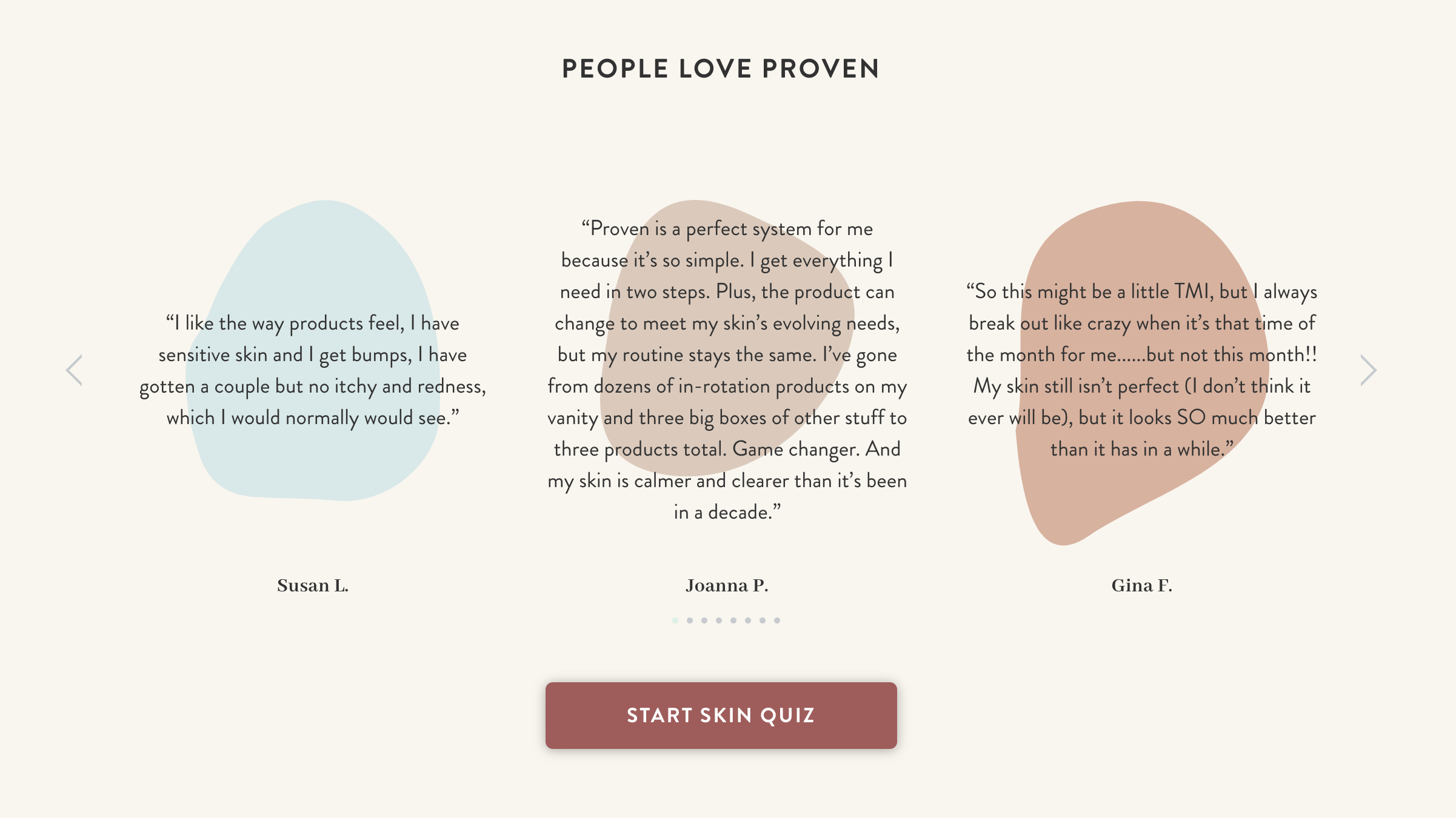 All the while, Proven Skincare includes prominent CTAs in every section of its homepage to drive conversions and sign ups. 
But your website content doesn't stop at your homepage. 
Function of Beauty creates personalized hair care products that customers can subscribe to for auto-replenishment. 
In addition to leading new visitors through its hair care quiz, Function of Beauty includes product detail pages for each product type they offer to provide visitors with more information.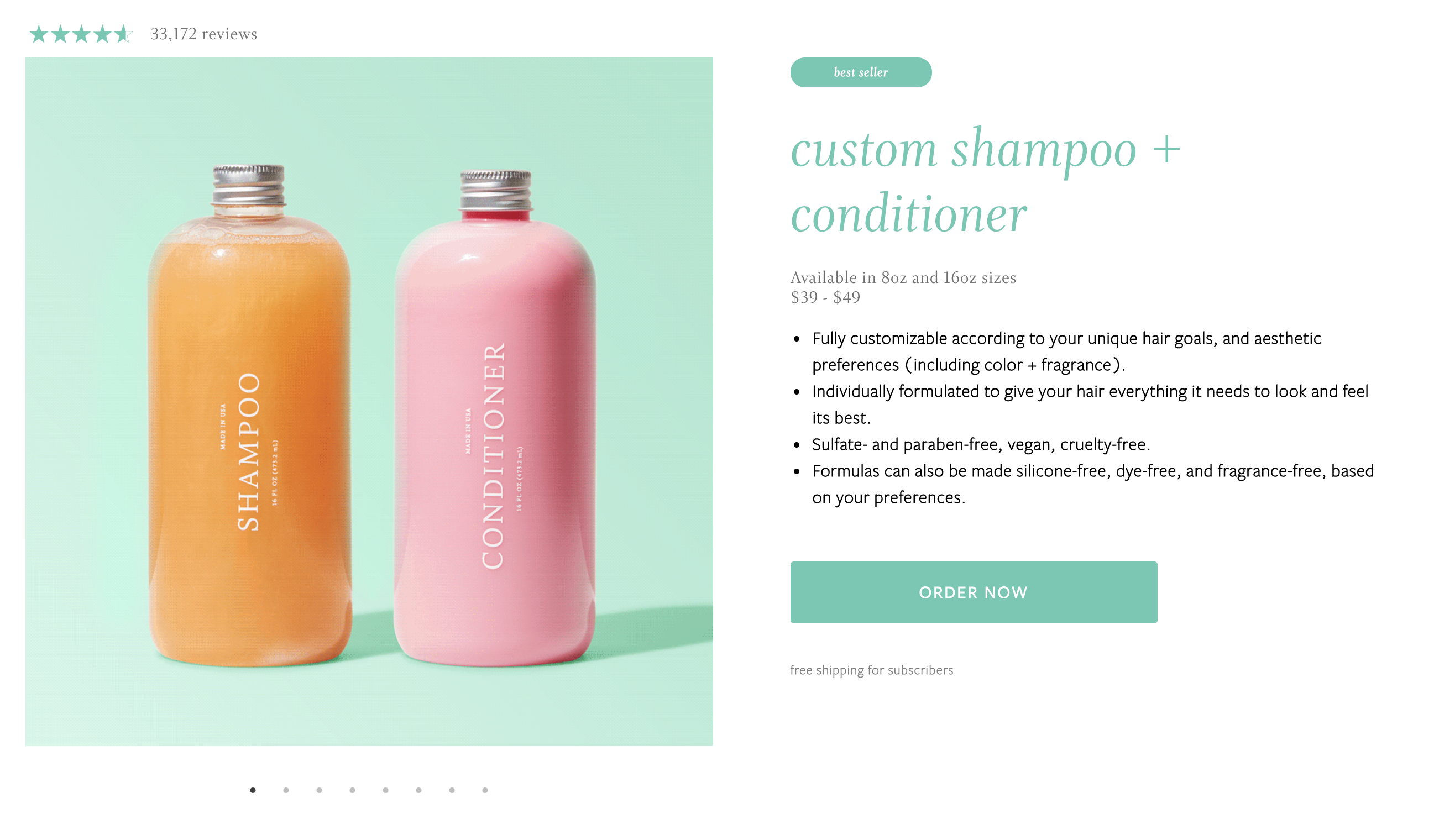 Providing additional product details will help address your customers' concerns before they proceed with your personalization quiz or subscription.
Barrel creates conversion-focused ecommerce websites for growing brands. Learn more about designing and building an improved customer experience for your wellness brand.
In addition to your website homepage and your product detail pages, beauty and skincare brands have the unique opportunity to capitalize on organic content.
Birchbox consistently builds out additional content on "The Mag," its brand blog. Adding a blog to your beauty or skin care brand website enables you to attract higher-awareness audiences with search engine optimized (SEO) organic content. 
SEO and organic content is a longer game, as it takes time for organic content to rank for keywords and bring in traffic. But understanding what searches are driving brand traffic can help you innovate new product and subscription offerings. 
The Power of PR for the Beauty Industry
For newer beauty brands or those with a new subscription option, PR and media mentions will help expand your reach exponentially. 
But using PR to your advantage isn't just about getting the word out — it's about choosing the right publications to review your brand and expose their readers to your products. 
According to Ahrefs data, Birchbox gets 13,199 visitors a month from this PR piece from PureWow alone.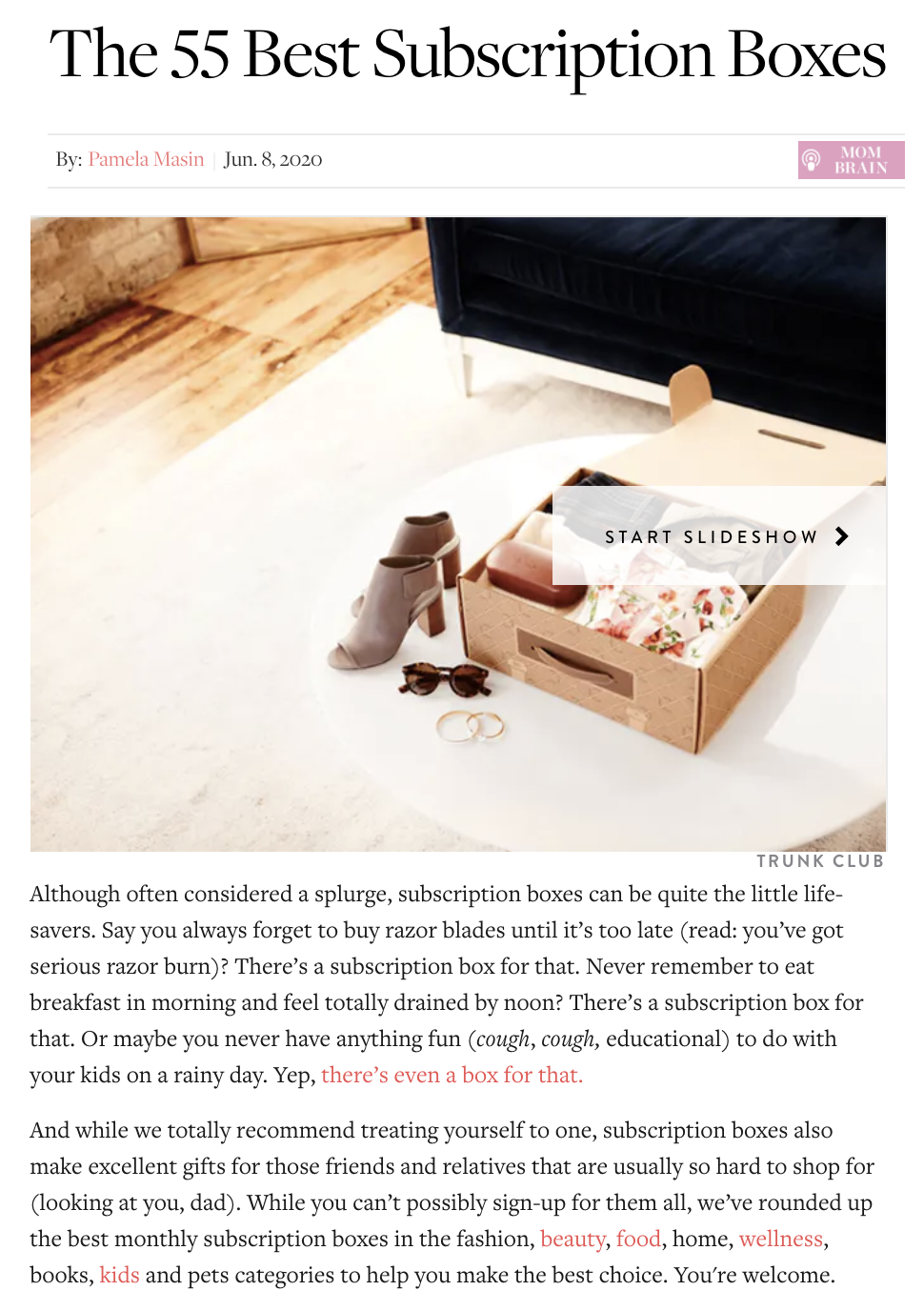 Whether you make use of sponsored links or organic mentions, PR is still incredibly important for the beauty industry. Hypebae, Glossy, Glamour, The Zoe Report, Elle, InStyle, Refinery29, Buzzfeed, Marie Claire, and Bustle are just a few of the popular online media outlets and publications that young women reference for beauty and skin care content. 
Don't Forget Influencers, Social Advertising, and Customer Testimonials
Social media is one of the most influential platforms for beauty and skin care brands. 
Social media marketing as a beauty brand often goes beyond maintaining a Facebook or Instagram account and consists of a more robust content strategy that includes influencer partnerships, YouTube and video content, user-generated content, and paid media campaigns. 
For your subscription products or options, social media can highlight how real customers are experiencing your brand and help potential customers envision the possibilities. 
Working with influencers is one way brands achieve this. 
GlossyBox sends subscribers five beauty products every month. GlossyBox works with influencers to inspire its customers to use the products it sends every month. 
Take this post from Loje, an influencer GlossyBox has collaborated with: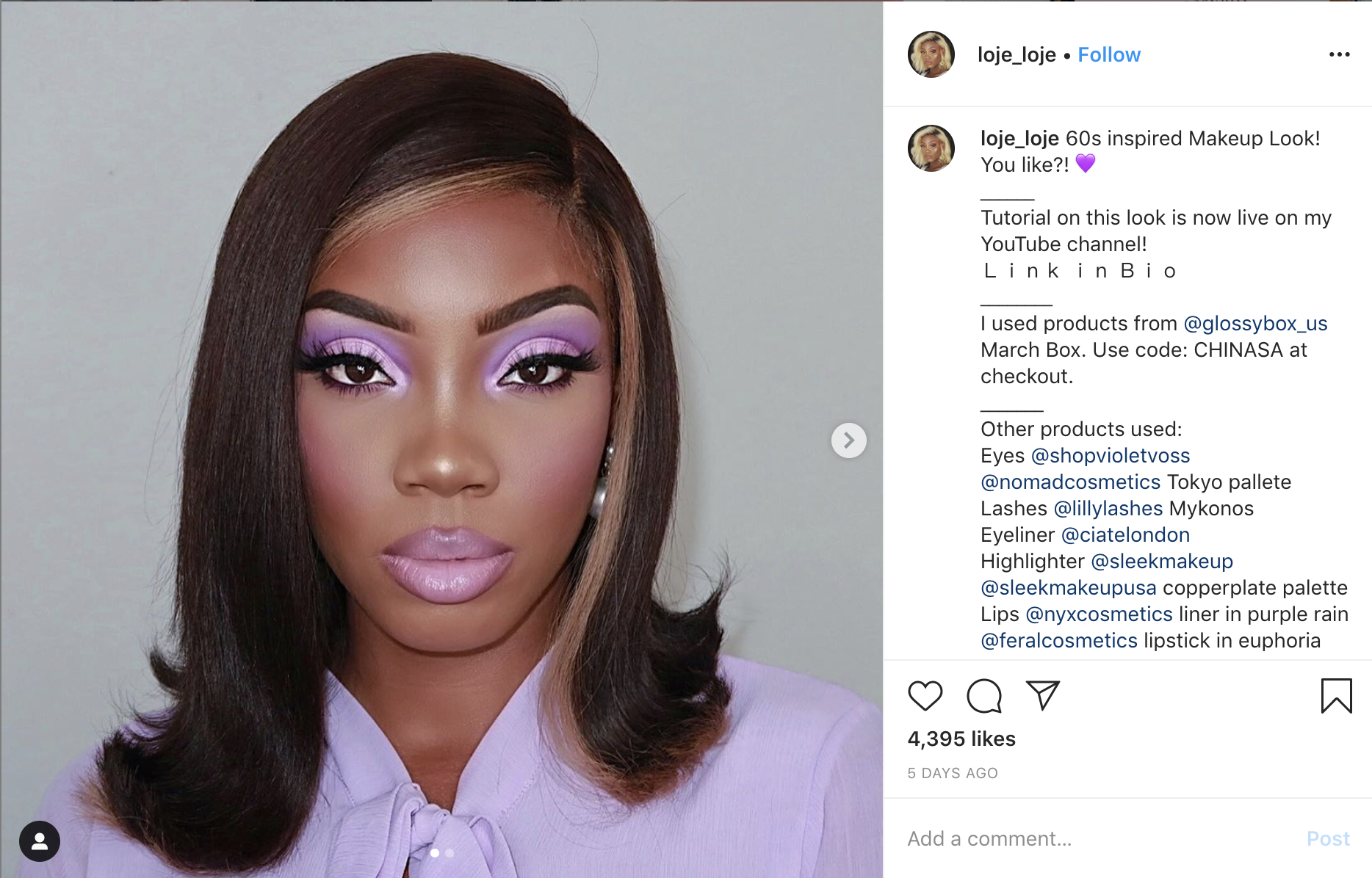 This influencer partnership focuses on how people are using GlossyBox's curated products. By showing off the exciting collection of products and color options, the audience sees how they can explore new products and looks with a GlossyBox subscription. 
Another popular type of social media post for beauty or skincare brands is unboxing. Unboxings, like this one from Ipsy, help demonstrate the ease of subscribing and the excitement of new product deliveries.
Social media is also the ideal place to feature educational content about your product and the benefits of your subscription. 
Curology is a skincare brand that creates custom-formulated skin care products. It uses its Instagram to be transparent with followers and potential customers by discussing the product formulation process, subscription options, and more.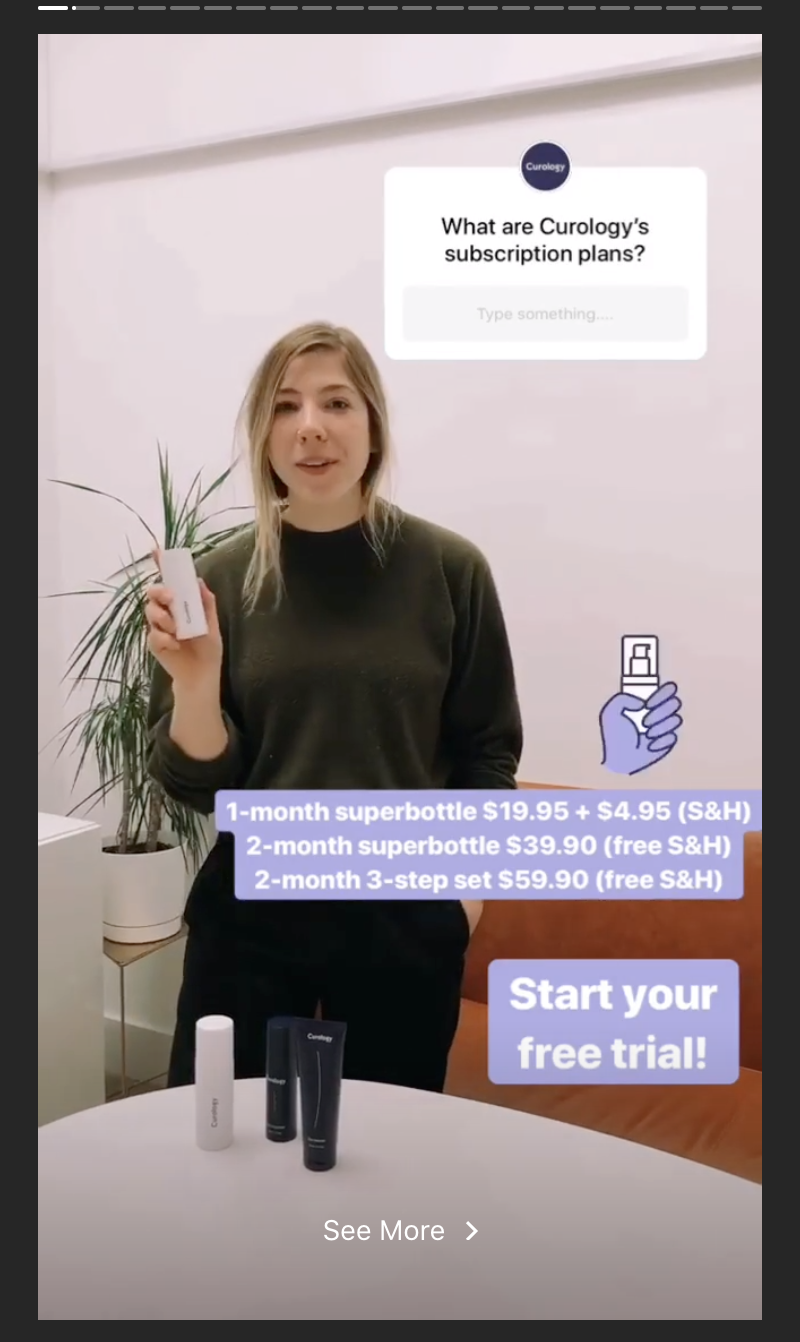 Curology makes it easy for its audience to find the answers to their questions about its products and subscriptions. 
Organic social media for a beauty or skincare brand is one thing, but in the beauty industry, a paid social media strategy is essential. 
Brands like Ipsy and Curology use paid channels to expand the reach of influencer campaigns and customer testimonials to attract new buyers.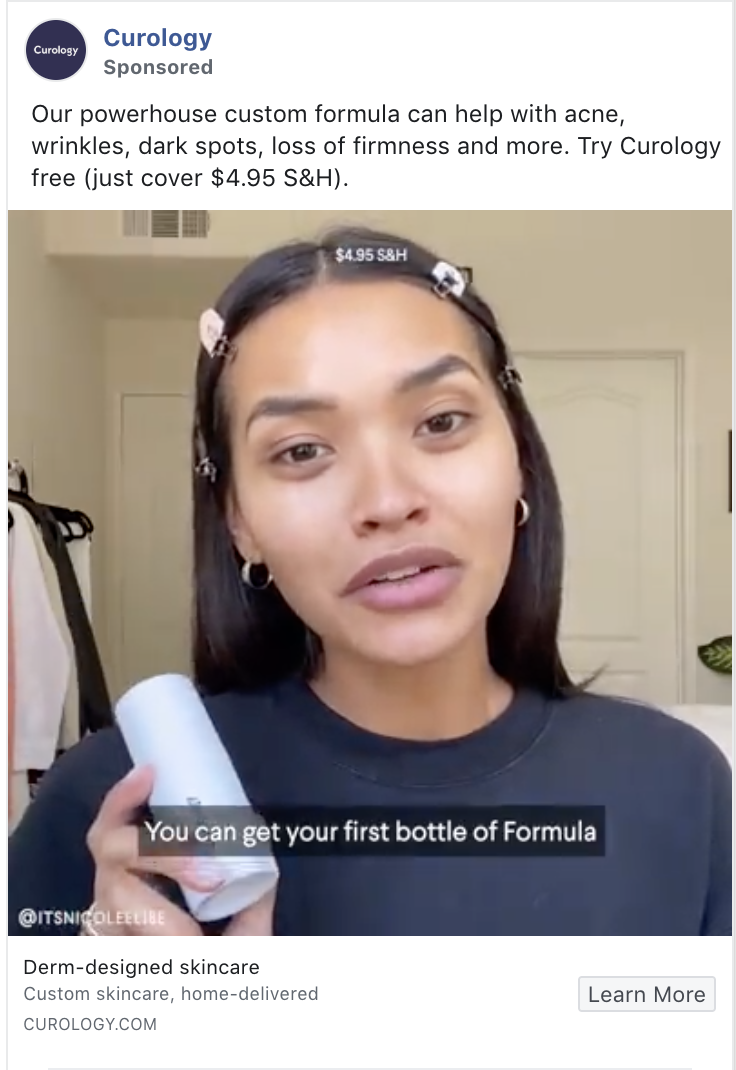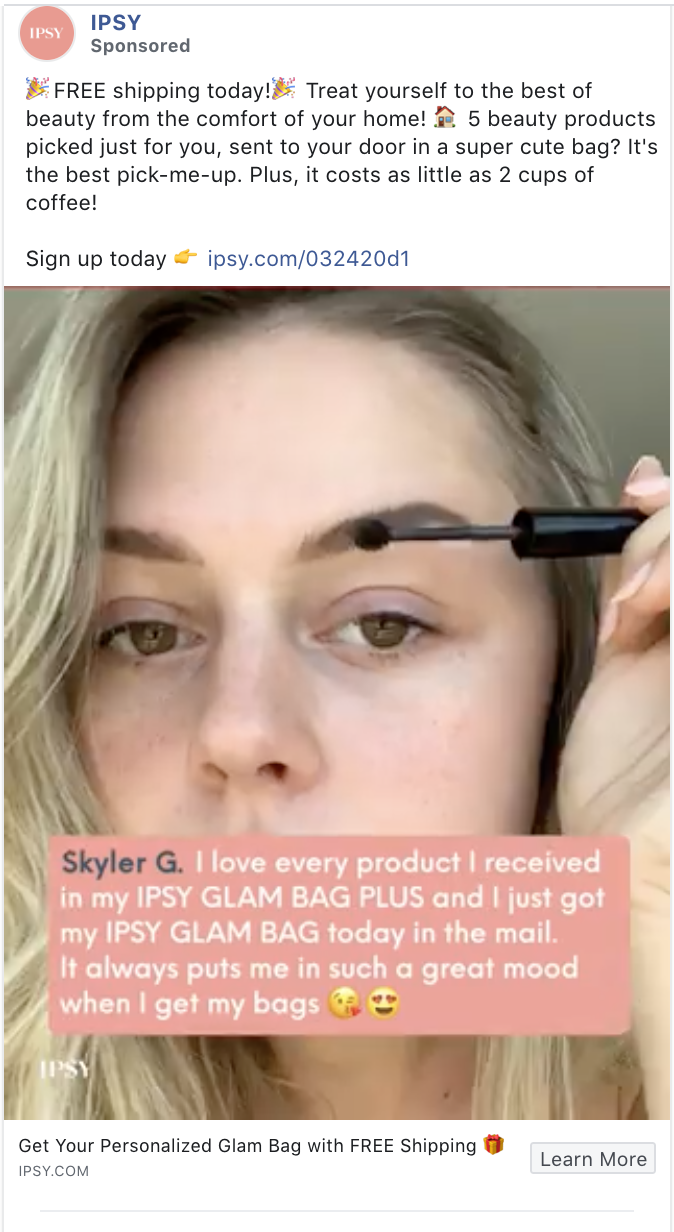 Once you establish a good pipeline for attracting visitors to your website or social media profiles, the next step to growing your beauty subscription is converting your new potential customers.
Convert
Okay, you've attracted new visitors to your site. Now, it's time to convert them into a subscription customer. 
Converting a potential customer is easier when the experience is tailored to them and their needs. One of the best ways to personalize your subscription experience and subsequently convert new customers is to walk new visitors through a personalization sign-up flow or quiz. 
Quiz vs. Sign-Up Flow
A quick aside on the differences between a sign-up flow versus a quiz. Sign-up flows function so a brand can tailor the actual end product to the customer, whereas a quiz enables a company to make personalized product recommendations from its existing product catalog.
Sign-up flows go hand-in-hand with subscription beauty brands that create custom formulas or custom curate a wide variety of products unique to each customer. Ipsy curates specific products for its customers based on the interests they express in its sign-up flow.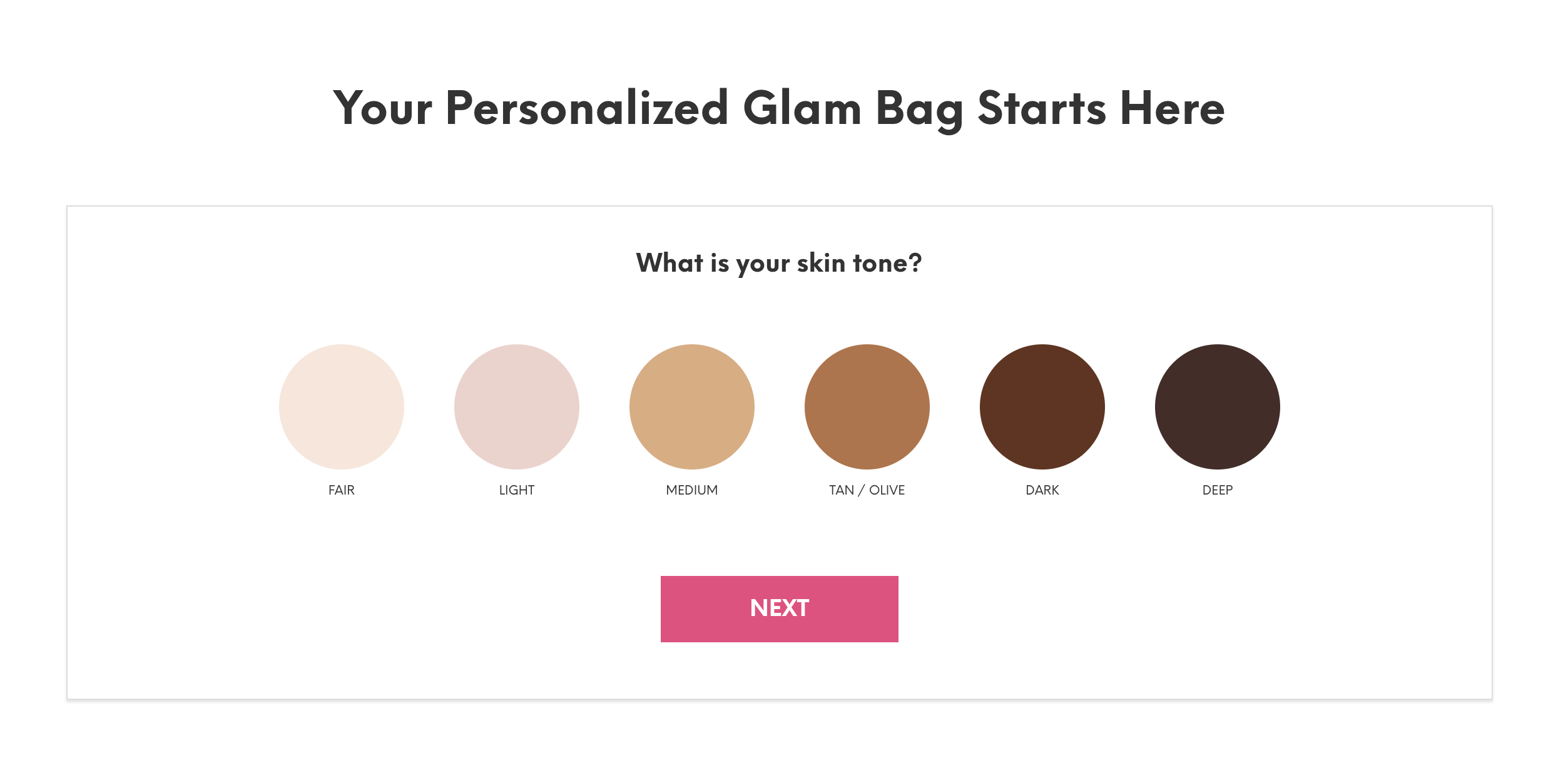 Curology and Hims are additional examples of skin care brands that use a sign-up flow to create customized product formulas for their customers. Curology and Hims both create unique skin care formulas for every customer with the help of licensed doctors. A sign-up flow is essential for them to prescribe the right combination of ingredients.
A quiz, on the other hand, will help you as a brand make more personalized product recommendations from your existing inventory. For example, Fekkai, a hair care brand, uses a quiz to make a more informed product recommendation among its collection of hair care products.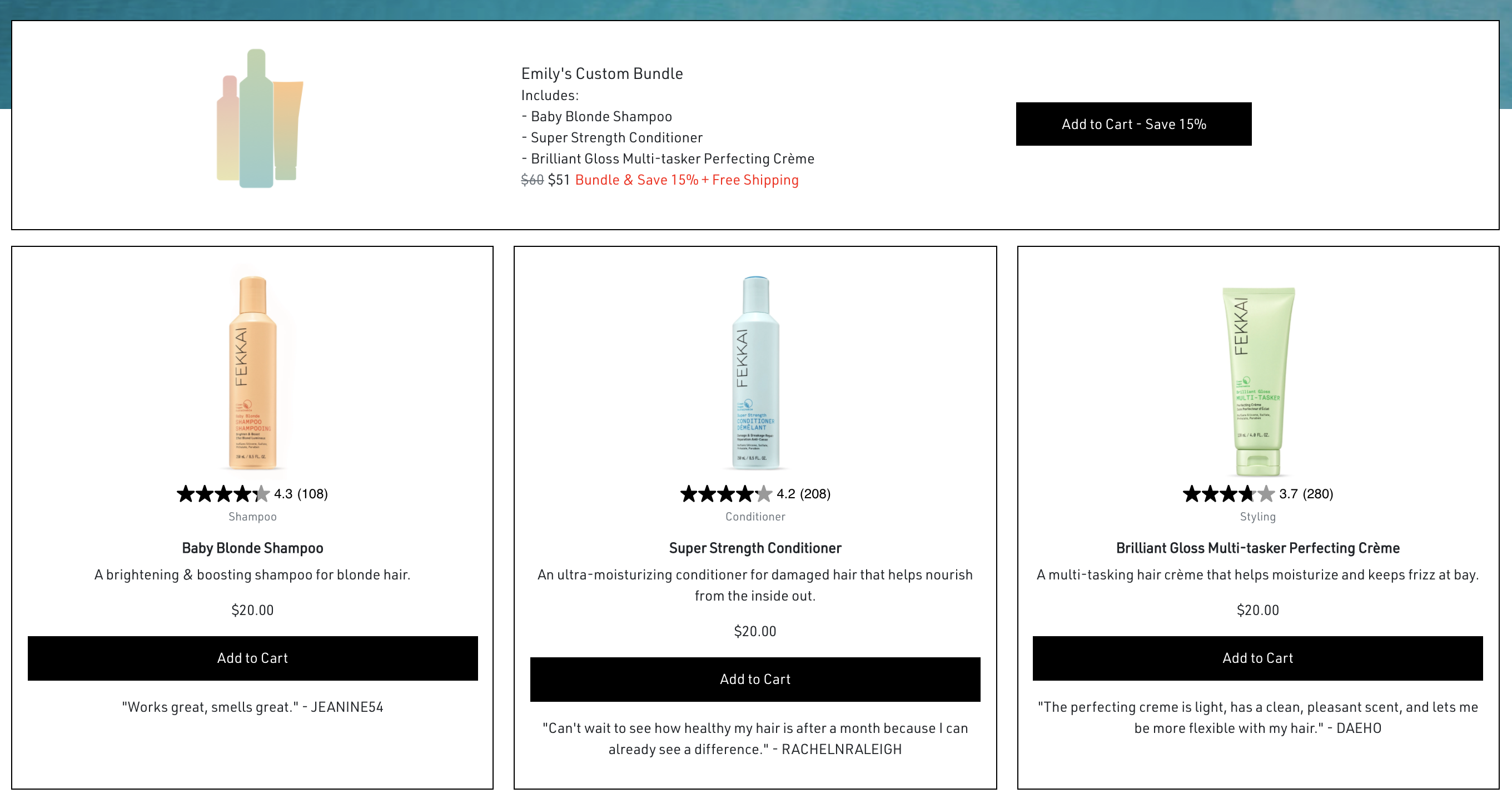 Learning about a customer's specific needs or creating a customized product enhances the value of your product, and a subscription helps seal the deal.
How to Use a Sign-Up Flow or Quiz to Create a Personalized Experience and Convert Customers
So, how do you use a sign-up flow or quiz to convert new customers? It comes down to reducing friction and collecting the right information to make the best recommendations possible, then following up with those who abandon the subscription sign up process.
Make it the Right Length 
Your sign-up flow or quiz should be seen as something that adds value to a customer's experience with your brand, not something that sours it. Nothing does this faster than creating a personalization funnel that's too long. 
If no one ever makes it through your personalization process, it's going to be that much harder for you to convince them to purchase. They don't see the fruits of their labor pay off with a tailored product or personalized product recommendation. 
They just see the process as not worth their time.
Test out different versions of your sign-up flow or quiz that include process indicators or vary in length to see which one gets a better completion rate, and which one has a better conversion rate. Hopefully, it's the same version. 
A tool like Google Optimize will enable you to run A/B tests on your site and in your sign-up flow to quantify the better version with data.
While it doesn't show every step, skin care brand HelloAva gives new customers a good idea of where they are in the sign-up process with progress markers within its on-boarding flow.

It will take some testing to find that sweet spot, but something that can help is thinking about what information you need to be collecting.
Collect the Right Information
The data and details you collect about a customer from their quiz or sign-up results will inform your initial relationship with them. The quiz attributes you assign and track are the first assumptions you can make about personalizing products, content, and communications. 
Collecting the right information and adding the right questions to your quiz comes down to one thing: 
What information do you

need

to make the best, most personalized recommendations? 
We specifically say "need" here because keeping your personalization funnel the right length means focusing on the information you need to have, not want to have, first. 
Think about the following questions: What categories do your products fall into? What bigger considerations or themes influence how people pick your products? 
For example, skin tone is an important differentiator that impacts beauty products beyond foundations and concealers. On the skin care side, skin type is often a starting point when choosing additional products. 
As a subscription-based brand, you'll want to consider a question related to frequency of use. Knowing how frequently a customer uses beauty or skin care products gives you the opportunity to add a subscription option to the products you recommend. 
For those that create custom products with a sign-up flow, you can adjust the time intervals for subsequent shipments to better tailor your customer's needs.
Function of Beauty includes multiple frequency options for subscribers, and changes the pre-selected option based on the size of the bottles a user selects.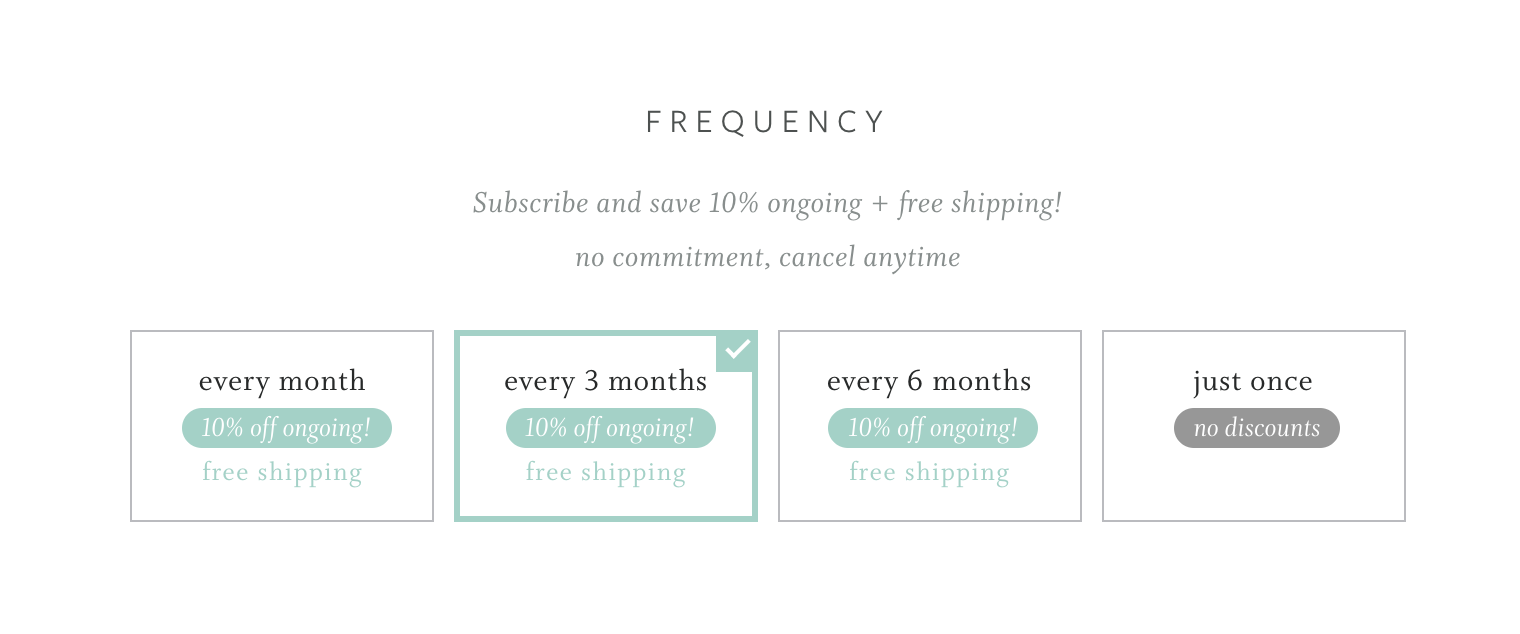 Part of collecting the right information is also collecting an email. In a perfect world, everyone who goes through your quiz or sign-up flow would convert then and there, but we know that doesn't happen. 
Gate the results and your recommendations behind an email sign up so you can follow up with even more personalized communications. This is another place where you can test a few options in your flow: 
Ask for an email sign-up to begin. This might deter people from starting your quiz, but increase the amount who finish it. 

Leave email sign-up until the end. This would increase the amount of people who start your quiz, but could prevent those already in the quiz from finishing it.
Once you do capture an email, you can use all that personalization information you've collected to increase the chances of a conversion.
Nurture Afterwards to Increase Abandoned Subscribes Through Email Marketing
Starting or even completing a quiz doesn't guarantee a potential customer will subscribe to your brand. 
Enter email marketing. Email marketing is especially suited to beauty subscriptions with personalization quizzes, as email capture at the end of a sign-up quiz is essential for delivering customized results. 
It's also helpful if you are running A/B tests in your sign-up flow or quiz to reinforce the differences in messaging that you use. Creating email A/B tests is almost always a given feature within email platforms like Klaviyo. Make sure to segment your follow-up flows to match the messaging or additional questions you asked in the different versions of your personalization funnel. 
As we mentioned above, you can either gate the quiz with an email capture, or the results. If you require an email upfront, you can use email marketing to nurture those who abandon the quiz or sign-up process. 
Curology requires an email prior to letting new visitors start the sign-up flow. When someone leaves the flow without completing it or receiving their results, Curology sends a follow up email.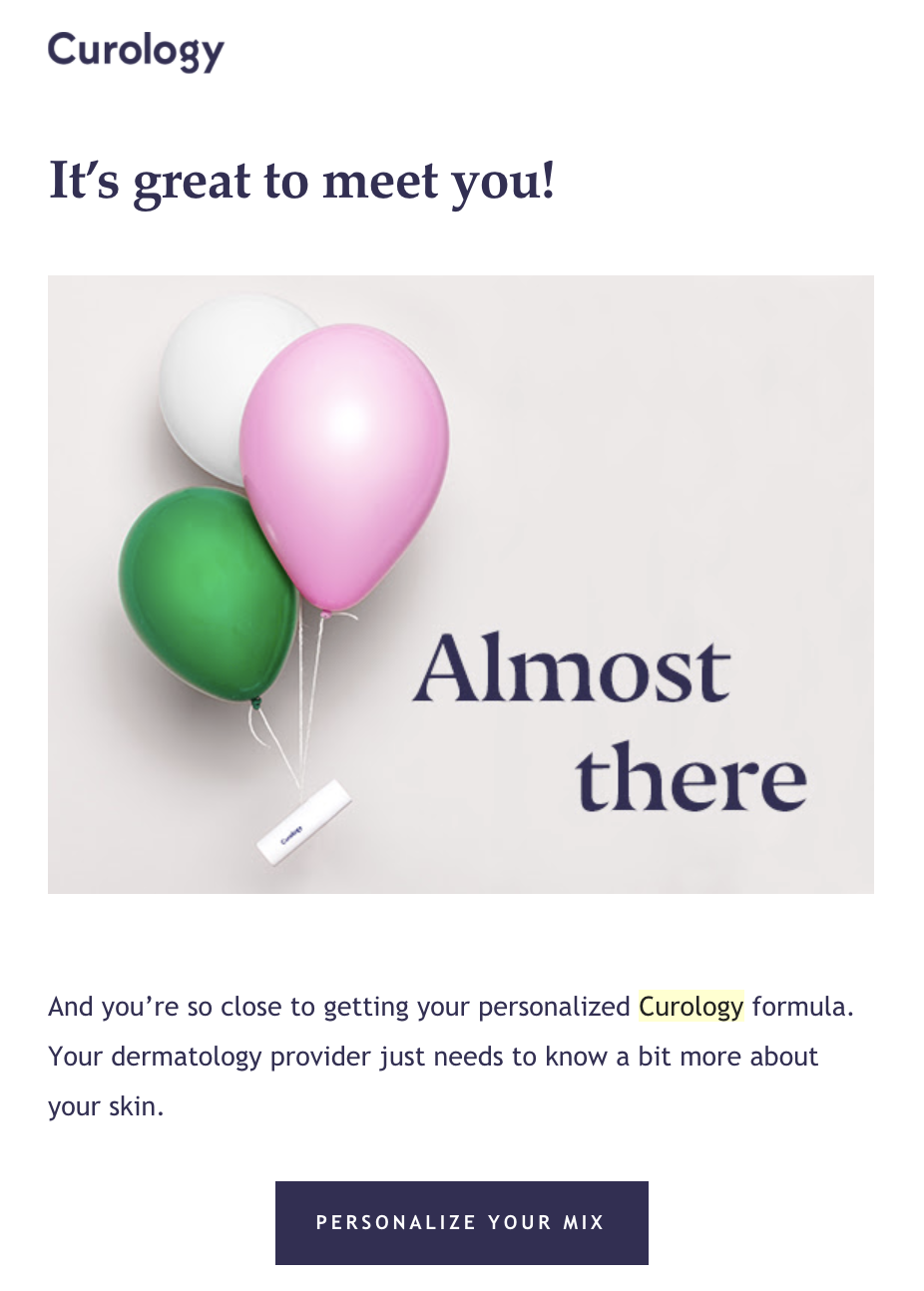 On the other hand, you can use emails to convince someone to purchase after completing the flow or quiz. Once someone completes their quiz, enters their email, and doesn't complete a purchase, start sending them a nurturing email flow to guide them through to purchase. 
Proven Skincare uses purchase abandonment after someone goes through its personalization flow to send informational emails about the formulation process and the brand's scientific backing.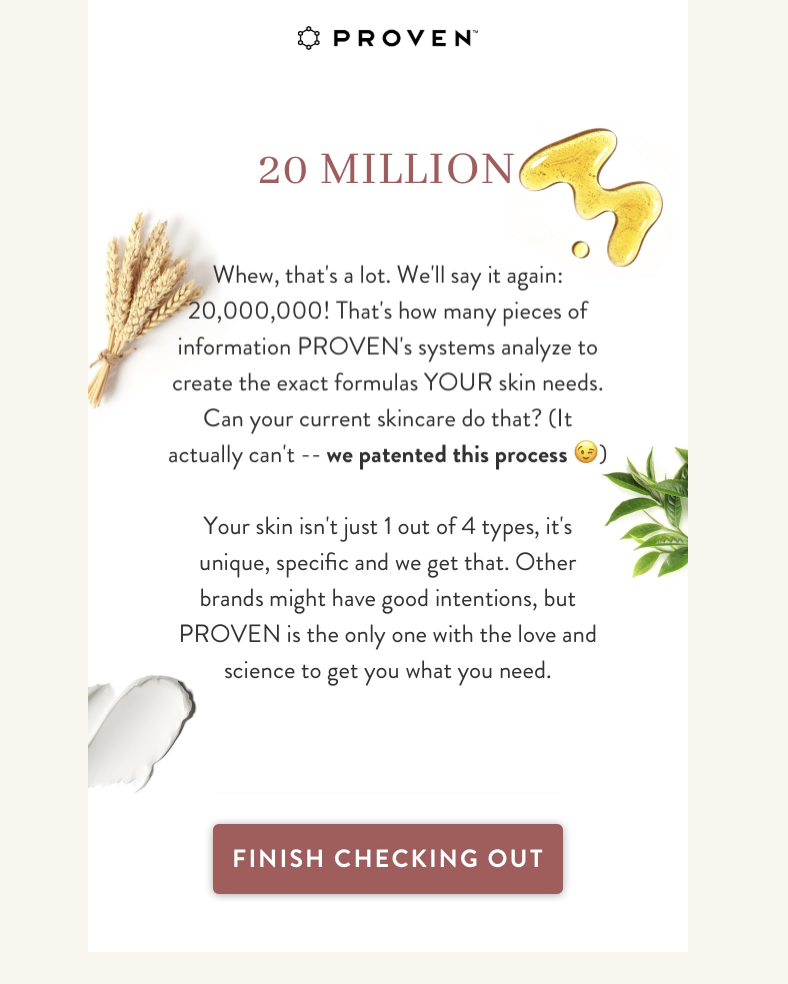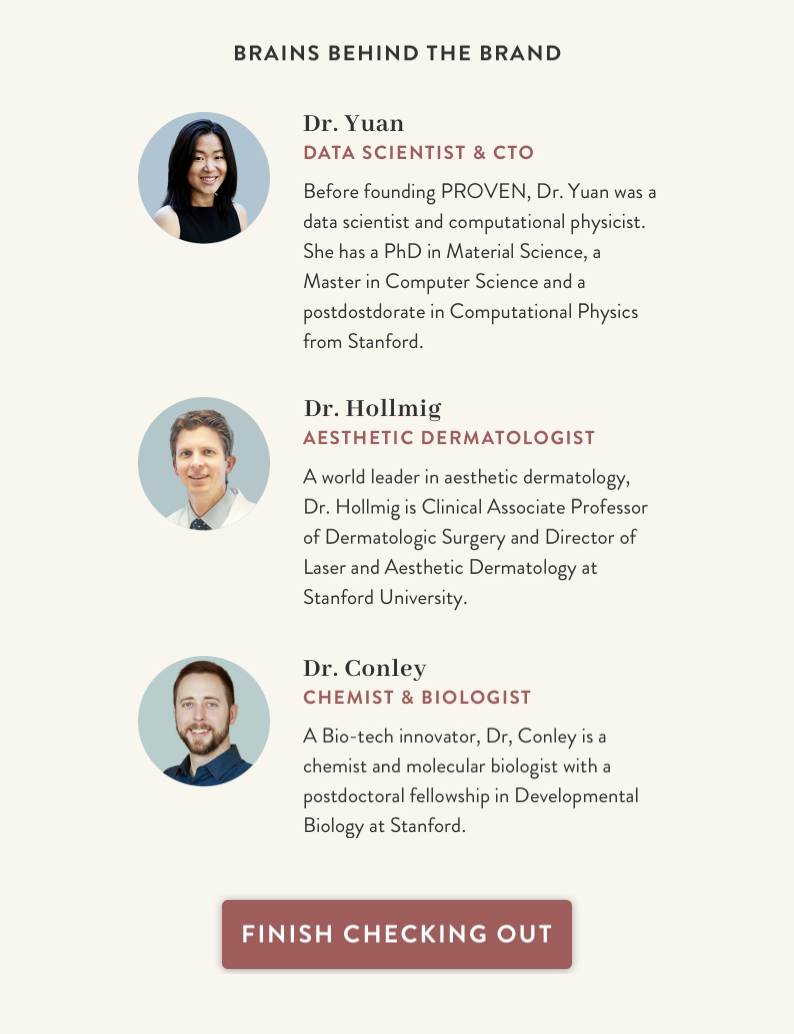 With email marketing, you can use the different attributes of your quiz to build segments and send more tailored messaging and content.
On your quiz, you might ask about someone's main skin problems, with possible answers like oily, dry, or acne-prone skin. You can map a customer's selection to profile properties within your ESP. From there, you can create segments in your email platform for customers who select each of these categories to continue communicating with more personalized content.
Personalization is the name of the game for beauty and skin care brands. The more personalized your content and recommendations are, the higher chances of a positive customer experience.
Manage
Now that you've converted customers to a subscription, they need to be able to manage that subscription efficiently. While you may think making it easy for customers to change or cancel their subscription could lead to a higher churn rate, this could actually help reduce customer churn.
Here's how.
Make It Easy 
Nothing causes churn more than a frustrating experience for your customer. If your strategy for preventing churn is to make it as difficult as possible to churn, you're going about it the wrong way. 
Making it easy for your customers to manage and alter the details of their subscription could actually prevent churn by allowing them to customize the details more to their needs.
Subscribers should be able to:
Edit the frequency of their subscription shipments

Alter the products within their subscription

Access their subscription seamlessly on mobile.
Function of beauty offers customers the choice between different size combinations for its shampoo and conditioner subscriptions, as well as different frequency options.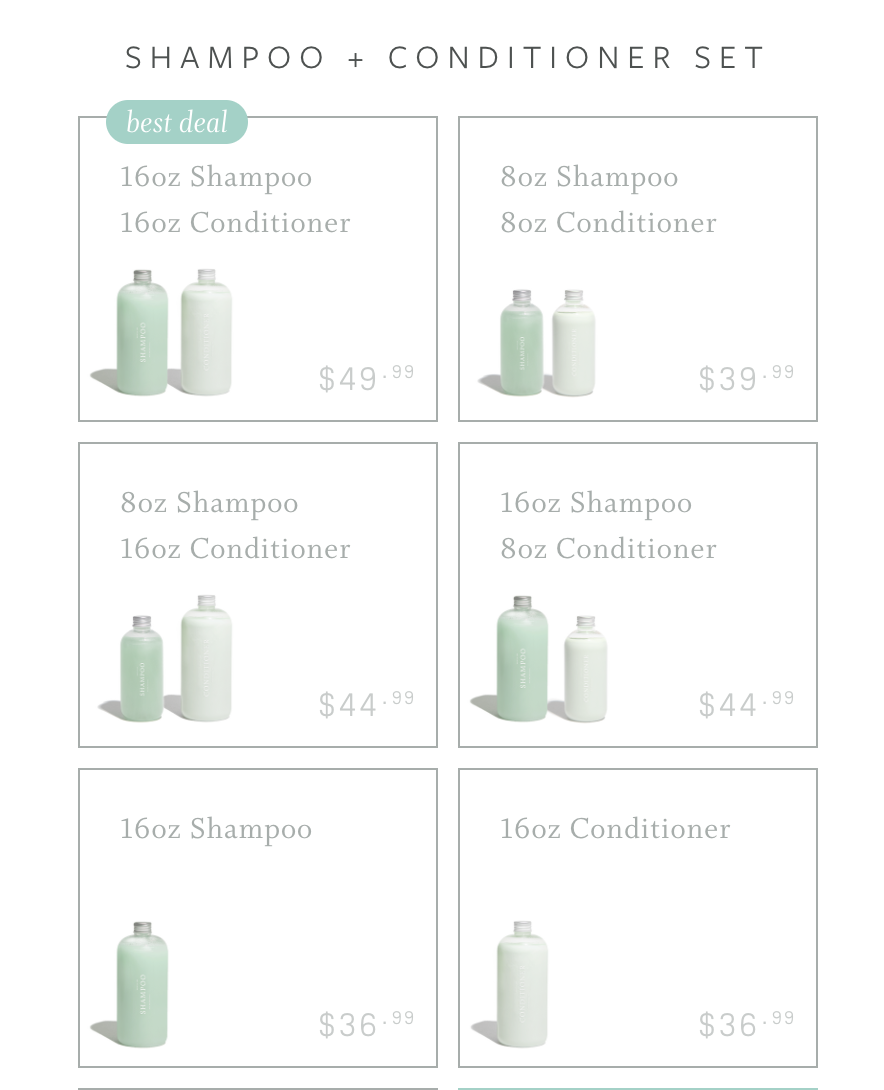 Letting customers change their size options and frequency allows them to stay subscribed while altering their subscription, and it helps Function of Beauty learn more about how customers are using its products. 
Tiege Hanley, a men's skin care brand, has an entire subscription dashboard dedicated to letting its customers easily change the details of their subscription and shipping dates.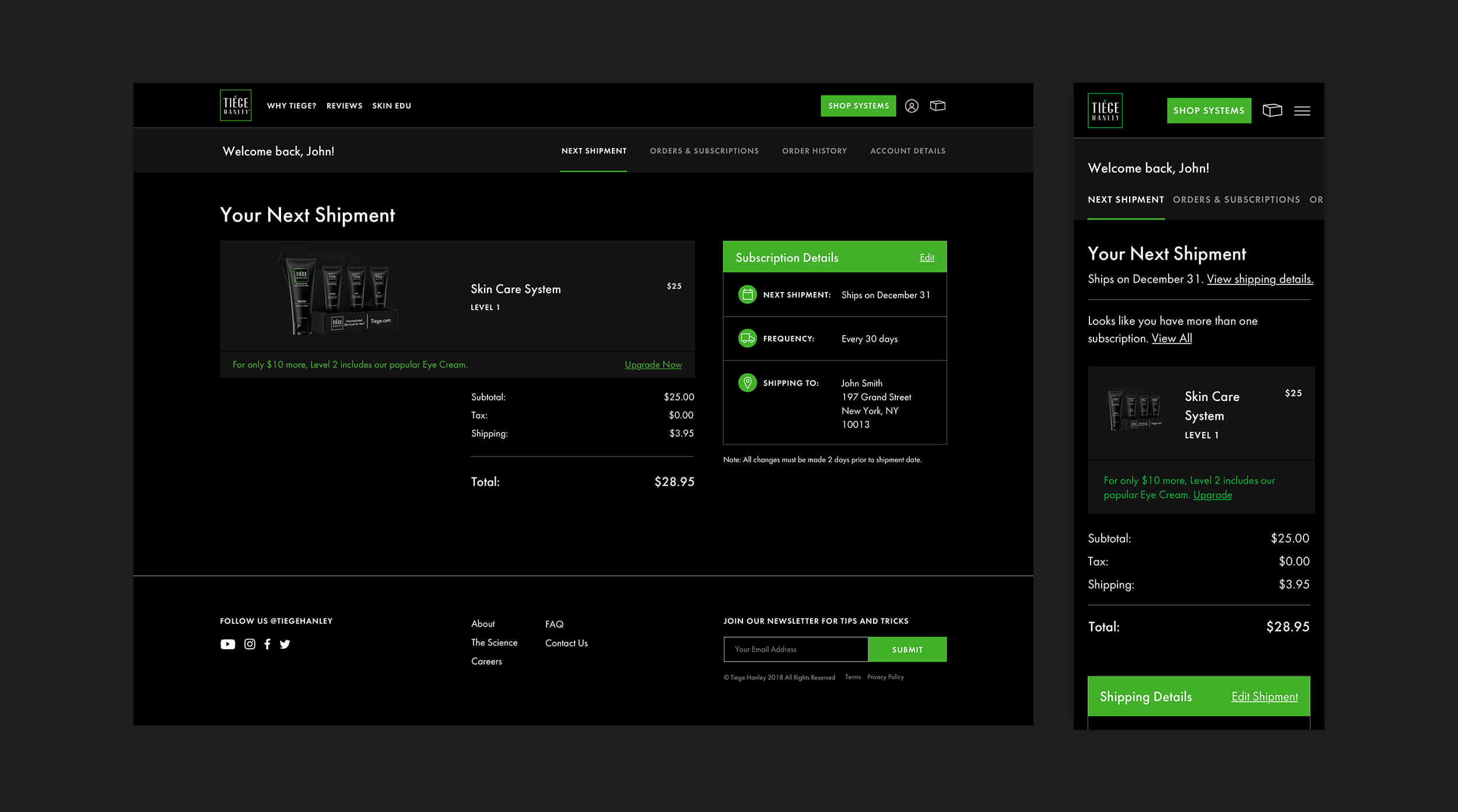 In terms of the mobile experience, Curology's app platform makes it simple for subscribers to manage their plan, including updating shipping address and card information, in addition to editing shipping frequency and what products are included.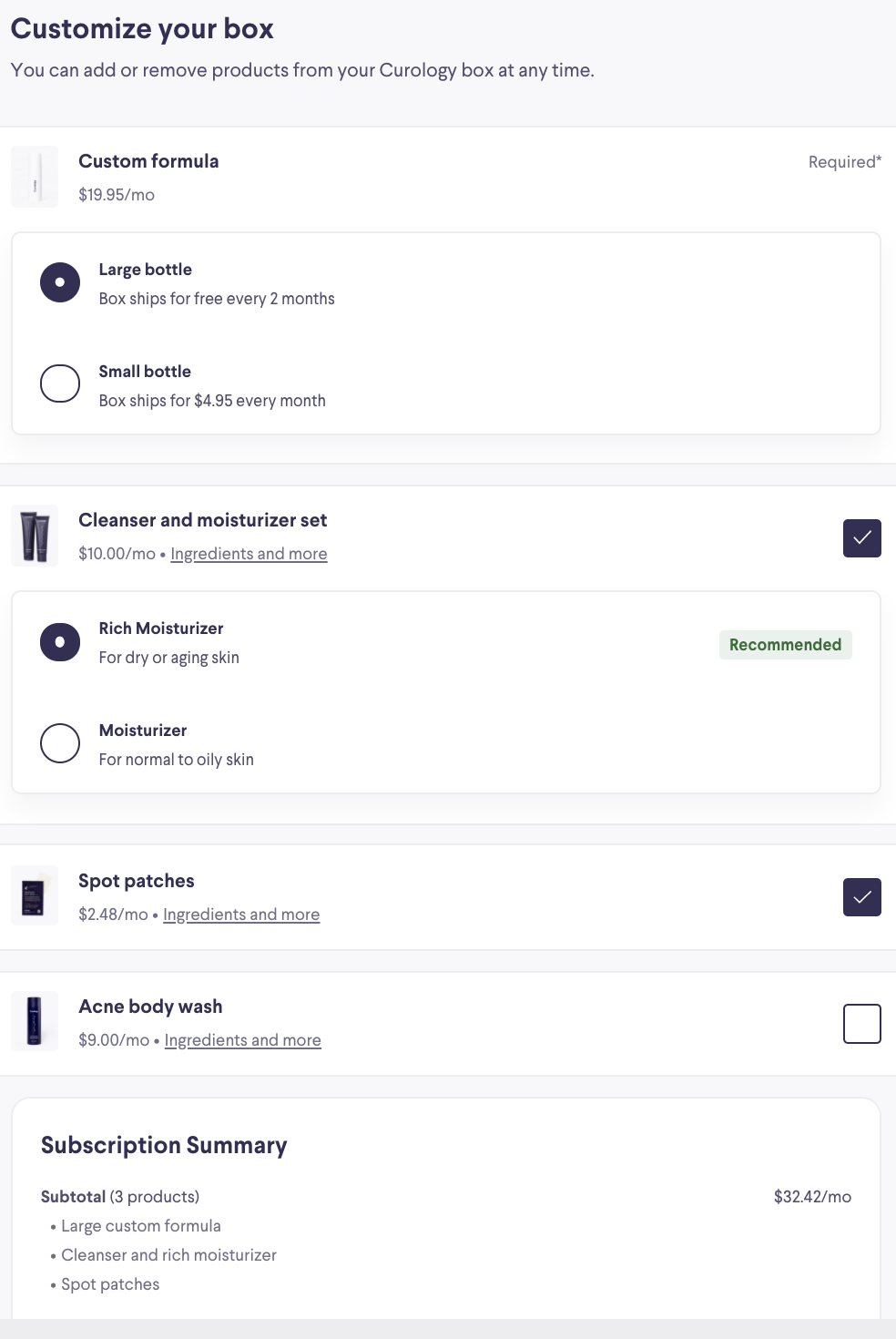 The mobile experience is crucial to maintaining a positive relationship with your customers. Think about when and where your subscribers might be accessing their dashboard. Most often, it's probably when you send an upcoming shipment notification. And according to Hubspot, mobile opens accounted for 46 percent of all email opens in 2019.
This means your consumers are likely clicking to view their latest shipment or manage their subscription from a mobile device. And a poor mobile experience for your subscribers will increase the likelihood of them churning.
Subtly Up-sell
When your customers can add or remove products from their subscription, it opens the door to up- and cross-sell possibilities. 
And because subscriptions tend to collect more data and information about your customers' preferences, you can improve the experience by making more customized product recommendations. 
Curology's core product offering is a combination of its cleanser, moisturizer, and formulated serum. But the brand recently launched two new products: acne body wash, and acne spot patches. 
Within its subscription dashboard, Curology makes it easy for customers to add its new additional products to their next shipment.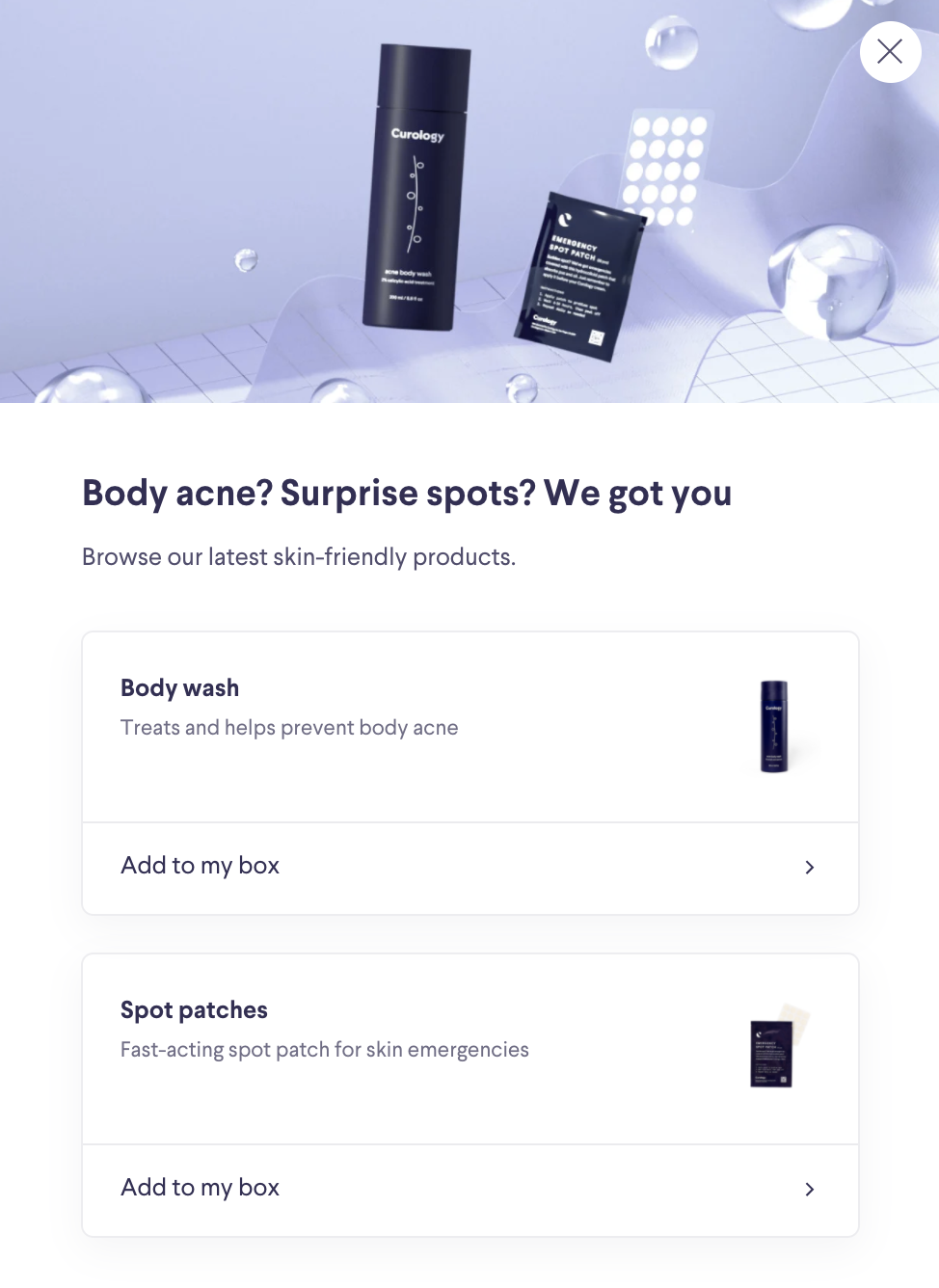 Seeing as they know this customer listed acne as a skin concern, the product recommendations are relevant and serve to improve the customer's experience.
Personalize the Experience
Using personalization details to enhance your subscription management platform ultimately provides a better end experience for your customer. 
Curology is a prime example.
Curology's subscription platform includes access to a customer's unique treatment plan, progress photos, and communications/message history with a Curology provider. The brand also uses details collected in its sign-up flow to personalize the content it shares within the subscription dashboard.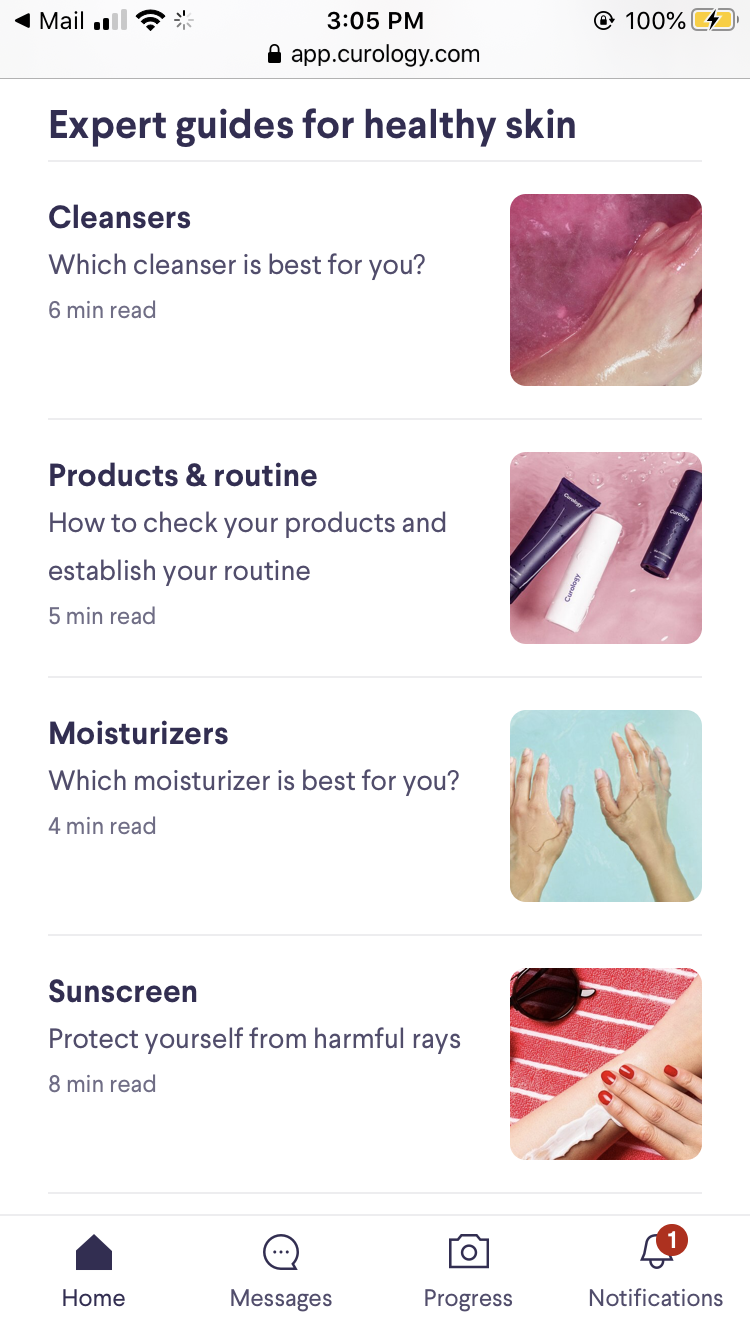 Beyond sharing content, personalizing the subscription management experience will also enable your beauty or skin care brand to learn more about the personalization process and what combinations of content and products produce the best results. 
Make sure to keep track of any information your customer updates. And keep product recommendations relevant to the problems or desires your customer expressed. Don't just recommend a product because it's new — recommend a product because you know this customer in particular could benefit from it.
Take your ecommerce subscription to the next level with a re-imagined subscription experience. Learn more about how we helped Tiege Hanley implement an integrated retention strategy by designing a fully custom ReCharge dashboard.
Retain
We've made it this far. You've attracted customers on the beauty industry's top channels, you've converted them using a sign-up flow or quiz, and you've made it easy for them to manage their subscription. 
Now it's time to talk about increasing retention for your subscription beauty or skin care brand. 
The subscription economy has grown substantially in the last few years. But subscription fatigue is a concern for many brands.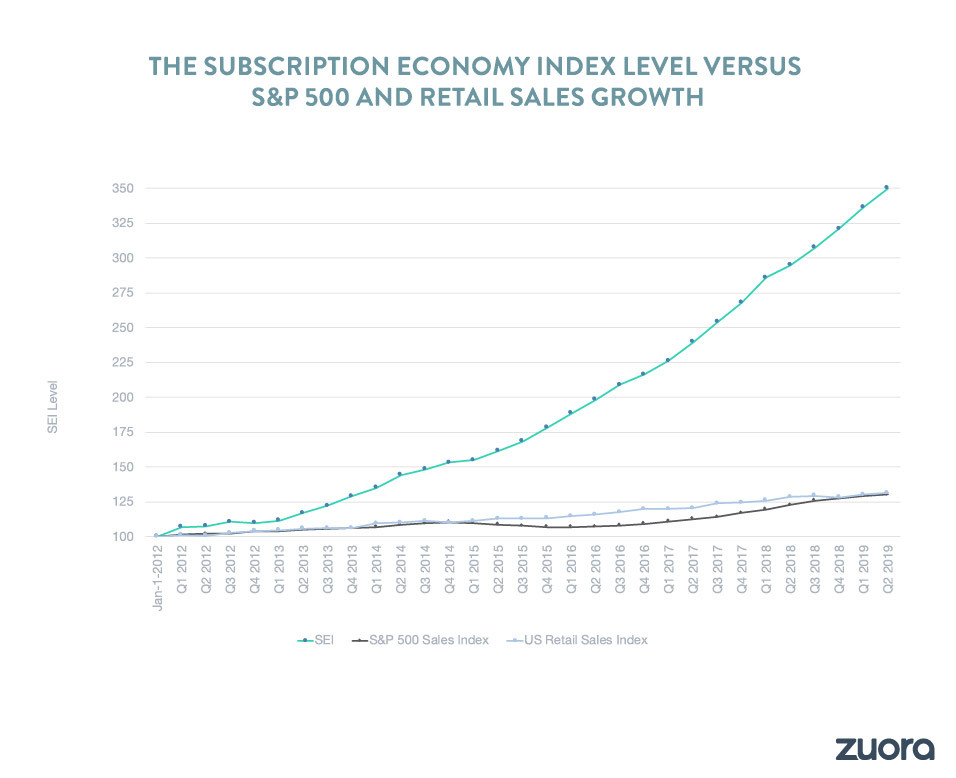 The secret to continuing growth isn't just acquiring more and more customers, but retaining the customers you are getting and keeping their relationship active. 
Want more winning retention and brand loyalty strategies? Read our full Ecommerce Retention and Brand Loyalty Guide.
What do we mean by active? By nature, subscriptions are easy to set and forget. That's half the appeal. But in order to build brand loyalty, you want your subscribers to continue to engage with your brand even after subscribing.
By keeping your customers engaged with your brand, you expose them to more of your product catalog and potential up-sell opportunities. The more they look, the more they might find that deepens their relationship with your brand.  
How to Increase Retention and Brand Loyalty 
Developing brand loyalty, and in turn increasing retention, is all about offering more value and building relationships with your customers. The two best ways to do this are with a loyalty or rewards program, and by increasing personalization.
Loyalty and Rewards Programs
One of the best ways to increase retention and brand loyalty for your beauty or skin care brand is by developing a loyalty or rewards program. Subscription-based businesses already require customers to commit to spending more with your brand, so rewards are an effective way to acknowledge and incentivize their loyalty. 
Loyalty apps like Loyalty Lion and Yotpo make it easy to implement a loyalty program for your beauty subscribers. 
Birchbox has a popular rewards program that helps prevent customers from churning.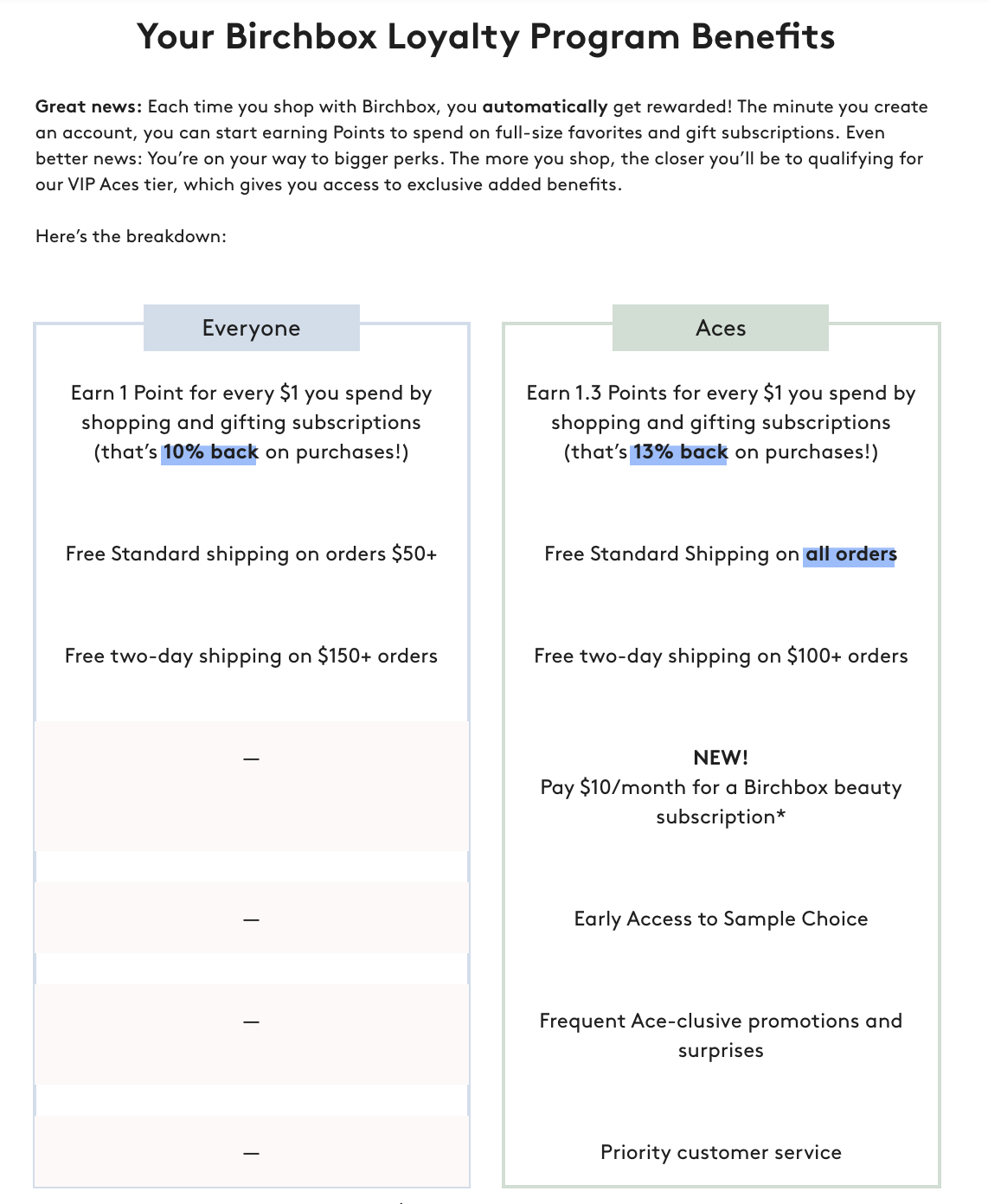 Birchbox subscribers earn points for every purchase, including every billing for their subscription box. By earning more points, subscribers can access the "Aces" level, which gives them a discount on their existing subscription, early access to samples, and priority customer service. 
Loyalty programs serve to incentivize long-term relationships by offering better value and interesting rewards over a longer period of time. It takes time to earn enough points to use or redeem, but if your rewards are exclusive and valuable enough, it will make accruing them worth it.
Increased Personalization
On top of the monetary value your subscribers get from subscribing to your products and getting rewards back, you can offer more value in your relationship with your customer. 
Customers want to feel understood by the brands they choose to interact with, and that their purchase history means more to your brand than just revenue in your pocket. Personalization is a tool we can utilize to make customers feel heard. It's also a key differentiating factor when people think about brands that care, and those that don't.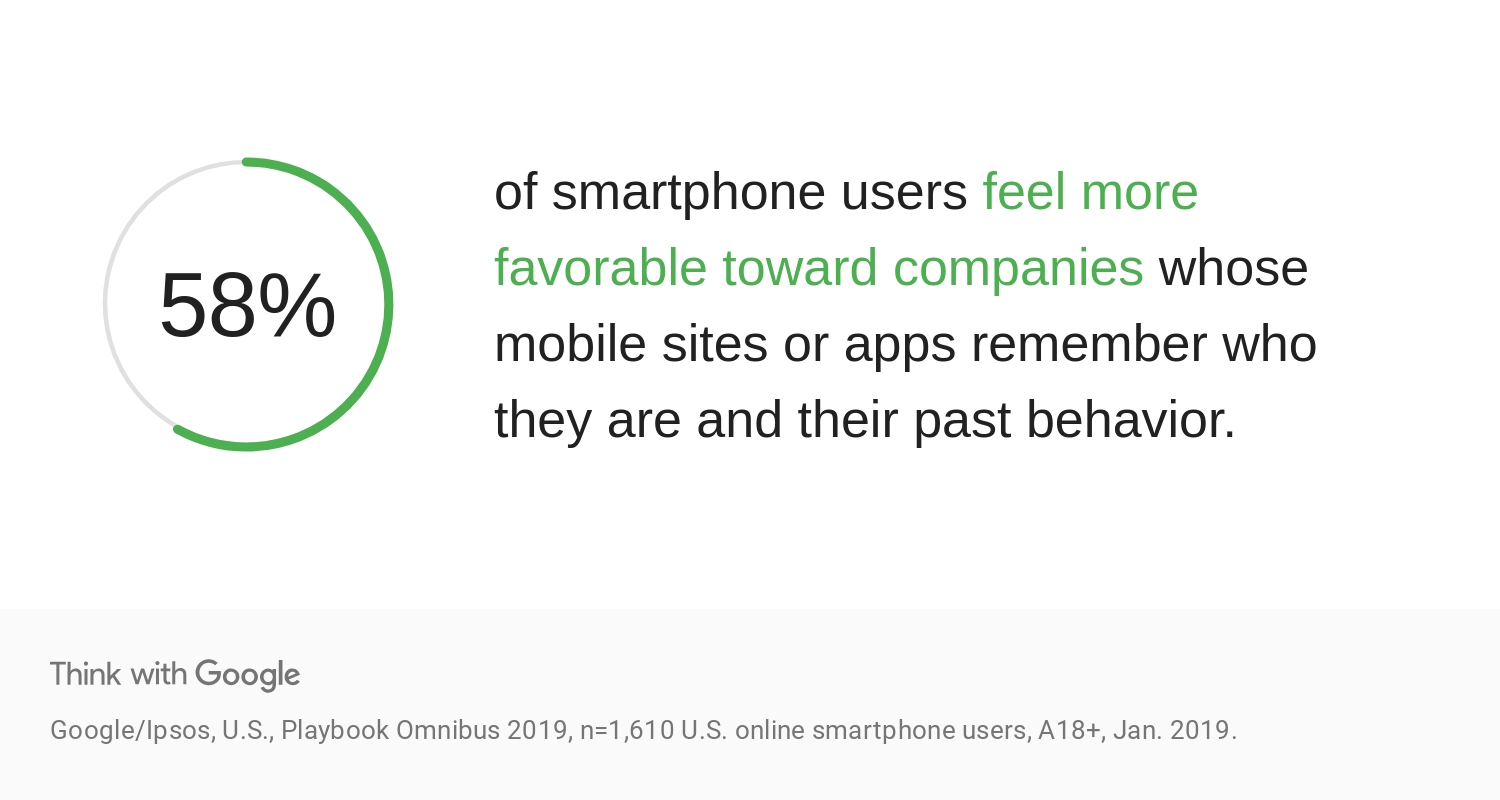 If you aren't using a sign-up flow or quiz for your subscription beauty or skin care products, you can still include more personalization tactics across your website and in your marketing. 
Like we mentioned, first things first is personalizing your subscription management platform. Welcome your customers with a personalized message featuring their name, and use an app like Nosto to pull in dynamic product and content recommendations based on their previous email and website behavior. 
This is first because in terms of loyalty and retention, the experience for your existing customers is more important than your general website experience. 
Next up is your website. 
Ideally, you'd use an app like Nosto to personalize the web experience for each unique individual. But if you can't tailor the experience to every customer, look for common groupings or behaviors that indicate ways you can mime a personalized experience. 
Make product recommendations dynamic to the category someone has already viewed, instead of just showing your overall best-sellers. Analyze segments in your Google Analytics or email platforms to look for trends in best-performing content or product combinations. 
Finally, add personalization to your email communications. Pre-purchase, post-purchase — everywhere. Personalization in emails isn't new, and your audience expects your emails to include personalized content more-so than anywhere else they interact with your brand. 
Baseline, include names and other details you collect at sign up in subject lines and other key blocks of text in an email. 
Level up by again adapting your dynamic product recommendations to be based on previous browsing and purchase behavior. 
Take it even further by creating conditional content blocks within emails to ensure the right people are seeing the right messages. 
Wrapping Up
Building and growing your beauty or skin care brand's subscription offerings will not only help you increase dependable recurring revenue, but it will help you develop a better experience for your customers. 
Beauty and skin care customers want and need subscriptions. 
Where long-term, consistent use is key to seeing the benefits of a skin care purchase, and customers rely on their favorite beauty products on a daily basis, beauty and skin care brands can anticipate and solve customer's problems before they occur with subscriptions.
By attracting the right customers, using a sign-up flow or quiz to personalize the process, making subscription management easy, and developing expert retention strategies, you can successfully scale as a subscription-based brand. 
We partner with brands to improve the overall e-commerce experience for customers. Learn more about Barrel and the work we do for growing brands. 
Featured image courtesy of Bayla Abbasyl. Follow her on Instagram at @visionary.scarf.