Imagine this.
You're down in your friend's basement. You've spelt out P-I-N-G over the net and decided who serves. You and your best bud get a three-minute volley going that neither one of you wants to end. He hits a wicked curveball, but you miraculously dive to the right corner of the table to keep the ball in play.
This kind of back and forth goes on for hours, each one of you forcing the other to adapt and respond to new spins and hits. 
This is how we think about customer service. 
Your customer service can make or break your ecommerce business. Having a winning customer service strategy means an increase in sales, customer satisfaction, and customer retention. 
But winning in customer service isn't about ending the game. Think about it: the game is always more fun when you're still playing.
It's about building a strong enough relationship with your customers to keep going back and forth, sharing feedback and making updates to continually improve the customer experience.
Customer service is a critical component of the ecommerce customer experience. And how your brand handles and interacts with potentially unhappy customers will color their impression of your brand for forever.
Creating a customer service strategy to encourage continual feedback and improvement doesn't have to be complicated or confusing.
The key to having a winning strategy can be broken down into these pillars:
If you tie all of your customer service actions back to these three pillars, this may just be the best ping pong game of your life. 
What Makes Ecommerce Customer Service Different?
Customer service is more important for ecommerce brands than almost any other type of business. 
In the world of online retail, competition is high. There are a dozen other brands trying to offer your customers the same product you are. And differentiating can be tough. 
Your customer service is what adds a personal touch to your brand. Your products may be equal or even less in value and benefits than your competitors, but having a strong customer service strategy can put you out on top over your competitors. 
A customer is four times more likely to switch a competitor if the problem they're having is service-based.
Physical retail has location as an advantage to keep customers coming back. How many times have you gone back to a store even though you knew their customer service was subpar, just because it was close?
And it's not like your direct-to-consumer brand can assign a customer success manager to every customer to improve product usage like enterprise SaaS companies do.
Ecommerce customer service relies on positive online communications alone to increase customer retention. Your customers ping, and how you pong decides whether or not they even want to play the game.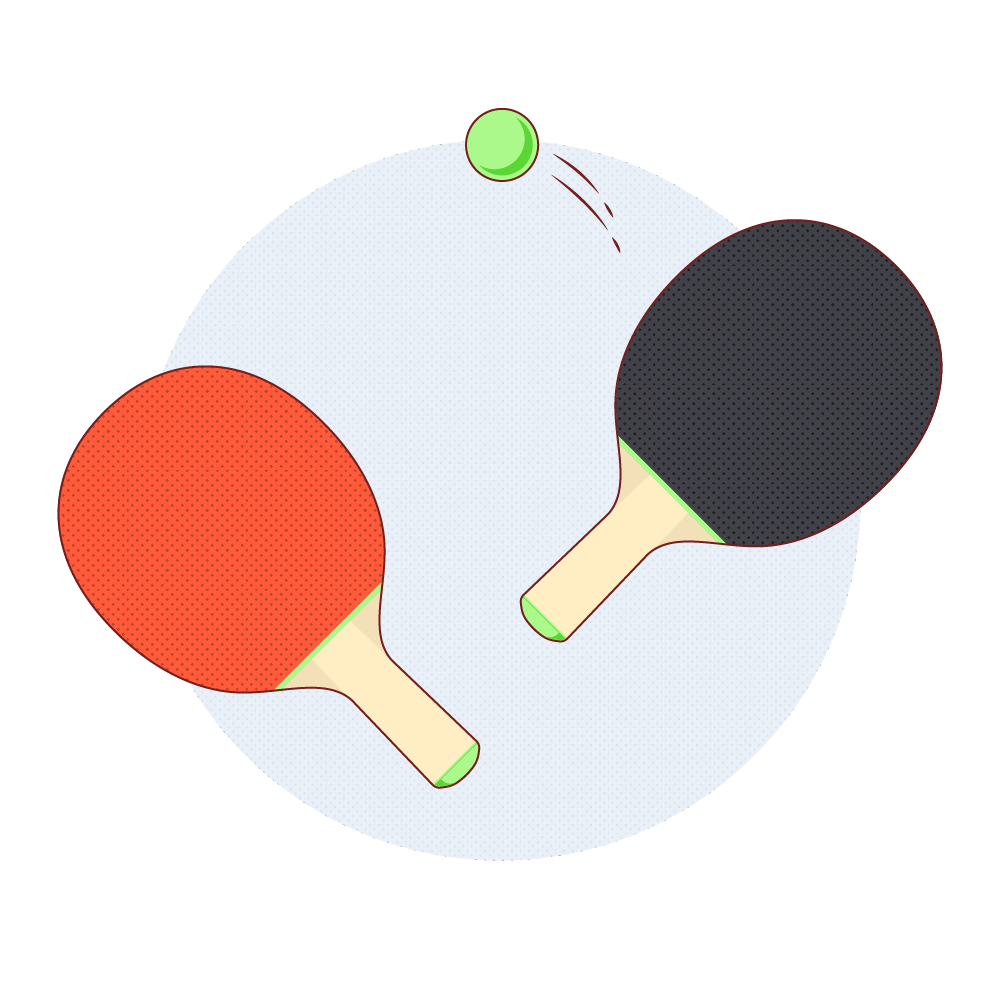 So, it's time to take the first step in elevating your customer service experience into one that will produce loyal customers and increase sales.
Make it Easy to Access Your Customer Service Channels
In our ping pong metaphor, you have to give your opponent the right equipment to get the game started. 
Have you ever had a simple question you needed to ask about a product, but couldn't find a way to get the answer you were looking for? 
Yea, we hate that. 
When visitors reach out to customer service, they are already frustrated or having trouble finding the information they want. 
By making your customer service hard to access, you risk losing new and existing customers.
That's right — bad customer service can make you lose sales before they even get started.
Here's why you need to call out your customer service channels pre- and post-purchase to win sales and retain customers.
Where and Why to Call Out Your Customer Service Pre-Purchase 
Customer service isn't only for those who've made a purchase. Your customer support team can help interested visitors find the information and education they need to feel comfortable making a purchase. 
Your service agents are some of the most educated people about your products and processes. They deal with feedback on a daily basis, and they recognize common buying patterns and sticking points that potentially prevent customers from purchasing.
They can help undecided shoppers decide on what products might be best for them.
If you make it easy for visitors to your site to access customer support for things like shopping assistance or questions about the checkout process, you minimize the risk a potential customer is going to see if your competitors can do what they're looking for. 
Not highlighting your customer service channels during the buying process means you will lose out on potential purchases. 
We can speak to this firsthand. 
An employee was recently given a gift card that she wanted to use to purchase a desk and chair for her home office. She found two pieces she wanted on Wayfair. 
When she went to checkout, the tax added to the purchase increased the total to more than the gift card had on it. But it wasn't clear if she could add a second payment method in Wayfair's checkout to cover the extra amount. 
In its checkout, however, Wayfair prominently features its support channels, specifically with the call out asking if a user needs shopping assistance.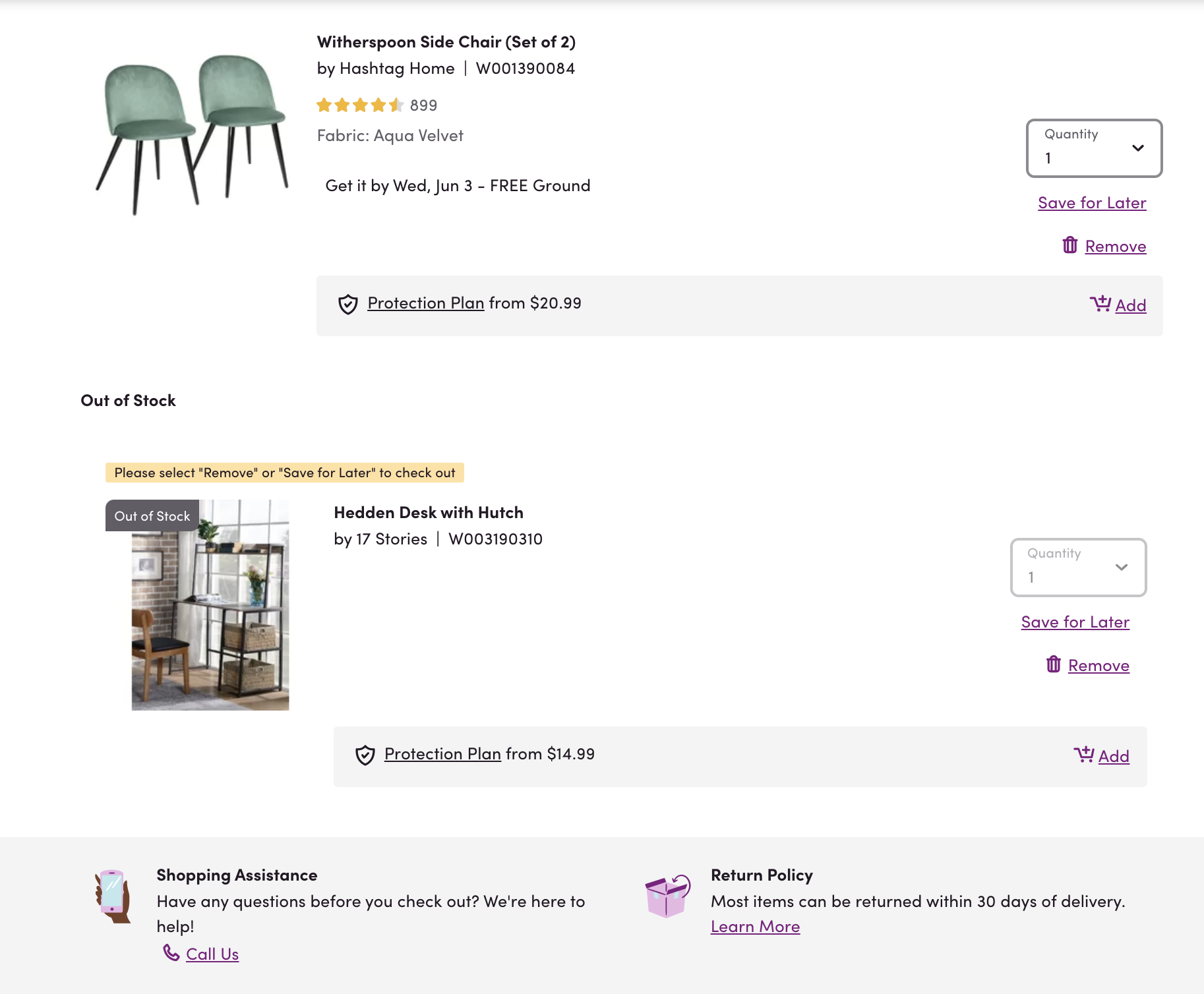 She called Wayfair's customer service team while logged into her free profile. The customer service agent was able to see what was in her cart, add a backup payment method, and place the order. 
Following the order, she received an email notification confirming the order and the split payment methods. This information was also updated in her profile hosted within Wayfair.
On top of how easy it was to reach out, it was clear Wayfair uses an omnichannel approach when customers are logged into their profiles in order to provide confirmation and updates effectively. 
If Wayfair hadn't made it clear a customer could call, even while browsing, and made the checkout process easy with its customer service agents, they would have lost her sale.
Helping your customers feel confident to make a purchase takes form in many ways.
Men's skincare brand Tiege Hanley also offers clear assistance to prospective customers. 
On top of having a PDP with a robust amount of educational information, Tiege Hanley has an easy-to-access support page where visitors can learn more about its skincare products before buying them.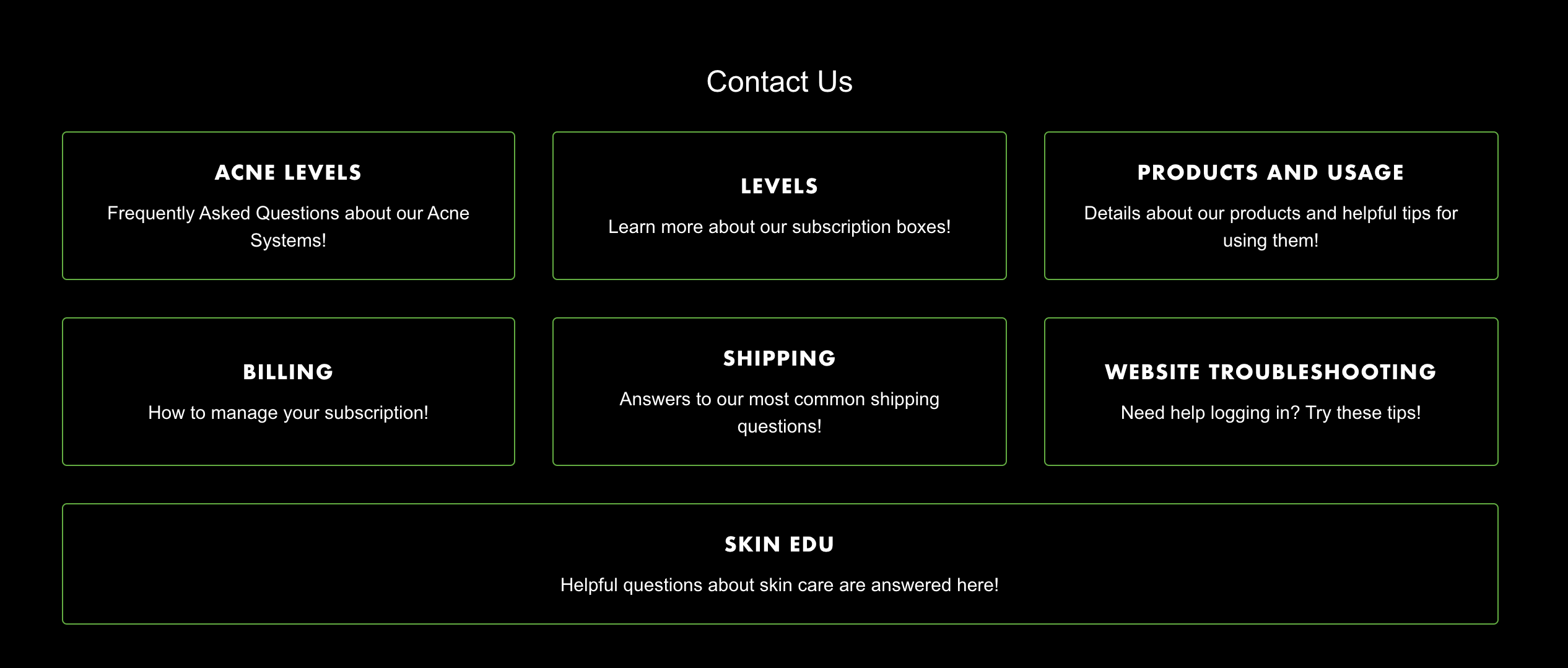 Learning from previous customers about what information they needed and where they needed it can improve the customer experience for your future customers, and minimize the amount of questions they'll have. 
Make it easy for potential customers to access the resources they need to buy from you, whether that be with FAQ pages and educational content, or clear call outs to your customer service teams.
How to Offer Help Post-Purchase
Post-purchase is where the majority of your customer service tickets will come in. 
For ecommerce brands, post-purchase customer service will most likely focus on shipping and billing issues, processing return or refund requests, and dealing with products that were damaged in transit. 
Offering this support post-purchase is essential for maintaining positive relationships with your customers. 
93% of customers are likely to make repeat purchases with companies who offer excellent customer service.
Keep your customers' experience positive, even while they're returning a product or reporting an issue, using the following tactics: 
Your customers shouldn't have to dig to figure out how to contact your service team or start a return. And the emails they receive in relation to their order are the first place they'll look to reach out post-purchase. 
Here's more on how to leverage your transactional emails for a better customer experience.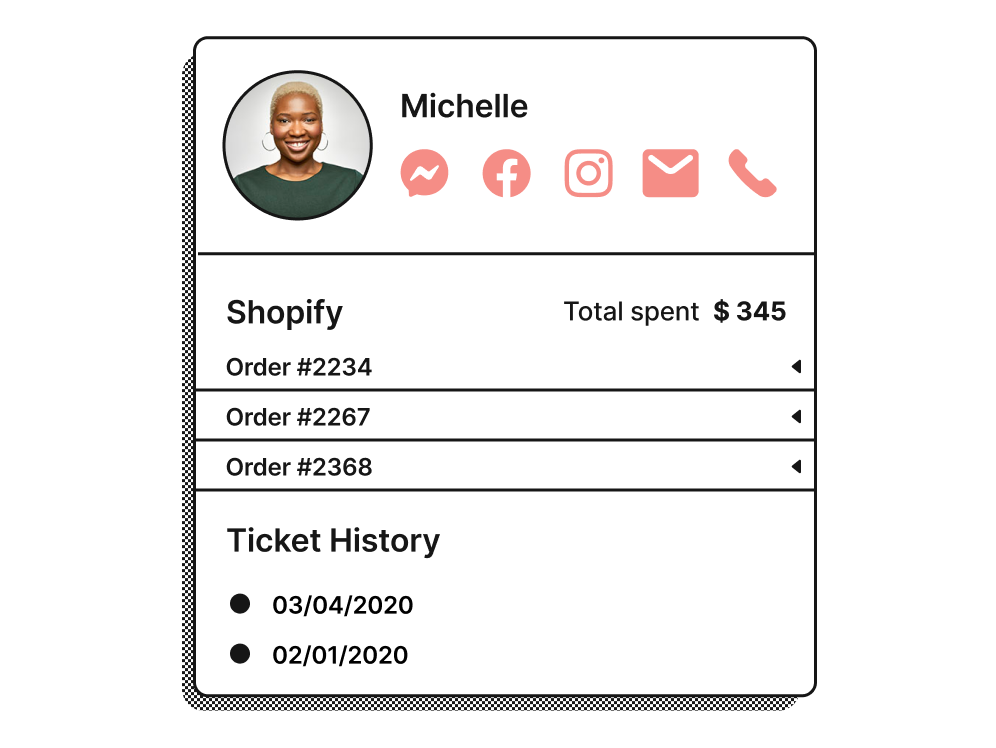 While the customer calling in probably has their information on-hand, it's a nice surprise to not have to rattle off a 13-digit order number to a rep. 
By having access to your customer's order history upfront, they'll feel assured that they're talking to someone who understands their history with the brand, and more importantly, understands them.
Minimize their wait time with a queue or AI and automated responses. 
Human-to-human contact is important in customer service conversations, but finding a rep to talk to every customer when they first come in takes time — time most customers probably don't want to wait.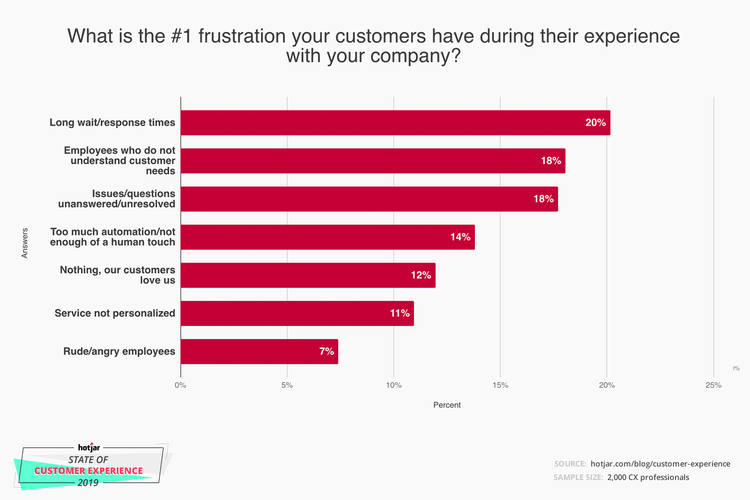 Add an automated feature to some of your support channels to try to resolve a customer request without having to put them in contact with an agent. 
Better yet, give them options for speeding up the process. 
Have them send their question and contact information via email and let them know a representative will reply when they have time. Or give them the option to be added to a call-back list so they don't have to wait on the phone during high-volume times. 
An Omnichannel Approach is Best
There are many ways to play ping pong. You can play singles, doubles, or even around-the-world ping pong.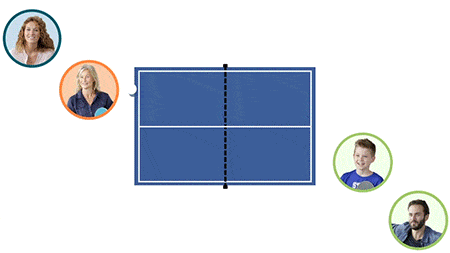 The important part is you know how to play whichever game your challenger wants.
In customer service-talk, this means making your experience easy for users by making it omnichannel.
Let's talk a little bit about what omnichannel customer service is and how it enhances the customer service experience.
What is Omnichannel Customer Service?
Believe it or not, there's a difference between multichannel and omnichannel customer service.
Multi-channel customer service means your brand has multiple individual ways for customers to contact your support team. They can email you, call you, or even send you a message on social media. 
But each interaction is it's own. 
That's where an omnichannel approach differs. 
Omnichannel customer service means all of your service channels are inter-connected. A customer can reach out through your chat bot, and pick up the same conversation seamlessly on the phone with an agent or through email.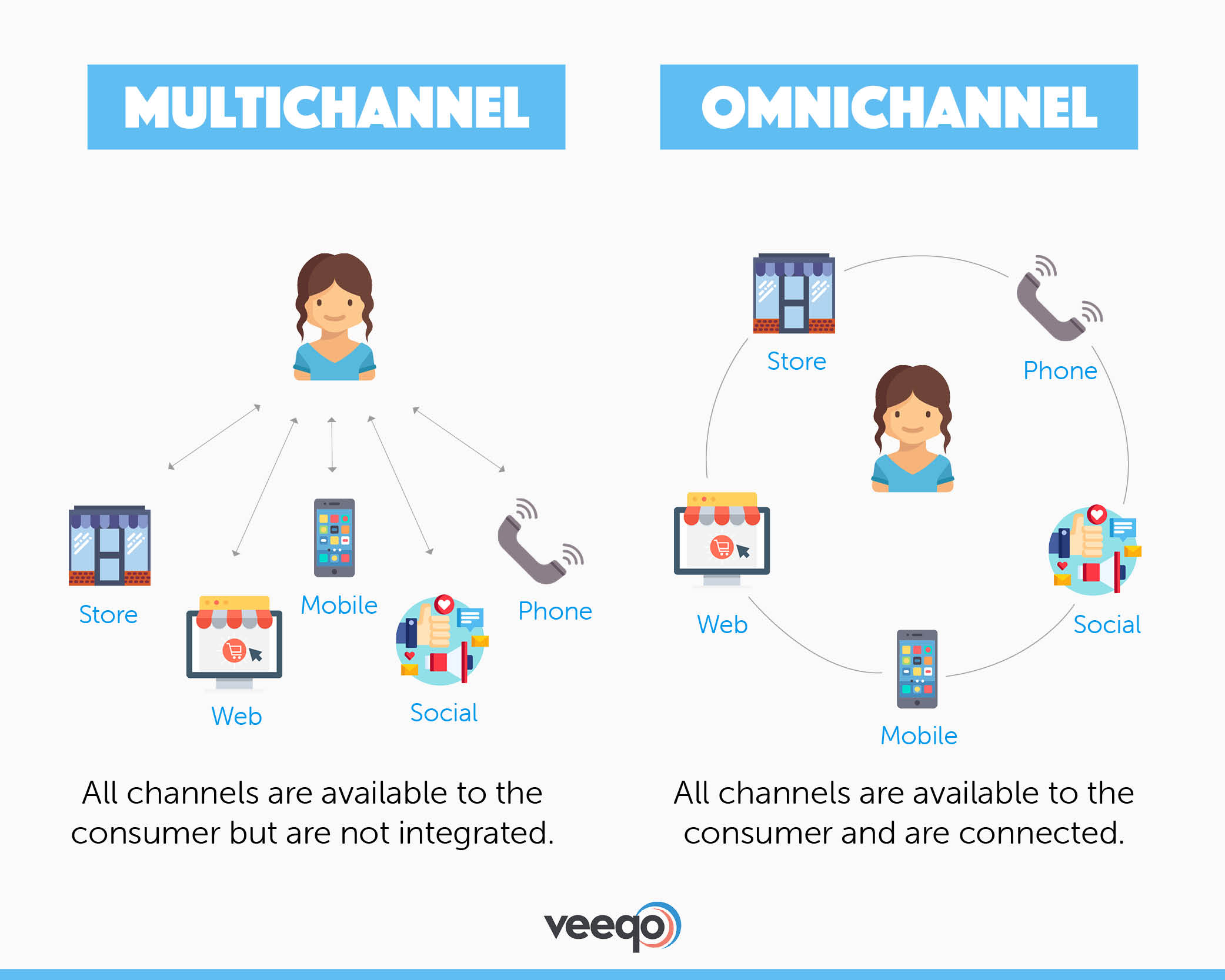 Why Does This Matter?
An omnichannel approach to customer service will be easier for your customers and for your customer service team. 
Instead of having to repeat customer service actions or writing down long tracking numbers to access a conversation, an omnichannel approach makes it simpler for your customers to carry communications across channels. 
33% of consumers are most frustrated by having to repeat themselves to multiple support reps.
As for your team, an omnichannel customer service platform like Gorgias aggregates all of your customer service channels into one place and syncs with pre-existing order information to minimize the effort needed from your agents and your customers to find the relevant information.
According to Gladly's 2020 Customer Expectations Report, 86% of consumers expect conversations with agents to seamlessly move between channels.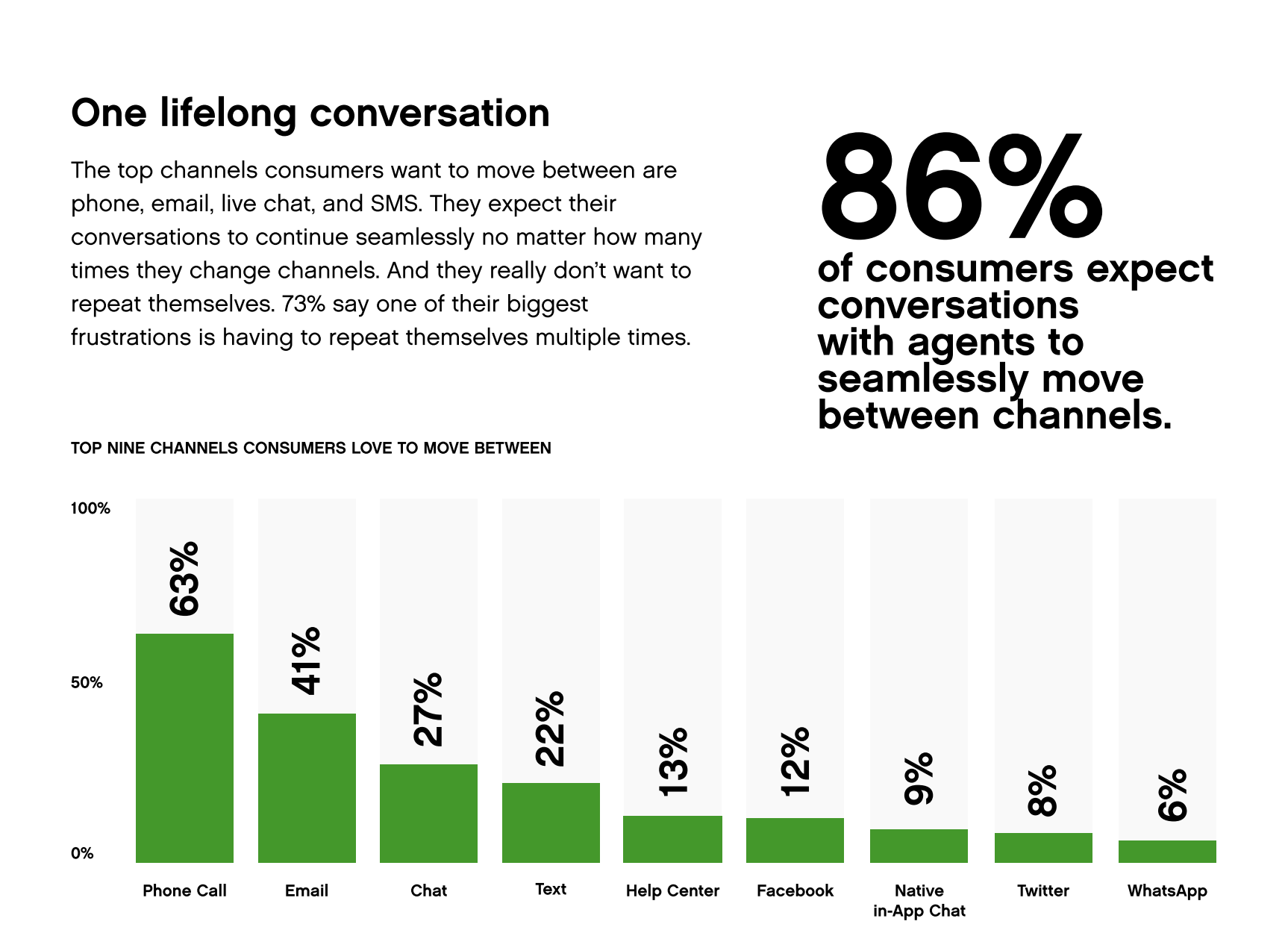 Key Platforms to Include in your Omnichannel Strategy
The channels you choose to include in your omnichannel customer service strategy are ultimately up to you. 
Platforms like Gorgias and Re:amaze make it easy to manage all of your customer service channels in one platform, so don't think extra channels means extra work. 
Here are some reasons to incorporate a variety of channels into your customer service strategy. 
Email
At a baseline, you need an email address for your customers to ask for help. And this will most likely be your most popular channel. 
According to Groove HQ, 91% of consumers use email every day.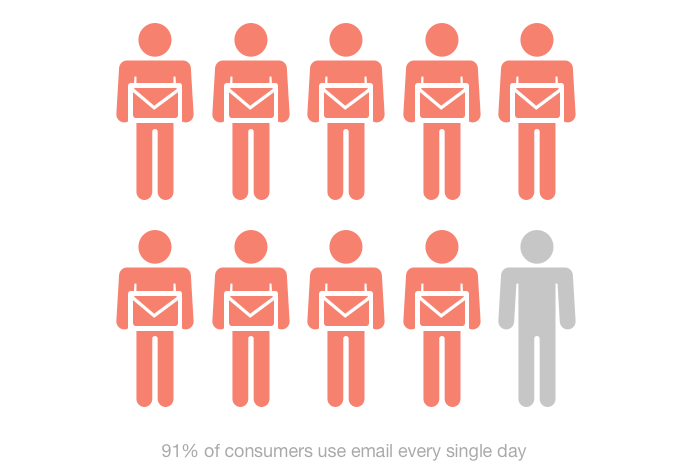 Consumers are comfortable with email. And because email marketing is so prevalent, they expect brands to be accessible by email.
Create a support address for your customers to email and your brand to respond from so it's clear when a customer service interaction is being followed up on.
Phone
Some people may perceive online customer service as a hassle, having to go through a variety of processes just to submit a question, and then to go through the back-and-forth and waiting time it takes to communicate online. 
A customer service phone number is another basic channel you need to have covered. Although ecommerce transactions happen online, calling in by phone gives customers almost instant gratification when solving their problems. 
Chat
Your chat can be live, AI-powered and automated, or a combination of both. 
A chat option is great for handling customer queries pre-purchase. By popping up while a visitor is still making shopping decisions, they'll know they can reach out with purchase-related questions. 
This is where you can be proactive in solving customer problems, as well. Add a few categories of support options in your welcome message to better understand what customers need help with. 
Take the fragrance and soap brand Bastide for example.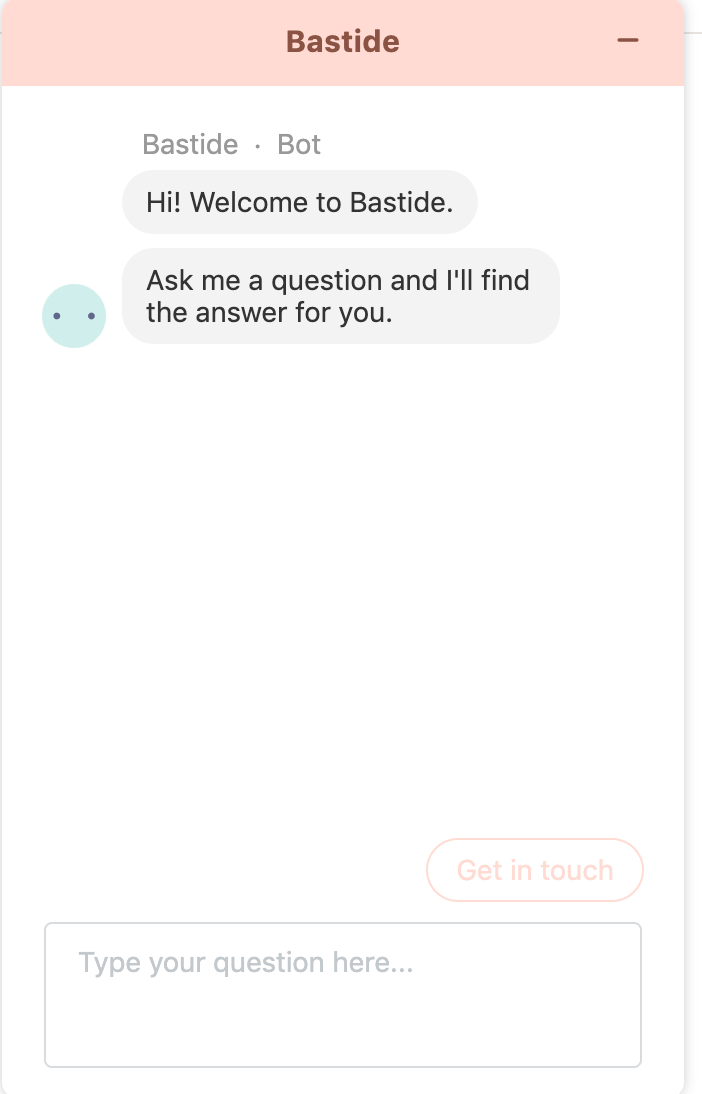 Bastide's chatbot is fully automated, meaning a customer will need to select "get in touch" in order to receive personalized responses. But the bot does a good job of scanning customer questions and providing helpful resources to hopefully answer them. 
Here's the bot's response to the basic question, "which fragrance should I get?"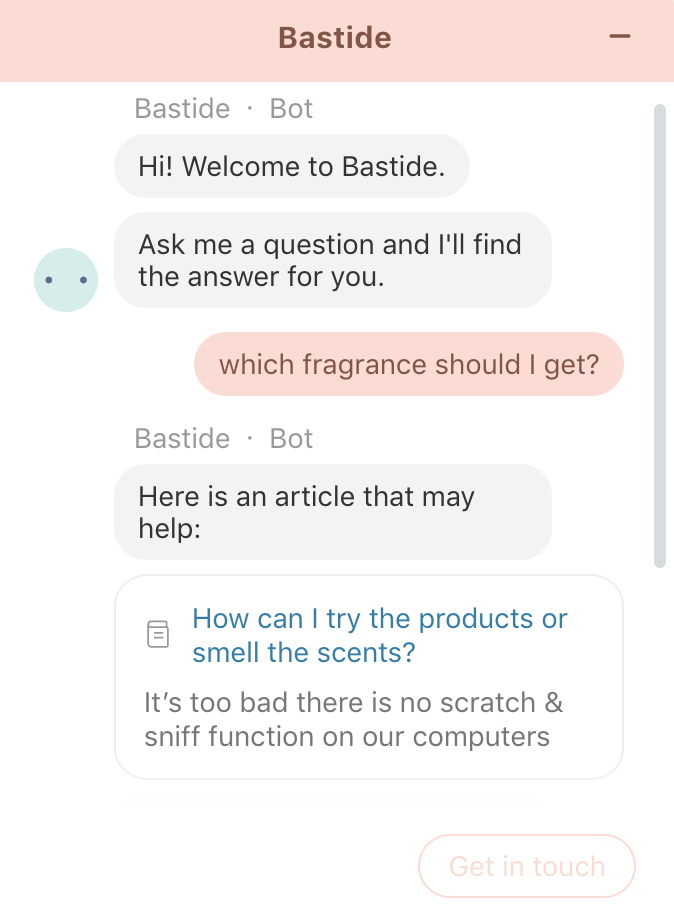 The chatbot attaches a relevant answer, and even opens the link within the chat when clicked, so the user never loses their place.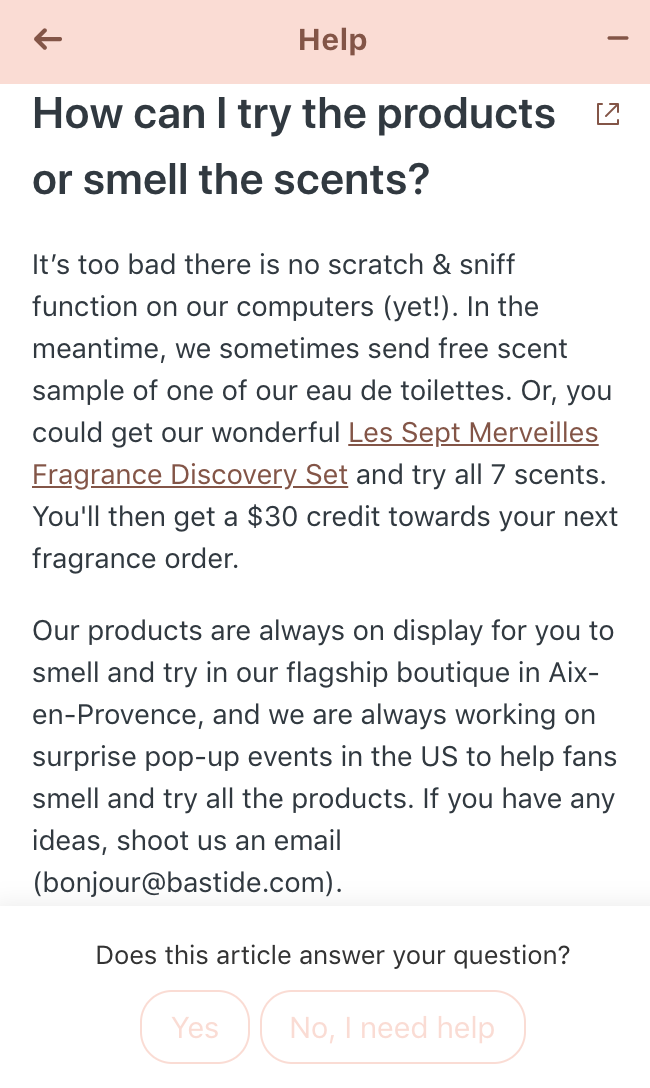 The user is now more informed about how they can "sample" fragrances before committing to a larger purchase. 
Text
Text messaging is another ideal opportunity to practice proactive customer service. Texts have high open rates, and SMS reaches customers where they are. 
For ecommerce brands, text is the perfect place to send reminders about subscription renewals and shipments, share links to useful product education, or ask for customer feedback. You can even send order and shipment updates, like you do with your transactional emails.
Just like with your chatbot, you can add automated options to your SMS. But be wary of too many canned responses. 
According to Hubspot:
"Customers enjoy SMS support when it's as personalized as a phone interaction or conversation on social media. Text messaging is a very personal form of communication, so it only makes sense that customers would want the same experience as speaking directly with one of your support reps."
Offer your texters the option to navigate to an answer through logic and programmed answers, but make sure they always have the option to talk to a real person.
Facebook Messenger
You can apply the same chat and chat bot logic to offer customer service through Facebook Messenger, as well. 
Beauty giant Sephora uses Facebook Messenger to field customer service requests directly from its business page.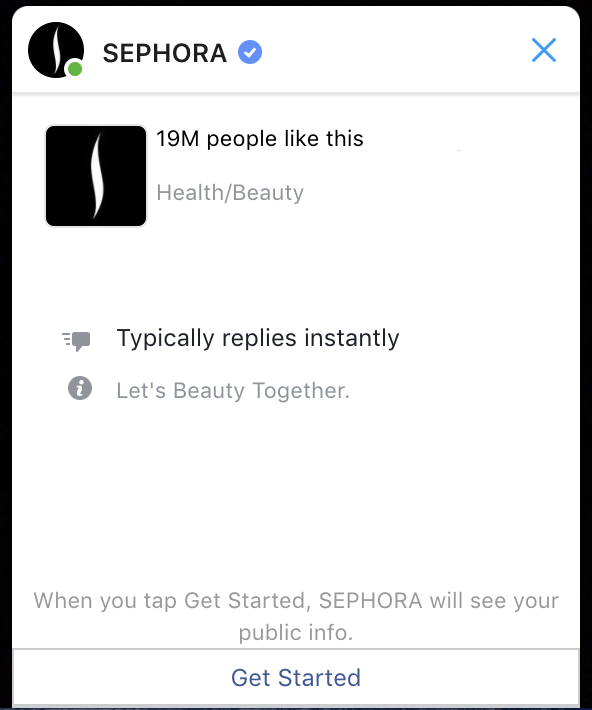 Once a customer clicks, "Get Started," Sephora's bot asks for the customer's question, contact information, and order details, if relevant. 
Sephora then responds on an appropriate channel, demonstrating its omnichannel approach to customer service.
Self-Service Customer Support
While a self-service option may not connect to your other support channels directly, giving customers the capacity to solve their own problems before reaching out to your team will help reduce the demand on your customer service.
Self-service customer support can take many forms. First and foremost, it's essential to include a search bar somewhere on your site. This is likely the first place visitors will go if they can't find what they're looking for. 
Here's a hint: if you're seeing common queries in your search bar, it means your navigation and content isn't effectively addressing the customer's needs or highlighting the information they want clearly enough. 
Next, an FAQ or knowledge base is a great place to house common customer questions and provide easy access to resources for interested viewers.
As the name implies, an FAQ lists out and answers frequently asked questions. With a knowledge base, on the other hand, you can get more in-depth about how to use products or solve common problems.
Fitbit, a popular provider of activity trackers, has an extensive knowledge base for its variety of products.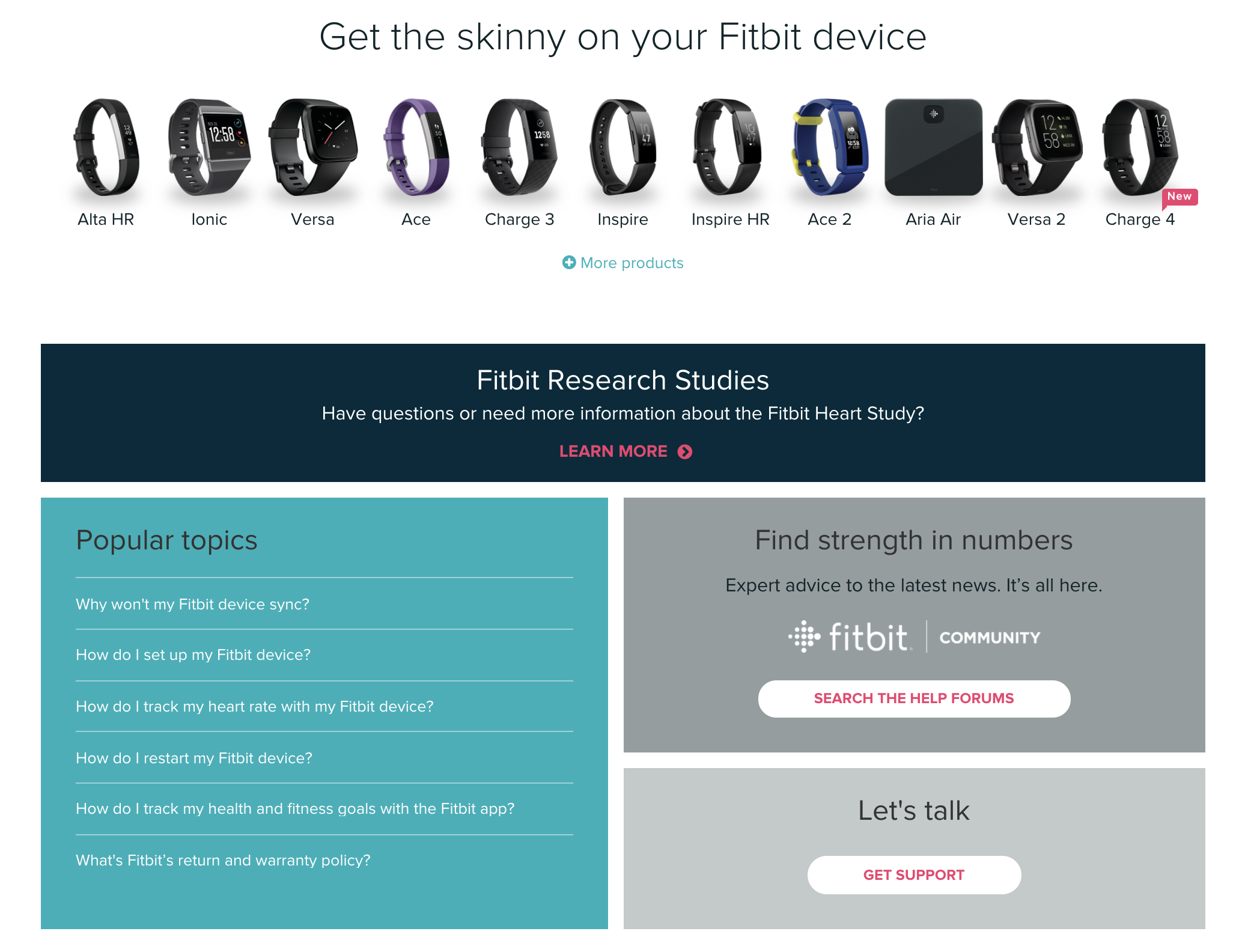 Visitors to the site can browse popular topics, search help forums, or see specific questions related to the device they have.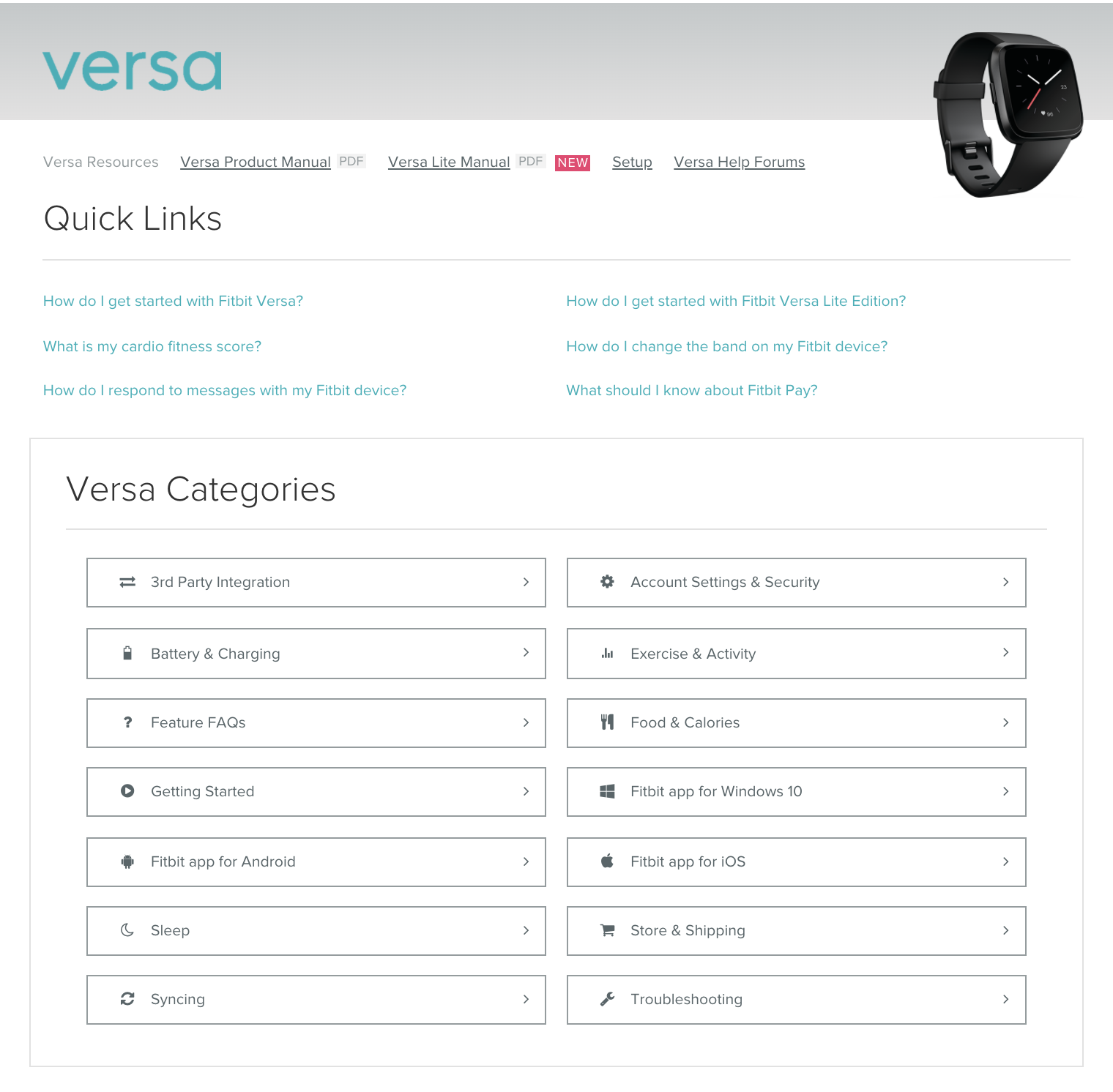 If users still can't find what they're looking for, Fitbit makes it easy to contact its service team.
Giving your customers the options they need to have an enjoyable customer service experience with your brand is just one part of having a winning strategy. The next step is to actually listen to your customers and their complaints and make changes where necessary.
Close the Feedback Loop
This is where your ping pong game really starts heating up. Ping pong is about responding to each hit your opponent sends your way. You need to do the same with your customer service strategy. 
Creating a closed-loop customer service strategy is the key to turning your customer feedback into increased sales and conversions and continuing the game. 
Keep your customer service team in-house to make closing the loop between your customer service and product and marketing teams easier.
Here's how you can improve your ecommerce business in tandem with your customer service strategy.
Don't Waste the Feedback Customers Give You
Your customer service team hears feedback on a daily basis. Your support agents know your customers' ideas, thoughts, and pain points about your products. 
Customers share feedback without even realizing it sometimes. It may be a comment under their breath or a remark to their friends. But no matter how they're expressing it, they're doing so because they want a brand to avoid doing it again so they can have a better shopping experience.
Ping.
Sit with this statistic for just a second.
50% of shoppers believe their feedback doesn't go to anyone who can actually act on it.
Make smart, brand-altering developments with the help of your customer feedback.
Pong.
Glossier is one of the gold standards when it comes to closing the feedback loop between customers and the brand. 
According to a Fast Company article from 2019:
Glossier's Founder and CEO Emily Weiss says Glossier receives five direct messages a minute on Instagram and 50,000 customers a month in stores. This feedback shapes everything from its advertising strategies to the products it develops, and, now, what kinds of new brands it spins out.
Customer feedback led to the creation of one of the brand's most iconic products: the Milk Jelly Cleanser. It also contributed to the release of an expanded and more inclusive shade range for its concealer and skin tint, as well as an in-depth shade guide.
Connect your teams to use your customers' feedback for better product developments and content suggestions.
Minimize the Need for Customer Service
Listening to and learning from customer feedback doesn't just empower your brand to make informed marketing and product decisions — it can improve the customer experience for returning and future customers and reduce the demand on your customer service channels. 
By addressing the issues previous customers raised from feedback you've already received, you minimize the risk someone else will have to reach out to find the answer to their question. You can anticipate and solve common problems upfront, before new customers ever have the chance of encountering them. 
The goal is to make the buying process as seamless for a prospective customer as possible. The more a customer has to navigate away from a sales page, whether that be to search for more information or find your support channels to ask a question, the more you risk them bailing on a sale. 
Using all the information your previous customers give you about how to make the buying process easier will result in increased sales and happy customers.
These are our go-to methods for incorporating customer feedback to improve your ecommerce website.
The Game Never Ends
If you never practice ping pong, you'll lose customers to those who play it better than you. 
We mean to say, your customer service is never done evolving.  
Keep an eye out for new channels that your customers are on. See how you can continue to integrate those channels into your omnichannel approach. 
Don't stop applying customer feedback. If you stop listening to and learning from it, their experience will never improve and they'll stop buying from you. 
Give your customers all the tools, access, and reassurance they need to keep challenging you to a competitive game of ping pong. And keep being a worthy competitor.
We partner with brands to improve the overall ecommerce experience for customers. Learn more about Barrel and the work we do for growing brands.