Customer service is something an ecommerce brand cannot overlook. It's an essential component of maintaining relationships with customers and improving the customer experience. 
But for many new ecommerce brands — and existing ones, for that matter — customer service gets forgotten as growth and scaling new customers takes precedence. 
There's also an overwhelming amount of options for managing customer service. Outsourcing is an easy and cost-effective solution for newer brands where resources are tight. But keeping your service team in-house means you have brand experts ready to handle any problem.
We'll break down these two common customer service solutions for ecommerce brands and discuss why an outsourced team is fine for growth-stage ecommerce businesses, but how in-house teams are better for long-term success. 
Outsourcing Offers a Temporary Solution for New Brands
Outsourcing your customer service as a new ecommerce brand makes sense. 
The two biggest reasons why brand's outsource customer service are:
Time 

Money
As your business grows, you or your small team won't be able to handle the increase in customer service requests. That being said, your revenue may not be growing quickly enough to cover the cost of a new employee to handle inbound questions.
It's better to outsource your team and have someone dedicated to answering customer inquiries rather than letting it slip by thinking you can do it yourself. 
An outsourced customer service team is a more cost-effective way to address your service needs than hiring someone to manage it in-house. Think about which costs more — a monthly retainer to a customer service agency, or salary and benefits for a new, full-time employee?
Some platforms also have high expectations for their sellers in terms of turnaround time and responsiveness. Amazon sets an expectation that third party sellers must respond to customer questions within 24 hours. This makes it even harder for a new brand to justify the cost of an in-house customer service team. 
A customer service agency will help you handle these demands as you continue to increase your revenue. But don't settle for the cheapest option. 
Your customer service channels are an extension of your brand, and are critical in maintaining a positive relationship with your customers. 
Focus on finding the right solution that will maintain your standard of quality and act as an extension of your brand.
Customer Service Staffing Solutions and Agencies for Ecommerce Brands
The good news is you don't have to scour the internet to find reliable customer service partners.
Compass Experience Lab provides ecommerce businesses with access to a dedicated customer service team to increase customer satisfaction. 
Compass Experience Lab works with brands to train its customer service agents to understand their customers, resulting in improved retention. It sources its team from the Columbus, Ohio area. 
Another option for ecommerce brands looking to outsource their customer service is Wrrk. 
Wrrk is a remote customer service provider that collaborates with a brand's in-house team to produce a seamless customer experience. Wrrk hires qualified customer service agents, integrates with a brand's existing systems, and shares updates and insights via account managers.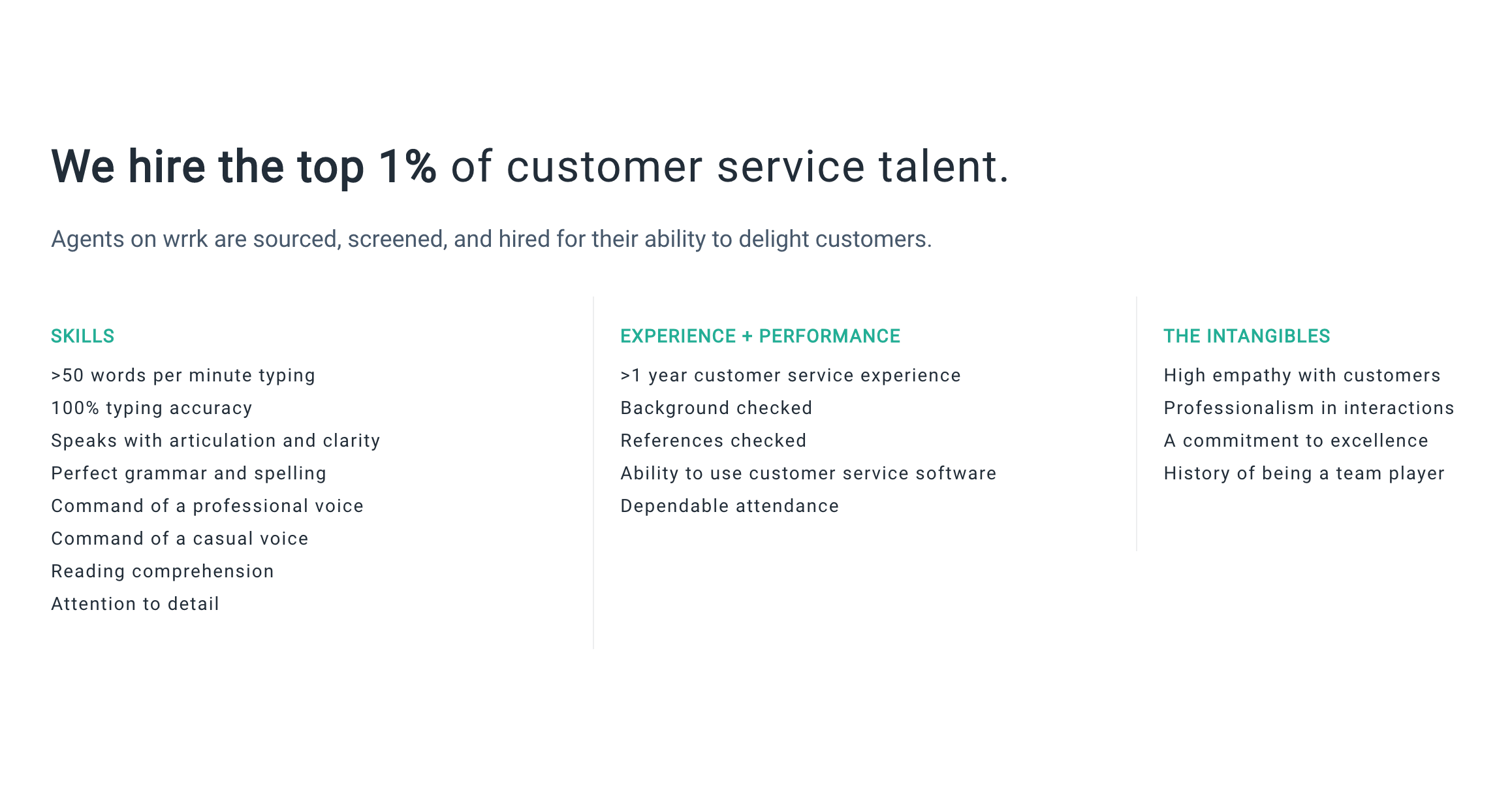 While an outsourced team can help growing brands keep up with customer service demands, bringing your customer service team in-house will have lasting, long-term benefits.
Discover how to build a winning ecommerce customer service strategy to increase sales and develop loyal customers.
How an In-House Team can Offer Brands Long-Term Success
Outsourcing customer service to an external team offers brands flexibility, but bringing your customer service in-house will enable you to grow and innovate as a business.
How? 
By optimizing a critical touch point of the customer experience to maintain positive relationships and discover opportunities for innovation. 
Here are some of the key reasons to bring your customer service team in-house:
Your team only focuses on your products.

One of the pitfalls of outsourcing your customer service team is that you can't always guarantee that they'll be experts on your range of products.

An in-house team will only offer customer support to your customers, so they'll become experts on your policies and your products.

You have more control over how your customer service agents represent your brand and interact with customers.

A big concern for brands about outsourcing customer service is that an outside team won't uphold brand values.

Your customer service channels are a critical touch point along the customer journey, and maintaining a consistent brand voice is an essential component of your overall brand, especially for direct-to-consumer and ecommerce brands.

The Importance of Brand Voice for Ecommerce

A brand's voice is a large component of what sets them apart from other ecommerce competitors.

Take AllBirds for example. AllBirds makes sustainable shoes, with one of its most popular products being its Wool Runners.

Giesswein is another shoe brand that also makes wool sneakers.

While AllBirds does put a lot of focus on its sustainable practices, one of the biggest differences between these brands is their approach to messaging. AllBirds has a unique brand voice that it uses across all its communications. Giesswein's voice is less pronounced and noticeable.

You can see this in their returns and exchanges pages.

AllBird's returns and exchanges page.

Giesswein's delivery and turns page.

These two brands sell almost the exact same product. But the AllBirds customer experience is much more memorable and delightful than Giesswein's because of how branded it makes all of its content.

All this to say, your brand voice matters. Use your customer service team to embody your core values and extend your messaging. 

This will also help keep the customer experience positive and increase the chance of retention and repeat purchases, even after an interaction with your customer service team. 

Most consumers aren't contacting customer service just to tell you they love your products and you're doing a great job. Chances are, a customer is contacting your support team because they've had a disappointing experience with your brand. 

But an on-brand, positive experience with your customer service team can actually increase the likelihood they'll purchase from you again.

Interested in learning more about improving your customer retention? Read our Ecommerce Retention and Brand Loyalty Guide to discover how to increase repeat purchases and cultivate brand champions.

Collaboration between your customer service team and other departments will improve your products and content.

Keeping your customer service team in-house makes it easier to close the feedback loop between your support channels and the rest of your departments. 

Your customer service agents deal with customer feedback all day, everyday, and they can provide valuable learnings about common problems, suggestions, and concerns from your customers. 

Continually checking in with your support team will enable your product teams to make research-backed decisions about new products. The same goes for your marketing and website teams. The customer service team should be the first people they contact when trying to understand customer pain points so you can address them in your messaging and customer journey mapping early on.
Customer Service Platforms for In-House Ecommerce Teams
Bringing your customer service team in-house doesn't have to be hard or complicated. There are multiple SaaS products that will enable your team to provide the best customer service experience possible.
Zendesk is a fan favorite used by a wide variety of ecommerce and direct-to-consumer businesses. 
The Zendesk Support Suite is an omni-channel customer service solution for brands that are looking to provide customer support on multiple channels. Zendesk's tools and processes work the same across all the support channels you enable, making it an easy, seamless program to get up and running. 
Zendesk is easy to set up for ecommerce businesses, as it integrates with major commerce platforms like Shopify and Magento. 
Here's just a snapshot of how Zendesk has helped brands like Thrive Market and Feed. improve their customer service experiences.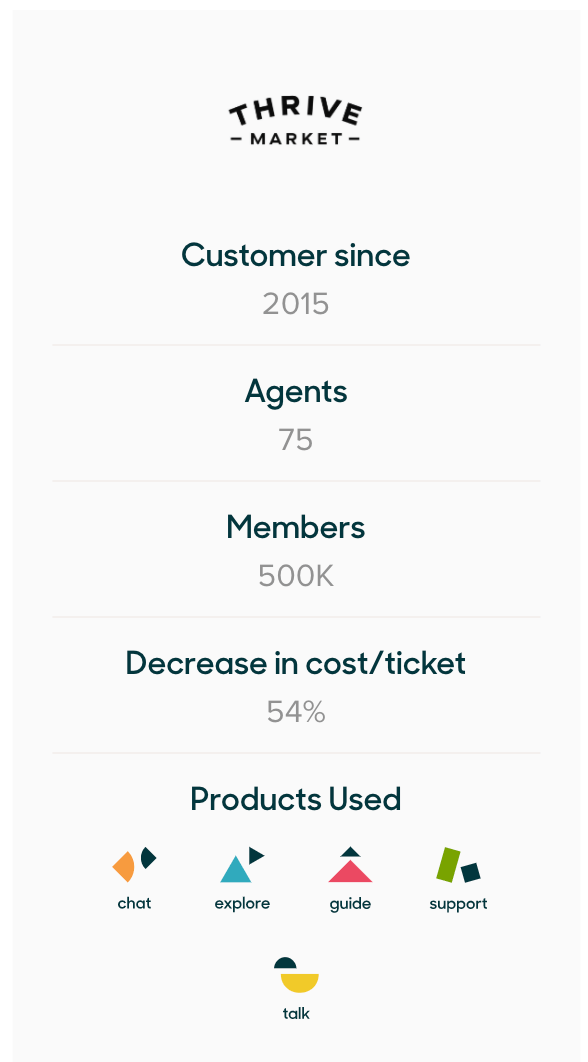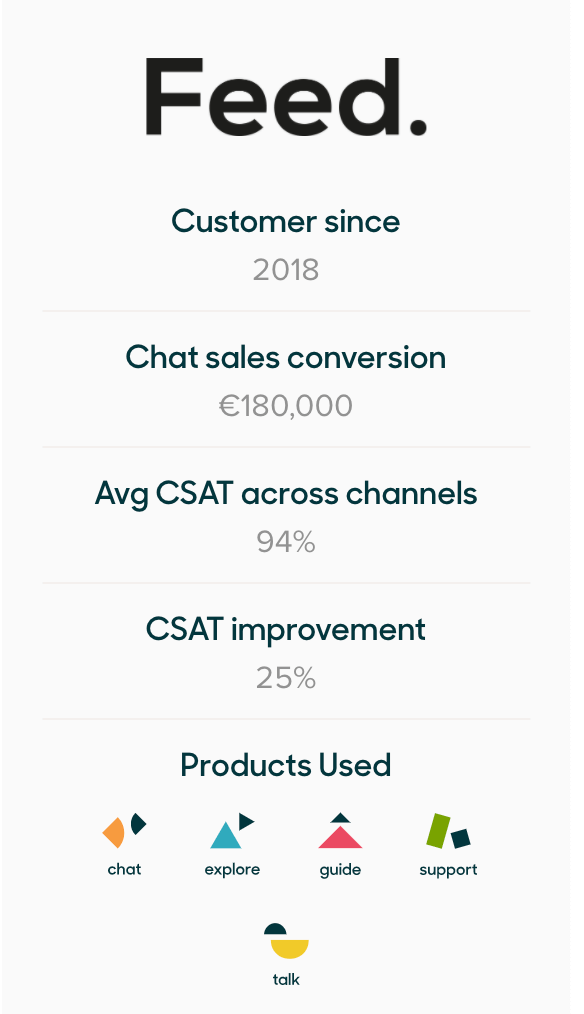 Another software option for your in-house customer service team is Gorgias. 
Gorgias is a customer service platform specifically designed for ecommerce businesses. Gorgias boasts about its singular feedback channel to handle all requests from multiple platforms, in-depth customer profiles, and automated responses to common support questions. 
Gorgias also integrates with major commerce platforms like Shopify, Shopify Plus, Magento, Recharge, and others.
You can see Gorgias' complete comparison to Zendesk here. 
Having
a Customer Service Team is Essential
The most important thing about ecommerce customer service is that you do it. There's nothing wrong with outsourcing your customer service. But eventually bringing it back in-house will make it easier for you to maintain a consistent, branded experience. 
The platforms we mentioned above are useful tools to help your team manage customer service requests efficiently. But there are plenty of other ways you can coordinate with your in-house team. 
Whatever platform or solution you choose, it's essential to keep your agents up-to-date on your products, give them the tools and training they need to be representatives of your brand, and encourage discussions to close the feedback loop and grow as a brand.
We partner with brands to improve the overall e-commerce experience for customers. Learn more about Barrel and the work we do for growing brands.