We've been recommending an email marketing tactic for our clients that's yielded some positive results. It's dead simple: resend your email campaign to those who haven't opened it the first time.
The fact is that even on a stellar email campaign, where open rates may be over 40%, more than half the subscribers on your list will have either completely missed or ignored what's in the email. There are several things that could've contributed to this:
Your subject line wasn't compelling to them, so they decided to ignore.
Your email was lost in the sea of unread promotional emails (perhaps buried in the Gmail Promotions tab).
Related to the second point, your email was sent at a time when the subscriber didn't check email, so it's likely that the email got buried by others that came later.
By resending your email campaign, you can test tweaks to some of these variables:
Adjust your subject line and experiment with the copy. If you were too whimsical in your first subject line, try to take a more straightforward approach or vice versa. (Note: you MUST change your subject line in some way so that the resent email doesn't get caught into an email thread with the previous one; if you really want to keep the first subject line, try adjusting just a word or two or add a different emoji at the end)
Switch up the day of the week or time of day you from the first email.
One thing to keep an eye on is the time in-between the initial email and the resend. Depending on your audience, this can be 24 hours or 3-4 days. For some emails, like time-sensitive promotional campaigns (e.g. save 30% this weekend only), you'll have to work with a much tighter resend window and weigh the possibility that some subscribers may find themselves opening two identical emails. If you notice unsubscribe rates spike beyond normal, then you may be resending too quickly.
What We've Seen with Resends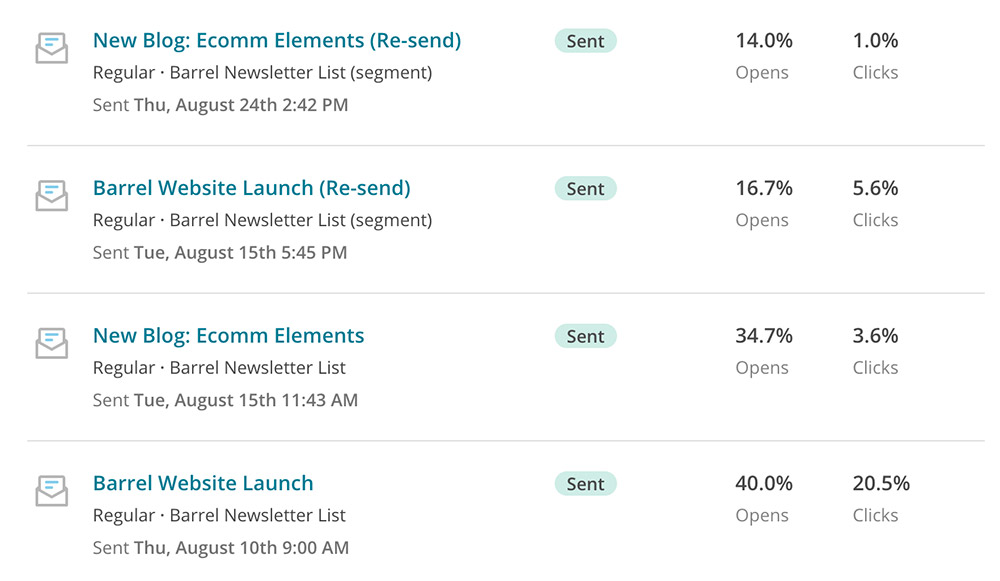 We've seen some encouraging results from employing this tactic both for ourselves and for our clients. Here's a hypothetical scenario based on some numbers we've seen. I've left out unsubscribes and bounces, which typically are in the less-than-1% range for many of our clients, to keep the illustration simple.
List size: 40,000
Initial campaign
Sent to all 40,000 people on the list
Open rate: 32.4% (12,960 opens)
Click rate: 5.8% (2,320 clicks to website)
Resend campaign (5 days later)
Sent to 27,040 people who didn't open
Open rate: 17.5% (4,732 opens)
Click rate: 2.5% (676 clicks to website)
In most cases, we've noticed that there's drop-off in the second email. For some, it's been a few percentage points and for others, it's been as much as half, so if you had 30% open rate the first time, you'd see closer to 15% on the resend. Overall, the gains from sending a second email are well worth it. As in the example above, to get 37% more email opens and to have the opportunity to convert on 676 more site visitors is certainly not insignificant.
Here's an example of an especially successful resend for one of our clients: It was a product launch email that went out on a Wednesday, and we saw a 14.6% open rate and 2.0% click rate. We resent the email on Saturday and saw a 13.0% open rate and 1.7% click rate. Both emails generated thousands of dollars with the second email generating slightly more. We knew that for this client, the large majority of their customers like to make purchases on weekends, so having the email go out on Saturday seemed like a good choice. I should note that we also tweaked the copy for the resend, although both were similar in voice and tone.
Take a step back and think about this. If we had sent this email just once, we would have missed out on several thousand opens and hundreds of qualified clicks. And all it took was a few simple steps.
We're looking to gather more results from sending emails a third or even fourth time. We're curious to see how far we can push this tactic and if there are certain types of emails that are more likely to succeed on a resend.
The Frequency of Email Campaigns In General
We're often asked by our clients: how often should we be sending email campaigns to our list?
We often answer in this way: as many times as you'd like, based on how your list responds and if you have something interesting and valuable to send to them.
Clients often assume that they are inundating their customers with too many emails if they send more than once a week. This may or may not be true. If the emails offer useful or entertaining content, then customers may want more and be perfectly content with weekly, daily, or even twice-daily emails.
It takes effort and lots of testing to find the sweet spot with your audience. Our advice: start with what's sustainable for your organization in terms of generating campaign ideas and executing on the emails. From there, if bandwidth allows, try to increase the number of new campaigns and see how that impacts open rates, click rates, and unsubscribes. If these metrics hold steady, then you may have room for even more email campaigns. And for each of these campaigns, be sure to test out the resend tactic and see how much you can milk out of every email blast.
We help our clients with email marketing strategy and execution. Learn more about Barrel and the work we do.