It's no surprise that ecommerce sales have increased in certain categories since the coronavirus pandemic swept across the country. 
As people spend more time inside their homes, the home goods industry especially has flourished. Home furnishings are essential as new home workers adapt their living space into their working space. And products that add a sense of coziness and peace at home are crucial to easing anxiety while stuck inside.
But as businesses around the country begin to open back up, it raises the question: Will home goods continue to be a strong ecommerce category once we're not at home all the time? 
Ecommerce Now Accounts for ~30% of All Retail Sales
In recent years, ecommerce has been a consistently popular way for people to shop. But ecommerce has dominated in-store sales after the coronavirus forced most shops to close. 
2PM Inc recently reviewed data from Bank of America, the U.S. Commerce Department, and ShawSpring research that highlighted how ecommerce sales now make up 27% of retail sales (as of April 2020).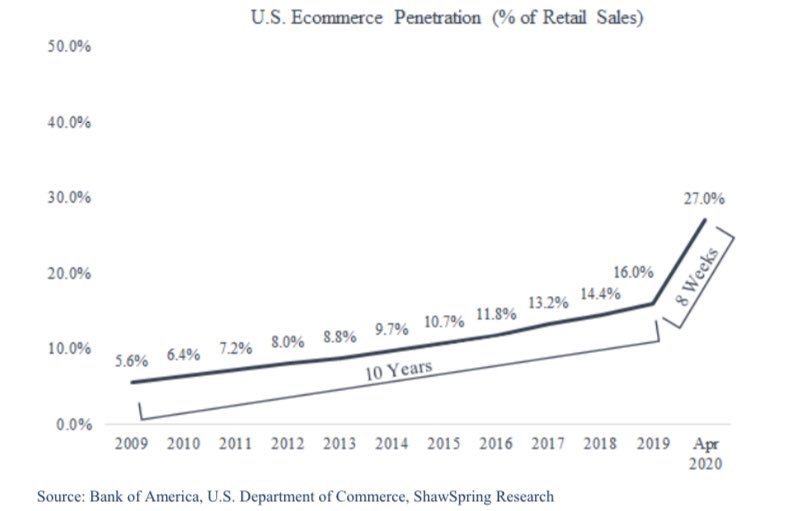 On top of that, Common Thread Collective aggregated data from over nine sources and found that ecommerce consumer sales were up 52.2% as a result of COVID-19.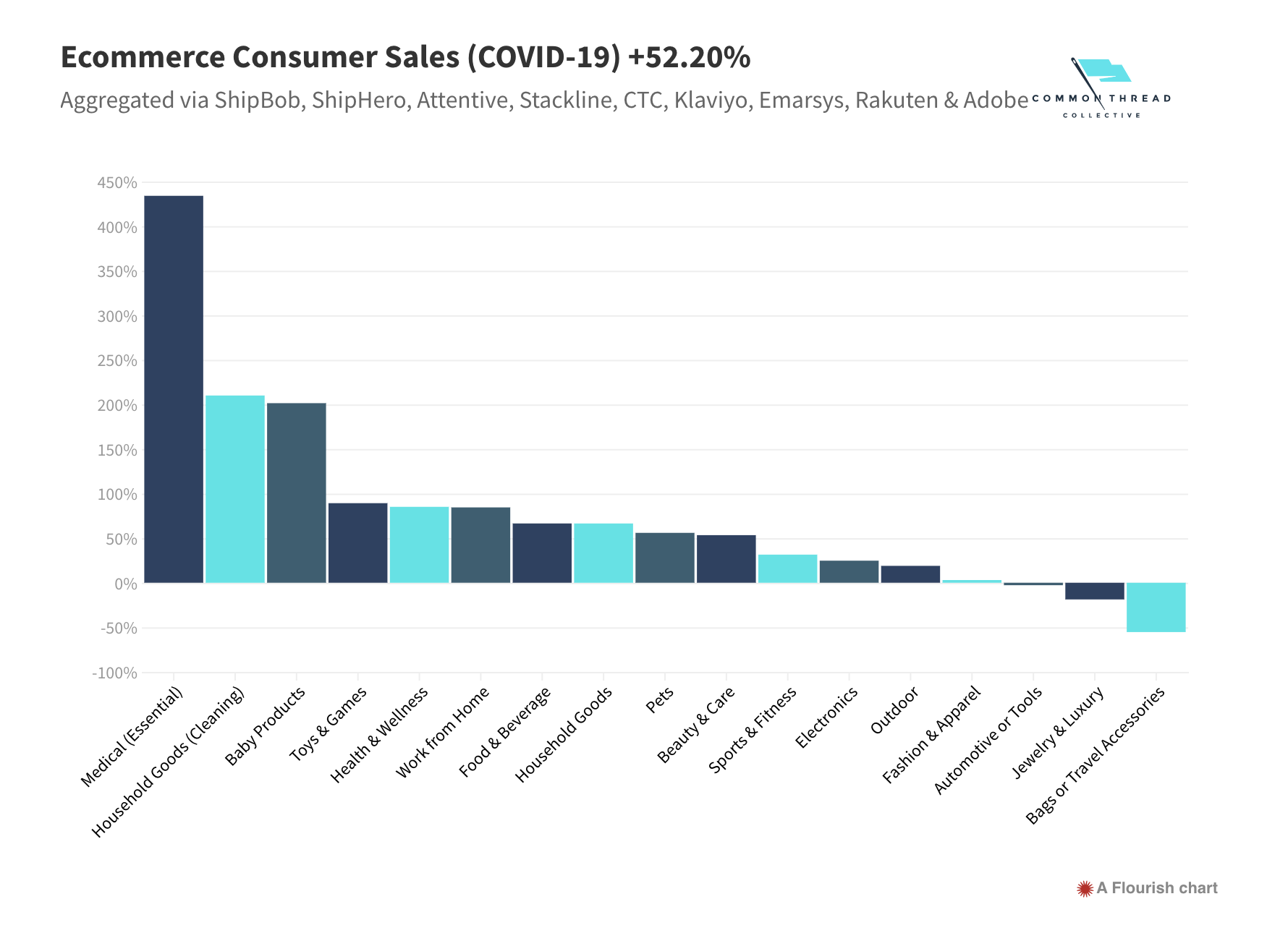 As you can see from Common Thread Collective's data, ecommerce sales of household goods have increased over 50%.
Home goods brands like Rooted and Cancelled Plans that have seen spikes in ecommerce sales recently are betting that consumer mentalities have fundamentally changed as a result of the pandemic. 
Cancelled Plans is a direct-to-consumer candle brand operating out of Washington state. Co-Founder Spencer Findlay told Barrel that April was the brand's biggest month ever in terms of online sales. It doesn't hurt that Cancelled Plans' name and products were already targeted to those who enjoy staying home. 
Findlay told Barrel that before the coronavirus pandemic, all of the Cancelled Plans candles sold at basically the same rate. But now some higher sellers have started to emerge. "We've definitely seen a shift towards very COVID-related candles," Findlay says. "So our best sellers right now are definitely Cancelled Plans, Do Not Disturb, and Introvert."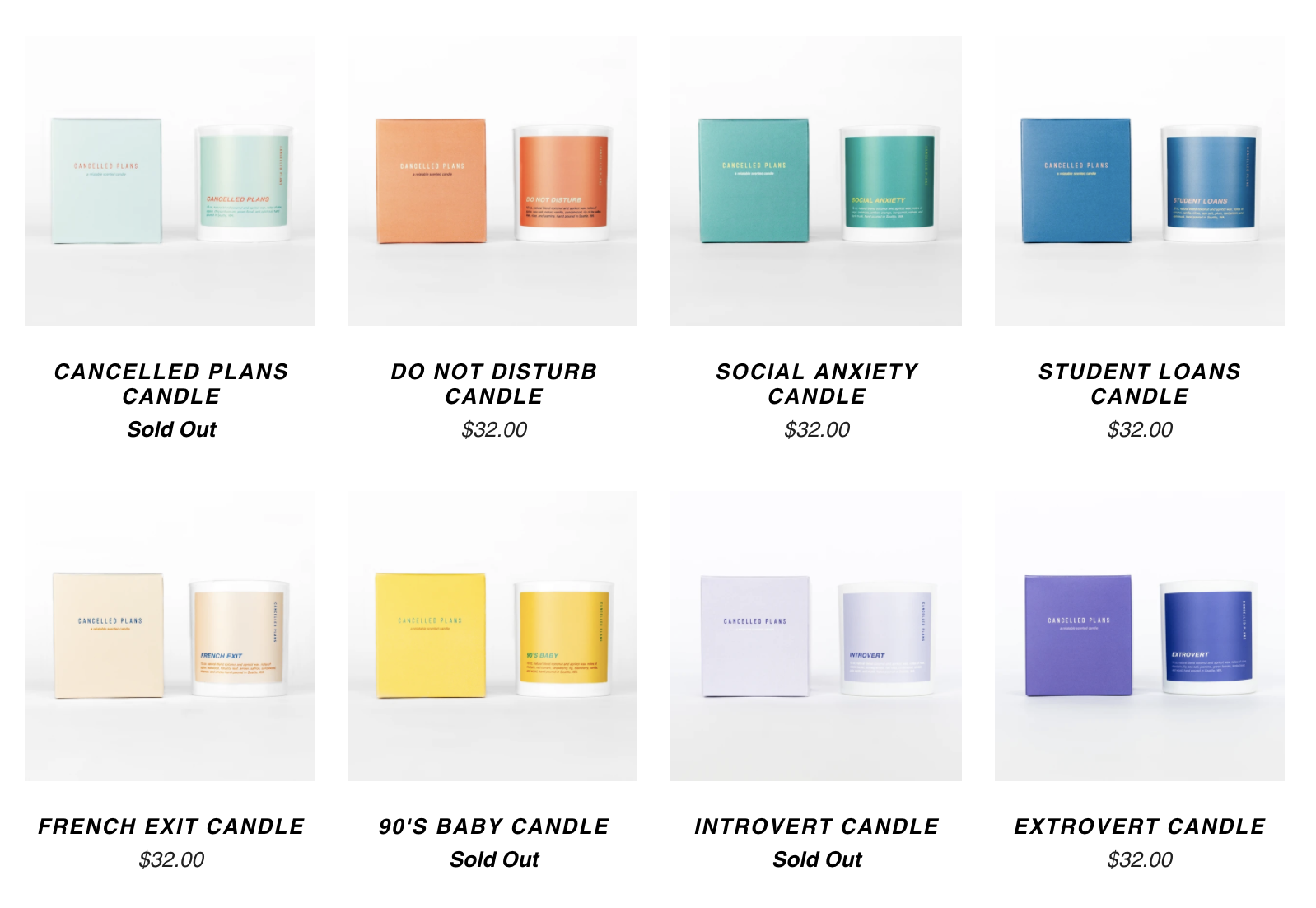 The story is a little bit different for Rooted. Before the coronavirus, Rooted's plant business operated mostly in retail and B2B, both of which have been majorly impacted by the pandemic. "90% of our business was in retail and B2B before COVID, and all of that went to zero in about two weeks," Rooted Co-Founder and CEO Ryan Lee told Barrel.
Still, Rooted has felt positive impacts on the ecommerce arm of its business. "Ecommerce sales are going really well," Lee says. "We probably 10x our business from what we were doing in February. And we're growing another 40% this month from last month."
But these are unprecedented times. So how are these ecommerce home goods brands feeling about the future? 
They're charging full-steam ahead.
Home Goods Brands are Optimistic 
Both Rooted and Cancelled Plans are focusing on continual growth, even at the prospect of lives returning to normal. 
Lee said that the closing of Rooted's retail store and B2B business allowed them to refocus on ecommerce sales. With supply chain issues figured out, Lee feels they haven't had to change their goals for the future at all. 
He explained Rooted's priorities are, "one, to expand [its] line of planters, two, to launch a bigger variety of plants, whether that's types or sizes, and three, continue growing the business in the trajectory [they] had planned for."
Findlay from Cancelled Plans echoed this sentiment. Looking months into the future, Cancelled Plans is already planning for a busy holiday season. 
I'm only expecting big things for the holiday season because, especially in the self-care world…I think through this whole corona thing, people are looking after themselves, but they especially are looking after their neighbors, looking after their family, and in the home goods world and the candle world, we only see crazy things.
So what makes these brands so optimistic? They're anticipating a shift in shopping behaviors and the consumer mindset post-coronavirus.
Shopping Will Be Fundamentally Different
The hope for the future among home furnishings, and the optimism around the success of ecommerce following COVID-19, is threefold. 
The New Workplace
The workplace as we know it has changed. Companies that had never entertained the idea of working from home are now looking at the possibility of flexible work from home practices in the future. 
And that means people will continue to put emphasis on their space. For the home goods industry, this is fantastic news.
Findlay thinks growth will endure as people continue to "appreciate their homes more, and want to create a comfortable environment for them to work in, to play with the kids."
Say Goodbye to Retail Therapy
At least in-store, anyways. 
As cities and states start to open back up, retail stores will be permanently changed. From social distancing markers to new policies about capacity, retail will no longer be the casual activity it once was.
For brands in the home goods space, the prospect of opening a physical location isn't appealing anymore. Architectural Digest reported in-person sales for home furnishings dropped at least 20% year-over-year and month-over-month in March. 
But the good news is these sales didn't just disappear. 
Furniture Today reported that "online browsing for furniture increased by more than 200% in March during the COVID-19 pandemic," according to V12's in-market shopping technology.
For Rooted, this emphasizes the brand's focus on ecommerce, and explains why Lee has closed the retail store in NYC indefinitely. He has no plans to consider reopening Rooted's physical storefront until they can see how the shopping experience will shape up.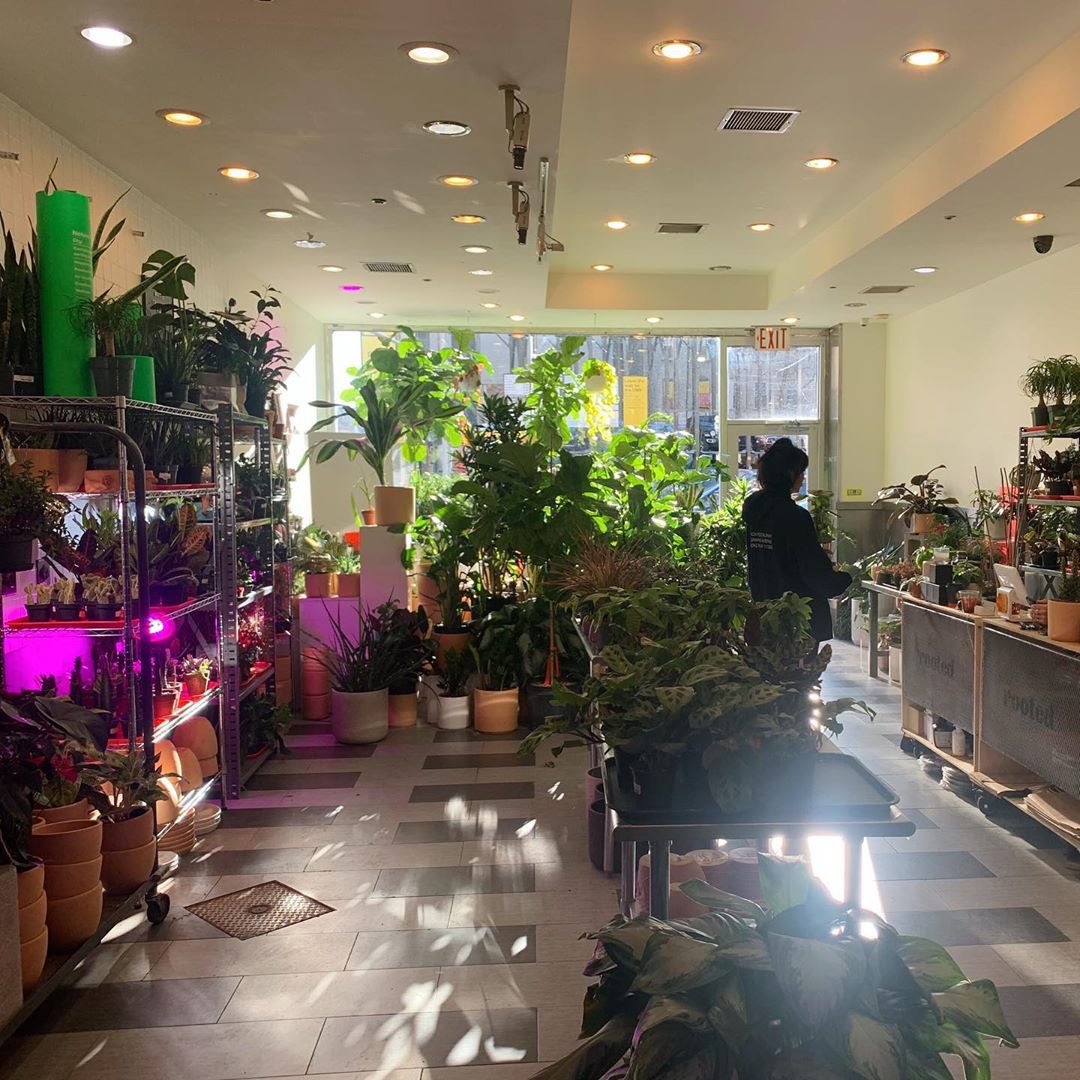 A Change in Consumer Mentality
Most importantly, Lee says he's optimistic about the future because the consumer mindset has changed. 
Psychologically, the consumer mentality has changed a bit, from stuff like travel and fashion and sneakers and things you do for the outside world…to, 'okay, how do I make myself happy and settled and calm at home, and love the space that I'm going to be in more often.'
The increased emphasis on appreciating products for their value to the individual, rather than how they make one look to others, highlights a shift in commerce as a whole.
Social factors have a large role to play in consumer behavior. But the coronavirus pandemic has changed the way social influences affect consumer decisions. The general population is starting to focus more on the brands they like and the products that make them happy, rather than allowing status and peer pressure to influence their decision. 
Nowhere is this more clear than in home furnishing. With social distancing still in effect, in-home gatherings are less likely to occur. This means home goods purchased during the coronavirus are done so by consumers who are making increasingly personal decisions. 
They aren't buying house plants or candles because they think their friends will like them. They're buying them to make their homes feel like their own. 
Expect Slowed but Continued Growth for Home Furnishing Ecommerce Sales 
No one expects sales in the home goods category to continue growing at the staggering rate they are now. But optimizing the home for productivity, coziness, and individuality will continue to color the home furnishing industry long after the coronavirus becomes a memory. 
The COVID-19 pandemic was a wake up call for consumers. Those who thought they had designed their homes well are now intimately familiar with the pitfalls and shortcomings of their space. And while home offices have been the focus recently, one can assume their attention will turn onto other spaces that they rely on for comfort and sanctuary.
We partner with brands to improve the overall e-commerce experience for customers. Learn more about Barrel and the work we do for growing brands.
Featured image courtesy of Dallas Riley, featuring plants from Rooted.