Email marketing is essential for most ecommerce and direct-to-consumer businesses. A healthy email marketing strategy includes targeted campaigns, promotional emails, newsletters, and automated flows.
But one of the most vital pieces of email marketing is often-overlooked: transactional emails. Transactional emails serve as one of the first touch points of customer service, and play a critical role in maintaining a positive relationship with customers.
Transactional emails are important for a few reasons. 
First, they confirm important interactions with your purchasers. Let's face it — everyone expects to get an email notification confirming their order, updating them on shipping activity, and notifying them of delivery. Without these basic emails in place, your customer will be left out of the loop post-purchase, and will likely feel unsatisfied with their shopping experience.
Second, transactional emails are the perfect place to provide customers with educational and useful content, like product tutorials. Transactional emails tend to have a higher open rates than marketing emails. While the content in these emails must remain relevant to the purchase, additional product-related education will help your customers get the most out of their purchases.
But transactional emails are frequently under-utilized when it comes to extending story and branding. They offer an unexpected canvas to further your brand's visual identity or inject some personality into a touchpoint that all consumers have learned to look out for.   
Let's take a look at some of the most important components of a brand's transactional email strategy, like what information the emails need to contain, and best practices to create a seamless customer experience. 
Essential Transactional Emails for Ecommerce
Some transactional email providers have a large suite of emails you can send to your customers. You don't have to send them all. But there are some essentials you must have as part of your email strategy. 
These are the four critical transactional emails to send to purchasers: 
Order Confirmation

Order Out for Delivery

Package Delivered

Order Refunded
Order Confirmation
The first thing your customers will look for after purchasing from your site is an order confirmation email. 
This email serves as a way for a recent purchaser to verify the items they purchased, the card they used, and the address they shipped to. Include a confirmation number for your customer to reference if they encounter an issue with shipping or delivery. 
Take this email from Burst for example:

This email lets the customer know what to expect next in terms of shipping and delivery updates. It then lists the shipping and billing addresses. Finally, Burst shares a confirmation number and a detailed list of items purchased. 
This email serves as an additional confirmation guardrail and allows the consumer to react to any order mistakes prior to shipment. 
Order Out for Delivery
The next transactional email your customers must get is a confirmation that their order is out for delivery. This lets them know their order is no longer in the processing facility and is on its way to them.
Most ecommerce sites have a shipping policy that reflects an expected delivery date once an item is shipped. This email is essential to send to your customers so they know when to expect their delivery and when to reach out if they don't receive it. 
Postable, an online card business, lets customers know when their card has been mailed and when the recipient can expect it in their mailbox.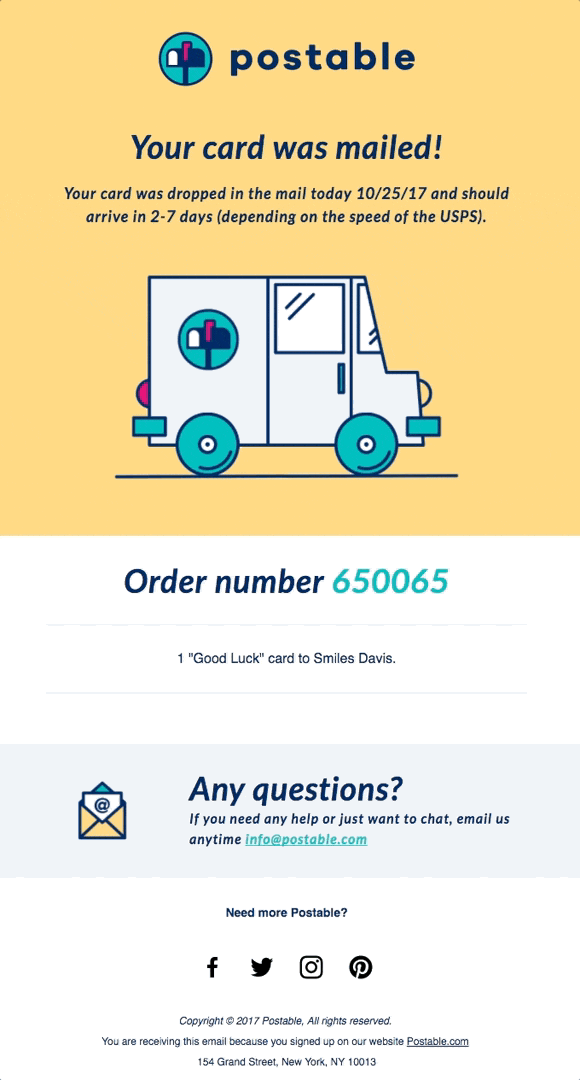 Postable confirms the date it mailed the card, when the card should arrive, as well as the order number and the item purchased.
Purchasers are likely to refer to this email if they don't receive any other shipping updates as a reference for when to expect their delivery. This is the first place they'll look if their package isn't delivered within the given timeframe. 
Postable recognizes this and highlights its customer service options prominently at the bottom of the email in case there are any issues. 
Package Delivered
The next key email to include is one that updates the customer when their package has been delivered. 
Some people live in apartment buildings with a doorman who can receive their packages for them. Others aren't always home to receive a package. A delivery confirmation lets them know their package has arrived or is ready to be picked up.
But a delivery confirmation is also essential in case a package was stolen or delivered to the wrong address. Include a clear callout to your brand's customer service channels in case a customer's package has been delivered, but they haven't gotten it. And highlight your return or refund policy in case they want to initiate a return.
Order Refunded
Returns can be stressful for customers as they want to make sure their refund is applied correctly. This is where an order refunded email comes in handy.
If your brand applies refunds back to the original payment method, highlight that. Only refund to store credit? Confirm the amount they'll be able to apply in-store or online. 
Peak Design's return email perfectly highlights how to make returning a product a seamless process for your customers.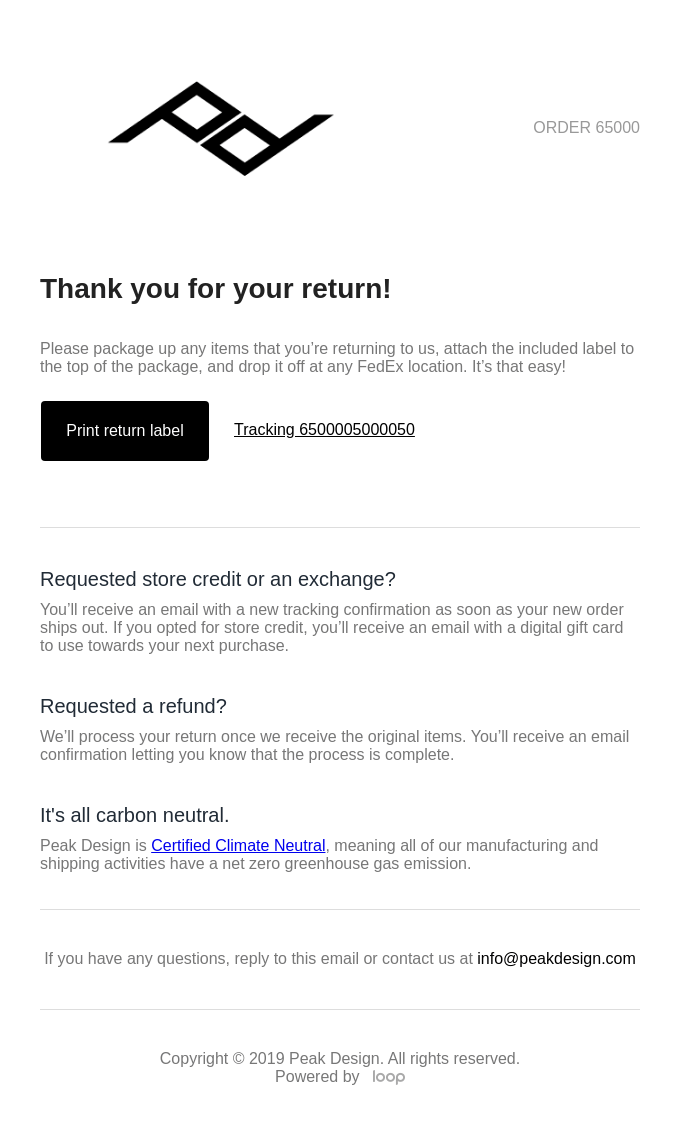 The brand makes it easy for customers to access the return label and confirms what customers should expect based on whether or not they requested store credit or a cash refund. 
Order confirmation, order out for delivery, package delivered, and order refunded emails are the four absolutely fundamental transactional emails to include in your strategy. But there are plenty of others you can add to your list. 
Shopify's email app, Orderly, offers businesses 25 transactional email templates they can utilize to communicate with customers. 
There's more at stake for higher priced items. More emails in your confirmation and delivery series will ease anxiety about where a purchase is. This is also true if you're shipping your products to an international customer.
Many brands choose to send shipping updates while a customer's delivery is in progress. This includes information like a label was created, scans at processing facilities, and scheduled for delivery by end of day. 
Barrel helps wellness brands improve the customer experience at multiple touch points. Learn more about Barrel's CRM and email marketing capabilities.
Transactional Emails and Customer Service
Transactional emails play an important role in the customer service process. These emails are likely the first place a customer will go to when engaging with a brand's customer service because they confirm order information, provide a reference code, and set shipping and delivery expectations.
Contacting customer service can be an emotional process. Customers are already disappointed with the status of their purchase or the purchase itself, and making it difficult to initiate a return or complaint only increases frustrations. 
Include clear, easy-to-access callouts to your customer service channels in all of your purchase-related emails. 
There are a few automations you need to have in place to confirm customer service actions. These include things like return label instructions, order canceled verification, and an order refunded email (like we mentioned above). 
This series of emails makes it easy for unhappy customers to send their items back and keeps them updated on the process of their return or refund.
Learn more about how to improve the ecommerce customer experience with your customer service strategy.
Sharing the Right Information
Transactional emails aren't only useful for sharing confirmation numbers, receipts, and shipping updates. These types of emails are also the ideal place to highlight educational content. 
Some countries have strict laws when it comes to what additional content you can include in transactional emails. In the United States, transactional emails do not require an opt-in, meaning they do not have to be CAN-SPAM compliant. 
The content in these emails can only be related to the transaction.
But you can still share some informational content in order to help your customers get the most out of their purchase. 
Harry's is a men's shaving company that sells products like razors and shaving cream, as well as skin and hair care. This delivery confirmation email from Harry's expertly adds educational content while providing the necessary information to keep it transactional.

The email doesn't break CAN-SPAM compliance because it is still related to the purchase (in this case, a razor). 
Including additional information related to the product or purchase helps minimize your customer's need to reach out to customer service. 
By anticipating common questions and proactively answering them with content like frequently asked questions or product tutorials, you reduce the likelihood your customer will be unsatisfied with or confused by their purchase.
Best Practices to Delight Your Customers
Transactional emails aren't exactly known for their innovative design or exciting tone. But that makes them the perfect place to add some. 
Not all transactional emails are created the same, and adding your branding and brand voice to a typically stuffy email will make you stand out from the crowd. 
Check out this email from Warby Parker:

The email is unmistakably Warby Parker's. The fonts and brand colors are the same as you would see on its other media channels. And the way the brand confirms the items being sent mirrors its web experience. 
You don't have to go crazy and develop a custom transactional email like Warby Parker. Orderly makes it easy for businesses to transform its templates into branded content by adding logos and brand colors. 
Take Advantage of Your Transactional Emails
Getting the most out of your purchase-related emails is simple. Make sure they're branded, update your customers about key actions they care about, provide easy access to customer service channels, and add educational content to anticipate your customer's needs.
Ensuring the process is seamless from start to finish reduces the risk your customers will need to reach out with questions. And even if they're unhappy with your product or service, your helpful and easy-to-navigate transactional emails will help them have a positive experience with your brand.
We partner with brands to improve the overall e-commerce experience for customers. Learn more about Barrel and the work we do for growing brands.
Featured image courtesy of Grace on Repeat.