The turn of the new year and new decade was a hopeful one for many. But in early March, COVID-19 put a wrench in millions of people's plans.
With social distancing and stay-at-home orders the new norm, many businesses have had to close their doors.
One industry hit especially hard? Studio fitness.
A Need for At Home Workouts
Around the country, studio fitness was booming before COVID-19 began to spread in the US. Thousands of people used to flock to fitness studios in every city for trainer-led classes.
As studios shut down, interest for at home exercise solutions sky-rocketed.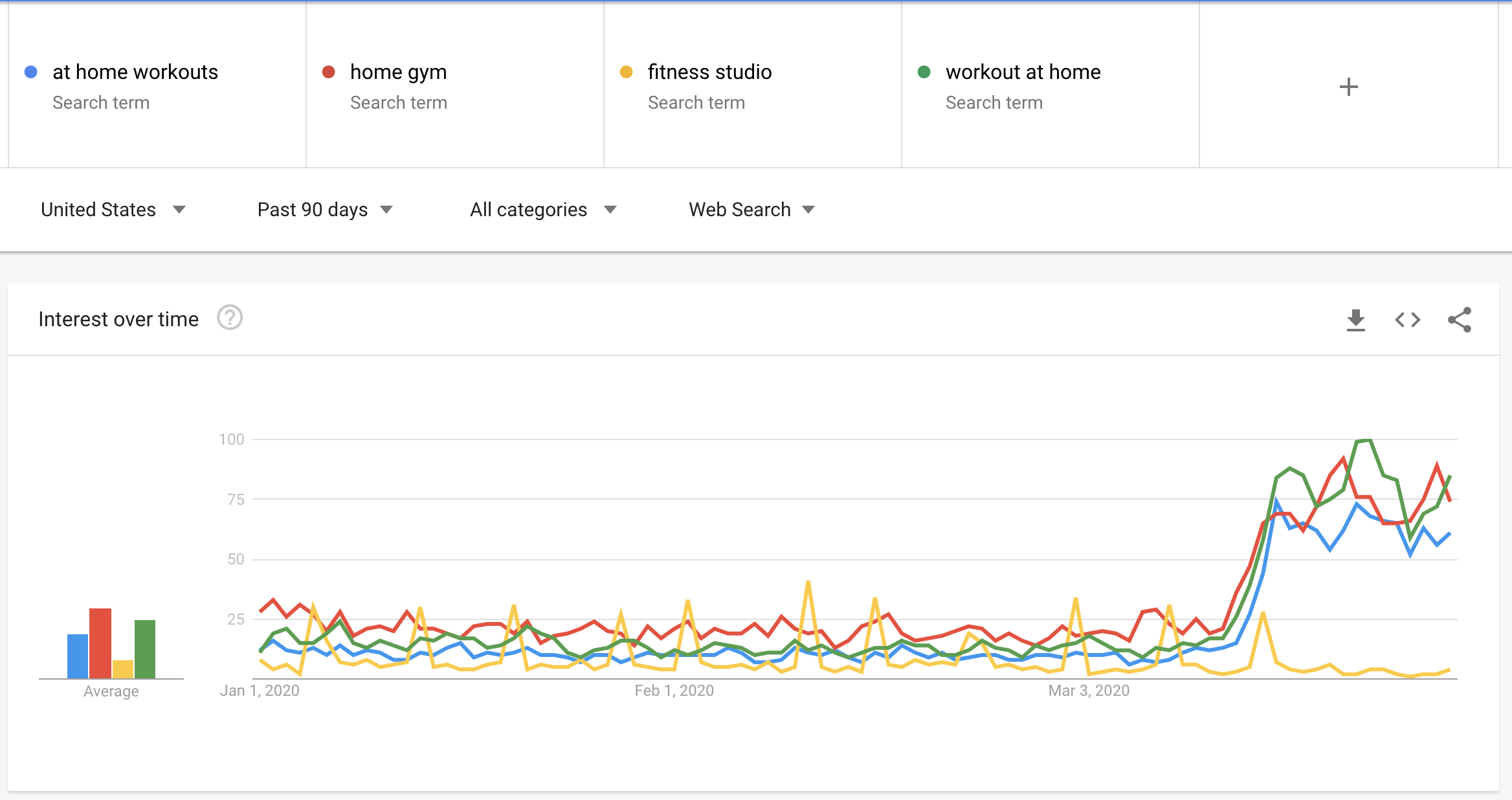 Not only were people searching for ways to stay active without access to their usual fitness studios, fitness studios began searching for ways to continue to serve their communities.
Rather than turning to YouTube uploads and quick Instagram workout videos, fitness studios devised a plan to stay true to their brand promises. 
The result was a new iteration of digital fitness seemingly unique to fitness studios: live-streamed classes. 
By translating their in-studio programs to live classes, fitness studios across the country are now able to offer the same quality workouts and personalized attention they do in the traditional class setting.
Here are some examples of how fitness studios have been adapting after closing their studios.
Fhitting Room
Based in NYC, Fhitting Room has been heralded as one of the toughest HIIT (high intensity interval training) workouts in the city.
Fhitting Room offers total body workouts at a step above other fitness classes. With small class sizes and two trainers per class, it promises a level of personal attention unmatched by other fitness studios. 
Fhitting Room closed its studios in response to the coronavirus pandemic. But it found a way to offer the classes people love while upholding its brand promise with Fhitting Room Live. 
Not to be confused with Fhitting Room On-Demand, Fhitting Room Live is the brand's no-studio workout solution. In a Fhitting Room Live class, Fhitting Room trainers coach participants through a workout on Zoom. 
A spot in a Fhitting Room Live class isn't free. Fhitting Room has a live class pass available for purchase, and former studio visitors can use existing class packages or memberships towards live classes. 
Classes are still capped at 24 people so trainers can provide personal attention.

Regular Fhitting Room classes combine weight, bodyweight, and cardio exercises for an intense workout. Fhitting Room Live classes only use bodyweight or minimal equipment to accommodate those without access to equipment. 

Live class options are now included in their pricing options to make sign up easy.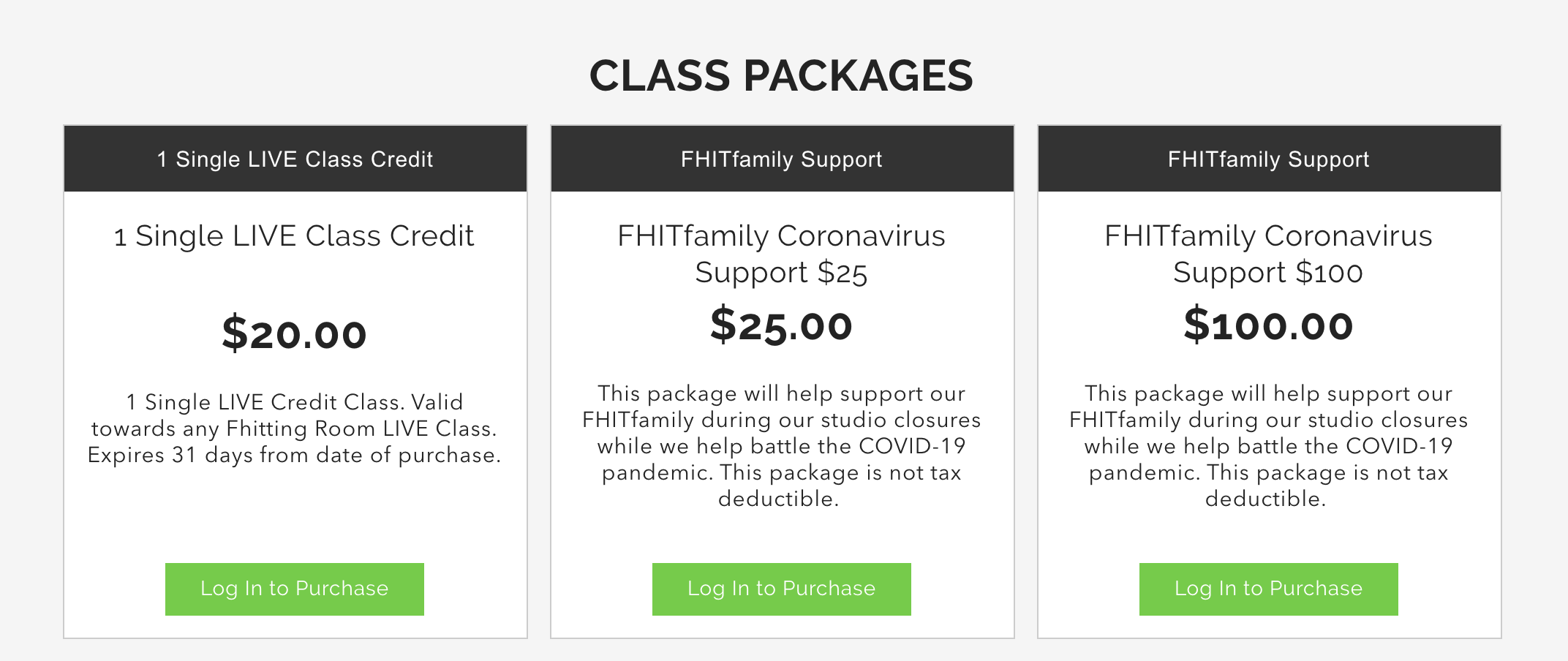 Fhitting Room is keeping their audience informed through their social media and emails.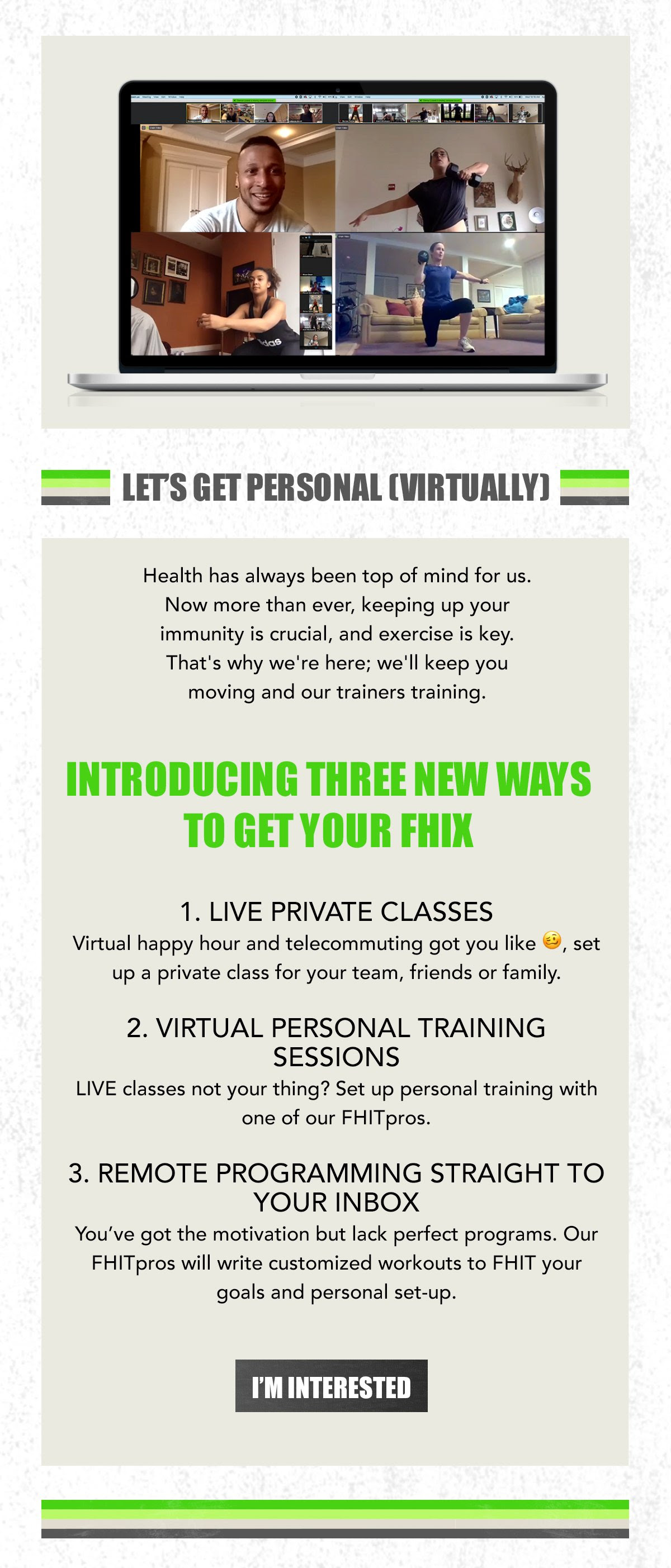 Their story highlights and posts show how their live workouts have been turning out. 
A Fhitting Room Instagram post showing what a live class is like.
Book a live class with Fhitting Room here.
Barry's
An international fitness sensation, Barry's is the original high intensity workout. 
With studios in 12 countries and a cult following, Barry's draws members with its red room-antics and high intensity workouts. The classes include weights and treadmills as participants complete lifting and running intervals. 
After closing its studios, Barry's is turning to Instagram to offer live workouts.
Barry's is hosting "Barry's At Home" live on Instagram so HIIT-lovers can watch and sweat together.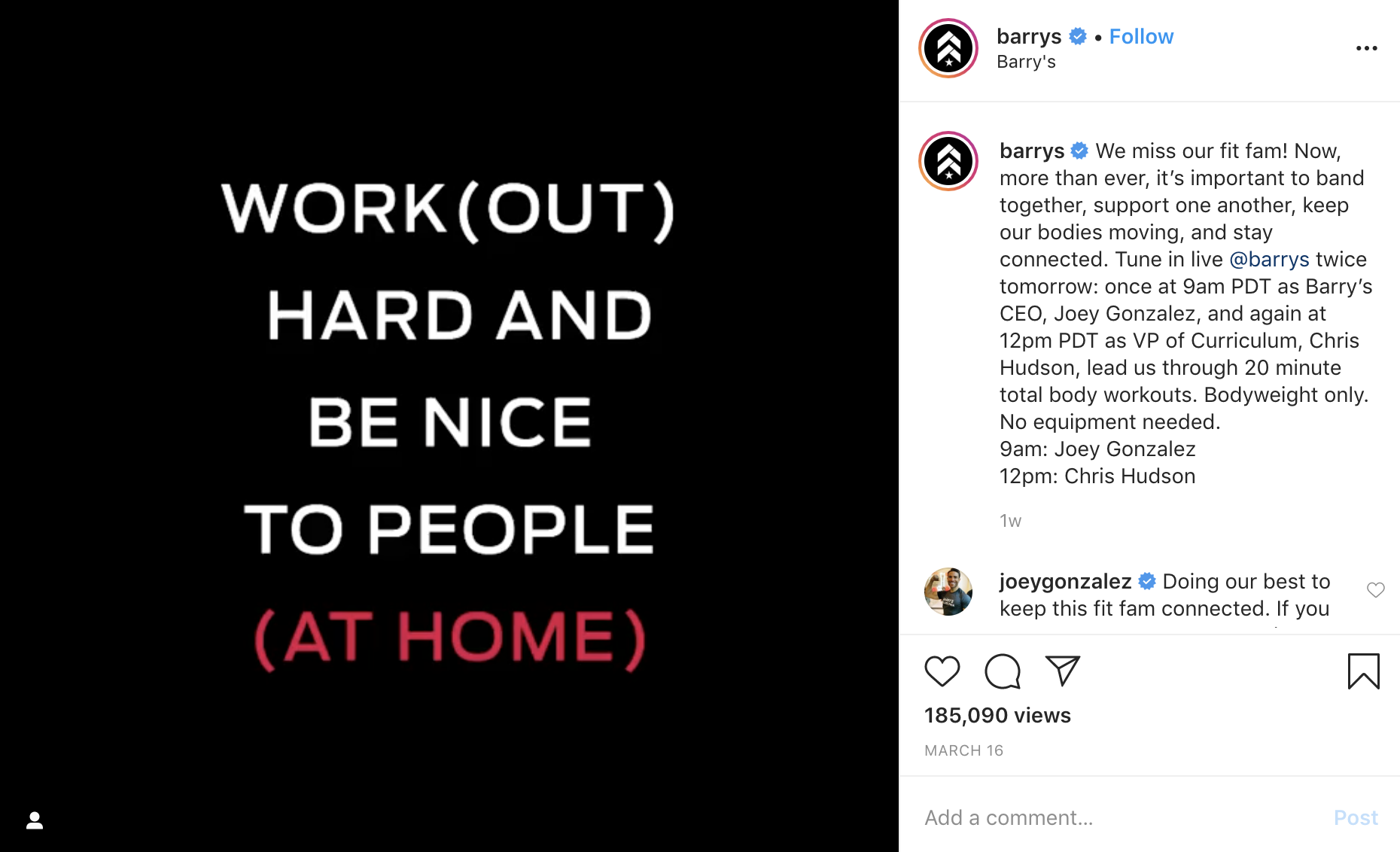 Barry's announced Barry's At Home on its Instagram, and are continuing to use story highlights to post the live class schedule.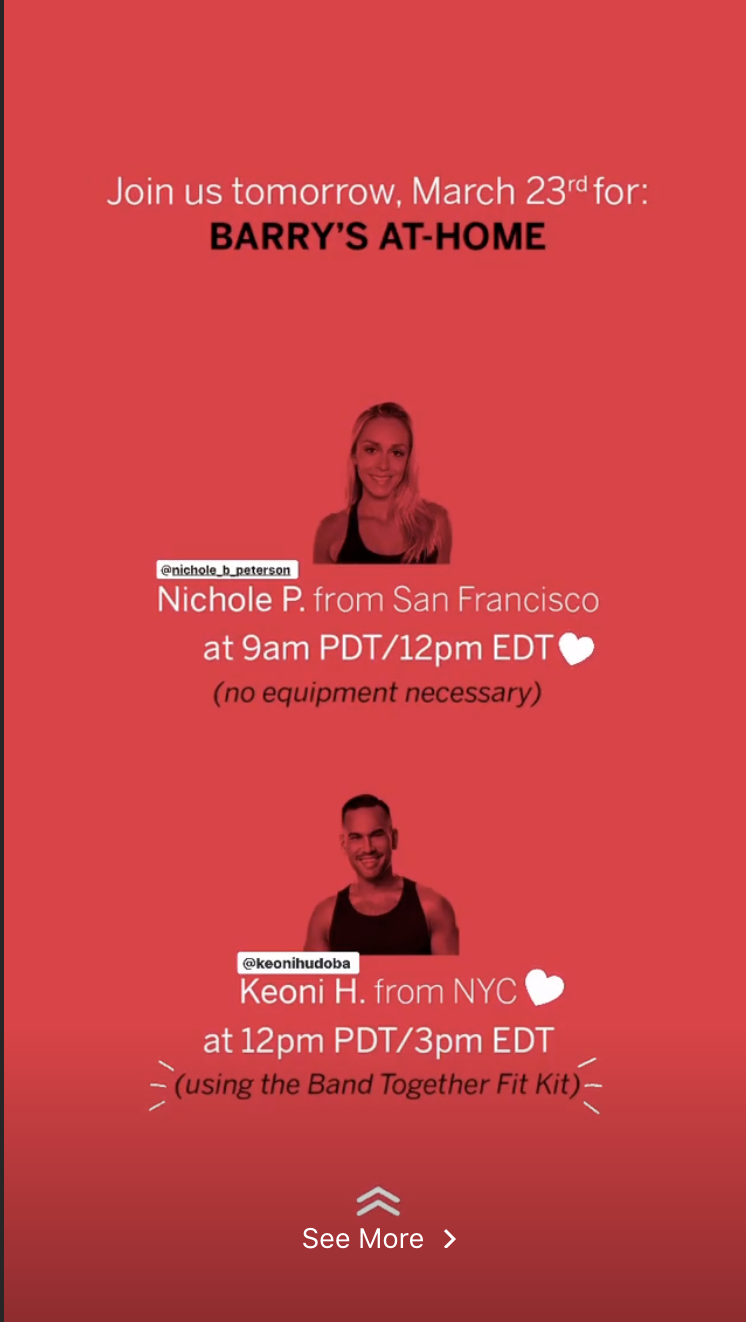 People can join during the livestream to work out as a community as well as access recorded live sessions after they've concluded on Barry's IGTV.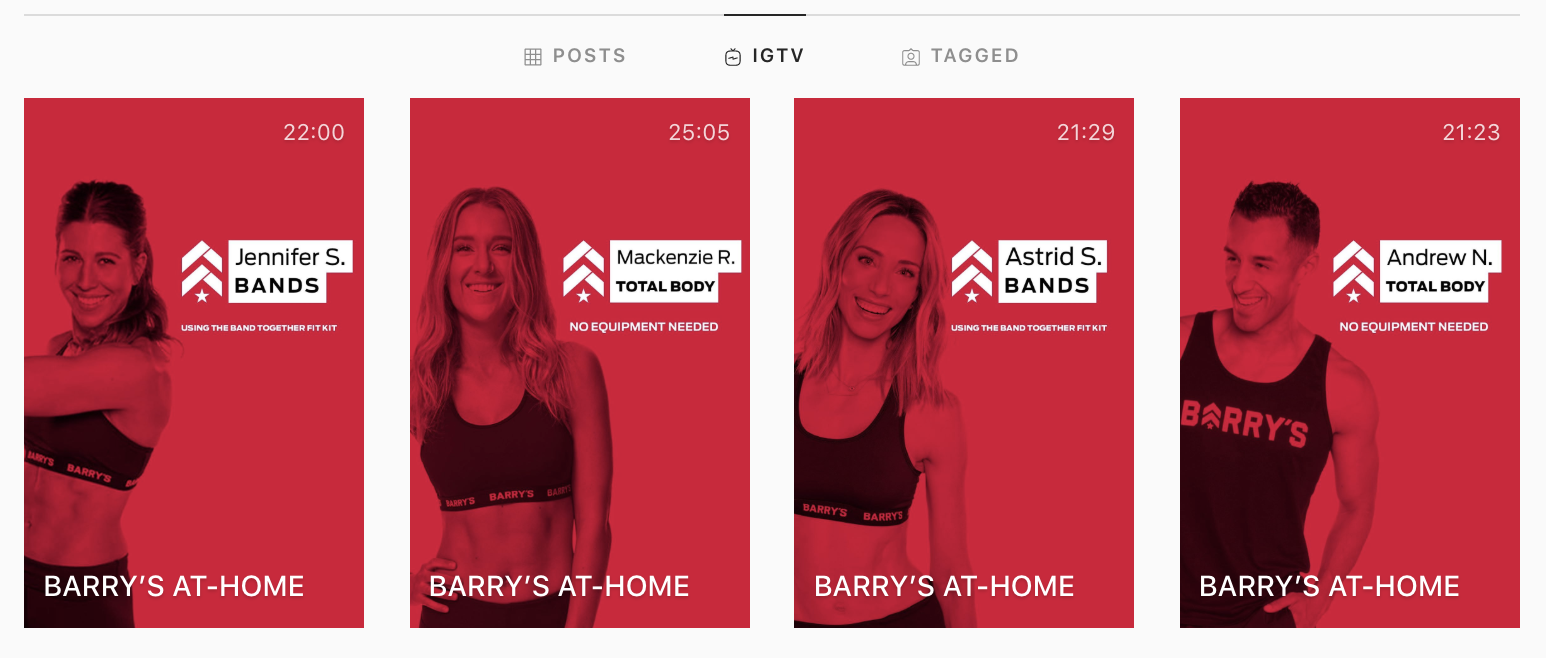 In contrast to Fhitting Room Live, Barry's At Home is free. Trainers lead a live-recorded workout as opposed to hosting a live class environment. 
Barry's has also been making a concerted effort to promote their ecommerce store and branded products.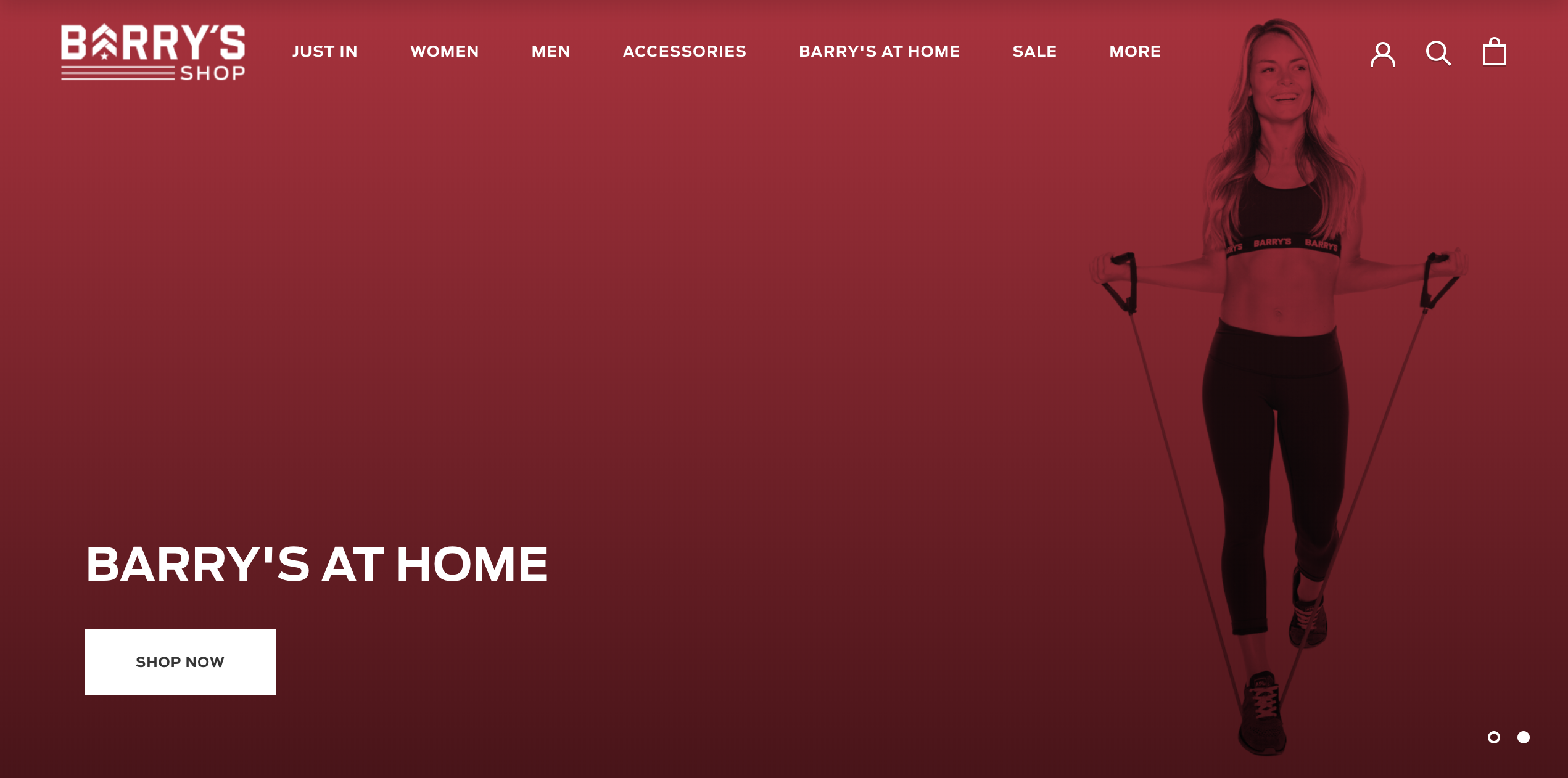 Announcing their sales and ecommerce products with dedicated email campaigns, Barry's is selling both apparel and workout equipment to their customers to help recreate the in-studio experience.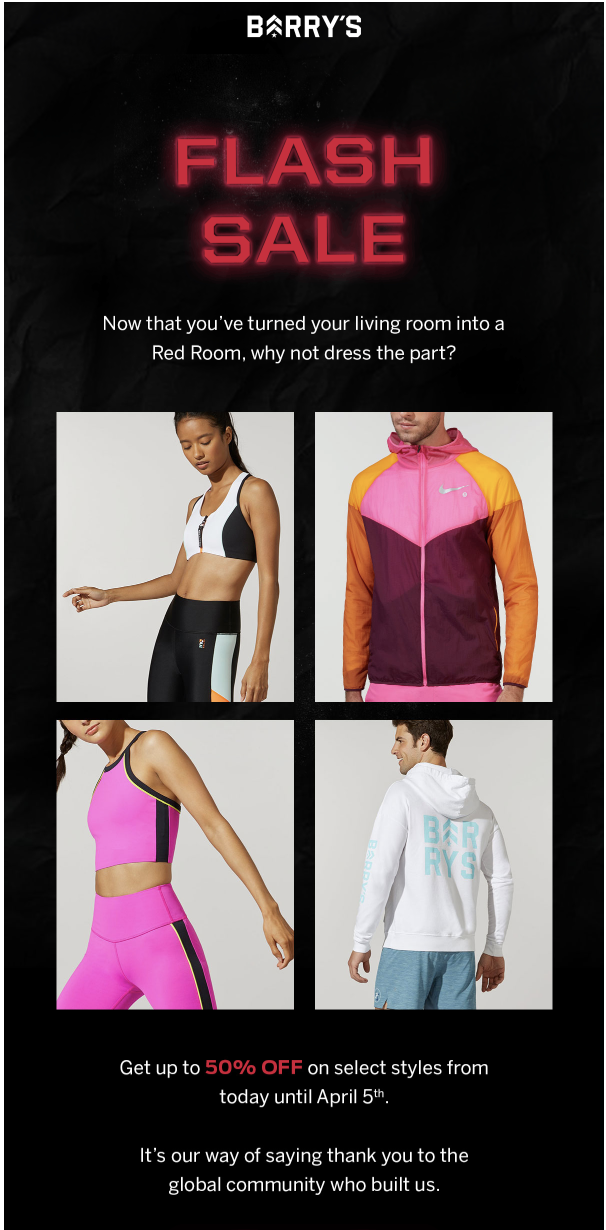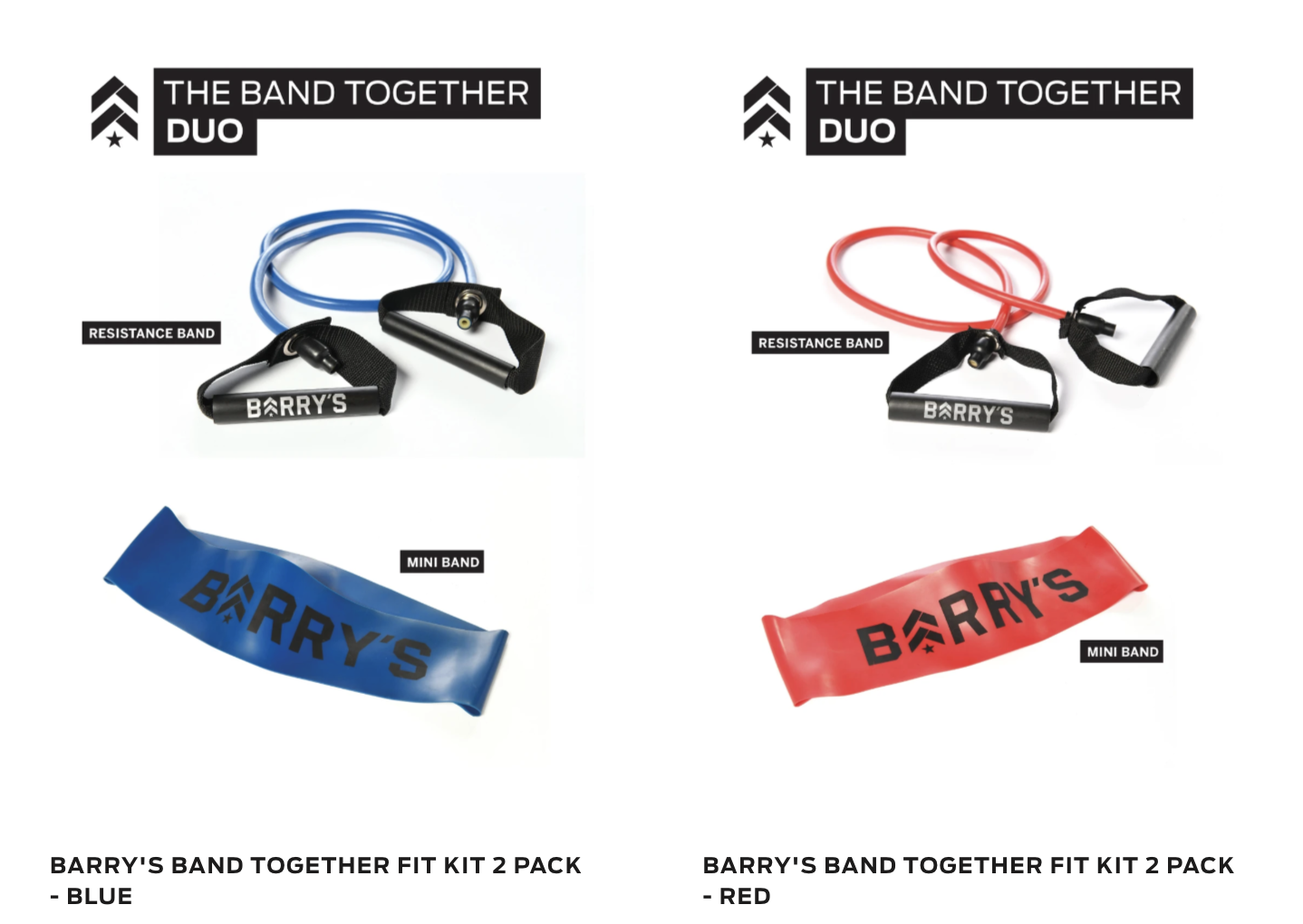 Updated April 2020: In addition to its Instagram Live offerings, Barry's added Barry's At Home to its bookable class options. Red room fans can now book at-home classes on Barry's website. 
Those interested can purchase single classes or month-long memberships. Participants need to book their spot in class to receive access to the workout.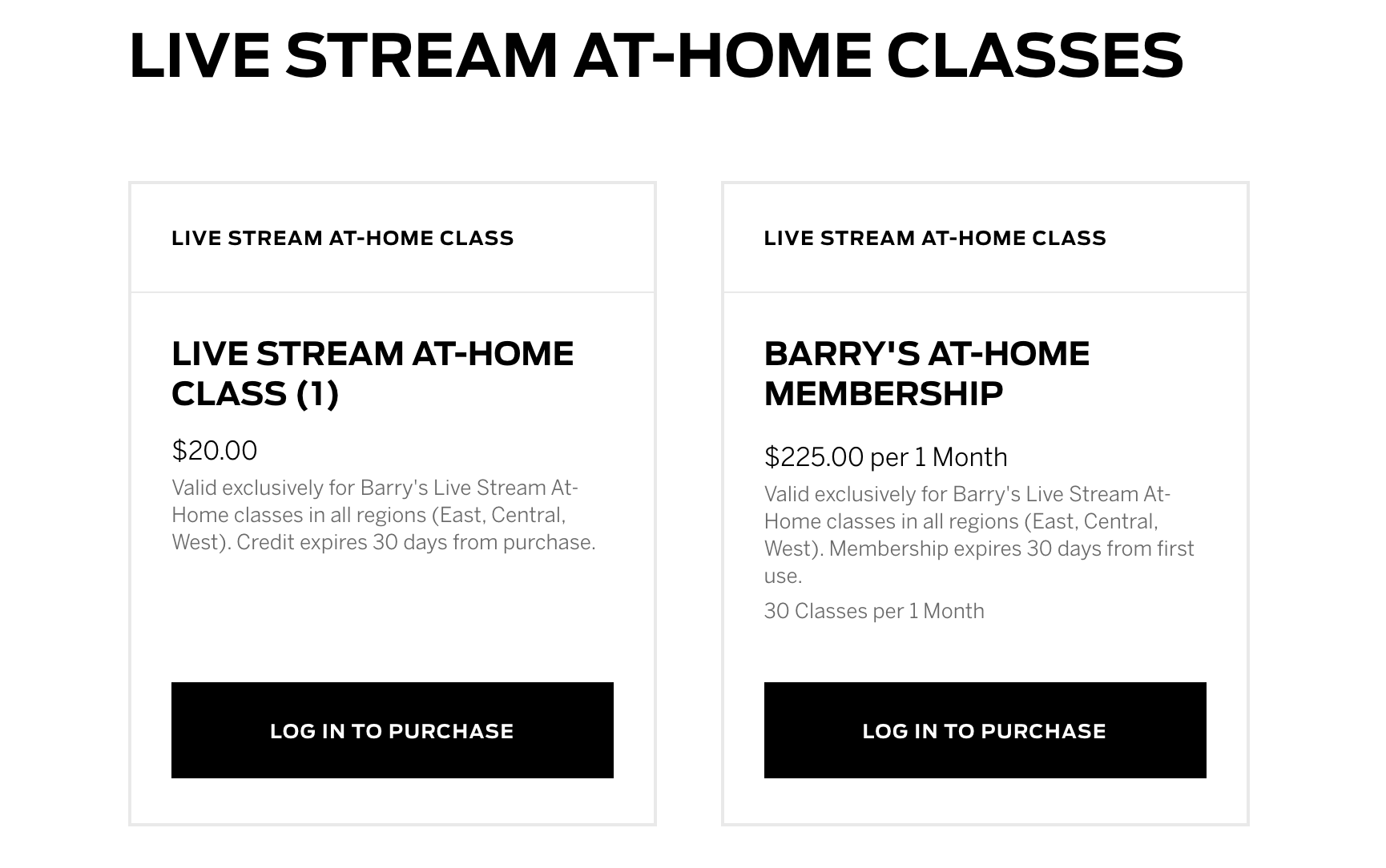 Find Barry's live classes here, or shop their fitness equipment and apparel here.
YogaWorks
With over 60 locations in the U.S., YogaWorks is many people's go-to yoga studio. 
YogaWorks offers a diverse range of yoga styles and employs quality trained teachers for every class. YogaWorks places an emphasis on a thoughtful yoga practice with intentionally sequenced flows.
YogaWorks closed its studios across the country in March and started promoting their yoga app and live-streamed classes to provide yoga practices to their loyal followers. 
YogaWorks has a subscription-based app with digital classes available. As people started staying home, YogaWorks waived its subscription fee for two months using a promotional code.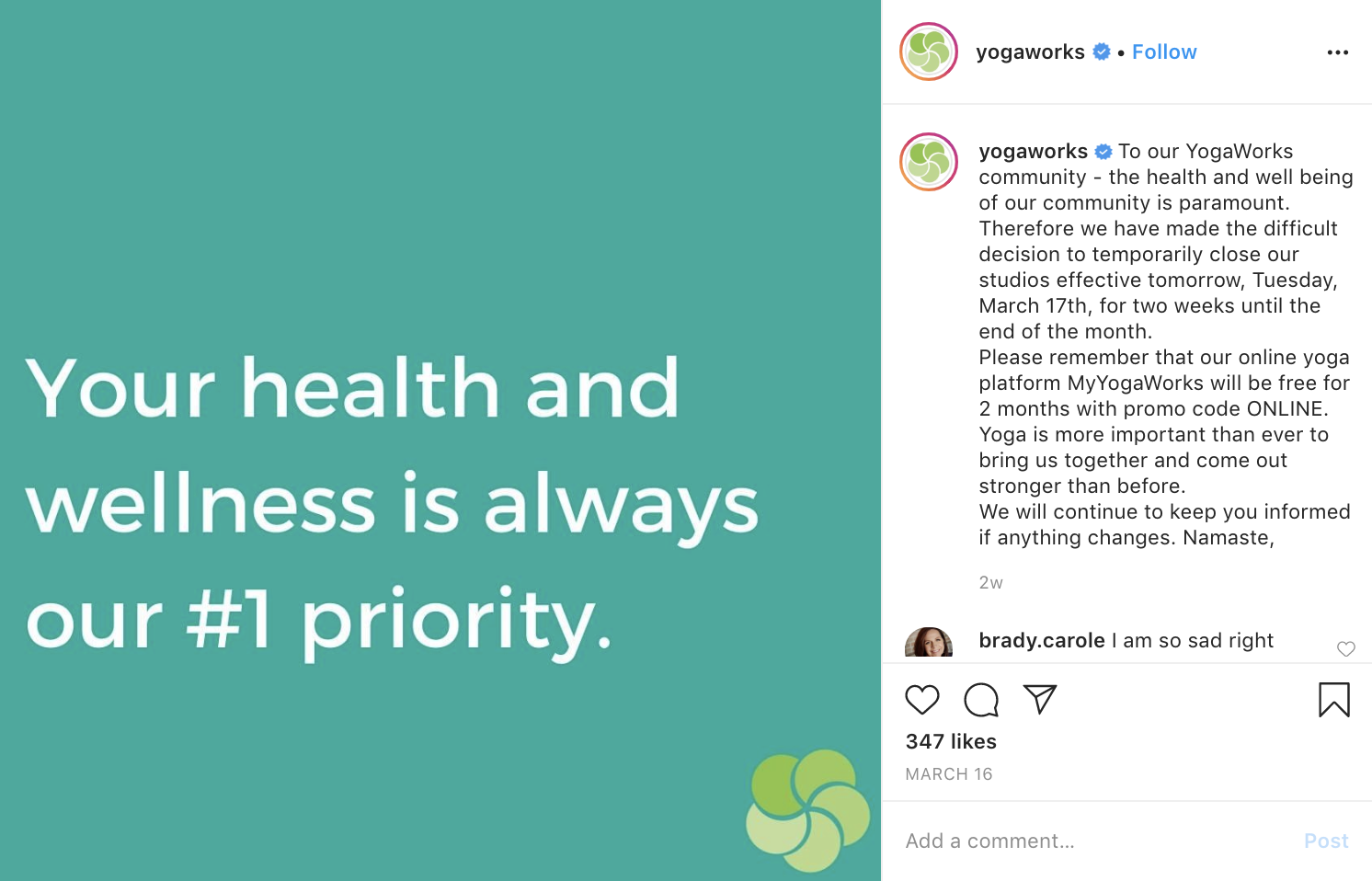 YogaWorks also decided to replicate in-studio classes with a live streaming option for their usual studio-goers.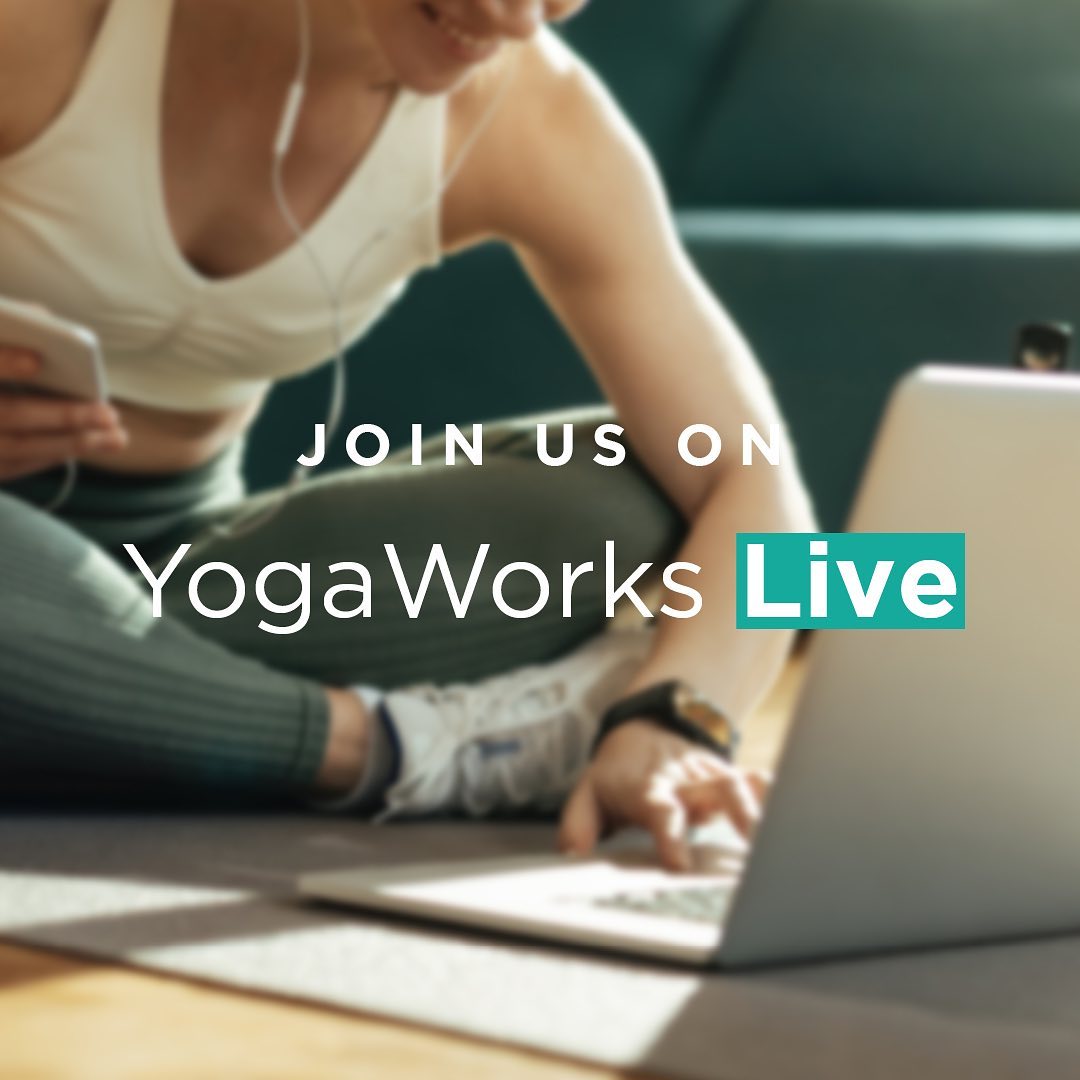 Posting the schedule online and on its social media platforms, interested yogis can navigate to YogaWorks' website and click through to a live class at almost any time. 
YogaWorks' live classes are available for free. The schedule continually updates, only showing the most recent upcoming classes for the day. If a class is yet to start, YogaWorks offers the option to add the time to your calendar.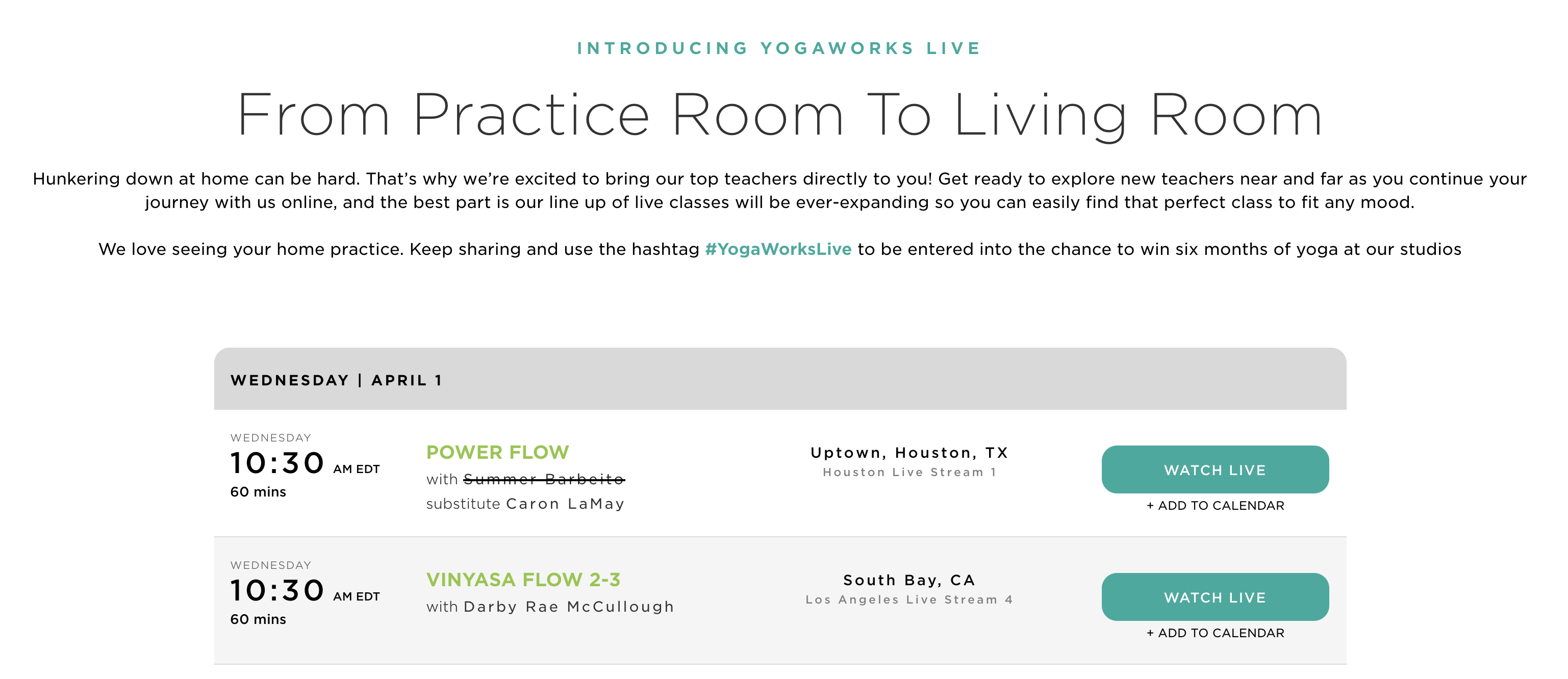 YogaWorks is streaming its classes through live recordings on YouTube. Once a live session has concluded, the recording is accessible on the studio location's dedicated YouTube channel.
YogaWorks is prompting participants to share their live yoga experience using the hashtag #YogaWorksLive to be entered into a contest to win six months of studio classes once their studios open back up.
Stream a live yoga class with YogaWorks here.
Tone House
Located in NYC, Tone House works to bring out the athlete in everyone.
At Tone House, sports conditioning workouts are the name of the game. Tone House classes are team-oriented, competitive, and fun while maintaining a supportive environment.
With team collaboration at the forefront of its class structure, Tone House turned to Youtube and Zoom to stay relevant.
Tone House teases at-home workouts on their IGTV channel and directs followers to its YouTube page for the full free workout.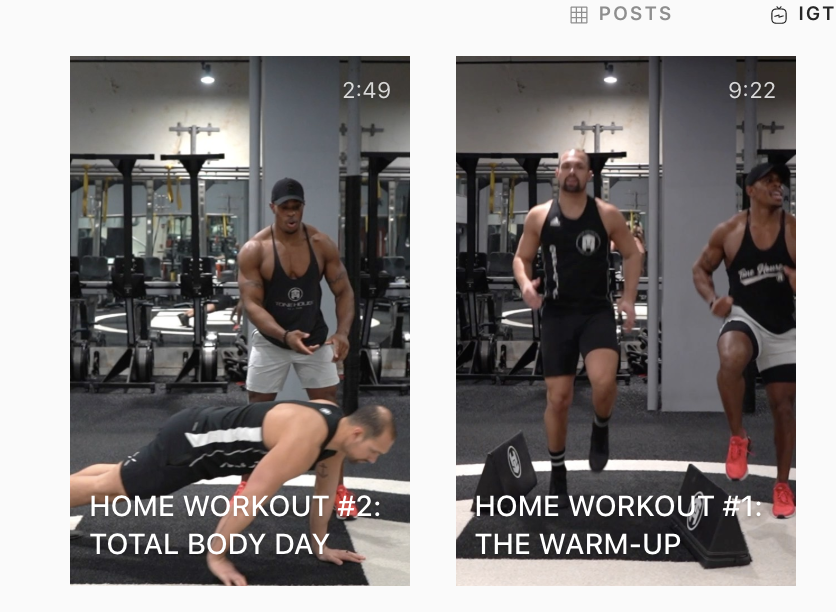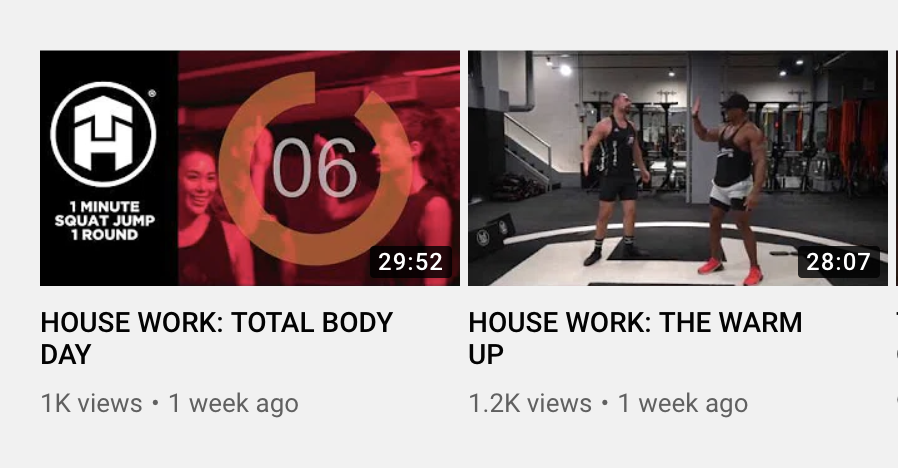 In addition to offering free at-home workouts via YouTube, Tone House is also hosting live classes on Zoom.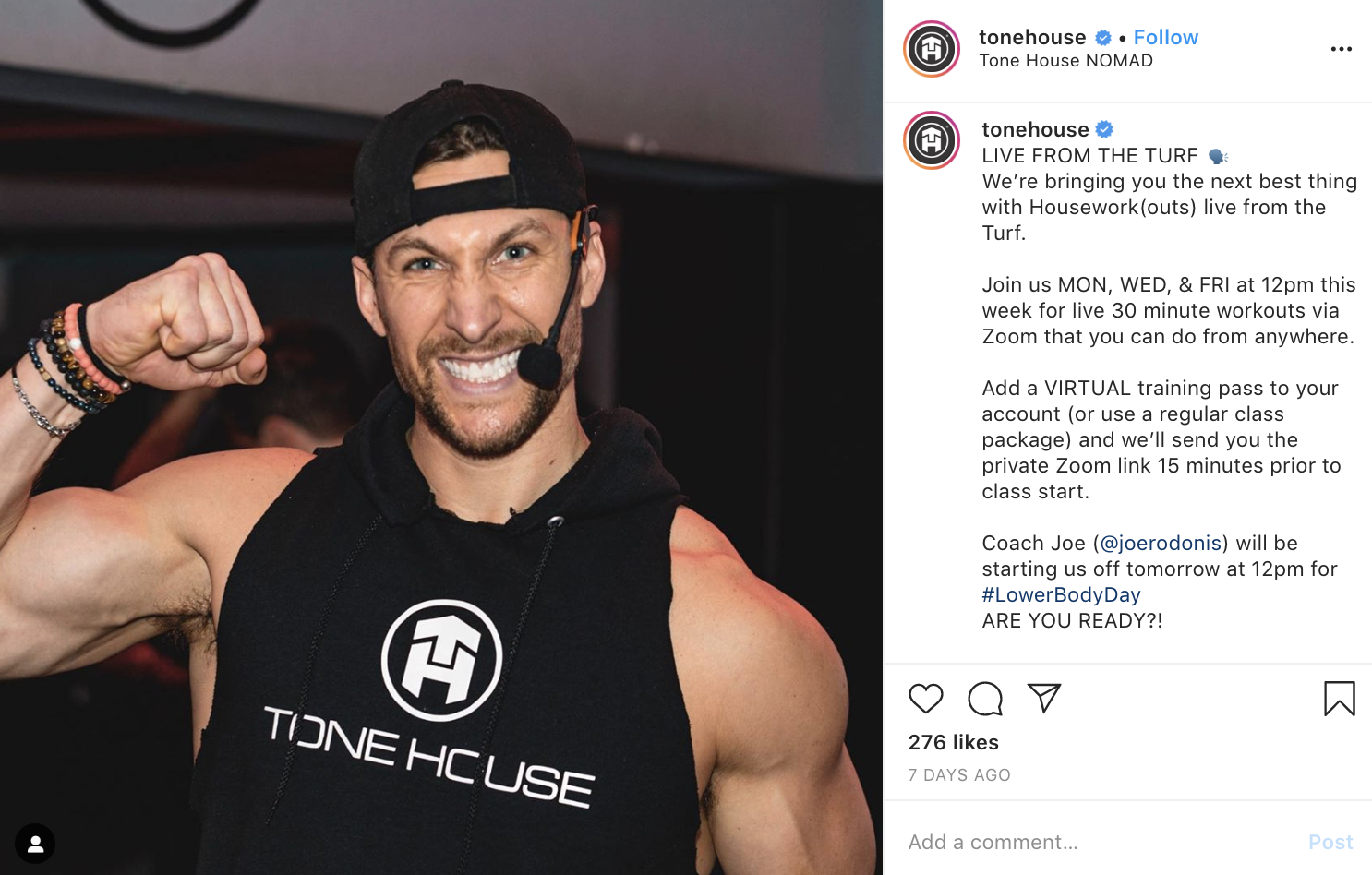 Interested participants can pay for a spot and book a class through their website.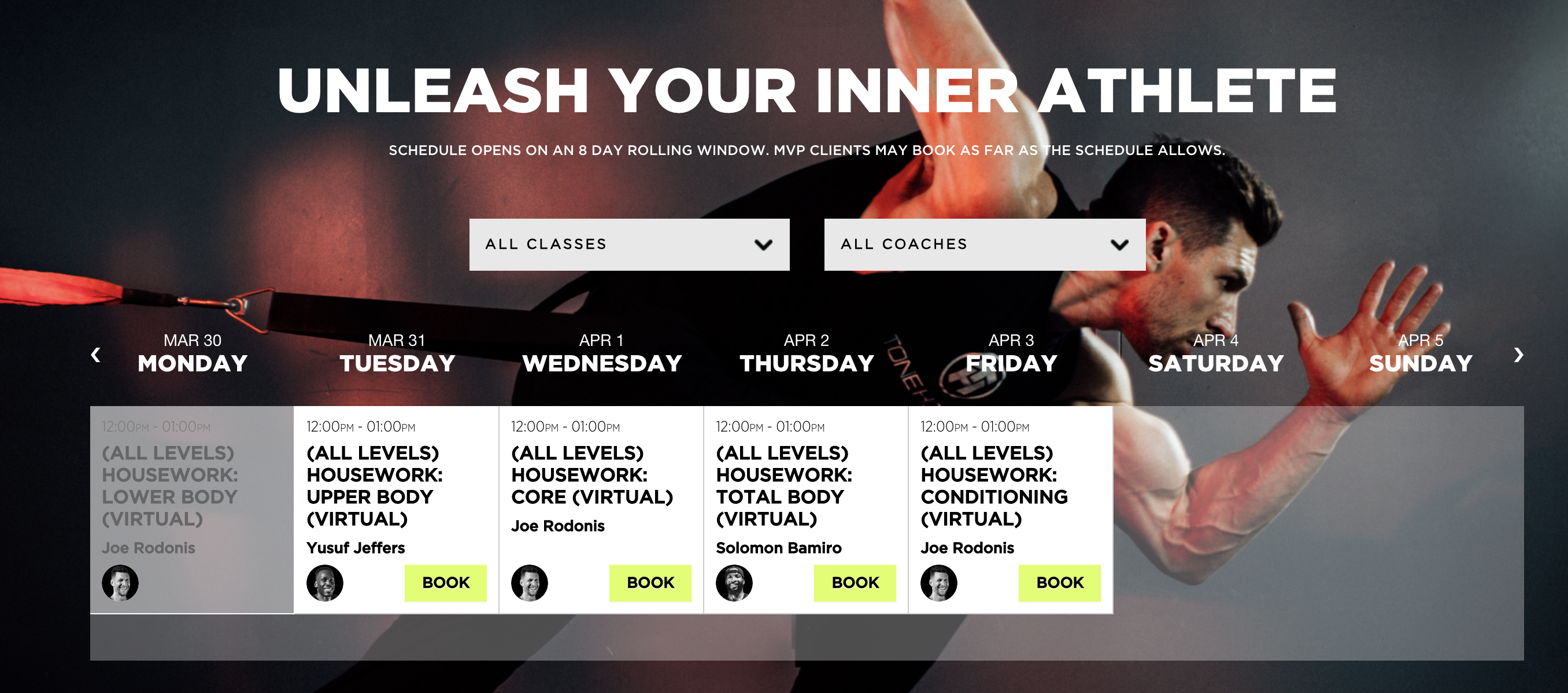 Tone House adjusted its pricing structure to offer virtual class passes.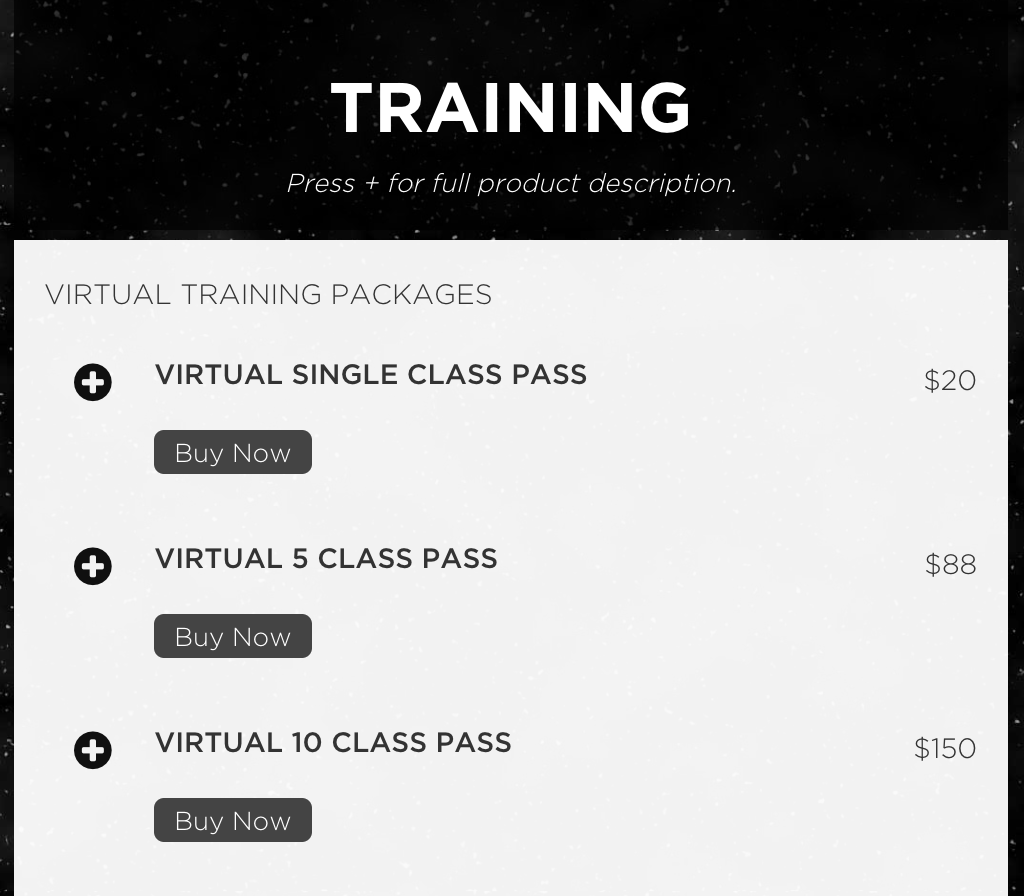 Updated June 2020: Tone House recently launched Tone House TV, its new streaming service for on-demand workouts. Using a monthly subscription model, users receive unlimited access to a full library of workouts, training and nutrition tips, and recovery content. 
With this new platform, Tone House aims to provide workouts to everyone without having to wait for class times or Zoom links.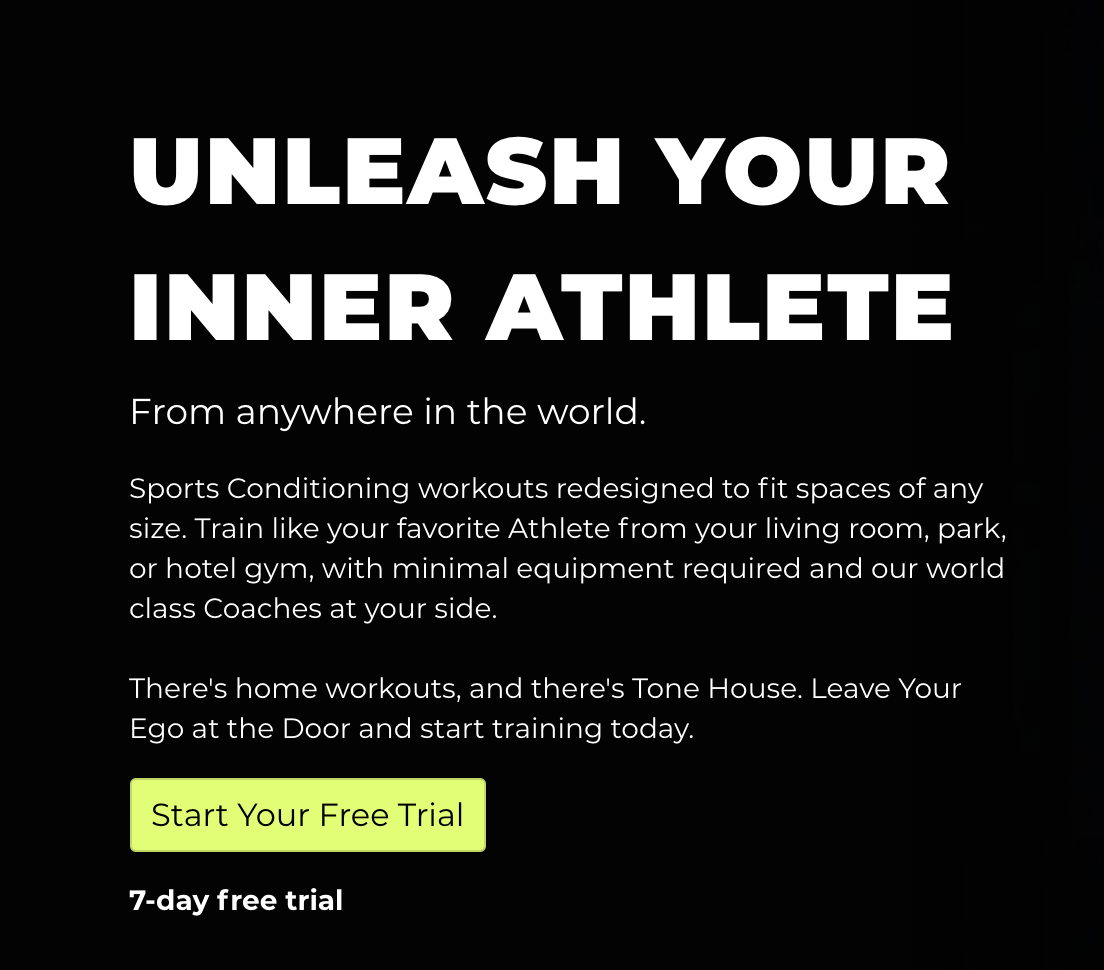 Book a virtual class with Tone House here, or start your 7-day free trial of Tone House TV here.
The Strength of Trainers and Personal Attention in the Digital Fitness World
What these adaptations illustrate is that there's still a desire for one-on-one training and in-person fitness classes, even if going into studios isn't an option right now.
With coronavirus restrictions shutting down businesses, fitness studios could have offered pre-recorded workouts, instead of live ones.
But fitness apps, Instagram influencers, and YouTube have already filled this need.
With live classes, fitness studios can continue to provide one-on-one attention in a virtual group setting.
This has helped fitness studios stay afloat and build community in an unprecedented time.
Disclosure: Barry's and Fhitting Room are current/former clients of Barrel. This post was not sponsored by either brand.
Featured image courtesy of Barry's Boston Senior Instructor Kelly Whittaker.