Google recently announced in a blog post by President of Commerce Bill Ready that it would be bringing back free placements for Google Shopping on April 27th. This decision will change the way digital marketers function, and is likely to reshape the strategies of a number of search marketers.
Google explained that getting started with free placements will be easy and even automated for some. Marketers who opted in to "surfaces across Google" will be seamlessly integrated into the free placement launch. Those who did not will need to do so in order to be eligible for free placements. 
A more structured on-boarding process is expected in the coming months for companies that are new to Google Shopping.  
With the shift to free listings, it's easy to assume that spending less on paid Shopping is a logical way to save on marketing spend. But spending on Google Shopping is still a wise investment, and optimizing your Merchant Center feed is more important than ever. 
Paid Shopping Advertisements Will Retain Top Placements
Free listings are a new opportunity to gain additional exposure at no cost, but the most desirable placements will still belong to paid Shopping advertisements. 

These placements include the Shopping carousel within search and the top placements on the actual Shopping tab. The Shopping carousel is the only shopping content that will appear directly on the SERP and the top placements are going to be in high-value, above-the-fold locations.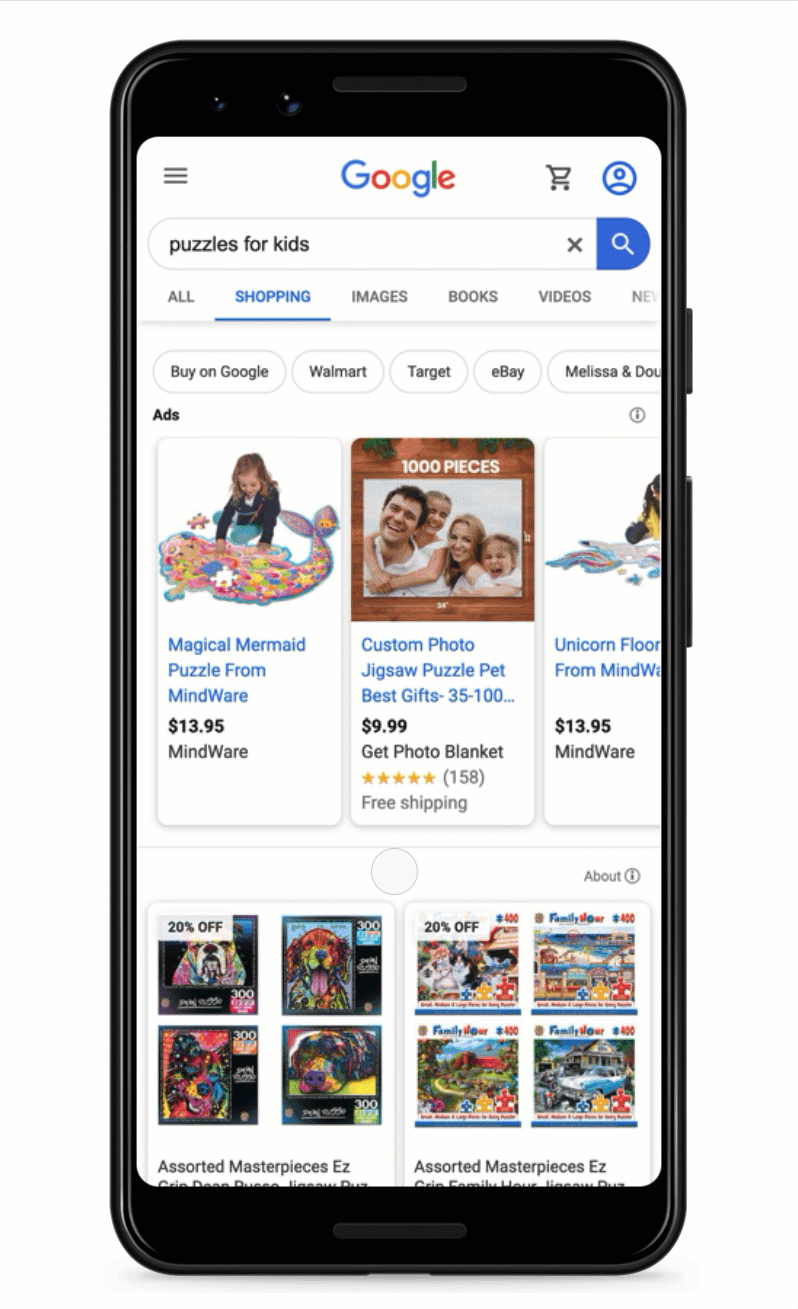 Though free listings are a cost-effective addition to any marketing mix, marketers should continue to invest in paid Shopping. Clicks may begin to slow down, but these placements offer a strong return on investment and a prime spot early in the results. An efficient paid Shopping strategy paired with free listings will maximize potential earnings. 
Marketers should also continue to spend on paid Shopping advertising because free listings may have an effect on the Google Shopping ad economy. 
Other marketers are likely to rely on free listings to earn revenue without spending their marketing budget. This might reduce the cost of paid advertising for those who continue spending. Keep an eye on overall paid Shopping advertising costs in the near future to take advantage of any declines in cost. 
That said, there's no data just yet to support or refute the value of paid Shopping in comparison to free listings going forward. Continue with your current strategy until there is enough information to make an educated decision about changing your approach. 
Free Shopping Listings Will Bring SEOs into Google Shopping
Free listings will affect the way search marketers operate, but it'll have the biggest impact on SEO specialists. 
Google's algorithm will be making decisions about the placement of products within the feed. Optimizing Merchant Center feeds with product-based SEO in mind is crucial to increase the likelihood of obtaining free listings. 
Wordstream documented a few of the most important optimizations. These include:
Front-loading product titles with a target keyword 

High-resolution and professional product images 

Extremely targeted product categories

An equally precise product type

A product description with secondary keywords that are relevant and tie back to the primary keyword in the product title
Strong keyword optimization is an important part of the optimization process and is vital to maximizing potential gains. Two tools available include Ahrefs or Google Keywords Planner. Decisions on keywords should be made both to maximize opportunity and to best fit search intent.
How Big of a Deal Are Free Listings?
SEO specialists will see their responsibilities shift. Free listings now affect a brand's paid Shopping strategy. And optimizing Merchant Center feeds is the only way to maximize free listing potential. 
The day-to-day might look the same for paid search marketers, but their strategic processes will be different. Acquiring free listings and increasing search exposure will require a joint effort and strategy between search marketers and SEOs.
What this joint strategy will look like remains to be seen. But marketers can expect significant changes to shopping strategies in the near future as paid Shopping performance is scrutinized and SEOs identify best practices for optimizing free listings.
We partner with brands to improve the overall e-commerce experience for customers. Learn more about Barrel and the work we do for growing brands.
Featured image courtesy of Agnieskza Boeske.