Public health and safety are top of mind for most as we enter another month of social distancing. 
The Centers for Disease Control now recommends all people wear face masks when leaving their house, public parks and trails have been shut down, and businesses continue to struggle as storefronts and warehouses are forced to close. 
But for some, there's a glimmer of hope of staying healthy throughout the spring with the help of immune-boosting products. 
The Immunity Product Boom During the Coronavirus Pandemic
Consumers across the country have been fervently searching for ways to protect themselves from the coronavirus. 
One breakout method has been strengthening the immune system.
Products with immune supportive effects usually face an uphill battle for sales. 
It's hard to accurately measure the effectiveness of products or ingredients claiming to have health benefits. You won't feel any different by adding more of a vitamin to your diet, and best case scenario, you don't get sick. 
That's difficult to attribute to the increase in certain vitamins in your system. 
But a stronger immune system means your body can better fight off diseases, like the novel coronavirus. And it has been proven that certain lifestyle changes and vitamin deficiencies affect how your immune system performs. 
According to Google Trends, "immunity" as a topic has gained increased interest, and searches for "how to boost your immune system," and "vitamin c coronavirus," have spiked during March.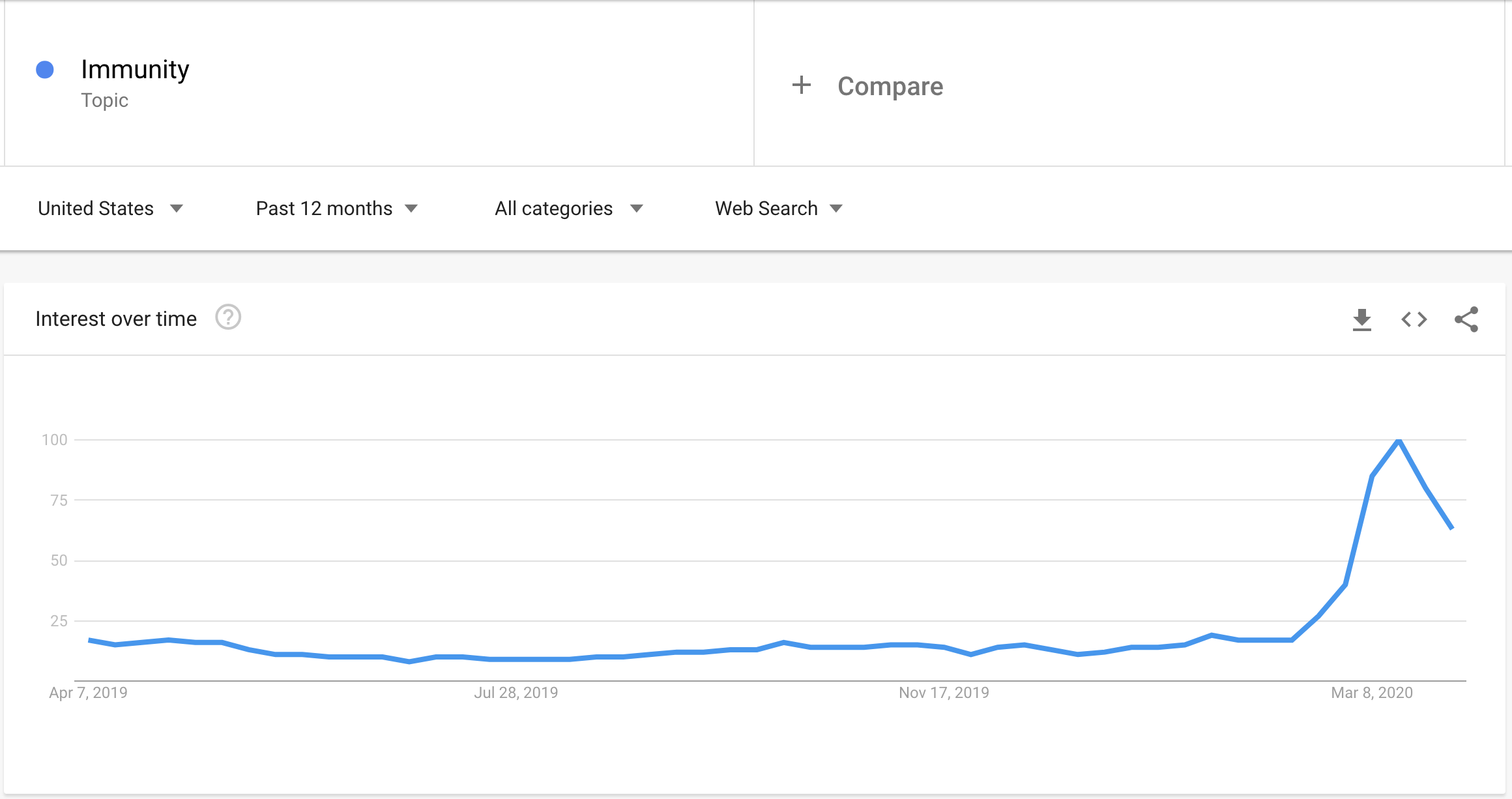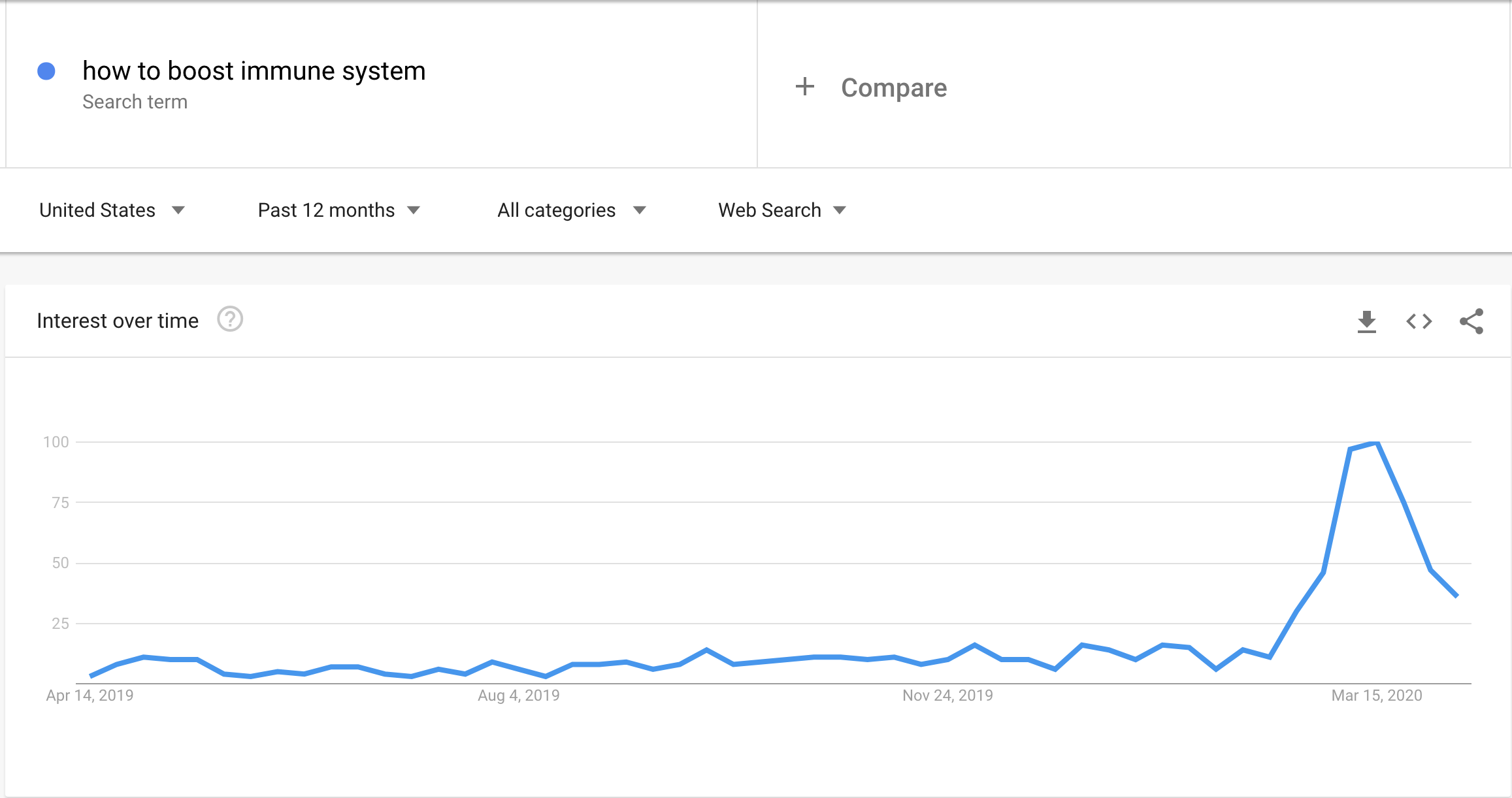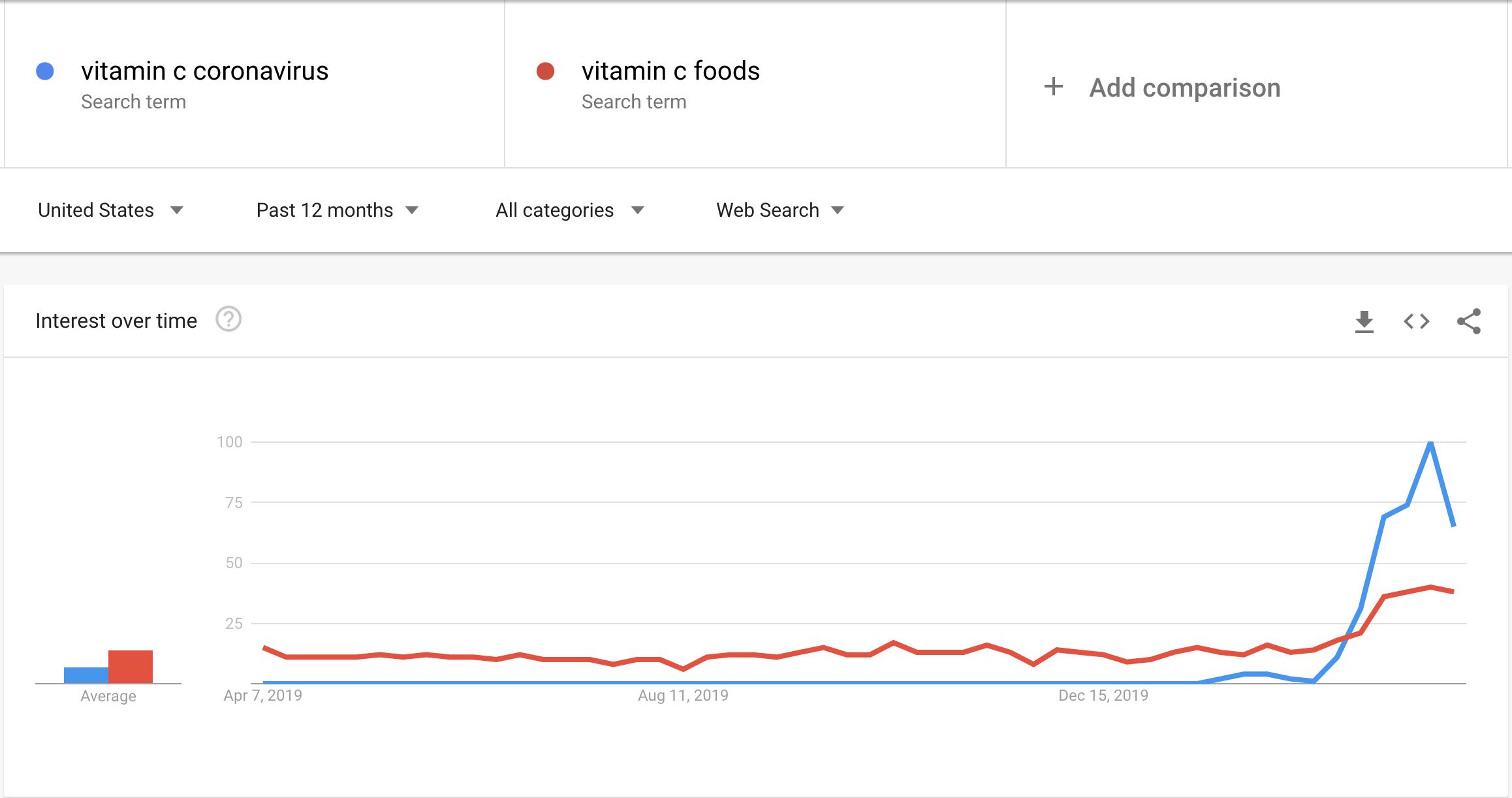 Let's take a look at brands in these immunity-related categories to see how they've been adapting to demand for immune-boosting products. 
The Brand Response
Consumers are turning to anything and everything from vitamins, supplements, and healthy juices to foods and recipes to keep the coronavirus at bay. Wellness product categories saw immense growth in March compared to sales during the same time last year.
In fact, Stackline reports that compared to March 2019:
Single Vitamin sales are up 166%

Bottled Beverage sales are up 153%

Herbal Supplements sales are up 136%

Multivitamin sales are up 126%

Juice sales are up 125%

Energy Supplements sales are up 84%

Juicer sales are down 36%
Starting with a Healthy Diet
A healthy diet is the foundation of a strong immune system. Searches climbed during the month of March for "foods that boost your immune system."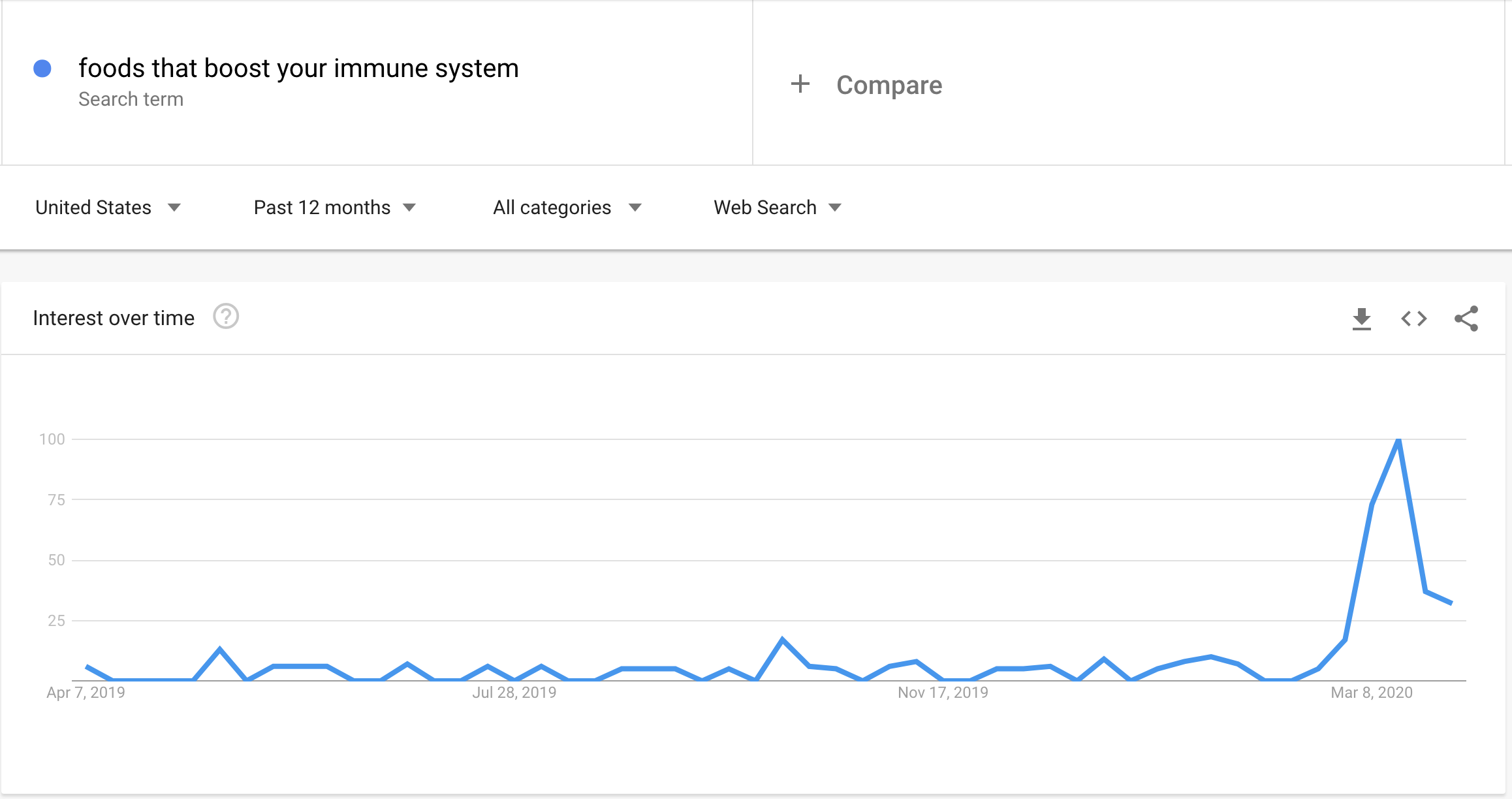 At-home gardens are one solution for those who want a consistent source of fresh produce. 
Rise Gardens is a smart, indoor gardening system that allows customers to grow vitamin and nutrient-rich produce year round. 
A Rise Gardens system reduces the number of trips consumers have to make to the store and provides a reliable supply of immune-boosting produce.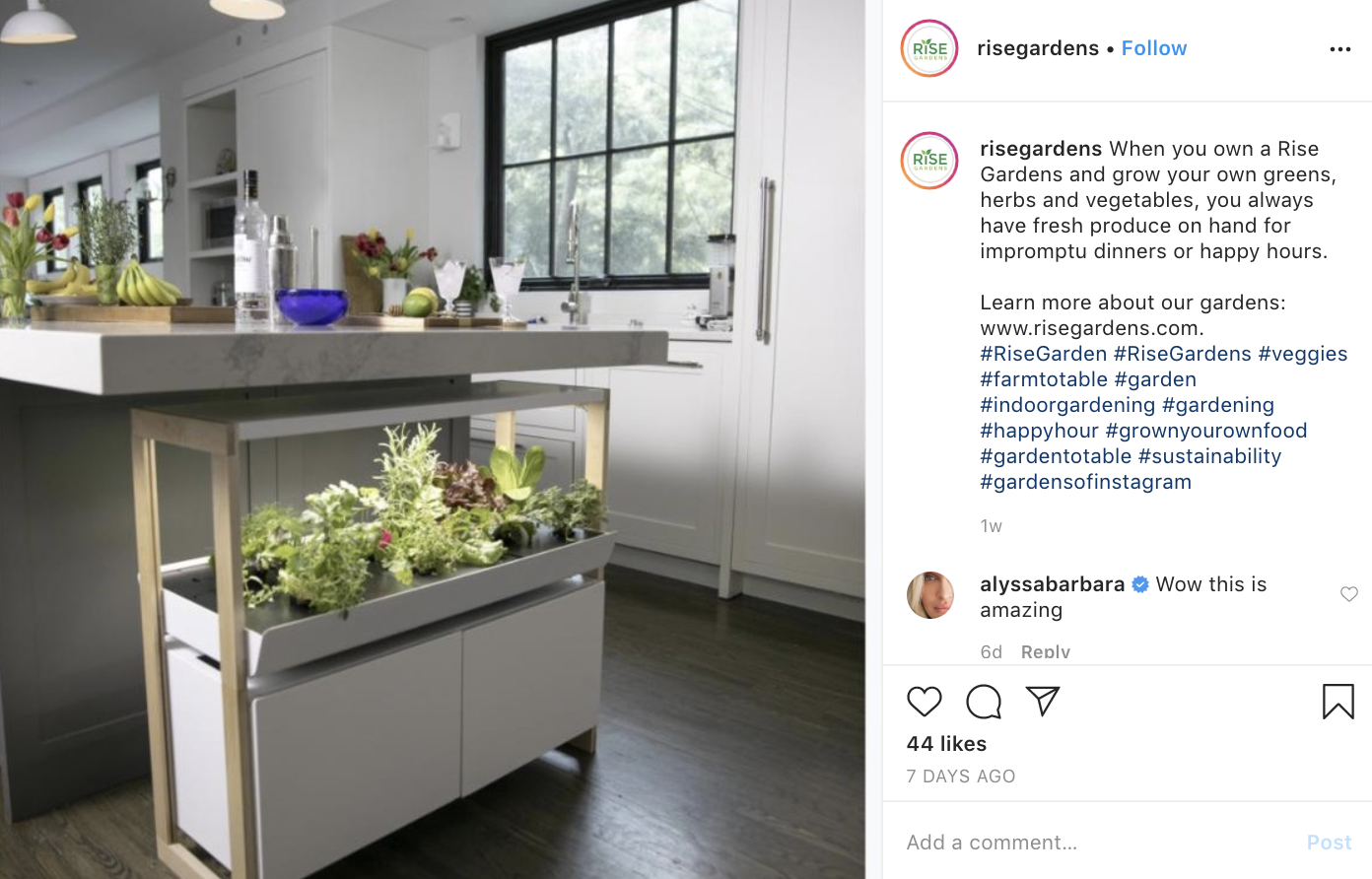 A representative for Rise Gardens noted that "smart garden sales have increased 300% in March and 650% in April so far. People are turning to gardening to have access to fresh greens, produce and herbs right inside their homes."
Meal delivery services like Daily Harvest have also been responding to the demand for immune-boosting foods with increased attention to its Vitamin C-packed products.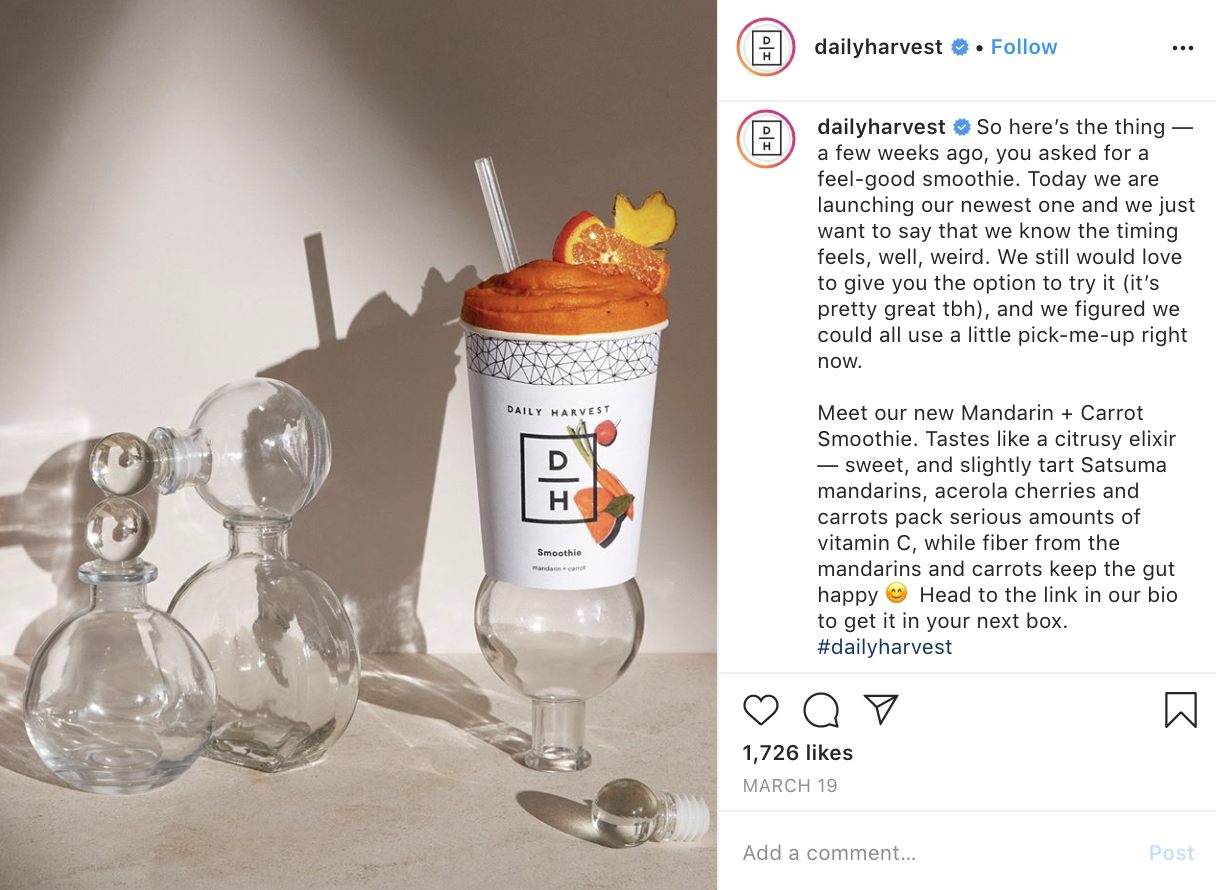 Health-focused recipe sites have even seen increased organic traffic. 
Take Food by Maria for example.
Food by Maria creator Maria Koutsogiannis shares her love of organic, plant-based meals with an abundance of healthy, vegan recipes. Search traffic to her site has grown immensely during the pandemic thanks to the natural immune benefits a healthy diet and lifestyle produce.

Pre-Made Products
Some consumers rely on pre-made products like health juices, wellness shots, and vitamins to keep their immune systems in tip-top shape. 
As mentioned previously, Stackline highlighted that bottled beverage sales are up 153% and juice sales are up 125% compared to 2019. 
The healthy juice trend isn't necessarily new — wellness shots including certain ingredients like wheatgrass, apple cider vinegar, turmeric, and ginger have taken over the health world in recent years. But the coronavirus pandemic has created a new demand for juices that tout immune-boosting benefits. 
And juice brands are responding. 
Natalie's Orchid Island Juice is a clean juice brand selling citrus juices and holistic juice blends. With many combinations of juices made from multiple ingredients with antioxidant and immune supportive benefits, Natalie's Juice was primed to welcome the increase in demand.
Following the quarantine, Natalie's Juice has been offering a discount to new customers with messaging highlighting their Vitamin C-packed juices.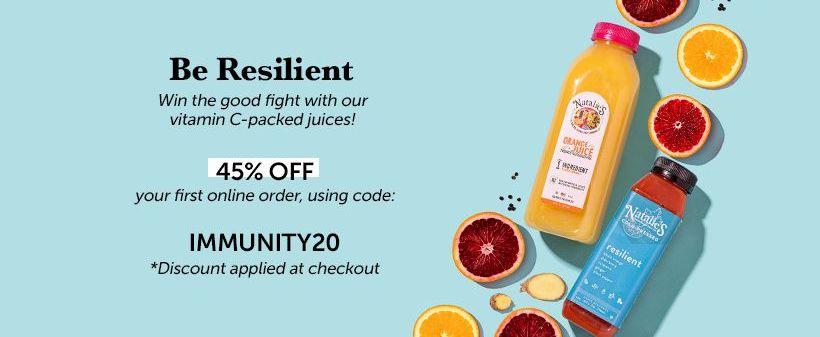 Natalie's Juice has also been sharing more social posts calling attention to its juices immune-boosting benefits.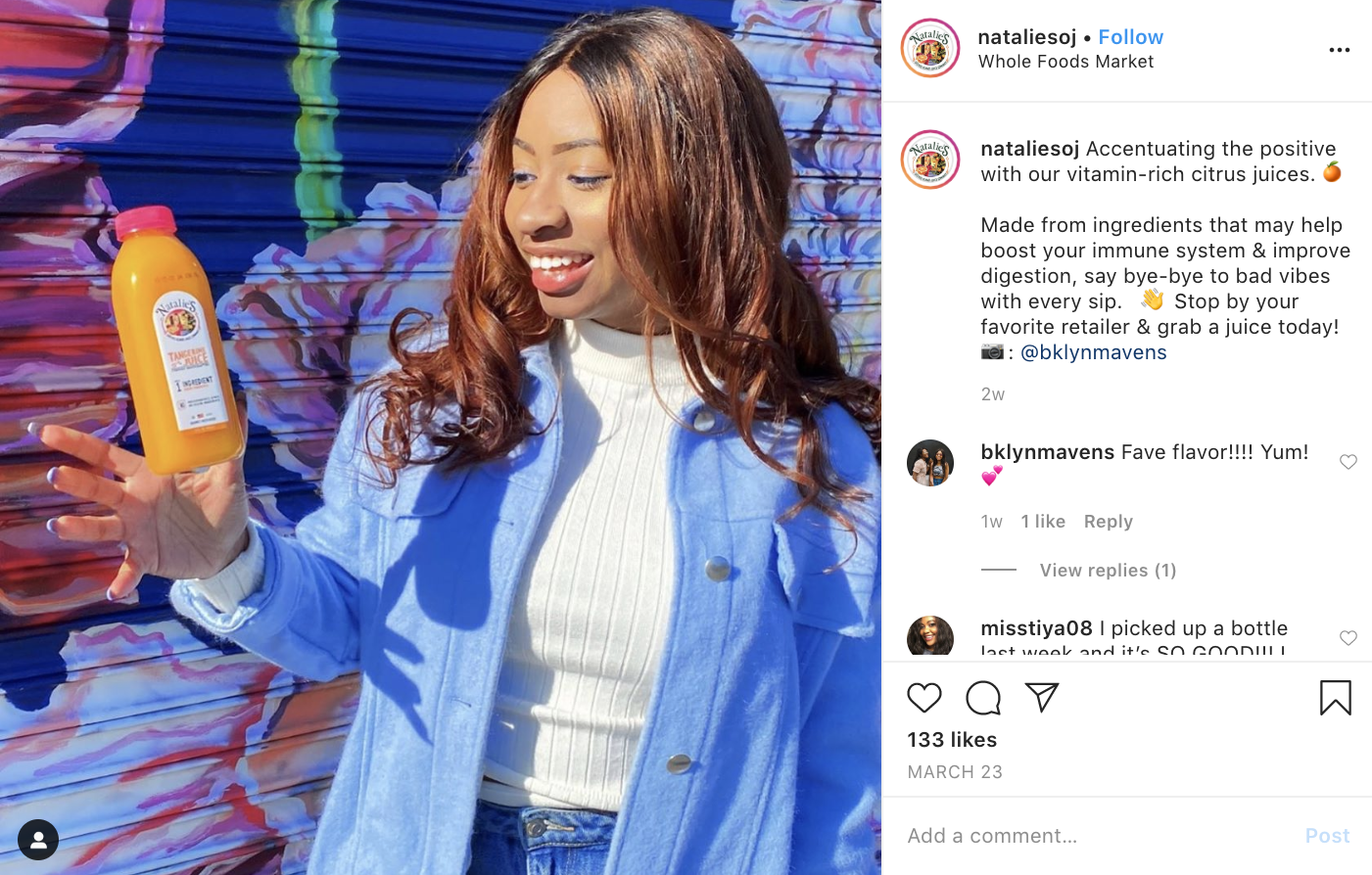 And Natalie's Juice customers have been loving their products during quarantine.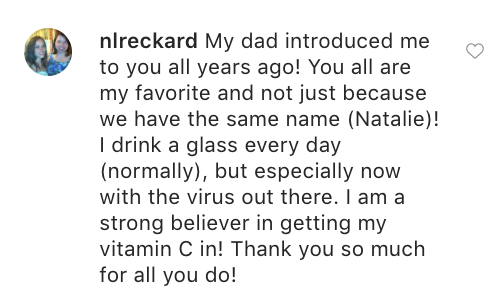 Juices aren't the only vitamin-rich products that have seen an increase in sales during COVID-19. 
Vitamin sales have seen one of the biggest increases year-over-year compared to March 2019. Single vitamin sales have increased 166% since last year, and multivitamin sales have grown 126%.
Care/Of, a customizable vitamin and supplement brand, has turned to focusing on the vitamins and minerals it offers that support immune function. 
Care/Of is educating its customers on the multiple forms their products come in and what diet deficiencies or lifestyles could benefit from certain vitamins or supplements.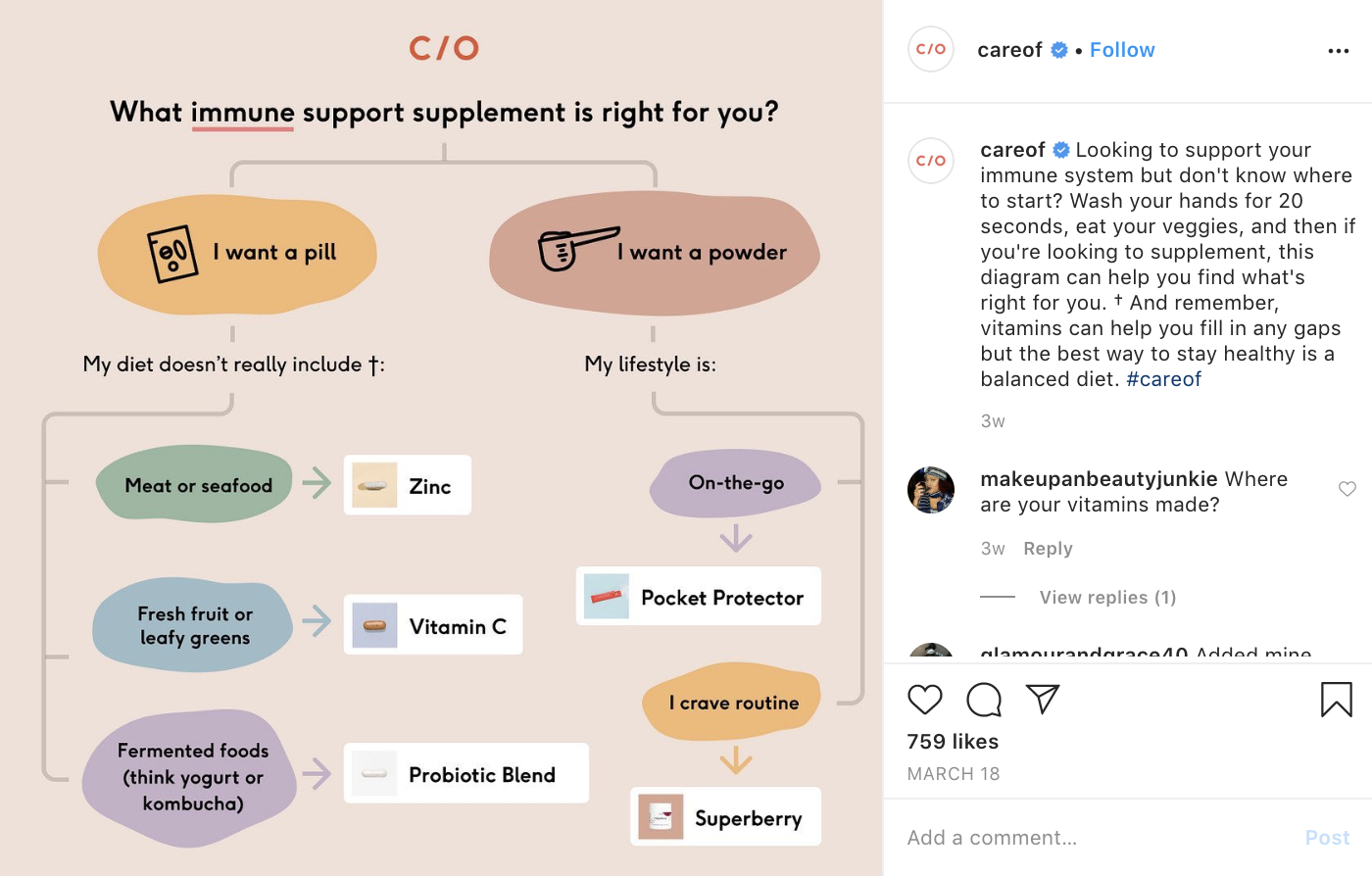 Care/Of is highlighting the antioxidant and immune-boosting properties of some of its pre-formulated products following the onset of the coronavirus pandemic.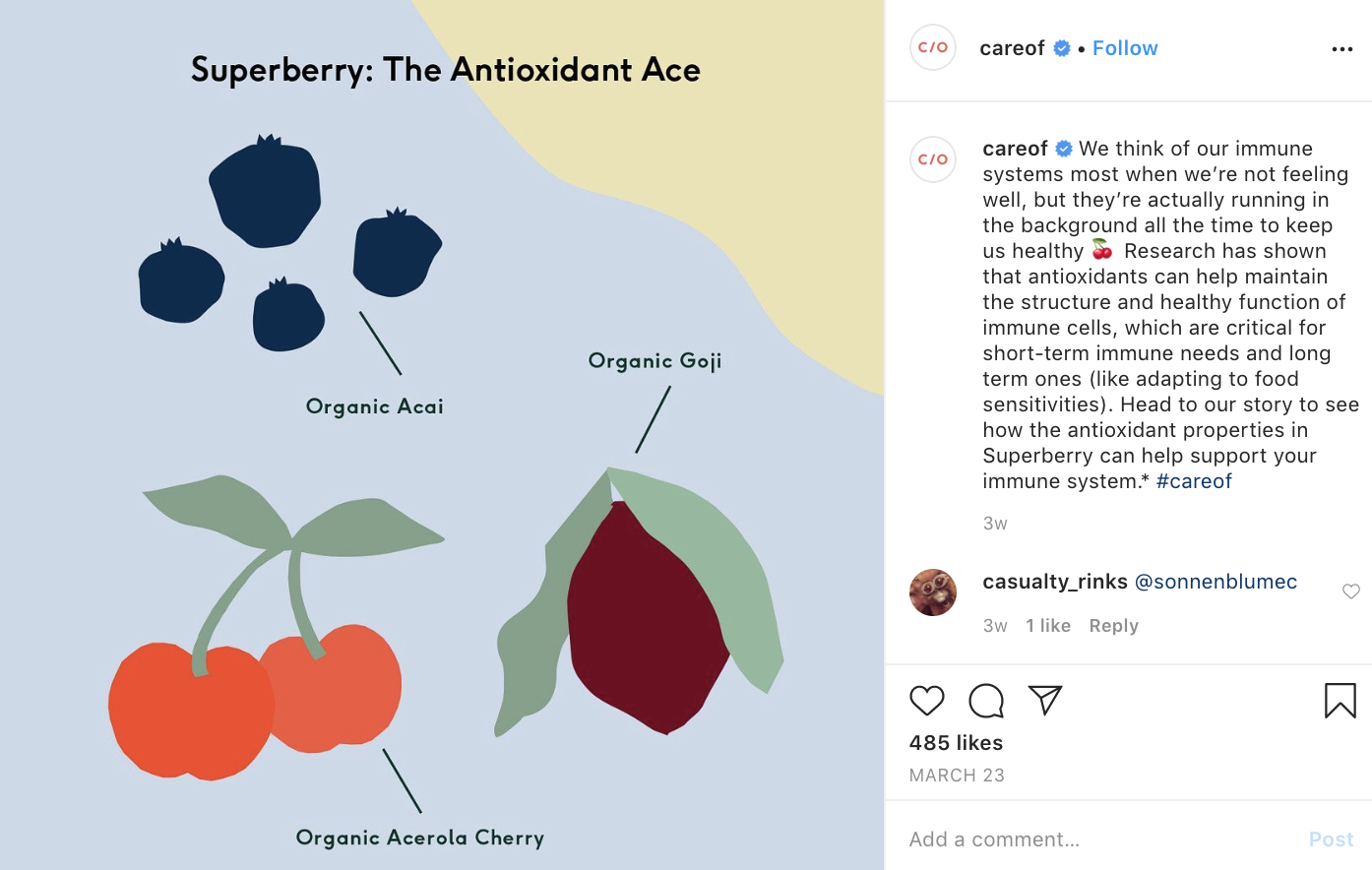 Turning COVID-19 Acquisitions into Long-Term Customers
So how can the industries experiencing unprecedented growth turn COVID-19 customers into long-term brand users? 
It starts by being there for your audience during this trying time. 
Bear in mind that a lot of customers, new and existing, are going through financial hardships. While it makes sense for brands to want to capitalize on the opportunity, be empathetic towards your customers' situations. 
Consumers don't want to feel like the brands they buy from are looking to take advantage of record demand for their products. 
Here's how to remain sensitive to consumers' needs during COVID-19:
Discounts and Free Shipping.
Offering a discount is one way brands can be understanding of financial hardships. If you can afford to offer free shipping or a small discount, your consumers will appreciate the sacrifice you're making so they can keep supporting your business. 
Purple Carrot, a plant-based meal kit service, is offering healthcare workers a 30% discount on their products through the end of May.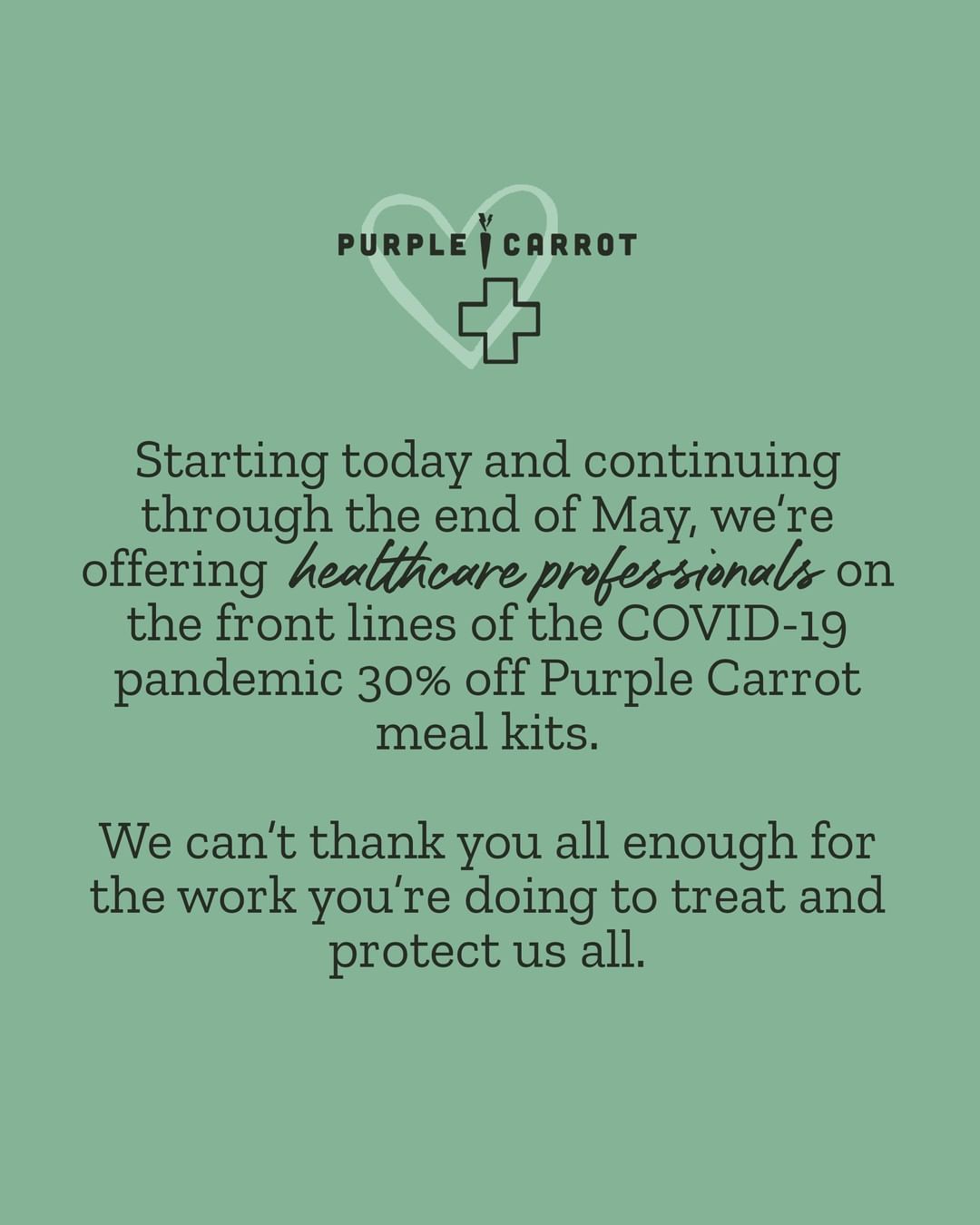 Messaging
Audit your existing and upcoming email and ad campaigns. Make sure your messaging isn't insensitive and that it's still relevant. 
Don't be aggressive about pushing sales. Keep the tone appropriate to your audience. Now's not the time to try out puns in your ad copy if you haven't before.
Donations and Contributions
Your good deeds during the pandemic will show customers how much you live by your brand values. If you can, work with local charities to find a way to contribute your products to healthcare workers or others in need. 
Natalie's Juice is donating juice to local and regional organizations, businesses, and healthcare providers.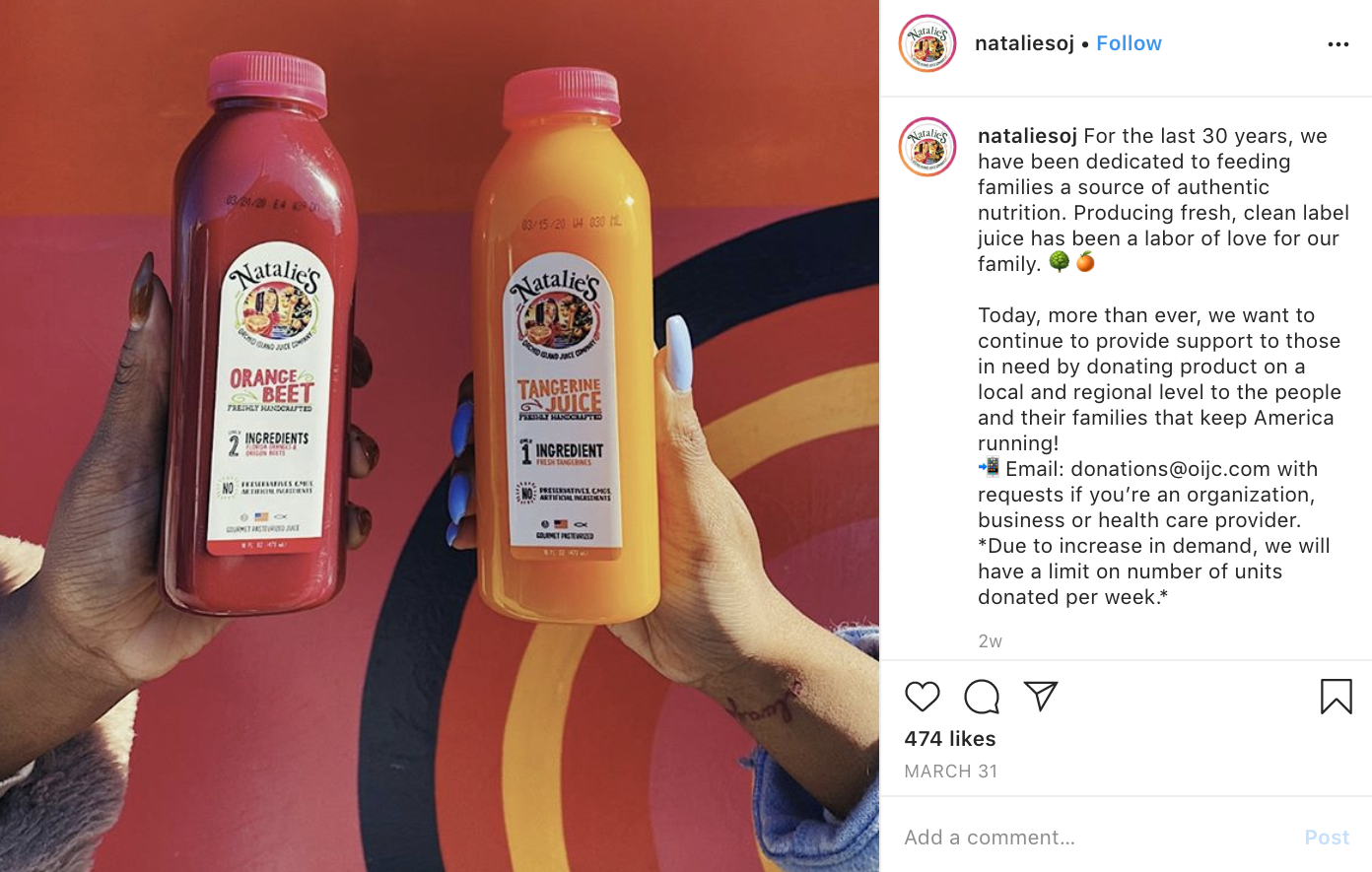 On top of offering a healthcare worker discount, Purple Carrot is also donating a portion of its proceeds to Feeding America, a nationwide hunger relief organization.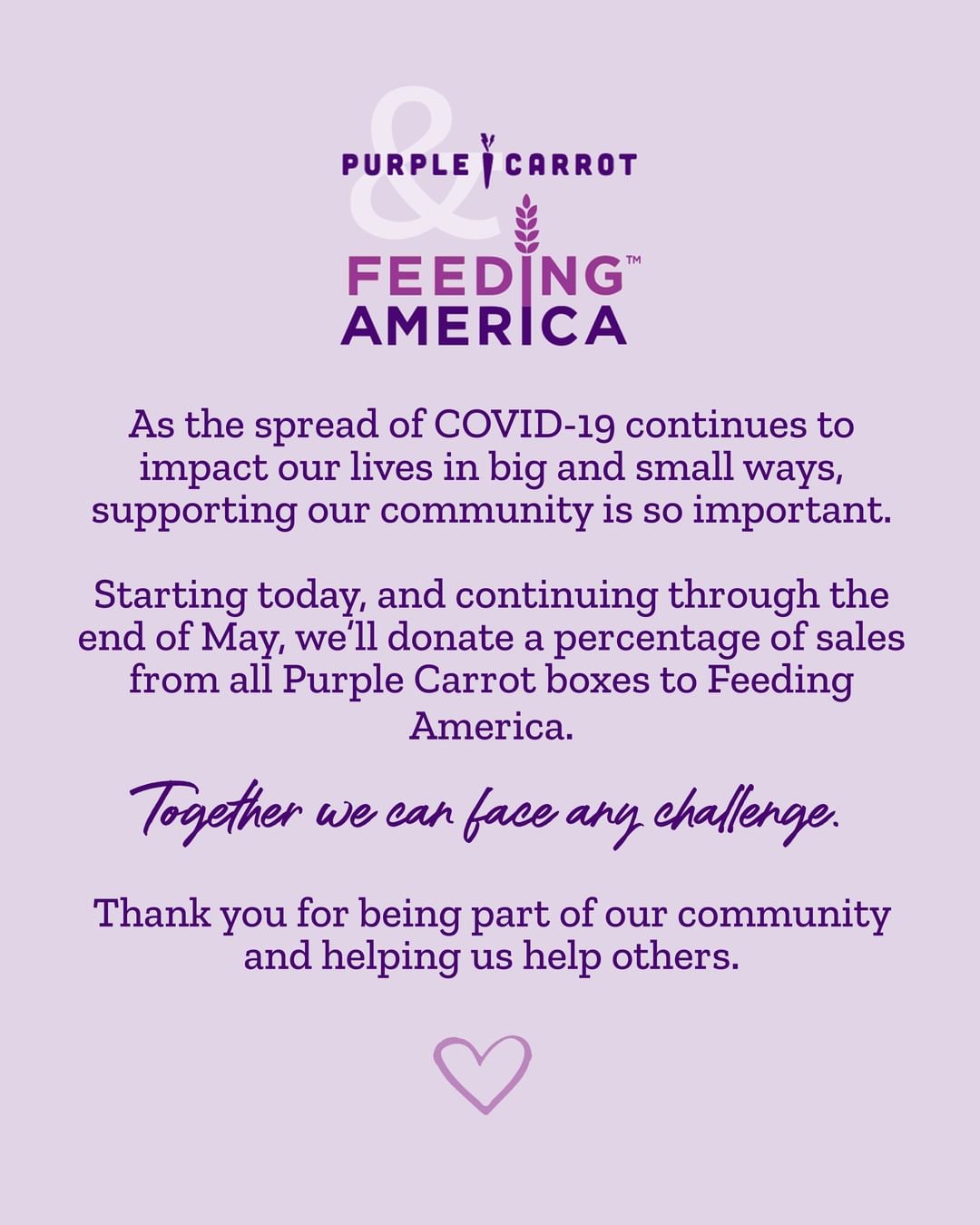 Finally, keep track of customers who are coming in during this time and the acquisition channel and messaging that incentivized their purchase. Following up once the pandemic is over with the correct messaging will help encourage the decision they made to buy from your brand.
We partner with brands to improve the overall e-commerce experience for customers. Learn more about Barrel and the work we do for growing brands.
Featured image courtesy of @foodbymaria; food stylist, recipe creator, photographer, and writer. Follow her on instagram or explore her recipes.