The coronavirus pandemic has increased anxiety and depression around the world. 
Fears are high as people worry about contracting the virus. People are feeling lonelier than ever. And social distancing has removed the social interaction we need to feel normal.
But the beauty industry has emerged as an unlikely source of support to ease fears with its focus on self-care. 
The Origins of Self-Care
Self-care is the practice of taking care of yourself to improve your mental state. 
Self-care is an important part of your mental and physical health. It can include maintaining a healthy diet and exercise routine, or participating in calming activities. 
Some people engage in self-care without thinking about it. After a long day, they sit down and read a book, pick up a craft, or decompress with a few episodes of Netflix. 
But over the last few years, self-care as a conscious practice has become a popular activity. 
Search data from Google Trends highlights the growing interest in self-care over the last five years: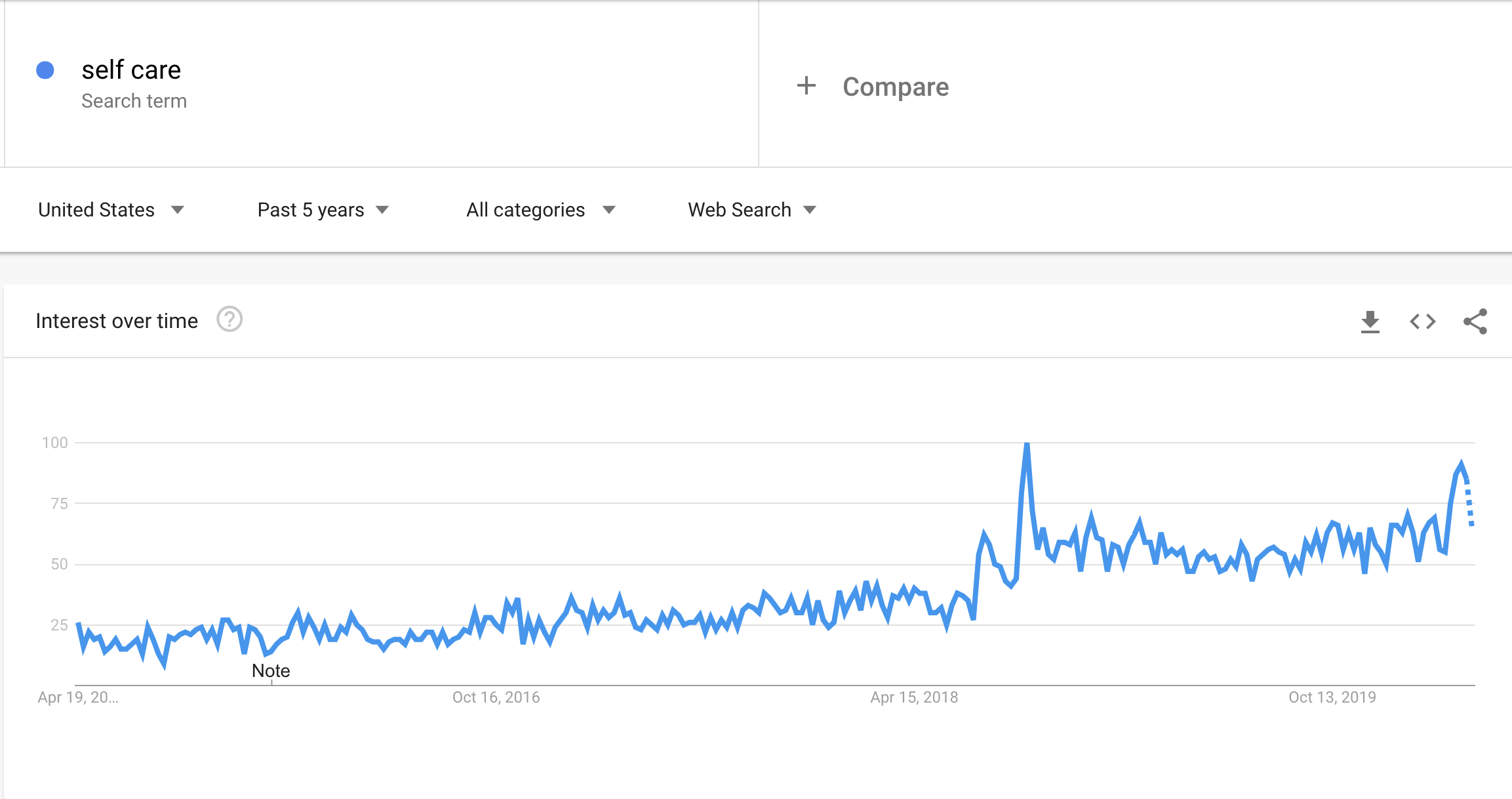 Self-care as an industry has exploded into a variety of categories. It now includes activities like bullet journaling, meditating, aromatherapy, and at-home spa treatments.
Millennials (the generation born between 1980 and 1996) are primed to focus their attention to self-care. Field Agent reported in 2015 that millennials spend twice as much on self-improvement than their boomer counterparts. 
And the coronavirus has only compounded the need for self-care practices and products. 
Anxiety, Depression, and Fear During the Coronavirus Pandemic
It's no surprise that the global pandemic has caused reports of anxiety and depression to surge. 
Coronavirus has made life worrisome. People have to cope with the fear of infection, concern for loved ones, and loneliness due to social distancing. When salaries or job status is affected, this worry grows. 
In short, it's a scary time for everyone.
And our normal ways of coping have gone out the window. Gyms are closed, going outside gets more and more questionable, and many treatment and therapy options are operating at limited capacity.
Now, access to self-care practices is key to reducing anxiety and depression. 
With the ecommerce industry thriving, direct-to-consumer beauty brands present a viable solution.
Beauty and Skincare Brands to the Rescue
The demand for self-care products amid the coronavirus pandemic has led beauty brands to roll out a quick response. 
Brands selling products like face masks, bath bombs, and other at-home spa treatments have shifted their messaging to focus on self-care. 
Herbivore Botanicals makes sustainable, vegan, synthetic-free skincare products. Herbivore Botanicals has been addressing the need for self-care products with new kits and messaging. 
In the beginning of April, Herbivore Botanicals announced the launch of a new Self-Care Essentials Set.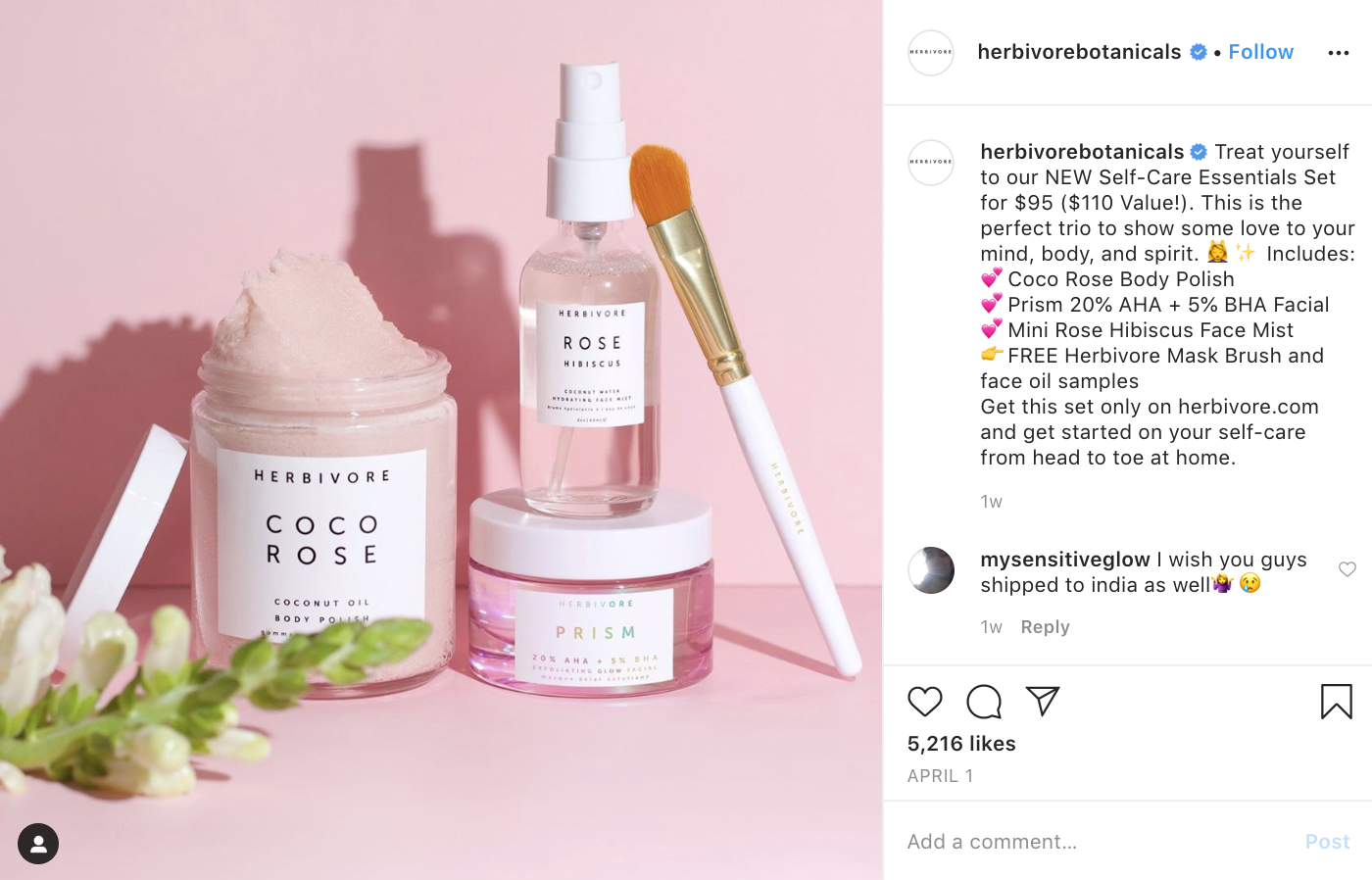 Herbivore Botanicals spent the next few days focusing on its new product. The promotional messaging highlighted how consumers could "treat themselves' with the products included.
In addition to its new kit, the brand brought attention to products with scents known to reduce stress and tension.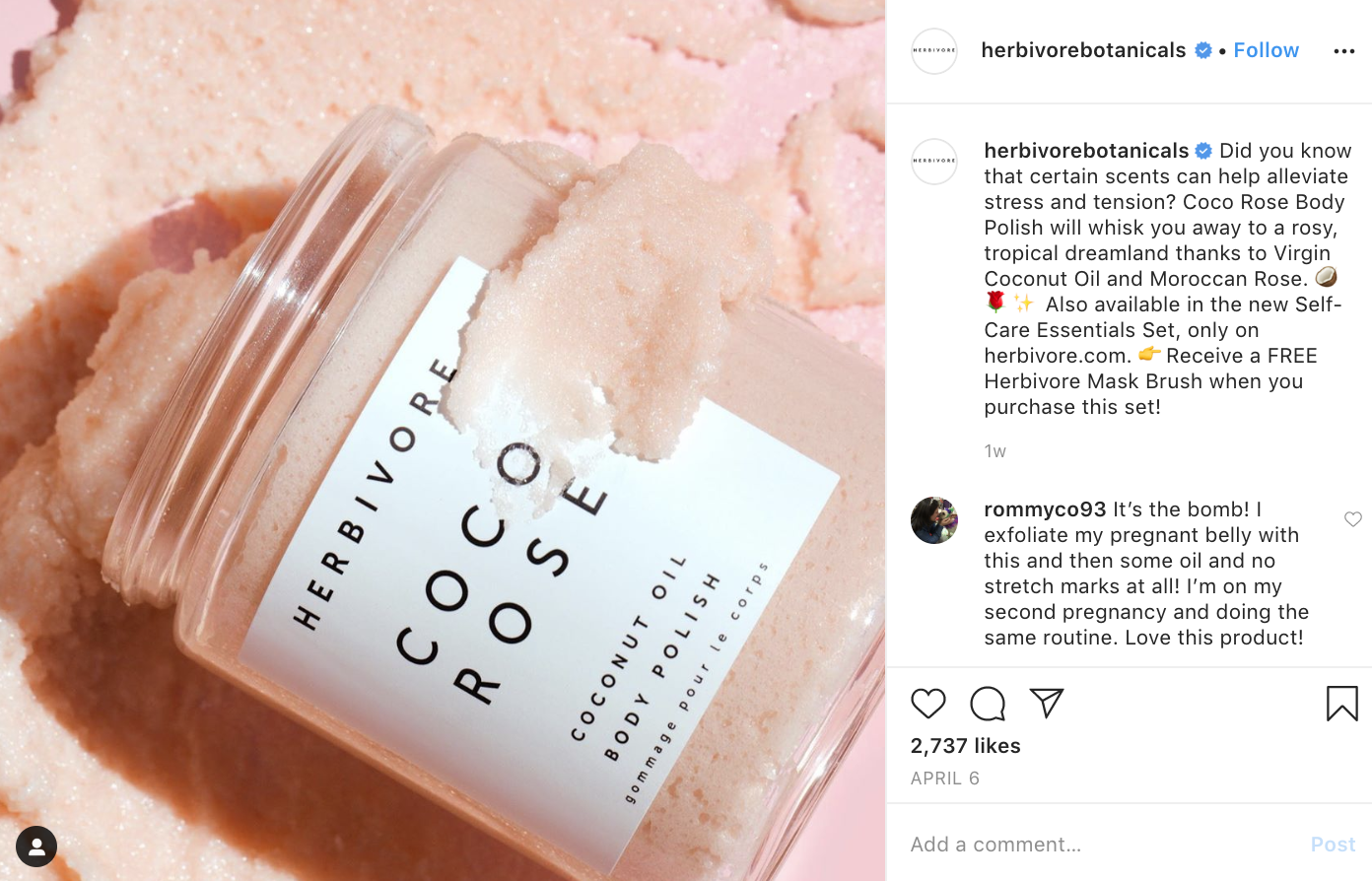 Herbivore Botanicals' social advertisements are also leaning into the self-care angle.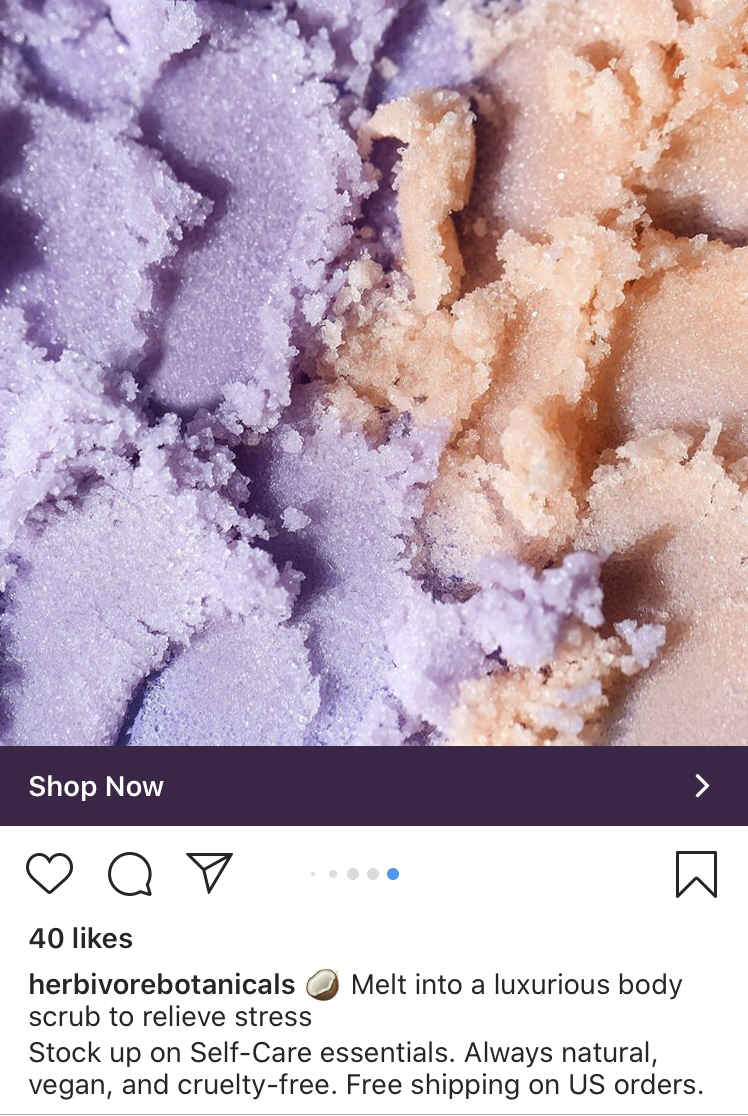 Not only did Herbivore Botanicals shift its attention to self-care products, the team has authored new blog posts discussing self-care during the quarantine.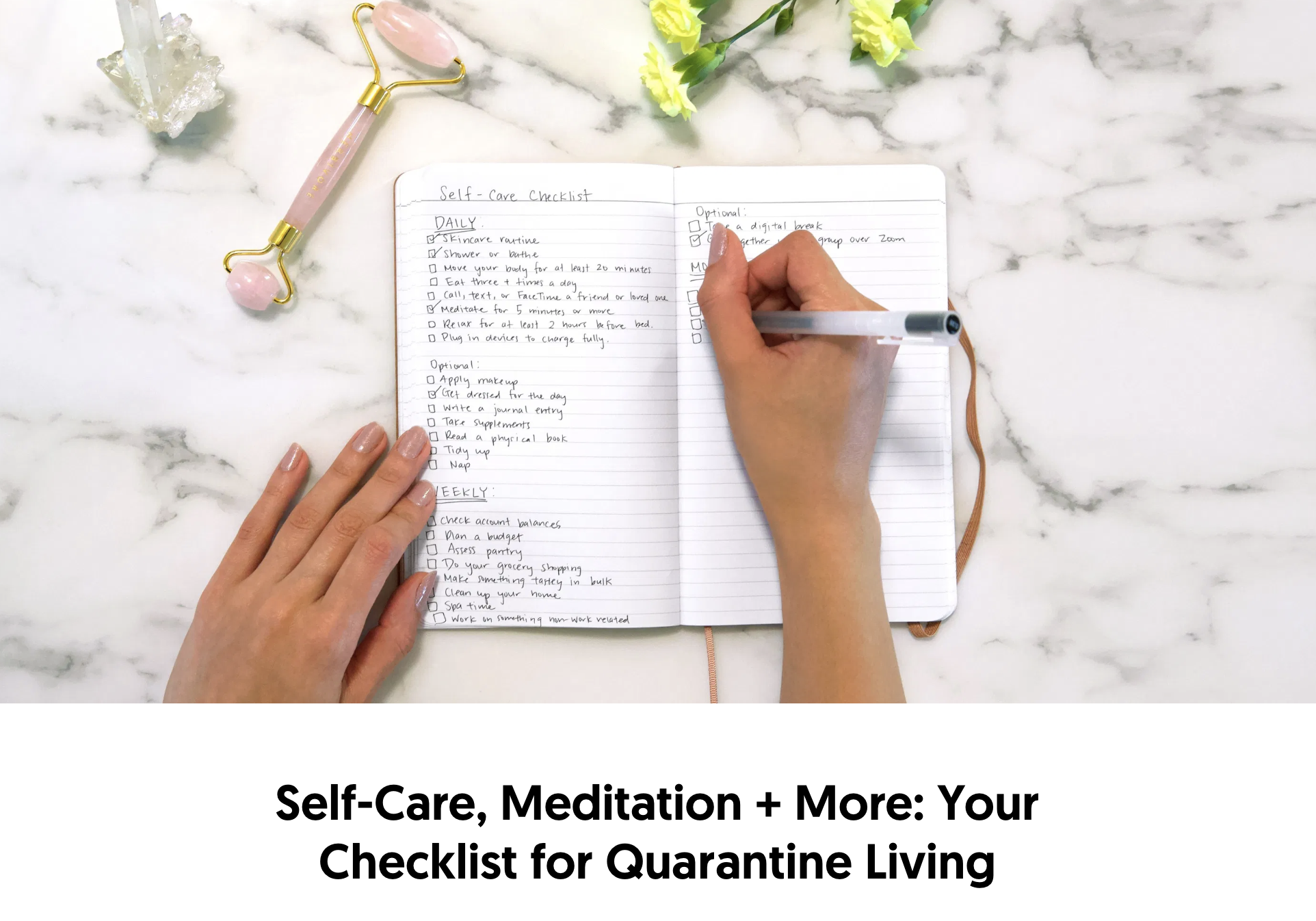 Tran Ngo, Herbivore Botanicals' Senior Director of eCommerce, shared with Barrel that, "Herbivore's beauty philosophy and brand DNA have always been deeply rooted in self-care. It comes naturally for us to lean into this area and remind our amazing community to practice self-love, self-care and compassion." 
By focusing on self-care messaging even more so in the wake of COVID-19, Herbivore Botanicals saw a triple in numbers and an increase in sales for self-care items, according to Ms. Ngo 
Bliss is another skincare brand jumping on the self-care bandwagon during the pandemic. Bliss sells products ranging from body scrubs and lotions to face masks and serums. 
Bliss has been checking in with followers regularly about their mental health and self-care practices.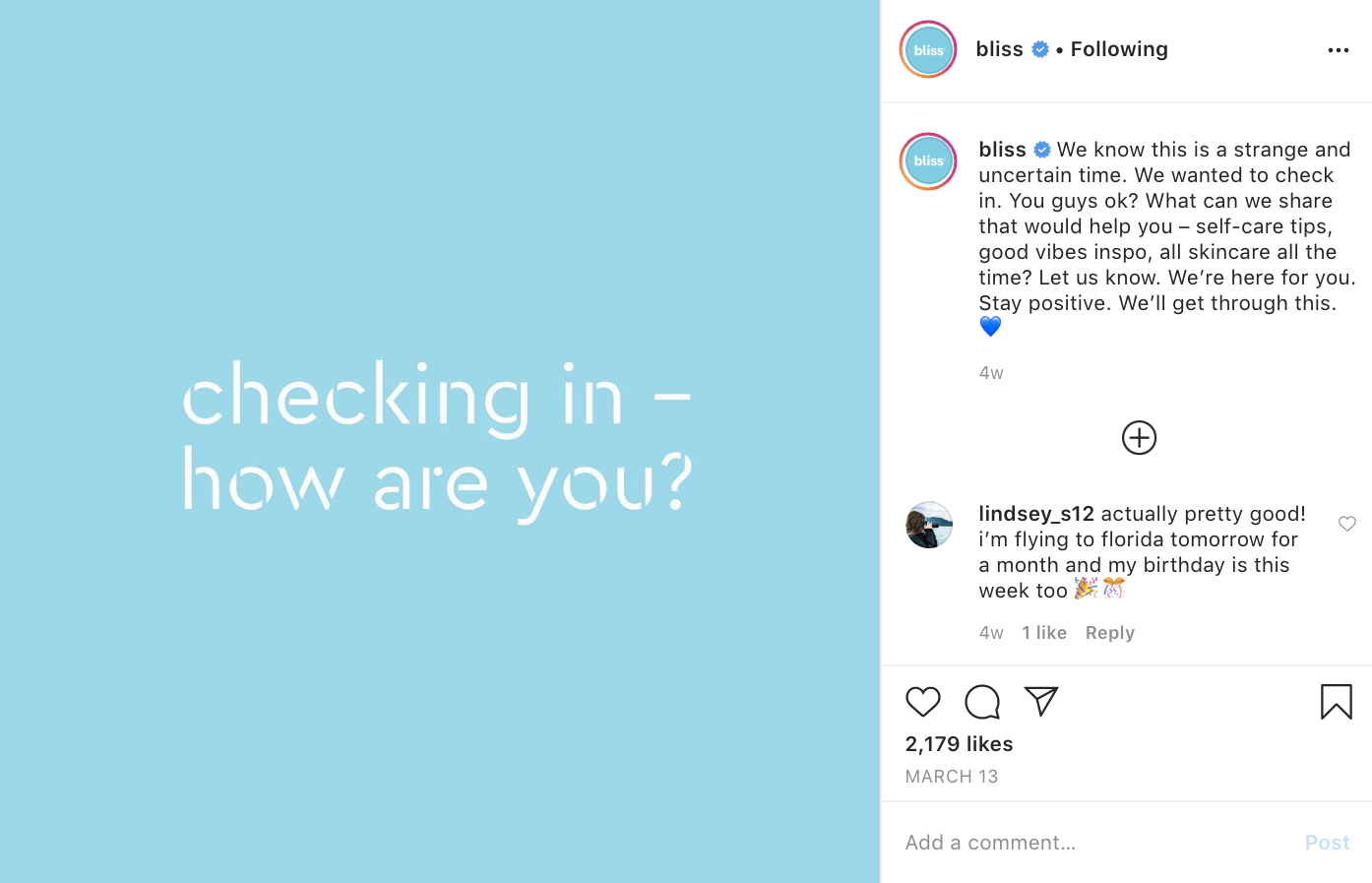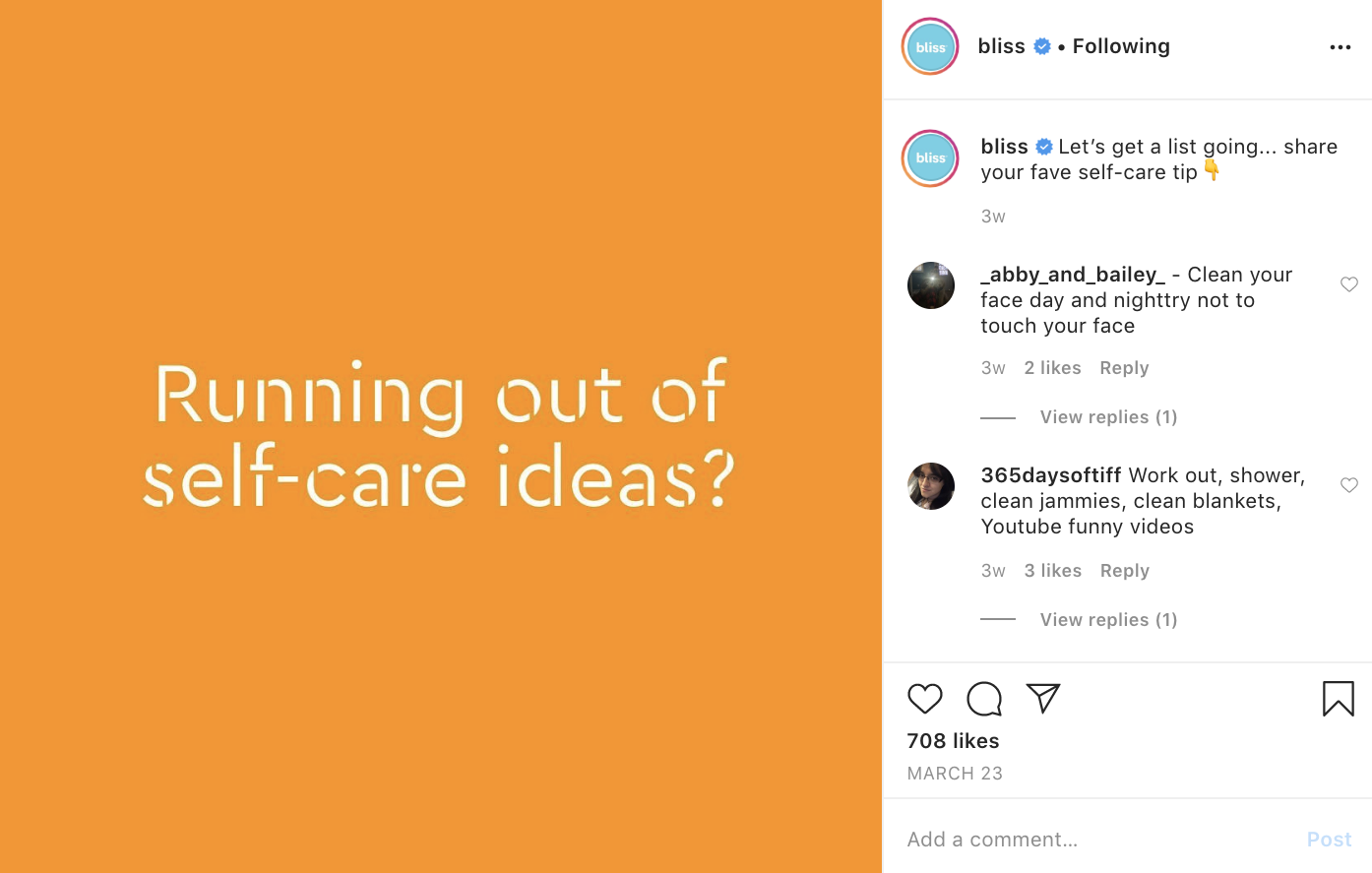 Bliss carried over its approachable, millennial vibe to its self-care messaging. Bliss is able to keep the mood positive while promoting its products with relatable content.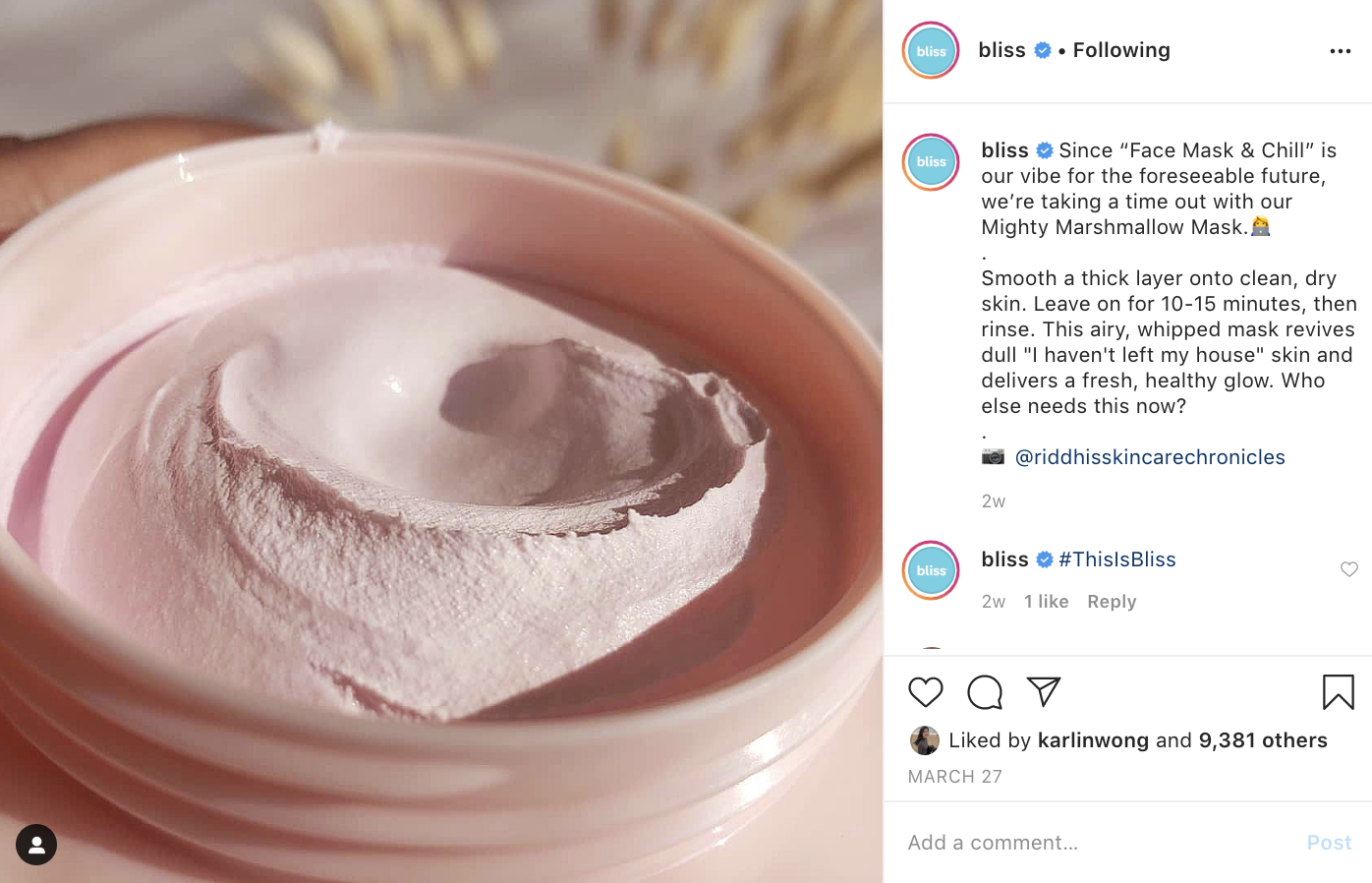 Bliss has been sharing customer testimonials and photos to create a community of self-care advocates.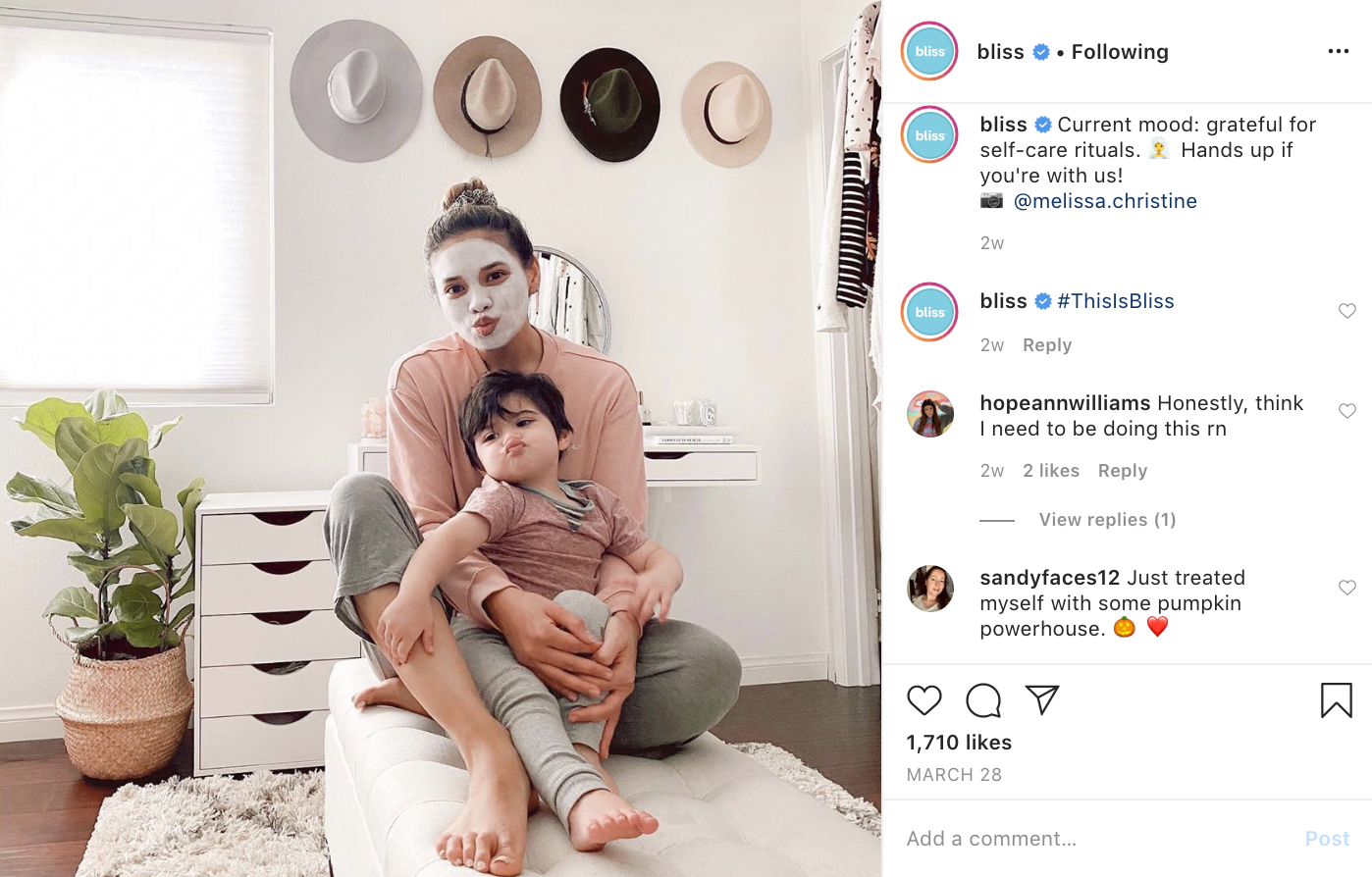 Customer testimonials highlight how Bliss products add to their self-care routines.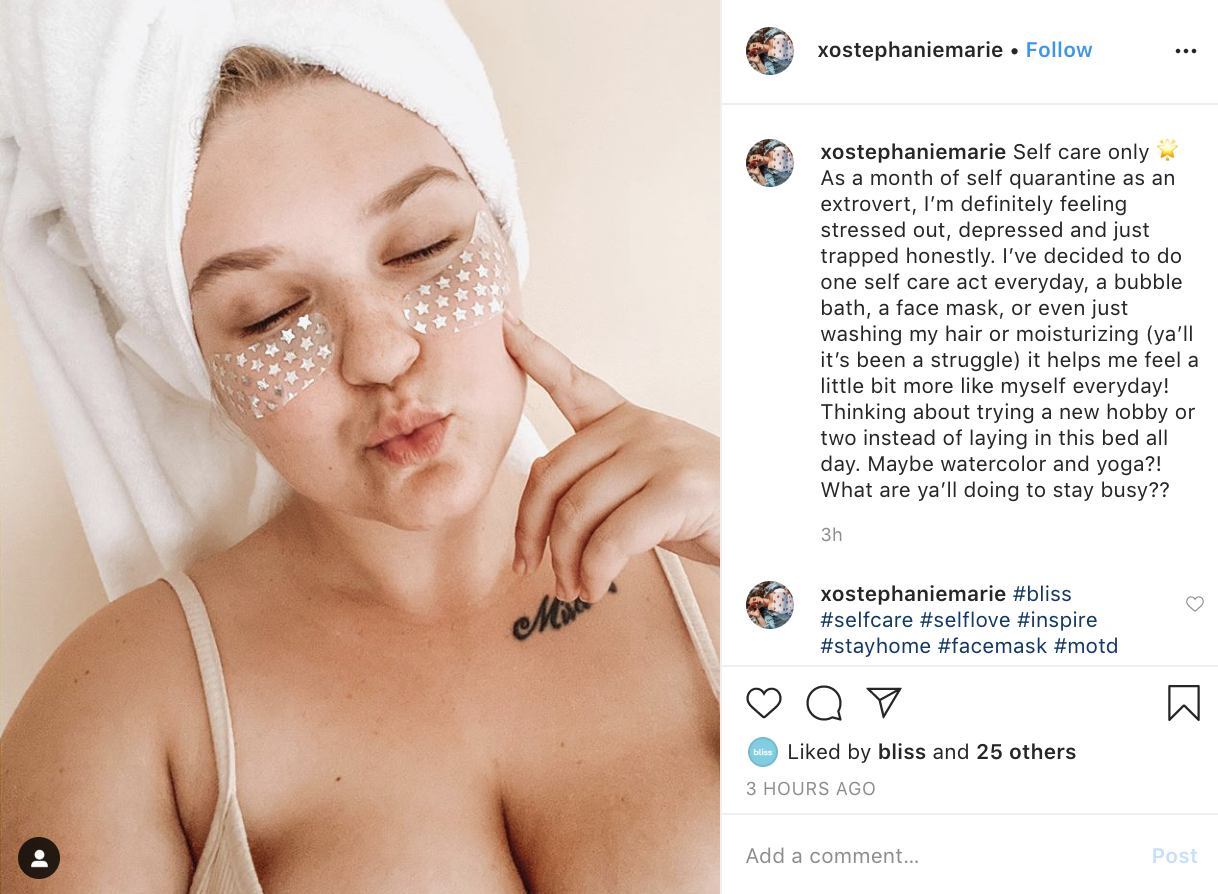 Love from Yours is an international personalized skincare brand. At the onset of the pandemic, CEO and founder Navneet Kaur shared with Barrel that the brand initially saw a drop in sales: 
"During the initial spike of Covid-19 cases, we saw a dramatic drop in sales across our 3 core markets – Singapore, Australia, and the US, which we could attribute to fear and uncertainty. However, as people got accustomed to working from home, they started spending more time investing in themselves – meditating, self-care, working out."
Responding to the initial dip in sales, the brand dove headfirst into self-care messaging.
Love from Yours started by emphasizing the importance of skincare as a part of self-care.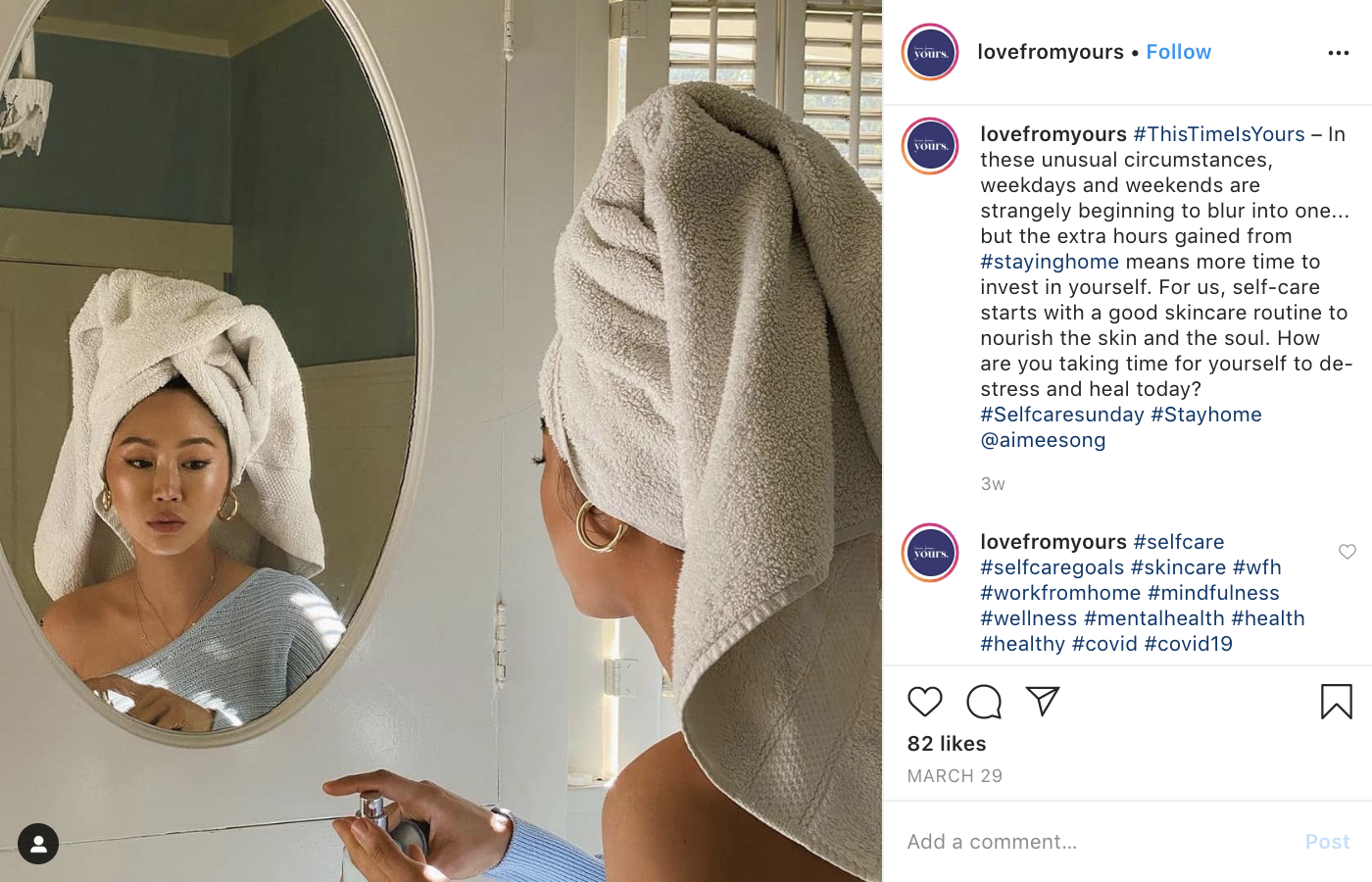 Love from Yours also began writing and sharing self-care blogs after the outbreak.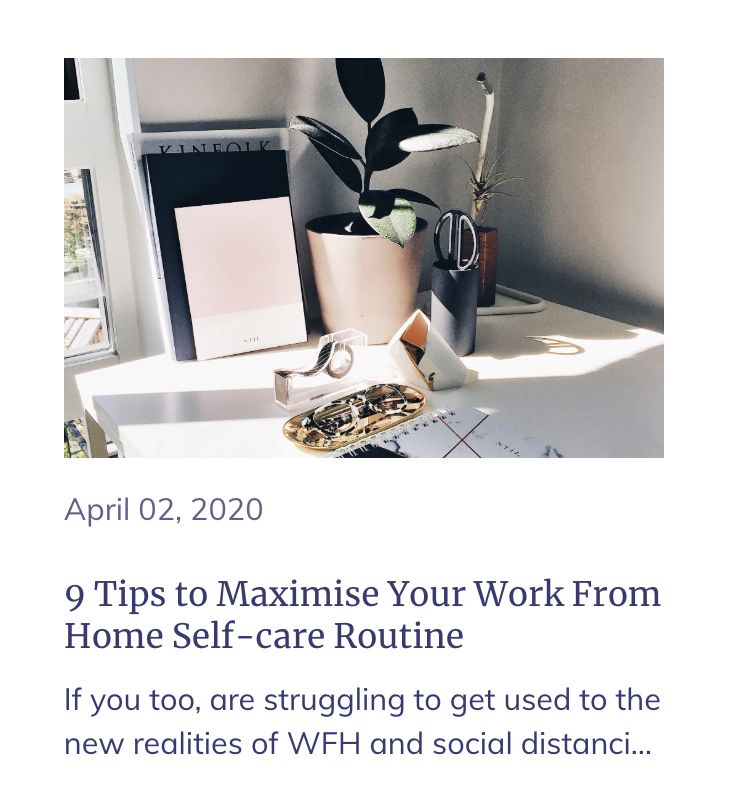 And it seems this strategy worked. Ms. Kaur posted on Twitter that Love from Yours saw its best numbers during the pandemic.

She shared with Barrel that "just a few weeks in, sales actually started rising pretty fast and we saw a spike in [our top] markets."
But sales haven't been the only focus for Love from Yours. The brand is also using its self-care positioning to foster a greater community. 
Ms. Kaur added, "staying true to external circumstances, we started an Instagram Live series a few weeks back to help people invest in themselves better, reminding them to not let this time at home go in vain through our campaign – #ThisTimeIsYours. As a part of this campaign, we host daily 30-min live sessions with yoga instructors, fitness coaches, nutritionists, and mental health experts."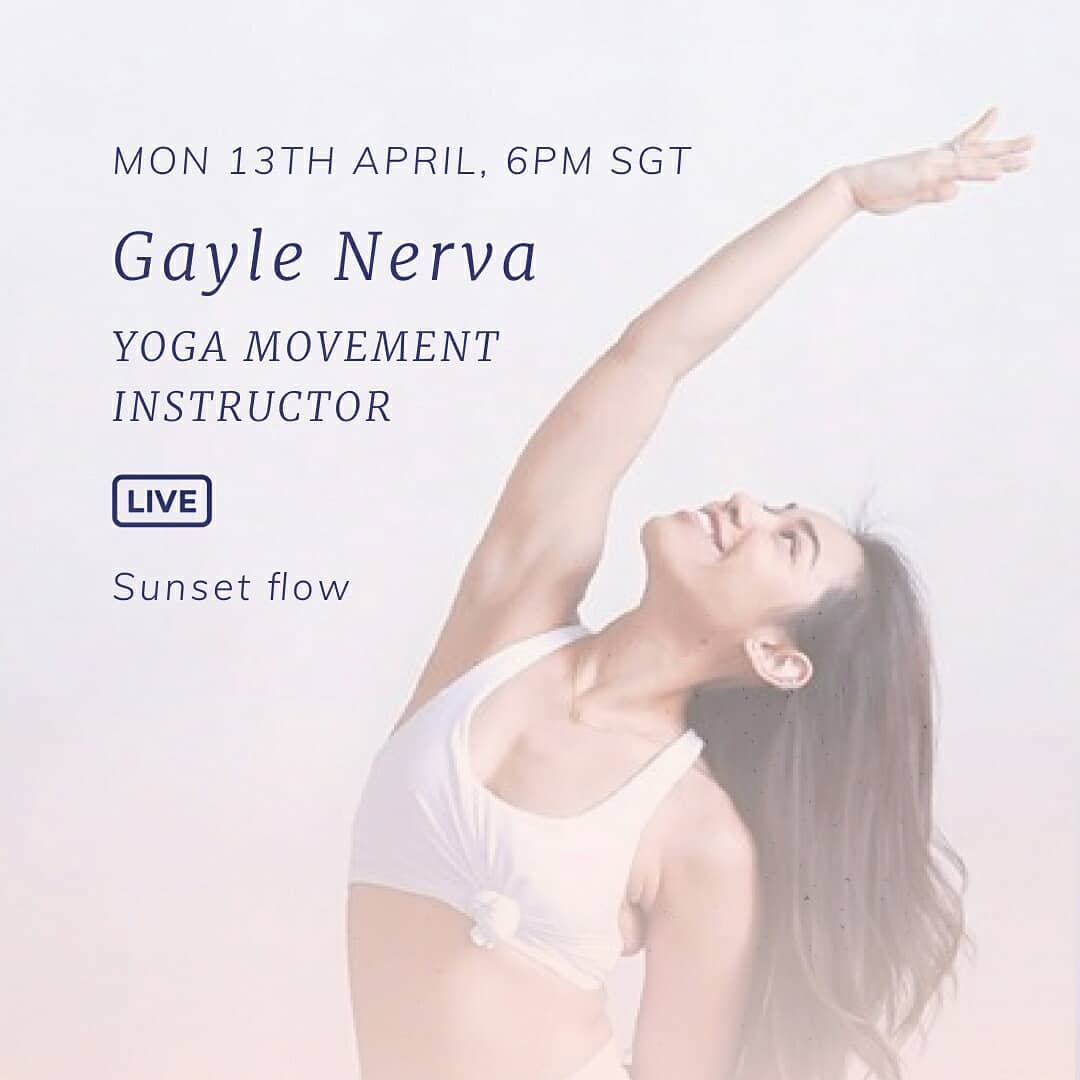 As part of its campaign, Love from Yours is giving back to healthcare workers in desperate need of self-care routines by donating products to medical staff.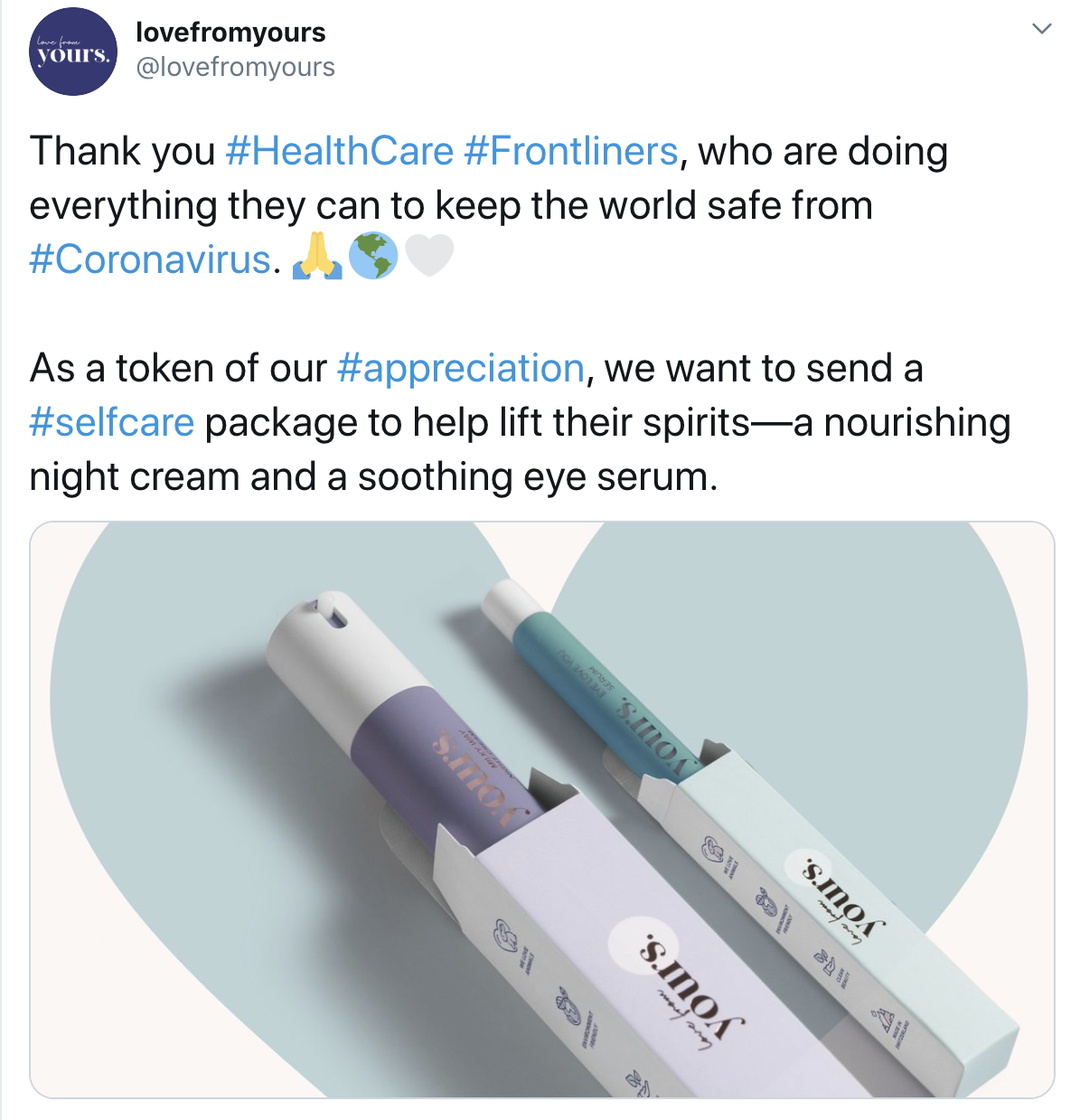 Even powerhouses in the beauty and skincare industry are adapting their messaging. Kiehl's, a L'Oreal Group brand, started using self-care messaging after stay-at-home orders went into effect around the end of March. 
Kiehl's began its dive into self-care messaging using popular hashtags like #selfcaresunday. 
The brand even began Instagram Live programming with "mask and meditations" occurring three times a week.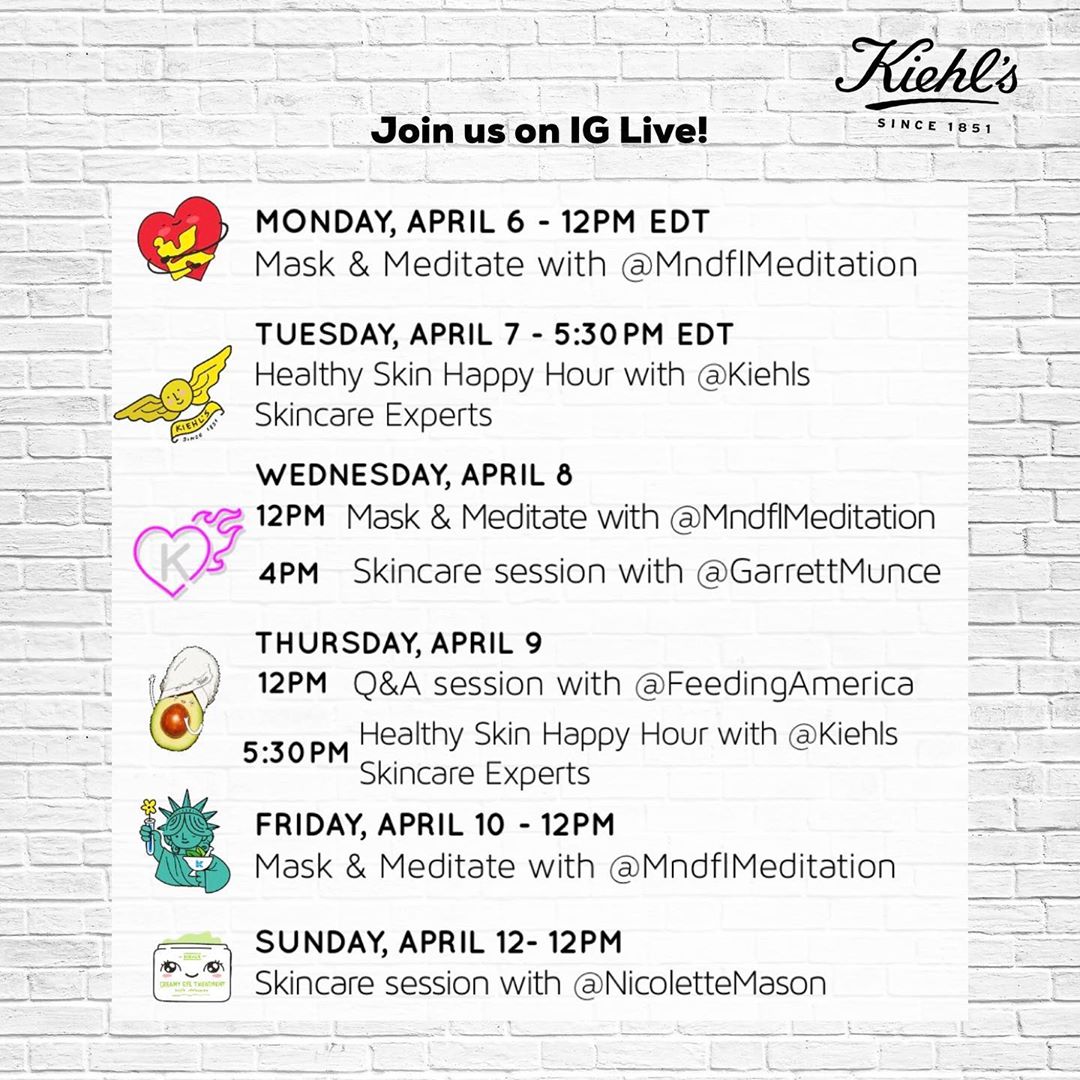 And Kiehl's has gotten its team involved with its self-care strategy. Kiehl's featured a self-care tip from one of its skincare experts, Mia Bobak.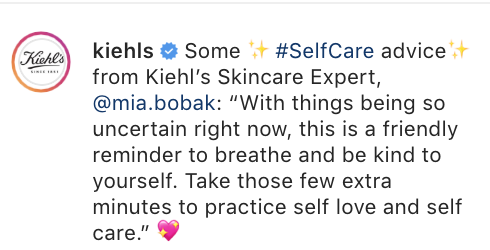 Kiehl's self-care messaging has extended beyond skincare products into their hair care products as part of its pandemic strategy. 
Customer testimonials have emphasized the importance of Kiehl's products as part of their self-care routines.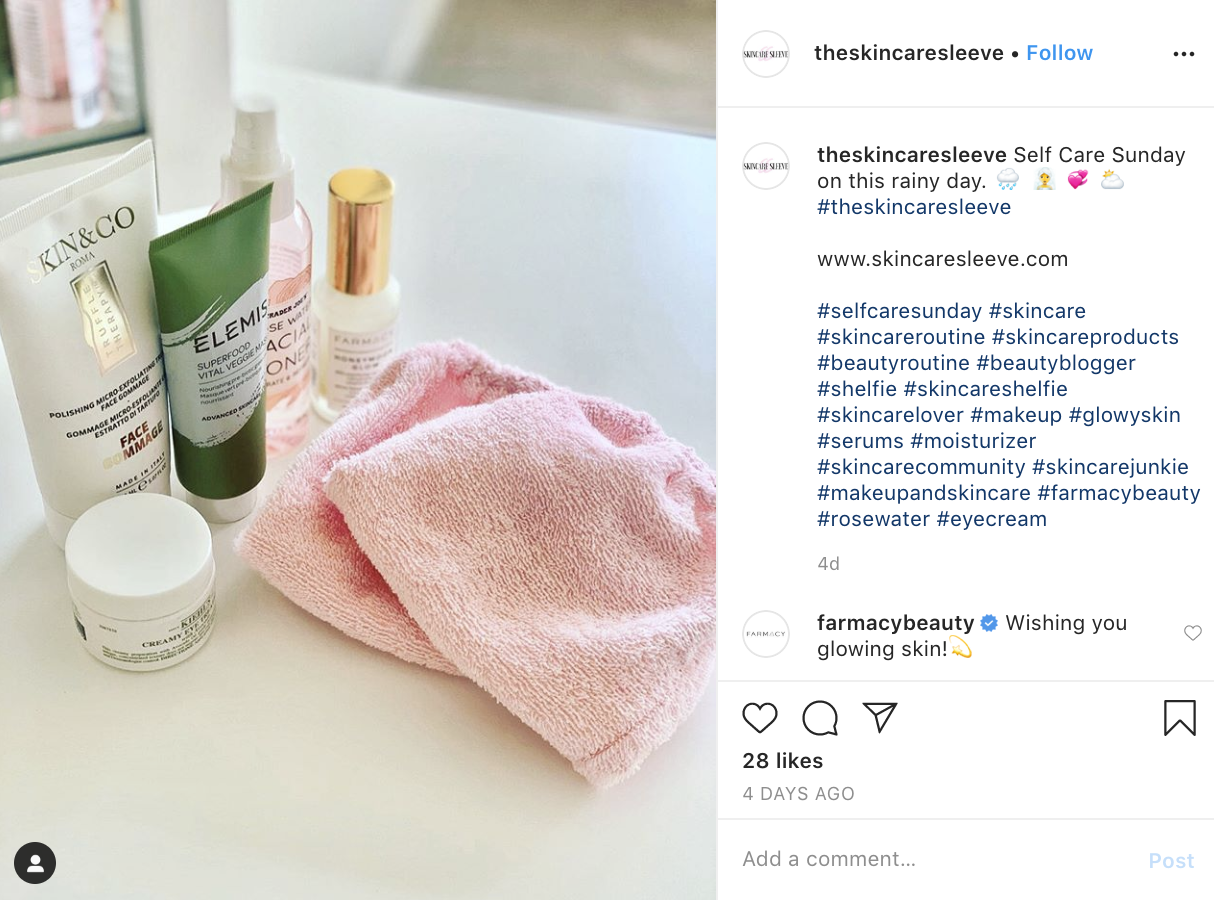 What the Future Holds
A well-rounded self-care routine involves more than an at-home spa night.
But what the brands responding to this situation can teach us is that being adaptable is essential to growth.
Herbivore Botanicals, Bliss, and Love from Yours have all exemplified the ability to adjust to customers' needs.
These brands have increased sales and developed stronger communities by responding to the need for self-care products.
Acknowledging the situation, rather than continuing with business as usual, humanizes brands and establishes stronger connections.
We partner with brands to improve the overall e-commerce experience for customers. Learn more about Barrel and the work we do for growing brands.
Featured image courtesy of Lawrence Lin.